No Comments
Triptych Brewing | Wake Up, Neo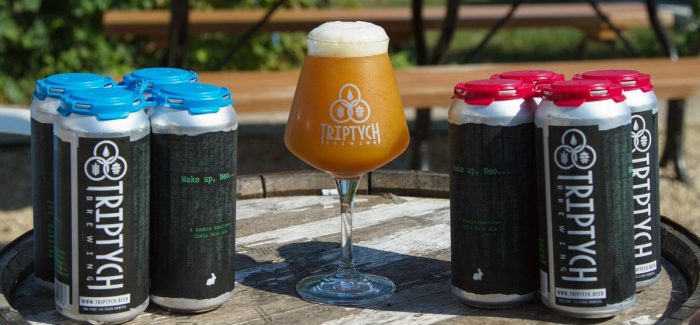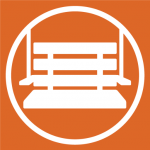 Triptych Brewing started from a successful Kickstarter campaign back in 2012 but didn't push out their first beers until February of 2013. Located in Savoy, IL (a small village just south of Champaign, in the middle of the state), the brewery has released more than 200 beers in the past six years and recently just expanded distribution so you can find them all across central and northern Illinois.
With the brewery's recent expansion, I am finally able to enjoy its beers. Today, I found a four-pack of Triptych Brewing Wake Up, Neo: a Double IPA "brewed the hazy way." This variation was brewed with Citra, Ekuanot and Mosaic hops and is sold in four-packs of 16-ounce cans that cost $17. The good news is each pint has a solid 8.4% ABV.
Appearance
This Double IPA poured an incredibly murky orange color, taking the haze to the next level. Three fingers of sticky, dense foam topped the brew. The off-white, slightly tannish head slowly fizzed away over a few minutes, lacing the glass as it did so.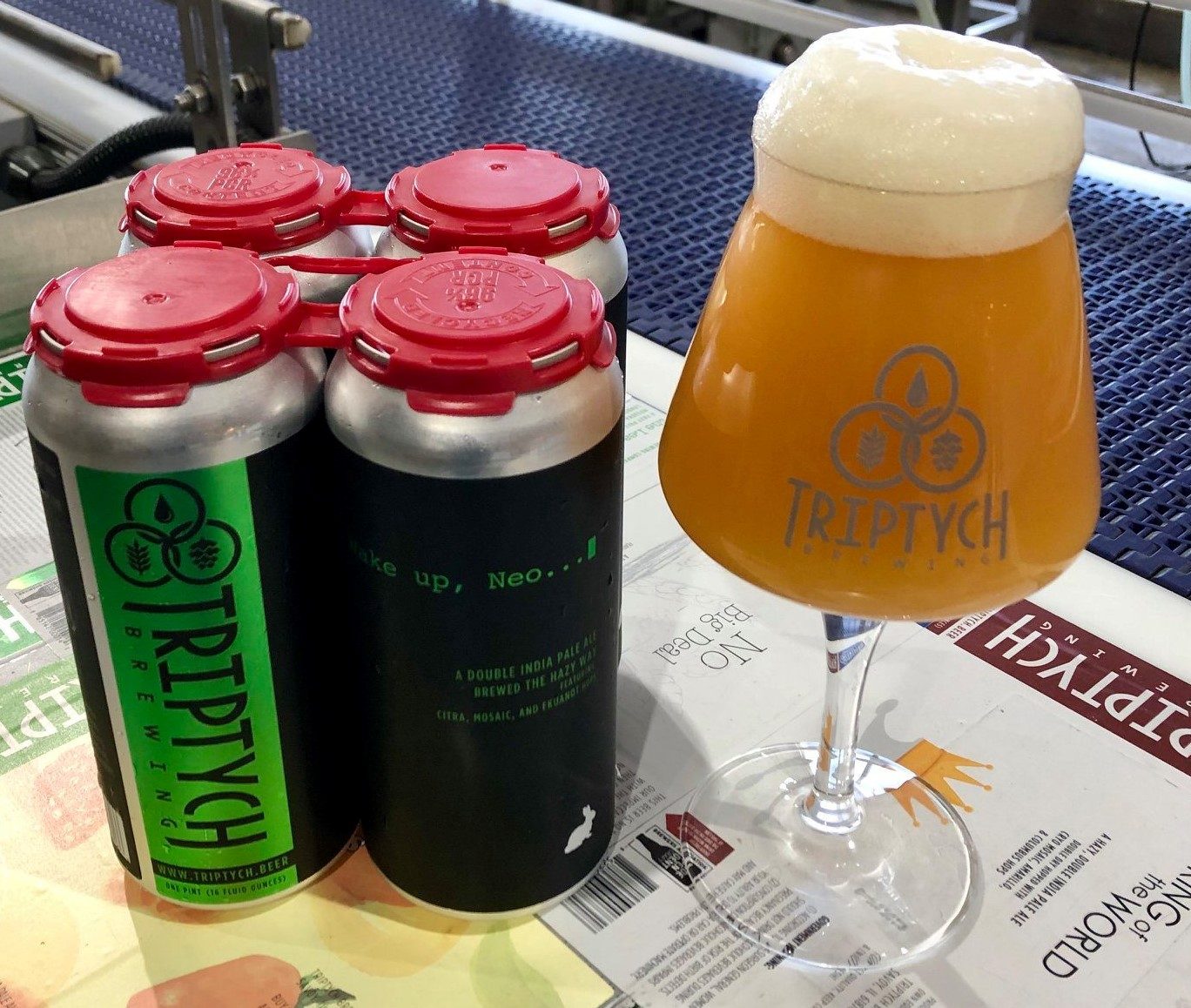 Nose
The hops hit first and foremost. Huge juicy notes of orange, grapefruit peel, papaya, pineapple and some melon led the way. Some oats and a light bready malt sat in the background and calmed down the hop attack.
Taste
A surprisingly strong bitter twinge started off the sip and brought with it a slew of hop flavors. There was a burst of juicy orange and mango upfront before a zip of pineapple cut in and settled at the back of the throat. Joining the pineapple was a grapefruit rind bitterness and a hint of earthy pine. After the flavors vanished, I was left with some citrus peel and a sharp pineapple aftertaste that lingered for a few moments after each sip.
The beer started to smooth out the further down the rabbit hole you fell. The bitter bite faded and the juicier components came out more and more with each additional sip.
Mouthfeel
Wake Up, Neo is a creamier, thicker beer that sat a little heavy once it hit the stomach. It's not quite as juicy as most hazy IPAs and ended rather dry… almost as dry as Neo's personality.
Conclusion
Triptych Brewing Wake Up, Neo is a little harsher than most New England-style Double IPAs, with a solid hit of bitterness and an intensely dry finish. And yet, the flavors early on are really tasty and, for a beer that's 8.4%, it goes down rather quickly. This is the first beer I've had from Triptych but it won't be my last. If you can handle the hops, it's a beer you'll enjoy.
---