July 9, 2019 | Dave Drury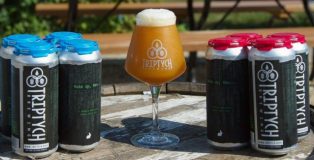 Triptych Brewing started from a successful Kickstarter campaign back in 2012 but didn't push out their first beers until February of 2013. Located in Savoy, IL (a small village just south of Champaign, in the middle of the state), the brewery has released more than 200 beers in the past six years and recently just expanded distribution so you can find them all across central and northern Illinois.
With the brewery's recent expansion, I am finally able to enjoy its beers. Today, I found a four-pack of Triptych Brewing Wake Up, Neo: a Double IPA "brewed the hazy way." This variation was brewed with Citra, Ekuanot and Mosaic hops and is sold in four-packs of 16-ounce cans that cost $17. The good news is each pint has a solid 8.4% ABV.