sessionale – PorchDrinking.com
June 13, 2018 | Mathew Powers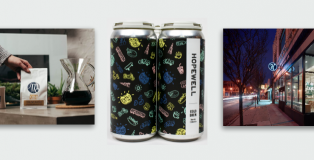 The collaboration beer, Hopewell Brewing x Metric Coffee Cold Brew Session Coffee Ale, marry two increasingly popular American brewing trends — craft beer and independent roasters (coffee).
Most of the PorchDrinking.com audience is well aware of craft beer's growth in recent years. However, one may not be aware that 59% of coffee consumed daily is classified as "gourmet," according to the 2017 NCA report on National Coffee Drinking Trends. That was the first time in the report's 67-year history that the number exceeded 50%.
March 31, 2015 | Cory Pelc 1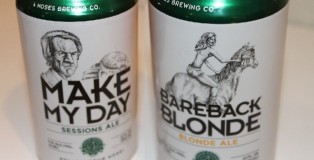 4 Noses Brewing Company's mission is to be a socially responsible brewery of extraordinary passion and creativity, constantly crafting unique and classic styles. Hosted in their comfortable yet elegant tap room, they strive to serve only the freshest ales and lagers, in addition to their constantly changing barrel-aged beers.
4 Noses taproom is mad gorgeous. Their ales and lagers embody creativity and passion for brewing. While most would implore you not to take their word for it and to explore on your own; we wholeheartedly want you to take our word for it (because we won't steer you wrong) AND to visit their taproom at your earliest convenience. You will not be bummed. We promise.