No Comments
Inside the Tank | Hopewell Brewing Company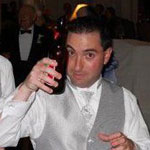 Three friends, Jonathan Fritz, Stephen Bossu and Samantha Lee, went to the University of Illinois together and did some home brewing together. After college they went their separate ways, Stephen and Samantha got married, but they ultimately came back together and last year opened up Hopewell Brewing Company in the Logan Square neighborhood of Chicago.
I went out to Hopewell, who just recently celebrated their one year anniversary, and sat down with Fritz and Bossu to talk about their brewing past, the present and what the future holds for the brewery.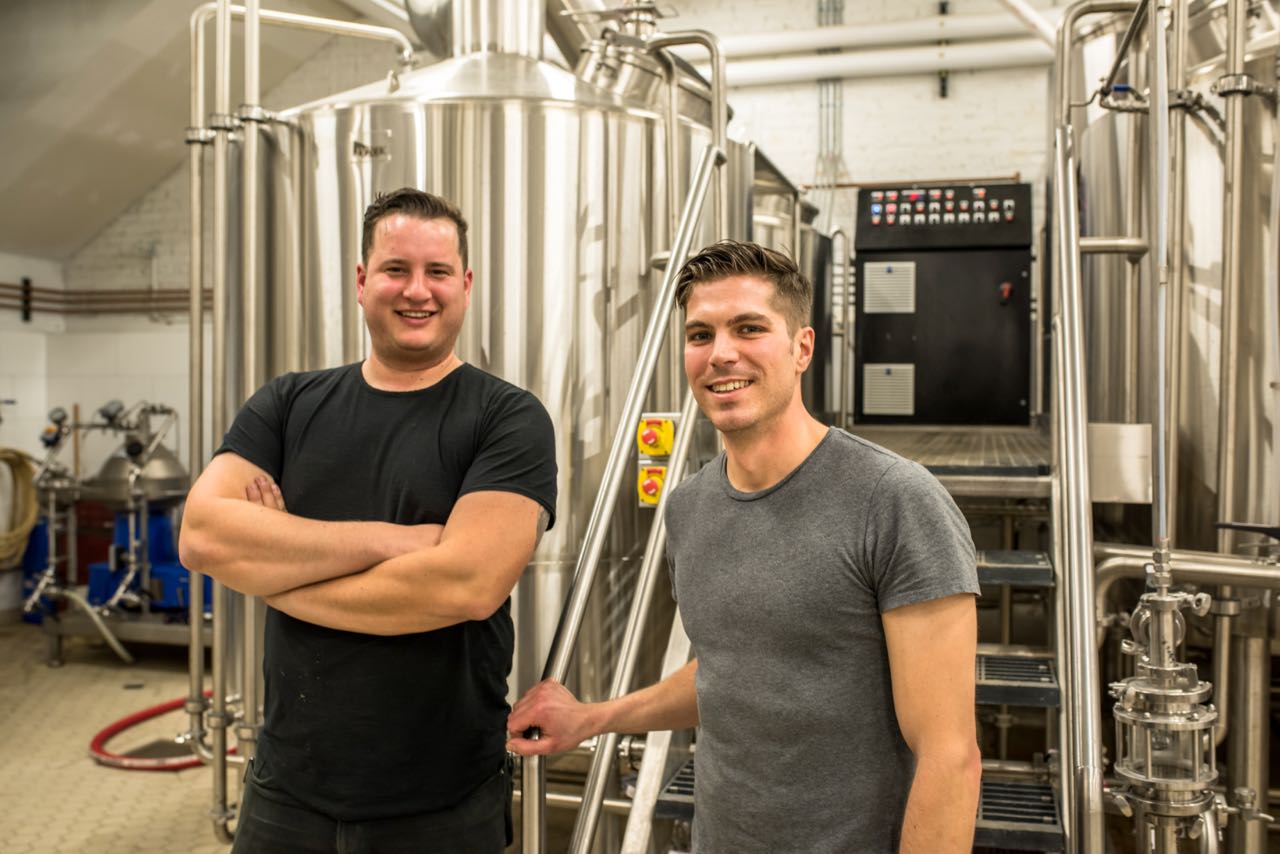 How did you get into beer?
SB: Jonathan, Samantha and I all met in college. Samantha and I are now married, we all together ate a lot of food, drank a lot of different beers and got into a lot of different flavors. We dabbled in home brewing and made some terrible home brews – like two of them were good.
JF: Actually the only really good one we made, we were doing it in Stephen's garden-level apartment on his electric stove. The electricity went out on the entire block during the boil so we had to transfer it to Samantha's house by walking it – because we didn't have cars. We got it to her place and finished the brew. We never really wanted to recreate that one again but it was really good.
SB: After college we all got jobs. I studied at UC Davis and did the fermentation program there. I won a couple of awards there which was great and got me some work cleaning floors at a huge brewery. It was great because I got to see every single job and see what was happening there. Then I moved to New York with Samantha and worked for Brooklyn Brewery. I've worked in beer for a little bit now and we always thought it would be cool to try and open a company.
JF: Everybody likes beer for the most part, it's a fun industry to be in. But we wanted to make sure we were opening a company that made sense for us and made sense in Chicago. Why would we open up in Chicago with 99 other breweries in the city? We wanted to make sure we had something unique to say in the scene. The biggest part of it was opening a company with your friends. 
How did you guys decide to finally open a brewery years later and how did you decide Chicago?
SB: All three of us are from here (Chicago). Samantha is from West Loop, I'm from the North Shore suburbs and Jonathan is from Lombard. It was a hard choice to actually start the brewery. We were all at points in our careers where we were happy. I was at Brooklyn Brewery, and shout out to those guys, I was really happy there. It was a great team and a great company. I'll drink their beer anytime I see it. We liked New York too and it was really hard to leave. I think it was finding this location that really pushed us.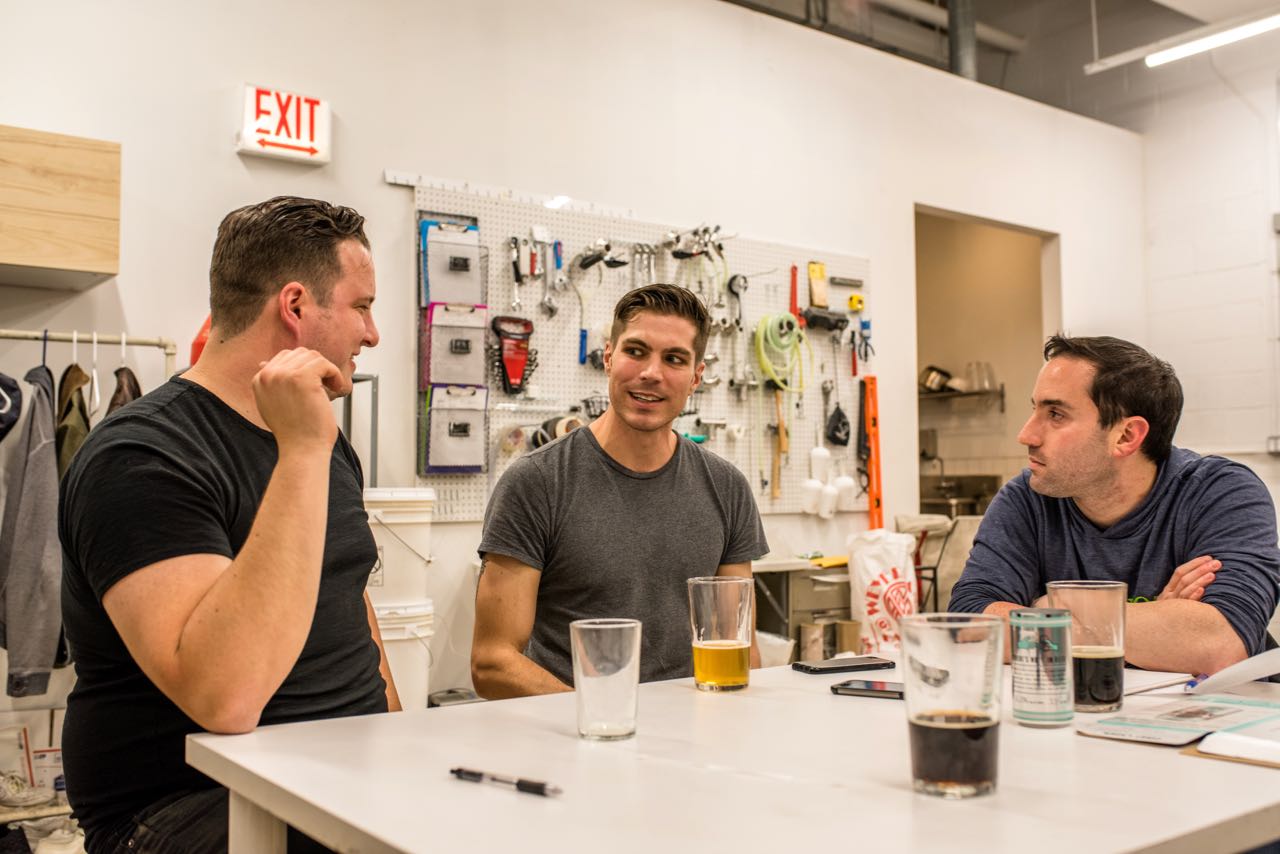 JF: I was in a great job, and was about as far as you can go in sales. Even as we were going through our careers we were working with a realtor to try and find the right spot for the brewery. It's a slow process. It took years and years. Every year we found a spot that might work, but then we found this spot and said "Alright, let's go." It's a great community to be apart of. I've lived in Logan Square for eight years now and really love it here. Like Stephen said, once the space was perfect we jumped on.
So that goes into my next question. Why Logan Square?
SB: The big driver was we wanted to be somewhere where we could feel very comfortable. We wanted an area where we could live and work but also had some foot traffic. We had looked in Ukrainian Village, West Loop a bit, really all over. It was pretty passive as we were all working our full-time jobs and every once in a while we'd take a look. When this one popped up we had almost given up on Logan Square. We're blessed we found it.
JF: It has always been our intention to be very accessible to people. We wanted to be close to a train line or bus stop. Luckily we're half a block away from the Blue Line station and that's on purpose. We wanted to be building a community around beer. That was one of our stipulations. This is not logically the best place to put a factory brewery. We fit the biggest brewery we could into this space. But first and foremost we wanted to be somewhere where people could walk to and we could be part of the community.
Why the name Hopewell?
SB: The name came up in a long search. We were going all over the place. I think this one came up in a search of anything vaguely Midwest.
JF: It refers to the trading system of 2000 years ago that was existing. It was the modern economy existing around the Great Lakes. It tied into our goals of being a community driven brewery. It tied into that really nicely. Most importantly it gives you a feeling. It sounds so nice and people tell us that.
SB: These Hopewell sites were dotted all over the midwest and we just loved the word and the sound of it. It was so welcoming and inviting and bright and that's what we wanted our brand to be, the company to be, the liquid to be.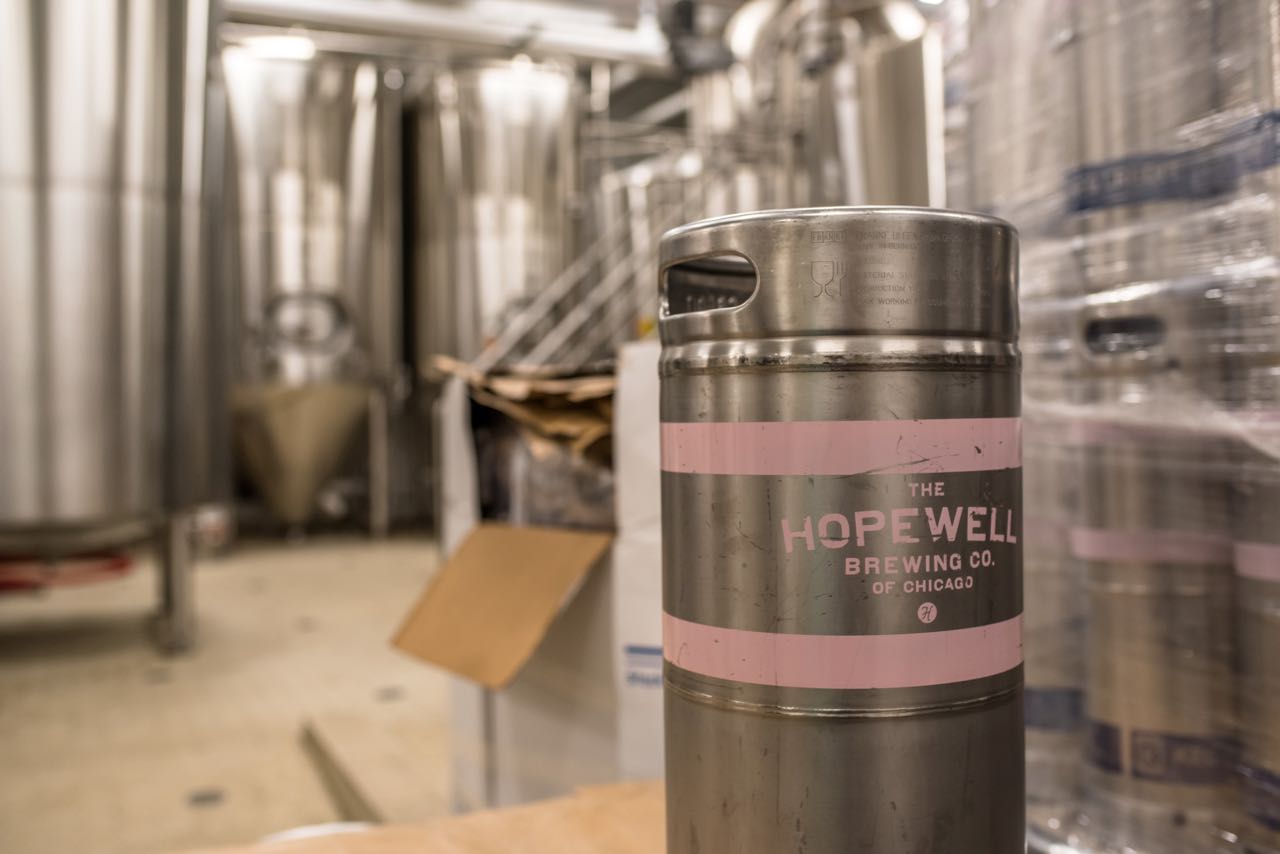 Describe the feeling when you were getting ready to leave your full-time jobs to open the brewery.
JF: It's hard. It's really risky and a lot of sleepless nights of being a little worried. But it's fun and rewarding to work for yourself.
SB: It was a rough time getting open. I feel like this is not unique to any start-up business when the checks are going out the door but no money is coming in. Those are hard times. But you get past it and now we're in that time where we are just trying to keep up. It's working and people like the beer, so I'm in the brewhouse trying to keep up. People tell us we have "good problems" and I keep thinking that we don't want any problems. We just got past problems. But it's exciting. It was a hard decision but it felt right and I'm glad we did it.
How does Hopewell stay competitive in a market like Chicago where there are so many breweries?
SB: First and foremost it's our brand and our beer. We think a lot about our brand. We spent a lot of time before we got open and thinking about the company and what we wanted to do and what the brand should be. We weren't just going to dive into this thing and make some beer and have a good time. We could have done that at home and it would have been way cheaper. We wanted to create a brand that people could interact with and enjoy. We really wanted a tap room to create that feeling. We could get way cheaper real estate in a warehouse somewhere but then who can really experience a draft-only brand if you can't come in and get the full feeling and try the beers and see the place.
JF: We're also a self-distributing brewery. Last year we hit just north of 1,000 barrels so we have a runway where we can keep self-distributing and that gives us better service levels for our customers. It gives them a direct line straight to the brewery. They see us, so we can train every bartender and teach them what our beer tastes like and what it pairs well with. For a draft-only brewery where the only branding you might get is when someone sees you on the menu, it's really important to make that connection to you as a brewery. It's really rewarding when someone says "Man you guys really don't make bad shit do you?" It's great and that's what we want. We're not going to put something out if we don't like it.
How do you come up with your beers?
SB: The big limit right now is we only have four fermenters, so we can only have four beers going at a time. As soon as a fermenter empties we clean it, sanitize it and fill it right back up with a new beer. However, at the moment what's driving things is our three core beers. We keep them available year-round and a lot of people like them and order them. That said, we're not going to become the IPA factory. We're always going to have new beers coming out. We have a lineup of beers we want to try. We'll come up with an idea and put in in the queue and it might be a couple of months before something comes out. Ultra Glow is our dry-hopped table saison and I think we came up with the idea more than two months ago. We didn't have room in the tanks to brew it.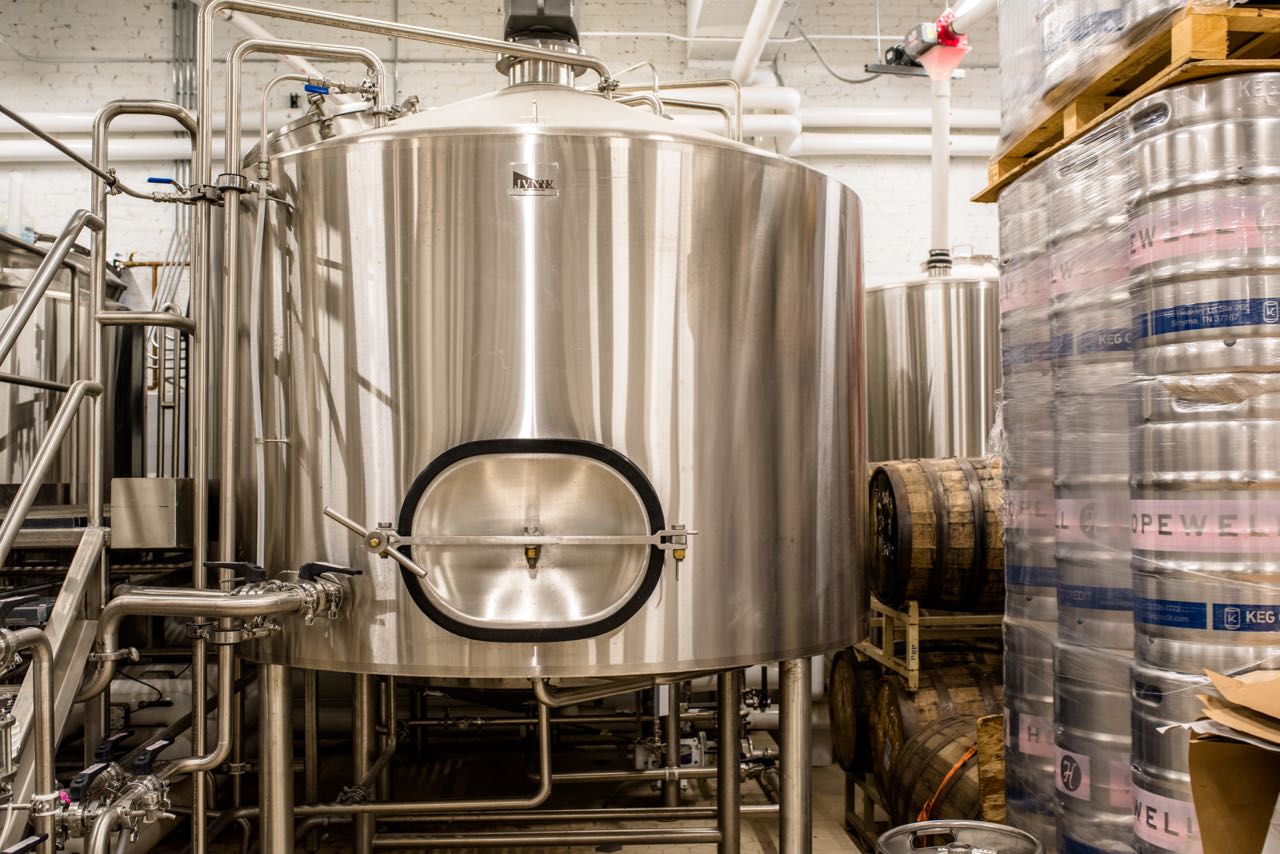 JF: We have more plans for the summer with the beers we want to be making. We'll fit them in but we want to make sure if our customers are ordering our core beers that we keep those around for them.
SB: What's really fun, as I've come from larger breweries with international portfolios, for us is that we have no obligations. If we want to brew something, we can brew it tomorrow. We typically like to plan things out, but if an idea feels right you run with it.
It sounds like you might need to expand. What do those plans look like and can you grow in this space?
SB: We can definitely grow here. If we wanted to run a true Hopewell large factory it wouldn't be here. But we chose this space because there's a lot of room to grow. That said, there's a lot of challenges to figuring out how. Part of it is also us having to make decisions, because as soon as you start doing that you're locking things in. If we want to do a huge barrel program here, do we set aside a large space for that or do we do it somewhere else and use that space for fermentation? There are a lot of questions, but you'll definitely see expansion over the coming years.
First Lager will be the first Hopewell beer in cans. Do you have plans to can other stuff in the future?
JF: We're really excited to see how First Lager does. It's our widest distributed beer in draft right now. That one we're really excited to see how the launch goes and how it does in the market. I'd love to have all of our beers in cans eventually. It's a question of which ones do you launch with and how do you grow that and keep it steady? You want to make sure you're doing right by every beer.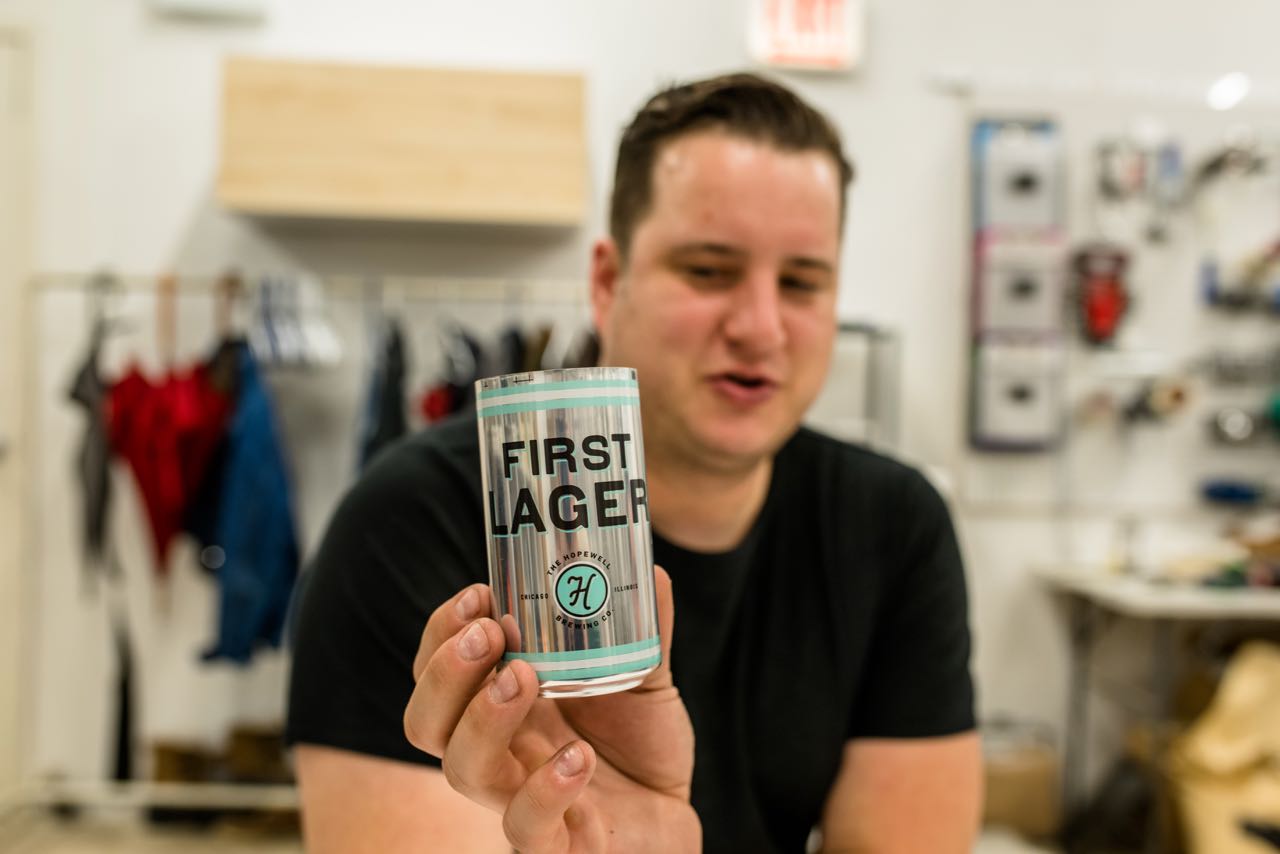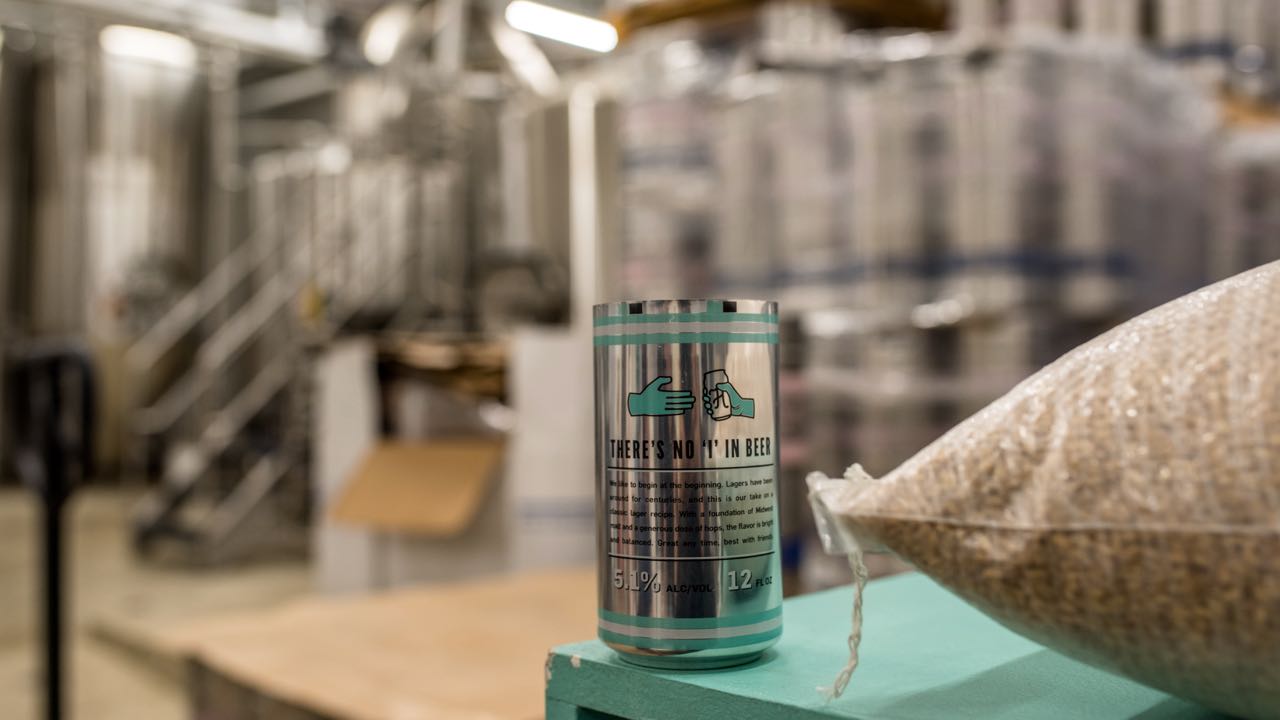 What's going to be the next big trend in craft beer in 2017?
SB: I would say the session IPA is probably done. I don't think that's going to grow the way it has the last 3-5 years. That said, I don't think we're going to swing back to the big beers. i think the more modest beers, and of course the IPA will keep driving things.
JF: Not necessarily a trend in beer, but a trend in new bars and restaurants opening up; I think we're going to see a lot less of bars having 80 taps of all these different beers. It's overwhelming and it's no way to bring new users into the category. It's no way to invite someone into craft beer to ask them to read this entire menu – it's like homework. Spots with really curated lists that have knowledgeable bartenders that can guide people through it will be a big trend.
What are your thoughts on bigger breweries/corporations buying up smaller craft breweries?
SB: We're like 14 months old so we're not going to sell right now. There is a lot of speculation and a lot of people that are nervous and I don't think it's necessarily warranted. This is an industry just like any other and we want this craft beer exceptionalism because we participate with craft brands in a different way in that they feel very personal. Let's say hypothetically you sell to a big bank, even if it's to a great company that manages the brand perfectly and you can get the beer out to more people, people still have a hard time swallowing that because it feels like something of theirs was sold. They weren't asked about it, they weren't part of that participation and they feel they were apart of every other instance. There's this kind of uneasiness. I do feel it's going to change the kind of business and industry that we see in craft beer in 5-10 years when some of these private equities start flipping their portfolios. I think it's exciting and it's almost irrelevant for us right now as a self-distributing brewery.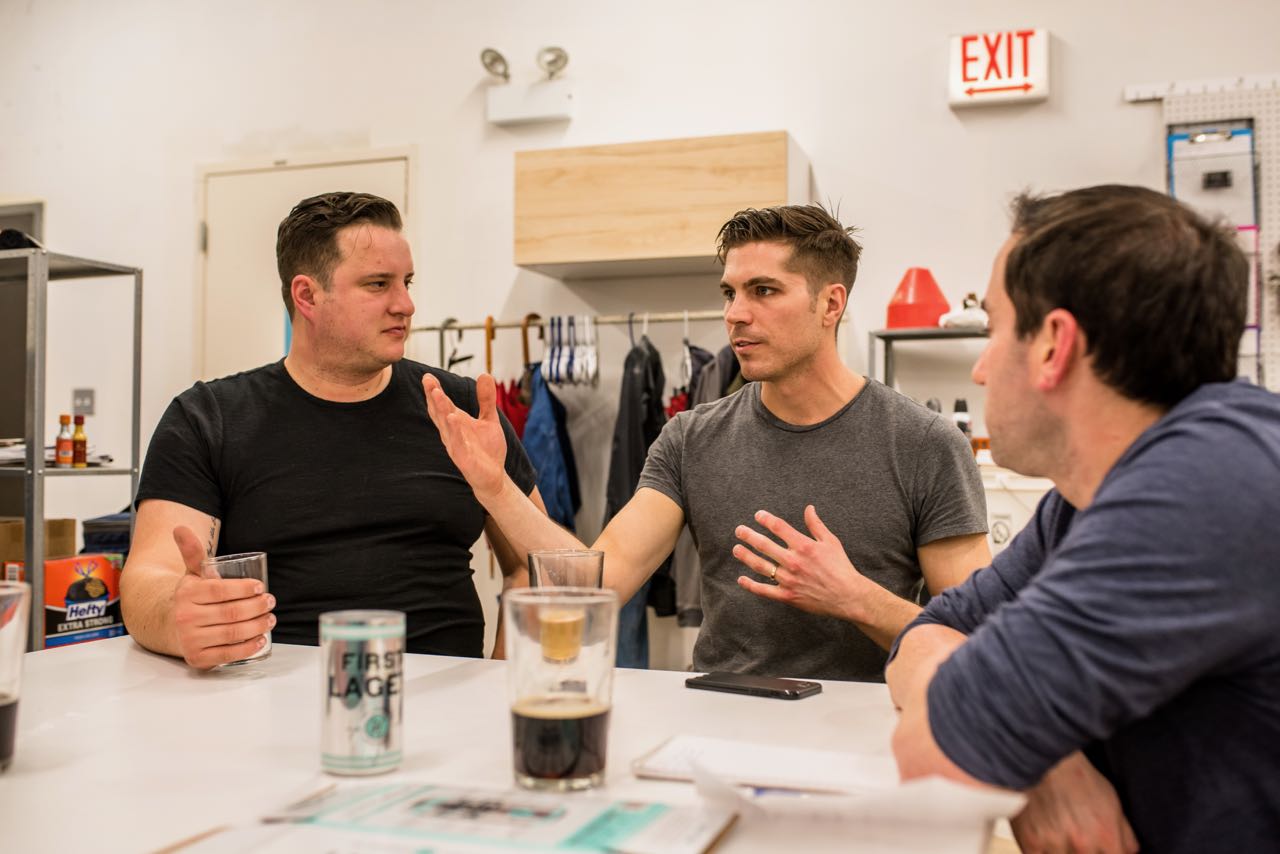 JF: If someone offers us a billion dollars we're selling. What we're seeing is the craft beer industry is what, 30 years old? So these people opened up the breweries when they were 25-30 years old and they are trying to retire. There are two ways to retire when you own your own business. You sell it or your kids take it over. Maybe their kids aren't the right people to run the company so we're seeing a lot of these older craft breweries that have been around for a while sell. And like Stephen said it's not always the wrong decision to sell, but it's completely irrelevant to us. We're excited to be growing our own company and working for ourselves. We're excited to be a small business. Being a small business in the city of Chicago is a really rewarding experience.
What's your favorite Hopewell beer and if you're not drinking Hopewell what are you drinking?
JF: Favorite beer is First Lager. It's a beer you can drink any day of the year. Whether it's dead of winter, or the nicest day of summer i think it really fits. If I'm not drinking Hopewell I like trying a lot of different things. My wife and I, if we're drinking beer, we're generally buying it in a bomber or 6-pack form and sharing it. We're trying it and learning from it. But we also tend to enjoy bourbon, mixing drinks at home and wine. We're always exploring – I don't think I have a go-to beer that I always have. If I am buying beer it's generally going to be a Pilsner or an IPA.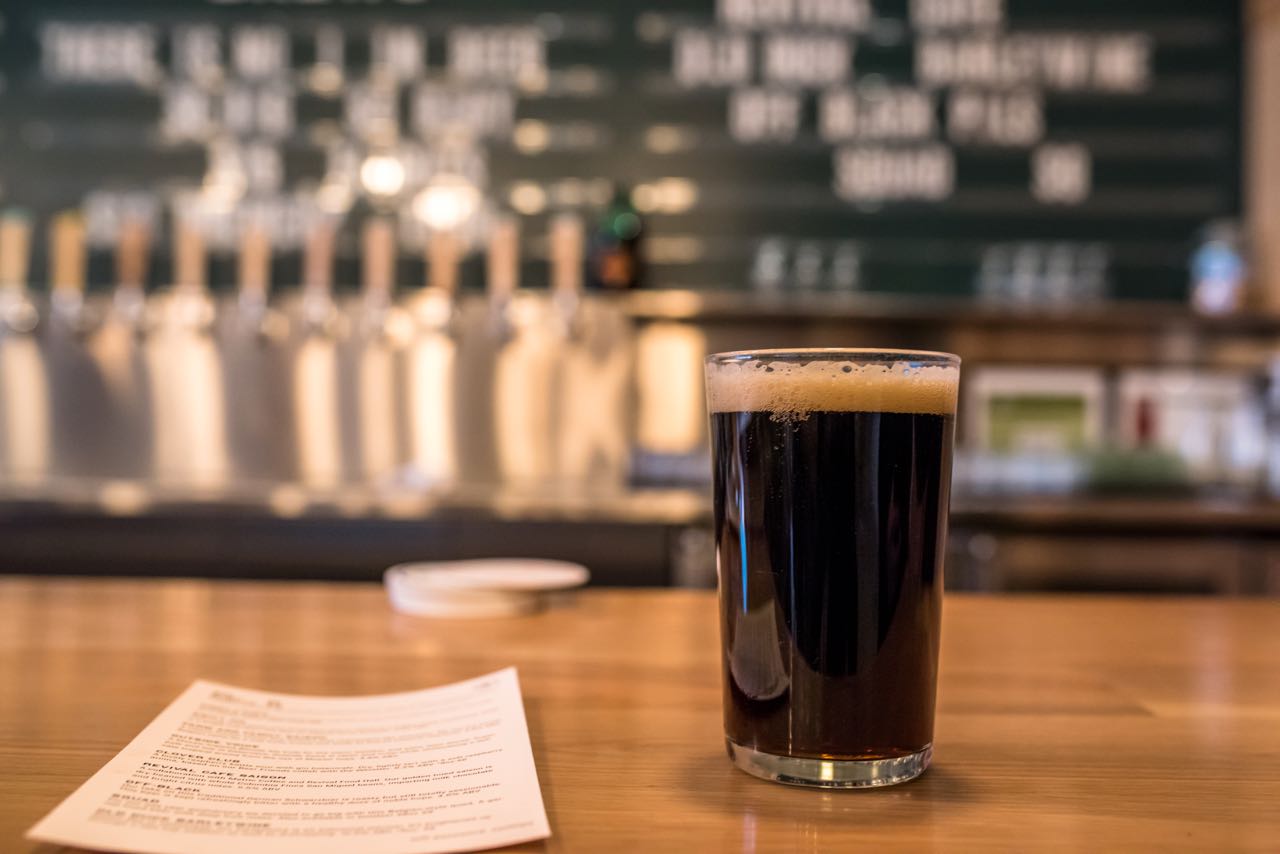 SB: Mine is Outside Voice. It's a Mosaic dry-hopped golden ale that we call a summer snack or summer slammer because it's infinitely drinkable. The Mosaic comes through in this big punchy way. There are some great tropical vibes – I get a lot of pineapple in there. With summer around the corner it's coming soon. It's nice to not drink beer sometimes. I actually got my start in wine before I went to beer. But that's a different interview I guess. If I am drinking beer I'll give a shoutout to Half Acre. Every time I see Tuna on the menu, wherever I am, I order that beer. They slay with it and did a great job.
What's the future for Hopewell?
SB: Keep grinding and growing.
JF: As we grow we're really excited to work very hard to build a good team. We're not going to be able to do everything ourselves forever. We're already killing ourselves working too much. As we grow we're really excited to find the right people to join this journey with us.
SB: It's going to be fun to get First Lager out into cans. I think we're going to see that on the shelves for the very first time and be proud. Then follow that up by making more good beers. If I can make them and Jonathan can sell them then it's working.
JF: Opening a brewery has been both the most complicated thing I've ever done and the easiest thing I've ever done. All you're doing is selling someone something that they really want. Some people spend their entire day in the office thinking about having a beer after work. That should be the easiest thing to sell – and it is.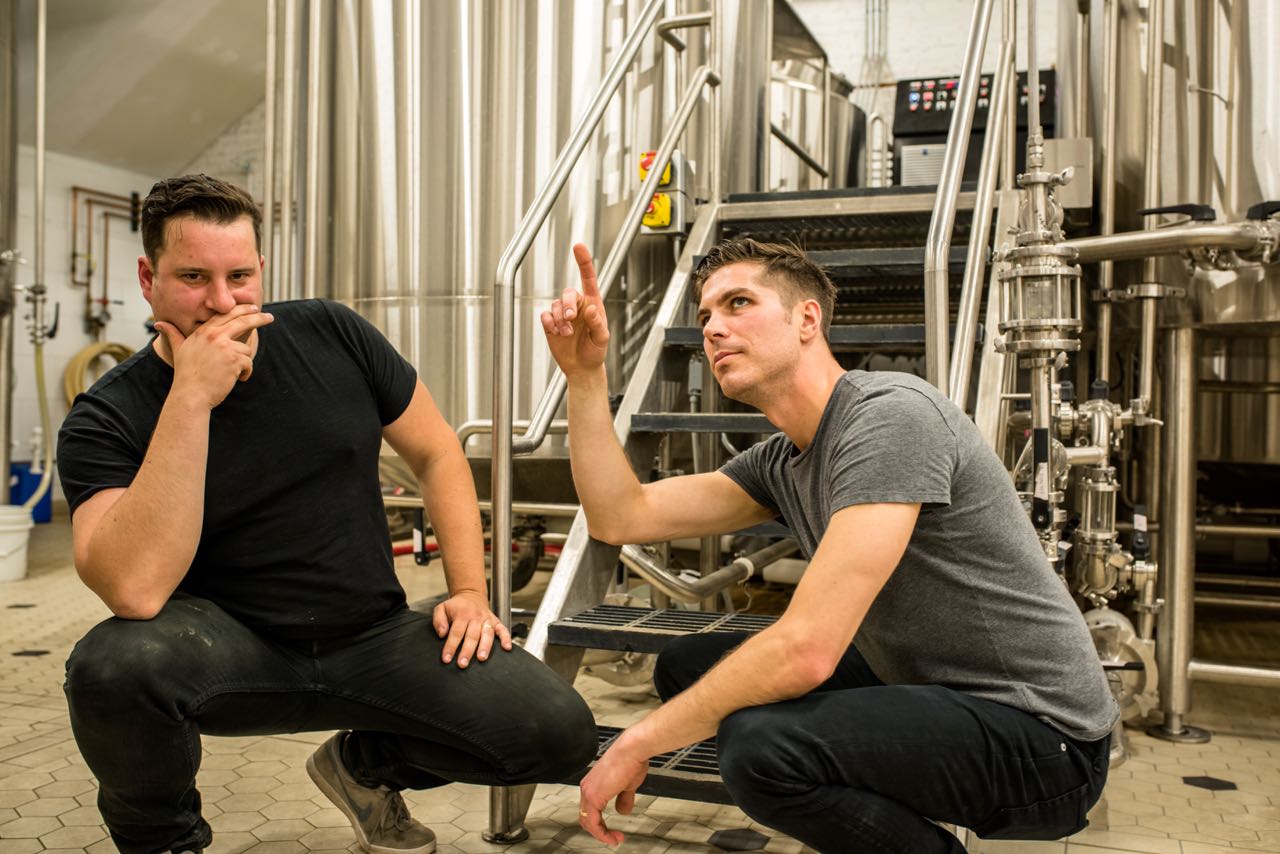 Mike Zoller is the Midwest Editor for PorchDrinking.com. Follow him on Instagram: @CHICAGOBEER and PorchDrinking Chicago's Twitter feed for the latest Chicago craft beer news: @PORCHDRINKCHI.
---