No Comments
Event Recap | Hops + Vine Spring Beer and Wine Dinner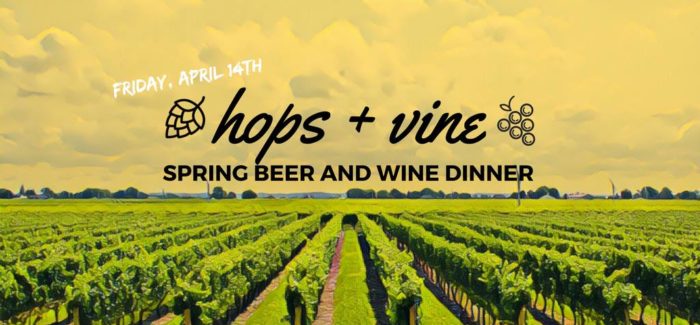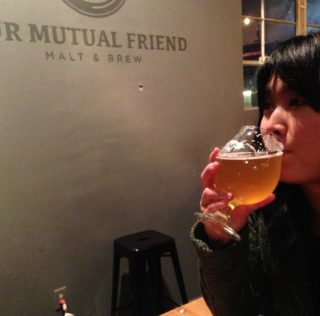 Featured image courtesy of Mainline Ale House's Facebook page
Spring time is upon us which means it's time to bring your patio furniture out from hibernation, crack open a tasty brew, and relish in warmer weather and longer days ahead. Spring in Fort Collins, Colorado is especially delightful; the flowers are in bloom, flops are out, and the people smile even brighter as they make their way around. Nestled in the heart of Old Town is Mainline Ale House, a restaurant serving up craft brews, cocktails and gourmet food. And this past Friday, the restaurant celebrated the change of seasons by serving up the ultimate spring-inspired beer and wine pairing, Hops + Vine Spring Beer and Wine Dinner.
Mainline partnered with Horse & Dragon Brewing Company and Breakthru Beverage Group to host a night of spring decadence with wine and beer that were carefully paired for the evening's four-course menu. Notably, this is the first beer and wine dinner that the restaurant had ever done, which allowed for executive chef Justin Burdick to play around with different concepts. As the son of a sommelier, Burdick admitted that while he was more well versed with wine pairings, living in "the Napa Valley of wine" made the executive chef want to explore how beer could enhance a meal. Ultimately, Burdick's goal for the evening was to "give people a chance to try something that they had never had before." We think he did just that.
(MORE: Check out Mainline's last beer dinner: Black Bottle Abroad)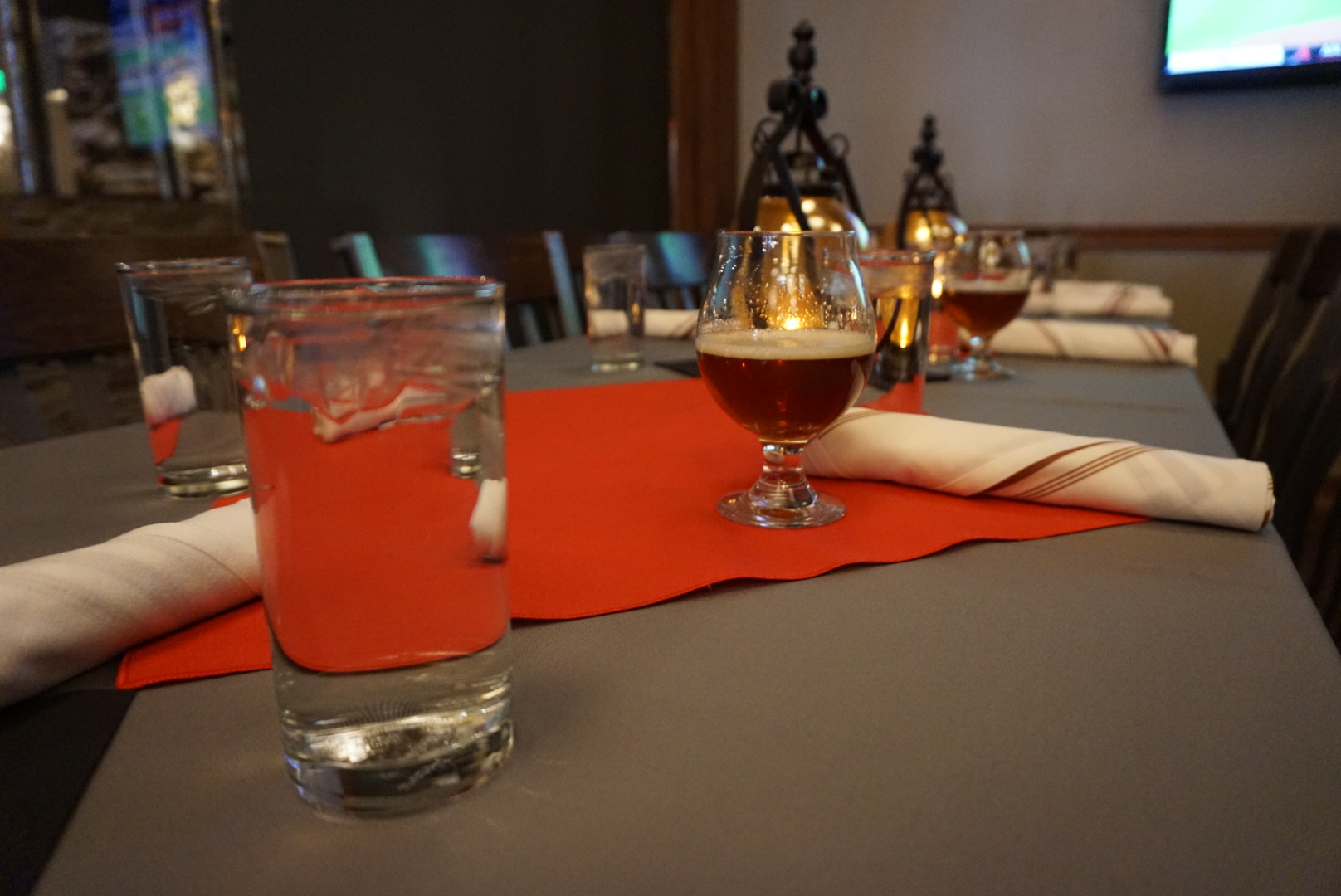 Hops + Vine attendees were seated in a private room enclosed with warm lighting, floor to ceiling glass walls and theater-style drapes. It felt like we were in an aquarium of fine dining. The crowd was a mix of wine drinkers and beer drinkers, bringing ample opportunity for both sides to educate one another. PorchDrinking sat with great company which included Dan and Claire of Savoring Fort Collins, Hillary Siebels from Breakthru Beverage and Luke Margheim from Horse & Dragon. To kick off the evening, everyone received a sample of NoCo IPA, a refreshing start to the evening.
First Course | 

Compressed fruit salad with fresh honeydew, pineapple, watermelon, balsamic caviar
Hops: Perambulation Ale 4.9% ABV
Vine: Big Easy Chenin Blanc, South Africa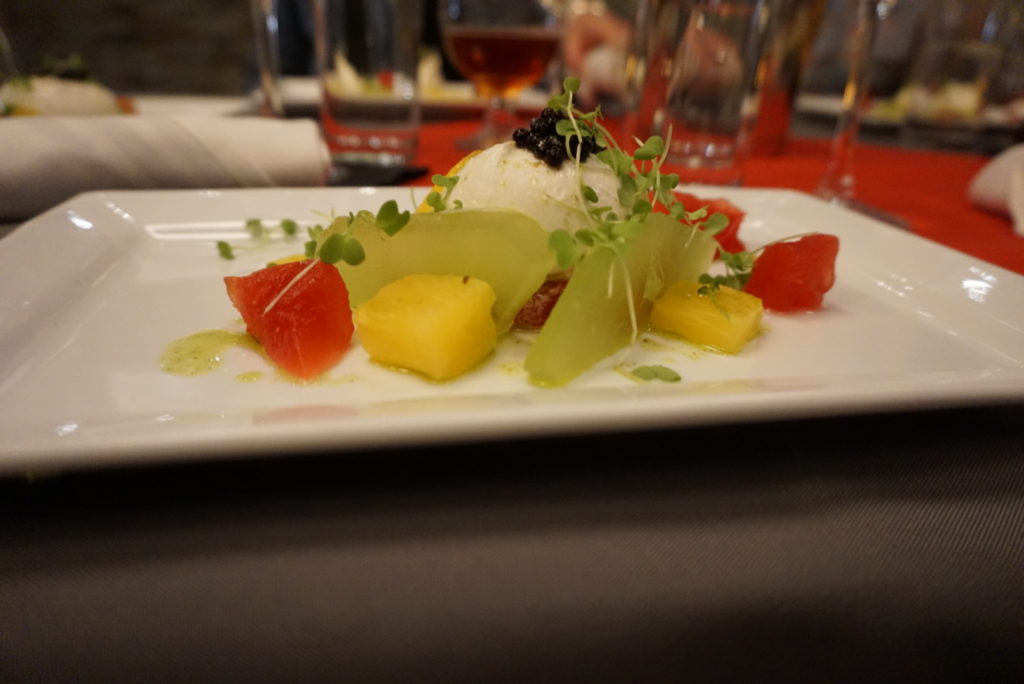 Chef Burdick was all about pushing the envelope with this spring salad. Using molecular gastronomy, or what we like to call "food science magic," he brought rich full flavor to out-of-season watermelon and honeydew. The burst of science-driven flavor took a leisurely walk in the company of the red sumac-driven contrasting tang of the Perambulation Ale. As for Big Easy wine, it was just that — an easy-drinking wine that wandered along the mellow herbs, citrus and savory cheese. Siebels from Breakthru Beverage also called this wine the "porch pounder." We'll leave you guessing why…
Second Course |

Pork belly steam buns, brown sugar pears, toasted pine nuts
Hops: Agitated Aardvark IPA 8.5% ABV

Vine: Chime Pinot Noir, California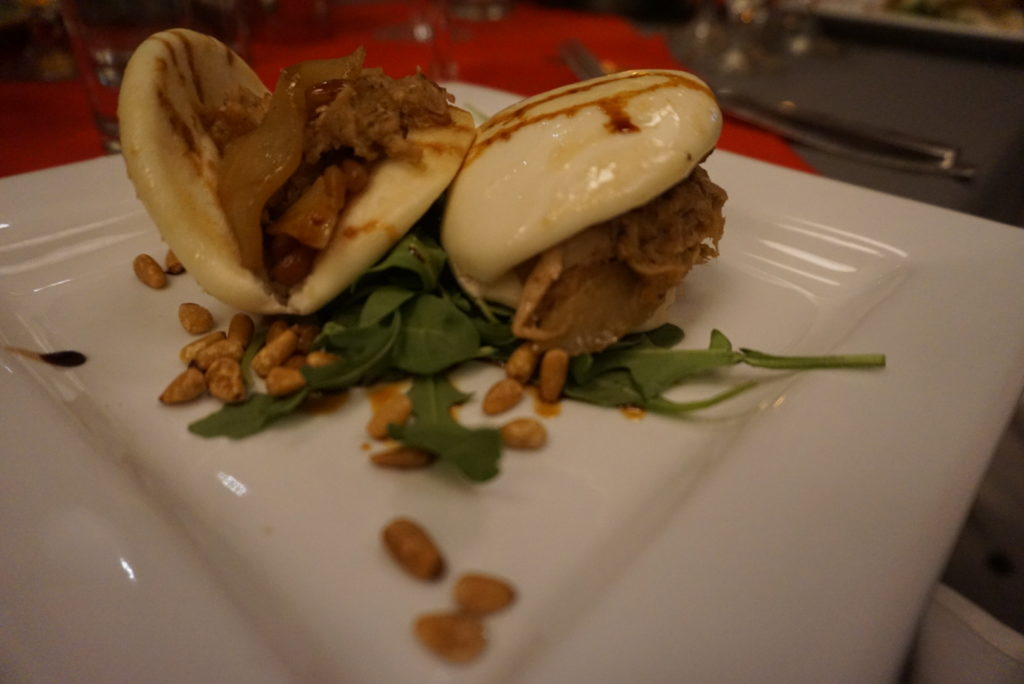 This course was a true aromatic delight. Margheim, of Horse and Dragon, noted the unique hops in the Agitated Aardvark. Each year, the hop profile for this double IPA changes. The addition of Palisade hops in this year's version provided a hop-heavy nose. Once sipped, a chorus of shy fruit, malt and soaring bitterness was in perfect harmony with the fatty umami of the steamed buns. Moving to the Chime, we were surprised to stumble upon a nose that was thick with vanilla and oak. The pinot noir's rich nose and luxurious oak and fruit flavor made for a perfectly indulgent pairing.
Third Course | Colorado lamb rack, curry whipped potato, charred romanesco

Hops: Scottish Tradesman Coconut Porter 8.3% ABV
Vine: The Pundit Syrah, Washington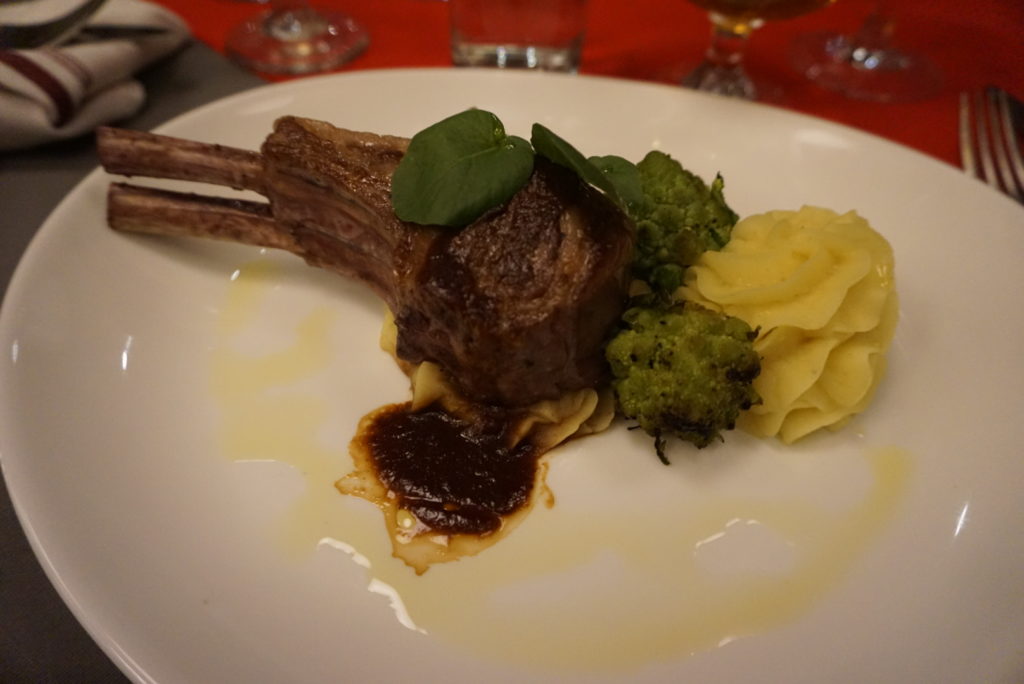 Chef Burdick cradled a glass of the Scottish Tradesman and said drinking the beer made him "want to do curry." Curry he did. Curry infused into a pastry puff vision of potato, such a vision that it would be an insult to call it "mashed." The curried potato sat alongside the romanesco and lamb shank, which was cooked to rare perfection. This mouthwatering course did palate pirouettes that seemed to be choreographed with the creative direction of The Pundit and the Scottish Tradesman. Both liquids provided strong direction through their bold flavors.
Fourth Course | Strawberry shortcake, white chocolate mousse
Hops – Citrus Fiesta, 4.2% ABV
Vine – 14 Hands Sparkling Rose, Washington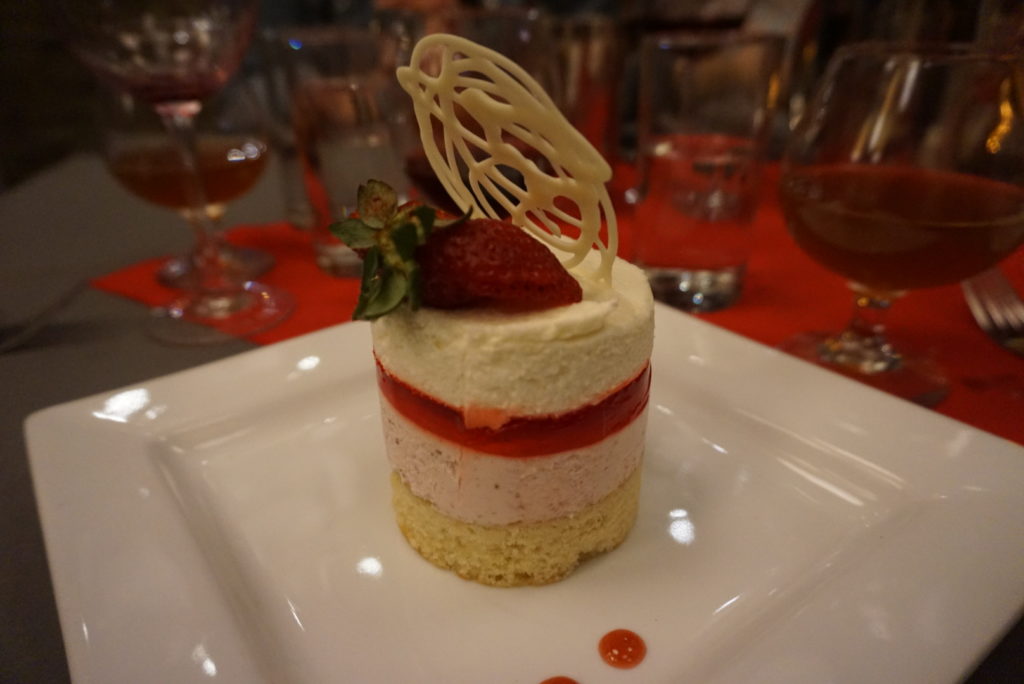 Imaginatively presented, the cylindrical stack of shortcake was a whimsical finish to the night.  Shortly after came a flute filled with 14 Hands Sparkling Rose. The Rose's playful rhubarb nose invited the strawberry shortcake to the party that was dessert. Then not to be upstaged, the quickly vanishing shortcake found a wonderfully contrasting counterpart in Horse & Dragon's Citrus Fiesta Kettle Sour.
The night was truly a celebration of curation in food and drink. The pairing of calculated flavors and creative liberty was an experience to remember. If you enjoy good food and good libations, make sure that Mainline Ale House is a stop in your next Fort Collins adventure!
---