One Comment
Dovetail Brewery | Hefeweizen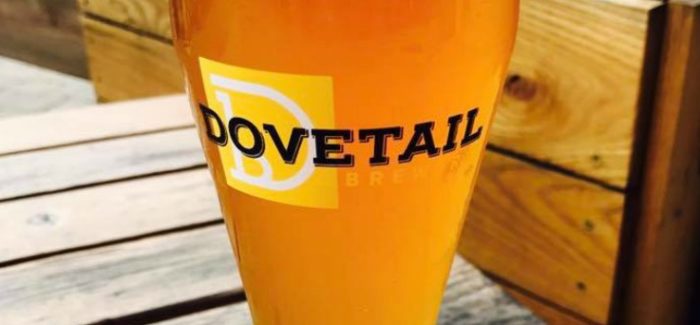 The Chicago metro area certainly has a multitude of beers available for consumption these days, given its now 175+ breweries in operation. But, every once in awhile, a beer comes along that inspires a beer writer such as me to, well, write about it. This time, the beer comes from the mad geniuses of Chicago's Dovetail Brewery. The Dovetail motto, "We brew like monks (minus the vows)," notes its dedication to traditional, continental European-style brewing methods and that is why the Dovetail Hefeweizen is one of the best you'll ever have.

Intro
Did you ever have a really good piece of fried chicken? Or, maybe a chocolate chip cookie that blew you away. Neither foods are uncommon, but somehow you still manage to find spectacular versions of those otherwise pedestrian foods. And why? Because when it's done right, when it's done with exceptional skill, it can simultaneously draw on the familiar and creatively arouse the senses in a new way. That is the Dovetail Hefeweizen. You have had Hefeweizens before thus you possess a solid frame of reference, but then Dovetail finds a way to awaken the taste buds from its Germanic slumber.
About Dovetail
Admittedly, of all the breweries for whom I've developed relationships in the Chicago area, Dovetail remains a place that I've spent little time as a professional and much more time as an avid beer consumer. Maybe, subconsciously, I want to leave it there because I want to enjoy the beer rather than complicate things. And, that is fitting for a brewery that has simplified the brewing process (not in effort, mind you; these folks work hard), churning out brews the way it has been done since the middle ages.
I could tell you about it, but why not just let them tell you?
If you want to know more, and you happen to be in Chicago, take the Dovetail tour, which is generally regarded as one of the best in the area (every Saturday at 11am for $15, which includes three beers).
If you can't attend, be sure to read this page about the Dovetail brewing process — it's as unique as anything you'll ever encounter within the craft-brewing industry.
The Dovetail Hefeweizen
ABV: 4.8% IBU: 22
The first sip inspires the almost certain "ooh" response, and usually results in an immediate, substantial second taste — the sipping is over at that point. The beer concurrently quenches one's thirst while also providing appreciable richness, all balanced by its acidity and effervescent nature. Flavors include citrus-orange, and the aroma is, I'm sure, pumped in from a Belgian farmer's dinner table during the harvest – clove, fruit and wheat are all noticed it's something to behold.
https://www.instagram.com/p/BRt2WjghJV1/?taken-by=dovetailbrewery
The Hefe is as graceful and balanced as anything demonstrated by Fred Astaire and Ginger Rogers, but this is no "fancy" beer. It's a classical beer that pairs well with good food, good friends and probably another Hefe — you have two hands, don't you?
You may expect a writer to now include a few notes from the brewers here. I'm sure my graduate-school advisor will cringe if I don't. But, I won't. I'm not reviewing this as a beer writer; I'm reviewing this as a beer aficionado that happens to write about beer for a living.
This is what you need to know: It's a Hefeweizen. It's superbly done. It's akin to the best chocolate chip cookie, the best burger, the best… hell… it's simply one of the best beers you'll ever have, from one of the best breweries you'll ever patronize.
https://www.instagram.com/p/BVNFOjbhZMV/?taken-by=dovetailbrewery
Feature Photo Source: Holt's Park Ridge: http://www.holtsparkridge.com/drink-menu
---