No Comments
Ska Brewing | Modus Hoperandi + Modus Mandarina IPA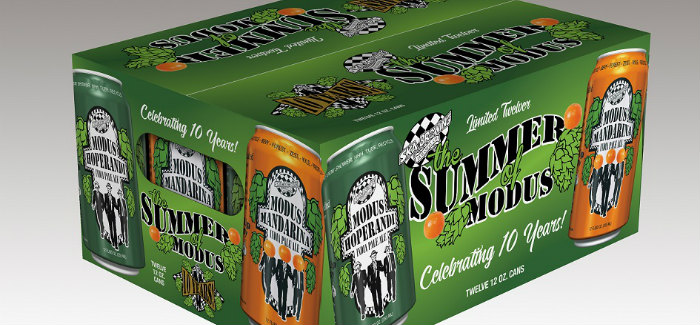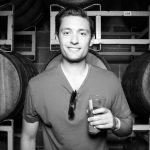 With so much good beer coming out of Colorado, it's easy to take for granted one of the early upstarts in the state's brewing history. Ska Brewing has been around since 1995. The brewery has stood the test of time thanks to their commitment to rigorous brewing standards and bold flavors. A perfect example of this is their stalwart IPA, Modus Hoperandi, which is celebrating its 10 year anniversary this summer.
Modus Hoperandi was a trendsetter when it was released a decade ago and it still stands up against today's wide swath of IPAs. The IPA was one of the first to come in cans and has won numerous awards thanks to a delicately-hopped combination of citrus and pine. Still, every brewery needs to innovate to stay competitive, which led to the release of its citrusy-variant, Modus Mandarina, in 2015. Both IPAs stand strong alone but work even better together. I got a chance to review both on a warm summer evening recently.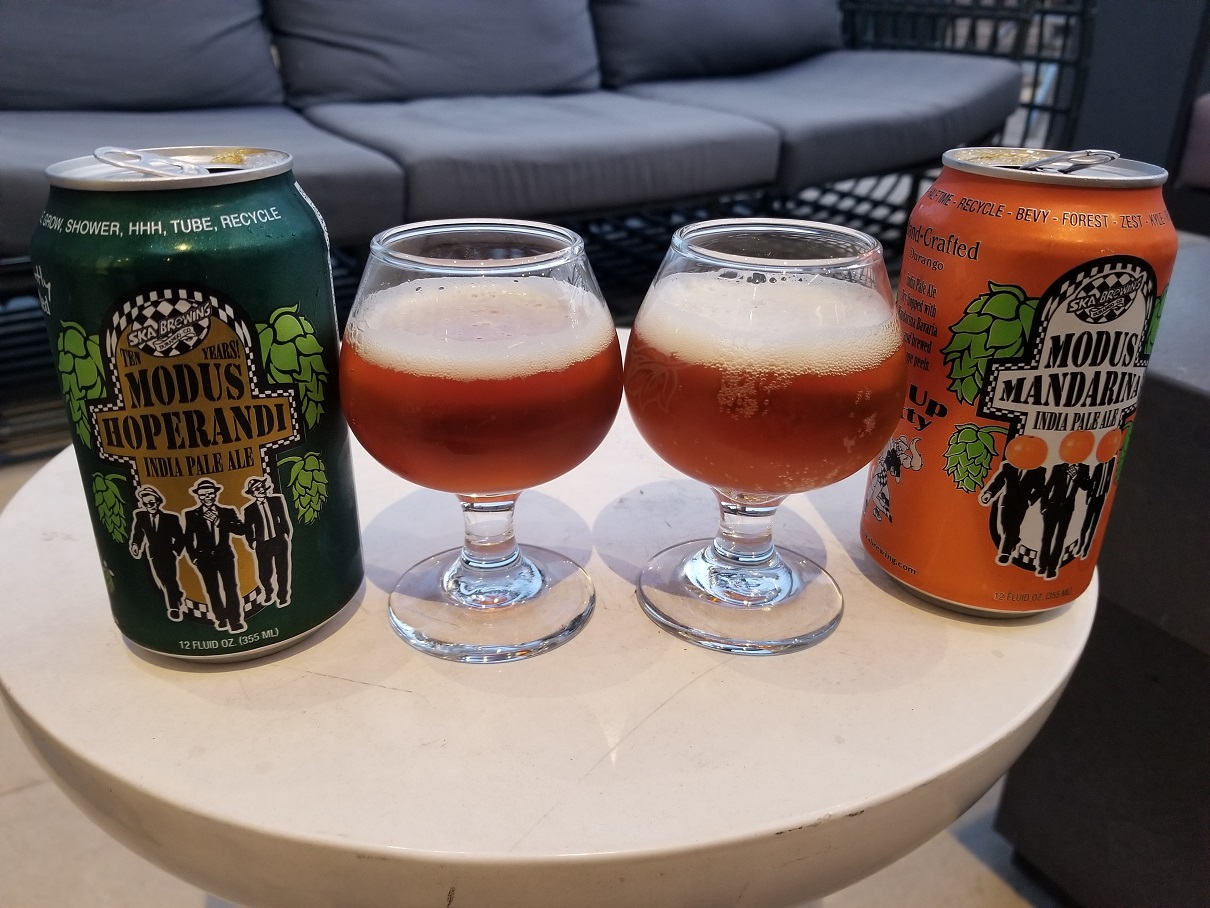 https://www.instagram.com/p/ByjM2PyHRpL/
Stats: 6.8% ABV, 88 IBUs
Ska Brewing Descriptor: "An American-Style India Pale Ale with a deep golden-orange color. Bitter and hoppy, with a surprisingly smooth finish."
My Thoughts: This is a great rendition of what a West Coast IPA used to be and what really elevated the style in the first place. It pours a thick, rich orange with a bit of head but its the smell that hits you more than the color or pour. The smell of Modus is intensely hoppy, offering a bountiful bouquet of bitter, piney hops on the nose. At 6.8%, this IPA offers an intense yet enriching drinking experience, as the dancing hop flavors of citrus and pine cling to your palate from start to finish.
The bitterness from the hops is not off-putting thanks to the full malt body that balances out the flavor intensity and helps it finish smooth. It's certainly not a beer that you tilt back with eyes glazed over; instead, the intensity of the hop flavor here requires a certain level of focus to ensure you get the full drinking experience given its complexity. Put simply: It's an old school classic that still stands the test of time. 
https://www.instagram.com/p/BjnisbyB6Qy/
Stats: 6.8% ABV, 88 IBUs
Ska Brewing Descriptor: "A unique twist on Modus Hoperandi, this Citrus IPA is dry-hopped with a generous portion of Mandarina Bavaria Hops and brewed with sweet orange peels."
My Thoughts: While Hoperandi skews old school, Mandarina feels a bit more new age. Taken side by side, you get a full view on Ska's expertise in IPAs and how each version compares and contrasts with its other half. Much like Hoperandi, Mandarina pours a rich orange, yet a bit brighter in color and with a much brighter aromatic that boasts big hits of orange peel and citrus.
While Hoperandi leads with heavy, dank hop notes, it's clear that Ska decided to go all-in with citrus in the Mandarina variant. The sweet orange peels appear first both on the nose and sip, offering a light and refreshing precursor for the West Coast hop plethora to come, which arrives in full force as you let this beer settle on your tongue. Hoperandi primarily offers one, complex note of hop flavor and Mandarina builds on that with its orange peel emphasis, which elevates the end flavors and leads to a brighter finish.
If I had to choose one of these to drink again, I'd choose Mandarina. I certainly wouldn't mind drinking either; especially,  if I had a craving for a full-force, full-bodied IPA, which I typically do. 
Both of these IPAs are available year-round in 12-ounce cans throughout Ska's distribution footprint. They are also available this summer as a mixed 12-pack of 12-ounce cans. I was sent samples from Ska but it did not impact or affect my review. Cheers!
*Feature image courtesy of Ska Brewing
---