No Comments
PorchDrinking Playlist | Brew Gentlemen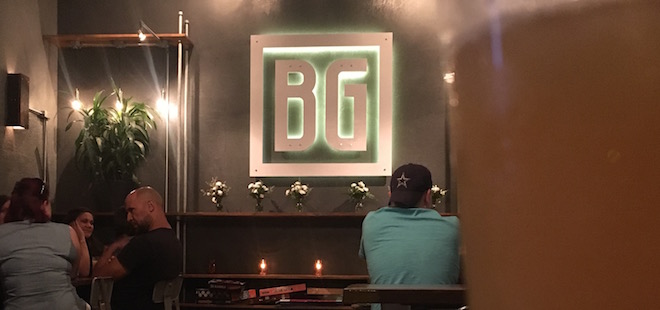 Braddock, Pennsylvania was once a thriving borough in Pittsburgh's eastern suburbs, but the decline of the steel industry in the 1980s forced businesses to close and people to leave. Today, there are still more empty storefronts than occupied ones, but in the former electrical supply store at 512 Braddock Avenue, the lights are on and business is bustling. That building is now occupied by Brew Gentlemen, and this brewery is definitely drawing visitors to Braddock.

Brew Gentlemen is the brain-child of Asa Foster and Matt Katase. As undergrads at Carnegie Mellon University, the duo knew that they wanted to open their own brewery. They were so intent on brewing that they almost got kicked out for brewing on campus! Soon after graduating in 2012, they found a space, renovated it themselves and opened Brew Gentlemen in 2014.
When you walk into their taproom, you will immediately recognize that their musical interests go way beyond Top 40. Co-founder and creative director Asa Foster said that the staff at Brew Gentlemen are "big music nerds," and that they actually publish a list of their favorite albums annually. Foster and his colleagues enjoy listening to albums in their entirety rather than shuffling through tracks from different artists.
"Given that we listen to full albums far more than we listen to single tracks, my thoughts on each mostly refer to the albums these songs are on. As you'll see, we're big fans of massive, maximalist collages that consist of different sounds, genres and influences."

– Asa Foster, co-founder of Brew Gentlemen
The taproom at Brew Gentlemen is a fun place to visit. You have good music, a shelf full of board games and, of course, great beer. Their General Braddock IPA is a tasty unfiltered IPA with lots of citrus up front and some piney hop bite on the finish. Also available this summer is Garden Party. This Cucumber Saison is an amazingly refreshing beer, which will quench your thirst in the heat of summer.
https://www.instagram.com/p/BUcNkazBgwu/?taken-by=brewgentlemen
You don't have to take my word for the Brew Gentlemen's musical proclivities. Every song on this list comes from an album that has either an intellectual, emotional or aesthetic meaning to the Brew Gentlemen crew, and Asa Foster and the entire team compiled this playlist and supplied their reasoning for each selection. Pour yourself a beer and sit down in front of the stereo, because the Brew Gentlemen are going to take you on a journey. They even supplied the liner notes to their playlist. Press play.
The Brew Gentlemen's Guide to Their Playlist
1. Fight Test – The Flaming Lips, Yoshimi Battles The Pink Robots [2002]
One of the great album openers from one of Matt's and my favorite albums.
2. Disappearing – The War On Drugs, Lost In The Dream [2014]
A psychedelic slow-burner that's a frequent taproom pick for lazy, mellow Sunday mornings.
3. Helplessness Blues – Fleet Foxes, Helplessness Blues [2011]
It was tough narrowing it down to just one Fleet Foxes track, but the sweeping, cinematic title track off their sophomore album Helplessness Blues.
4. Under African Skies – Paul Simon, Graceland [1986]
A masterful collage of African and Western musical influences, and the soundtrack to many a summer of (dare I say) porch drinking.
5. Hazey – Glass Animals, ZABA [2014]
Another frequent taproom pick, an oddball trip full of lush textures and viscous melodies.
6. Preben Goes To Acapulco – Todd Terje, It's Album Time [2014]
Norwegian DJ Todd Terje's debut album is a whimsical, richly layered retro-futuristic journey and one of the most genuinely fun albums we've ever listened to.
7. All You're Waiting For – Classixx, Hanging Gardens [2013]
A sunny synth-pop album that throws it in third gear and cruises the whole way through. Got a lot of rotation in our first few months following our opening.
8. Regulate – Warren G & Nate Dogg, Regulate… G-Funk Era [1994]
Any BG musical list would be woefully incomplete without the inclusion of G-Funk. The soulful gangster ballads of Nate Dogg can often be heard in our taproom.
9. This Must Be The Place – Talking Heads, Speaking In Tongues [1983]
Our collective favorite track from the gods of art pop. We're big fans of genre-benders.
10. On Melancholy Hill – Gorillaz, Plastic Beach [2010]
Gorillaz' kaleidoscopic concept album Plastic Beach is as colorful and theatrical as it is thoughtful and compelling.
11. All Of The Lights – Kanye West, My Beautiful Dark Twisted Fantasy [2010]
Kanye's maximalist masterpiece, the Sgt. Pepper's of avant garde hip-hop, has been a staple of our company since the beginning (and nearly every road trip we've ever been on). As is tradition, a Kanye-heavy playlist can be heard in our taproom during all bottle releases.
12. Vesuvius – Sufjan Stevens, Age of Adz [2010]
Age of Adz, Sufjan Stevens' glitched-out, apocalyptic amusement park of an album, was released just prior to our fated 2010 Thanksgiving trip to Boston during which we decided to start the brewery. It received heavy rotation during our trip and has become symbolic of the beginning of the BG story.
13. I Know There's Gonna Be (Good Times) – Jamie xx, In Colour [2015]
We figured this one would finish the playlist out well. Jamie xx's debut album took the top spot on our 2015 year-end list, yet another masterful work that pulls from countless areas of the musical spectrum.
Song descriptions courtesy of Asa Foster and Brew Gentlemen.
---