No Comments
Event Preview | Mikerphone Brewing Smells Like A Beer Fest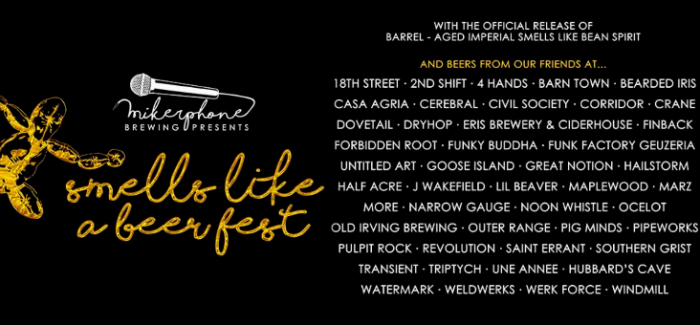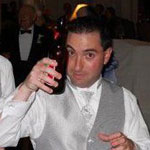 By the time you're done reading this sentence, tickets for Mikerphone Brewing Smells Like A Beer Fest would have sold out. An exceptionally lucky 400 people obtained tickets to the inaugural event that will be held at the brewery on April 28 which features a star-studded lineup of breweries both local and from around the country.
The festival replaces Pale Pauper Day which had been held over the past few years as an alternative to the popular 3 Floyds Dark Lord Day. 
"Shortly after wrapping up last year's Pale Pauper Day event, me and the crew who started it decided that it had become something bigger than it was meant to be," Mikerphone Brewing owner Mike Pallen said. "Pale Pauper was meant to be a casual get together for those who didn't get tickets to Dark Lord Day, but still wanted to hang out and share beers."
https://www.instagram.com/p/BhM2cc4gHsu/?hl=en&taken-by=mikerphonebrewing
Still wanting to work with Elk Grove Village, Pallen looked at the brewing calendar and knowing that Barrel Aged Imperial Bean Spirit would be ready in April, made the decision to turn the release of the beer into a bigger event.
"We had such a wonderful time working with the city of Elk Grove, our neighbors, and our fellow brewers that day (Pale Pauper), and we raised a good amount of money for the Veterans of Elk Grove, that we knew we had to do some kind of event in 2018," he said. "I have had the luxury of pouring at several other brewers' release/festival events such as Funky Buddha Maple Bacon Fest and Cigar City Hunaphu's Day. I liked the format of releasing a beer and having a festival alongside it. So that is why we chose to do Smells Like A Beer Fest; a release of BA Bean and a fun beer event aimed at celebrating and showcasing many of the breweries we worked with this year as well as raising money for the Elk Grove Village Youth Scholarship Fund."
Mikerphone is no stranger to popular releases. Whenever a new variant of Bean Spirit is released, it flies off the shelves and kegs kick within days of the release (if not sooner). On the night tickets went on sale, Pallen was anything but relaxed.
"I am not going to lie to you; it is so darn stressful," he said. "The night of the ticket sales, I was pacing throughout my dining room.  My phone was blowing up. I had to put out fires left and right."
Just 400 tickets went on sale on the night of March 27 and they sold out instantly. While there were many people upset that they were not able to get tickets, Pallen has used social media to be transparent with his customers and fans to give them insight into why things are done the way they are.
The next day, he posted a Facebook message explaining how ticket sales went and assured people there will be other opportunities to try BA Bean Spirit.
"Mikerphone is a small business making small batches of beer in a small location," he said. We have always baby-stepped our way through this craft beer adventure.  There are times, however, when being small has hit us hard.  We cannot always accommodate everyone, which was the case of the ticket sales. We put 400 of the 500 tickets for sale online. We wanted to make it as fair as possible for both locals and out of town supporters to get a shot a tickets. We also set aside 80 tickets that were sold as part of a lottery ticket release where locals who came in during the week got a lottery ticket at the end of their stay."
"We try our hardest to make sure we provide a great experience for as many people as we can," he continued. "We are in a fortunate position to be a company that has such a die-hard following who spends their hard earned money on our product day in and day out.  It continues to blow me away how big our fan base is."
Pallen also said that the Monday after the festival, he will begin working with the city of Elk Grove to find an offsite location to host more people. As for the BA Bean Spirit, Pallen confirmed that the beer will be poured at Beer Under Glass and it will be available at the taproom until it runs out.
As for the festival itself, Pallen is very excited to host this inaugural event and host more than the 45 people that the taproom holds.
"I am most looking forward to sharing beers with 500 of our fans," he said. "Our tasting room only holds 45 people, so we don't get to have that many people out at our place at one time enjoying beers together. We have worked our tails off to get BA Bean ready for the fest, and we cannot wait to get peoples' feedback. On top of that, I am excited to see people trying beers from all of the guest breweries. I have had the opportunity to work with some amazing breweries all across the US these last few years.  It will be fun for them to share beers with people who may have never had their beer before."
Bean Spirit has gone through a lot of different variants, but Pallen said he was originally hesitant to toy with the beer because it took so long to get right the first time.
"I was very hesitant to play with Bean Spirit, since it has taken so long to get it dialed in," Pallen said. "We brewed the first batch of Bean way back on Sept. 10th, 2015. It has come along way since then, and the variants have been a blast. Erik from Tugboat Coffee Roasters, who we get the coffee from, challenged me to do a variant.  I shrugged him off and didn't give it any thought. Then one day we were like, heck with it, let's get crazy and see what we can do with ole' Bean."
Since then there has been a long list of variants including vanilla, maple, decadent, and cafe con leche just to name a few.
https://www.instagram.com/p/Bf1Ywd3A3r9/?hl=en&taken-by=mikerphonebrewing
In the past Mikerphone has done some small one-off barrel aged beers, but nothing to this magnitude. Pallen got his Heaven Hill barrels from Goose Island and he's incredibly happy with the final product.
"This is our first official whiskey barrel-aged beer release," he said. "And I have to say, the barrel gods were good to us.  We picked up a lot of vanilla, marshmallow, wood, and booze from the barrels. Lace in the maple syrup and coffee, and there you have it, Barrel-Aged Imperial Smells Like Bean Spirit."
On the day of the event there will be parking but Pallen recommends taking an Uber/Lyft, car pool, or to get dropped off since parking is very limited. School of Rock will be playing live music and there will be food available for purchase. Those in attendance should also bring cash for raffle tickets as guest brewers will be bringing beers to be raffled off and Pallen is donating a variety of Bean Spirit variants from his personal cellar. All the money benefits the Elk Grove Village Youth Scholarship Fund.
"I just want people to have fun," Pallen said. "At the end of the day, this is just beer. The world is a heavy place, we can let beer be our escape, our chance to meet new people, try new things, and just have fun. Take your time, drink responsibly."
Oh – and find Mike!
"Find me and say hi (they keep me locked up in the back 24/7)," he said. "And again, just have fun. If we all behave and have a good time, the city will be happy and let us do more fun things like this."
Feature image courtesy of Mikerphone Brewing.
MIKE ZOLLER IS THE MIDWEST EDITOR FOR PORCHDRINKING.COM. FOLLOW HIM ON INSTAGRAM: @CHICAGOBEER AND PORCHDRINKING CHICAGO'S TWITTER FEED FOR THE LATEST CHICAGO CRAFT BEER NEWS: @PORCHDRINKCHI.
---