One Comment
42 Colorado Brewery Openings for April, May & June 2018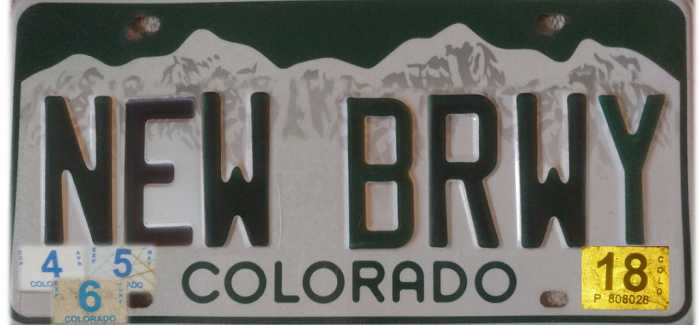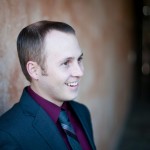 If you love the freshness of spring, then you are definitely going to love all the fresh new breweries budding all over the Centennial state. Thanks to our amazing friends at the Colorado Brewery List and the Colorado Beer Geek, we have a list of 42 Colorado brewery openings for April, May and June.

Of these openings, six are additional locations for existing breweries, two breweries are rebranding and one has changed ownership. The remaining 33 are brand-spanking-new breweries that will be pouring their delicious suds this spring.
Currently, it is expected that nine breweries will open in April, 19 in May and 14 more in June.
Below, you will find small previews of each brewery, where they are located and when they hope to open. Be sure to check out the Colorado Brewery List for information regarding all breweries in Colorado, including all upcoming breweries. Follow the Colorado Beer Geek on Facebook as he is constantly updating about new brewery progress.
April
Brewmented is a fantastic source for homebrewing supplies, a great place to learn about homebrewing through their learn-to-brew classes and special events. Additionally, they are a small-batch brewery featuring handcrafted beers. They combine experimental beers that stress the wide range of options available to the homebrewer with a rotating selection of their favorite beers from local breweries.
Brewmented's taproom is now open, and their first beer, a Pink Boots Collaboration Beer, is now available as well. Kitty, General Manager, and Heather, one of Brewmented's Homebrewing Ambassadors, celebrated International Women's Day on March 8 by taking part in the Pink Boots Collaboration Brew Day!
Check out this awesome mission statement: "To promote outdoor recreation through our brewpub to produce craft beer, great food, outdoor recreational teams and events!" Sounds perfect!
Owner Rick Reliford shares, "Our beers will be a varied array of the major flavor profiles with seasonals focusing on locally foraged ingredients including cultivating native yeast strains. We have 15 guest taps pouring right now and a bottle selection of over 40 different beers." Furthermore, Grand Adventure Brewing boasts a 'rustic Colorado' menu. The brewpub will focus on smoke meats that are served via pizza, barbecue and pub fare.
Grand Adventure resides at the northwest corner of the town square in Kremmling at 207 Central Avenue.
This new brewery is a collaboration of craft beer industry folks from several different breweries around Colorado.
This endeavor started only a few months ago back in November of 2017, when Backcountry Brewery in Frisco closed. It was sold to David Axelrod, who at the time was co-owner of Broken Compass Brewing, and wanted to use it as a second location. That is what we had reported in our previous quarter's Colorado brewery openings article.
Since then, Axelrod had a dispute with his business partner, and current Broken Compass brewmaster, Jason Ford, according to Westword. Axelrod sold his shares of Broken Compass and used that to start his new venture of HighSide Brewing.
Also joining the HighSide Brewing team are Carrie Knose, who co-founded Living The Dream Brewing Company in Littleton but has since left its daily operations. In addition, Dave Simmons, from Pug Ryan's Brewery in Dillon, was hired as brewmaster. Finally, Jason Wiedmaier, who used to worked at Lone Tree Brewing, was also hired as a brewing consultant.
It is definitely an experienced crew looking to go on a new path in the world of craft beer.
Set to be headquartered at 29th and Fairfax in Park Hill, Long Table has recently finished put the "finishing touches" on their storefront according to their Facebook page.
This El Paso County brewery sets up its shop at on Circle Drive between Uintah Street and Palmer Park Boulevard. On a March 19 post on their Facebook page, their taproom seems to be coming along nicely.
Opened April 14.
This is a very special brewery. Primitive Beer is exclusively a spontaneous barrel-fermented brewery! Primitive is run by husband and wife duo Brandon and Lisa Boldt. Even though the brewery will just be opening, their beers have been brewing for over a year. Brandon shares how Primitive's operations worked since they decided to start a brewery:
"I produce the wort (along the traditional Belgian procedure of 60% Pilsen, 40% raw wheat, turbid mash, four-hour marathon boil with aged/debittered hops) at Odd13 Brewing's production facility and drive it over with a tanker truck (for which I had to get a commercial drivers license, which was a fun project on its own) to our blendery where it is pumped into a koelschip for cooling and inoculation overnight. The next morning the inoculated wort is pumped into barrels for fermentation and aging for 1-4 years before packaging."
In creating their brews, Lisa says that they will focus on local Colorado ingredients. She shares,
"All the beer sold at Primitive will be at least one year old, all spontaneous and barrel fermented. Our early releases include a 4-puncheon base beer blend, a double fruited Montmorency cherry variety, a Palisade peach version, and some dry-hopped varieties (CO-grown hops). In the future, we'll also have some spirit barrel aged varieties."
They are open the second and fourth Saturday of every month from noon to 10pm.
Check out PorchDrinking's coverage of Primitive's Méthode Traditionnelle Beer in a Box.
Rock Bottom Brewery (Highlands Ranch) – Additional Location
With six existing locations, Rock Bottom Brewery will add a seventh in the Central Park development in North Highlands Ranch.
Opened April 11.
This establishment in Denver's Highlands is finally ready to serve beer! Check out PorchDrinking's full coverage of this exciting opening. Also, definitely give a listen to the Porchcast episode with Grateful Gnome co-founder Bess Dougherty by clicking on the image below.
Opening its brewpub soon, Tilted Barrel Brewpub wants to be your neighborhood gathering place for all ages to enjoy. Tilted Barrel tells us, "If you want to grab a beer, watch the game, or just have lunch or dinner with your family, we plan to fit the need."
Part of that fun environment is a "lounge" area that will have casual seating and games (darts, ring toss, shuffleboard).
As for food and drink, Tilted Barrel says they will "serve simple, high quality craft food, but also feature many of the awesome beers brewed in Loveland. We have 12 taps allowing us to introduce our own beer along side the likes of Loveland Aleworks, Verboten, Grimm, Crow Hop, etc. Our friends at Intersect, and Rally King in Ft. Collins will also have a couple of their beers available."
Right now, Tilted Barrel's brewhouse will not be operational until late summer. However, they are brewing three of their head brewer's recipes at Rally King:
"​Patchwork Pale​" |  ABV: 5.2% IBU's: 21

An extremely pale, golden ale brewed exclusively with Mosaic hops. The bright, tropical fruit aroma and flavor profile provide a refreshing complement to the clean, crisp backbone of this beer.

"​It Landed on Us​" |  ABV: 6% IBU's: 55

A New England Style IPA is brewed with over five pounds of hops per barrel. That is over 30 lbs of Mosaic, Citra, and Amarillo hops in this hazy IPA.

"​Vanilla Three Threads Porter​" | ABV: 6% IBU's: 24

An English Porter infused for two weeks with vanilla beans from the Old Town Spice Shop. The creamy sweetness of the Vanilla melds delightfully with the complex caramel and roasted malt character to create a rich, smooth, medium bodied ale.
May
Opening May 5.
This is a planned re-brand of Great Storm Brewing in Colorado Springs at Mt. View Lane and Nevada Avenue. According to their Facebook page, they recently hosted the International Women's Collaboration Brew.
Opening May 28.
To start, BURLY Brewing Company is owned by George Goodman, an avid home brewer and a third generation optometrist. The brewery totals in 5,100 square feet in size. Inside, it consists of a taproom complete with 24 taps that features all in house brews as well as one for homemade root beer and homemade cream soda. Additionally, BURLY boasts a stage for live music and a private party room.
Next, the BURLY brewer team consists of Jim Stinson, who has 20 years of experience, and Reno Wilson, who has three years of experience and moved from Austin, Texas. The brewery features a ten-barrel brewhouse and a two-barrel pilot brewing system for specialty beers. As of now, current production capacity is 3,500 barrels per year.
Another exciting feature about BURLY is their Growler Exchange Program. See, they are using stainless steel growlers (128 oz) instead of glass. When you are finished with your growler, bring it back and exchange it for another. No cleaning by the customer is required. BURLY brands their growler as a "ManCan" and the first fill is free with purchase of the growler. More so, the stainless steel growler is filled under pressure and will keep the beer carbonated.
BURLY's first brews are all original recipes and patrons can expect to see:
Saison
American Wheat
Pale Ale
Irish Red Ale
Belgian Blonde Ale
Amber Saison
Honey Brown
Hefeweizen
Bier de Garde
Rye Pale
Rye'd Porter
Dubbel
Do you like your brews strong? Well, Burns Family Artisan Ales is hoping to provide you with a strong, complex and rich beers.
Taking over the space occupied by Wit's End Brewing, Burns Family Artisan Ales is run by Wayne Burns and Laura Worley — both very experienced in the Colorado craft beer industry.
About how they came together and their vision for the brewery, Burns says:
"Early in my homebrewing efforts I developed a fascination with the richness, complexity and depth of character that can be achieved when brewing, fermenting and aging very strong beers. That fascination grew during my professional brewing career and it is a central theme for BFAA. Laura and I have a cellar of bottles made by me over the decades that range in strength from 12% ABV to 22% ABV and up to 20+ years old. We intend to produce very strong beers both straight from stainless steel as well as from wood aging of different types and blends, for sale both on draft as well as in bottles. In addition Laura & I have a great love for refreshing, intense and full-flavored examples of normal strength beer styles. We expect those regular-strength beers to occupy roughly half of our tap lines."
Furthermore, Burns says to expect wild, sour and spontaneously fermented beers.
Wayne Burns is not the first in his family to be passionate about fermented beverages. Burns explains:
"I have family history with fermentation that begins with my grandfather who made wine during most of his life, going all the way back to when he lived in Liechtenstein prior to moving to the USA in the 1920s. In fact much of my homebrewing equipment that I started brewing with in the 1980s is inherited from him. That sense of family connection with fermented beverages passed through my father, who homebrewed for a while during the 1960s and 1970s, and has been shared with my wife and stepson, both of whom have worked with me on beer formulation and of course Laura has brewed professionally as well. This sense of family and history connects most directly with the central theme of BFAA by virtue of the sense of special events having a special beverage as part of the celebration."
For its opening roster of beer styles, Burns hopes to have these available:
Kolsch | ABV: 5%
Dark Mild | ABV: 3.75%
IPA | ABV: 7%
NEIPA | ABV: 6.5%
Porter | ABV: 5.75%
Imperial Kolsch | ABV: 9.3%
Belgian Red Rye Double IPA | ABV: 9%
Imperial Stout | ABV: 12%
Barrel-Aged Imperial Stout | ABV: 12.5%
Belgian Dark Strong | ABV: 10.5%
Imperial Old Ale | ABV: 13.5%
Barrel-aged Imperial Old Ale | ABV: 14%
Opening May 5.
This brewery is a project of Denver Beer Company. You may recall that Denver Beer Company opened its second taproom in Olde Towne Arvada last June.
Well, their next project is Cervecería Colorado. To introduce you, the Cervecería Colorado website describes their goal as "To honor the traditions, flavors and culture of Mexico by utilizing traditional Mexican ingredients, flavors, and processes to create innovative styles of beer."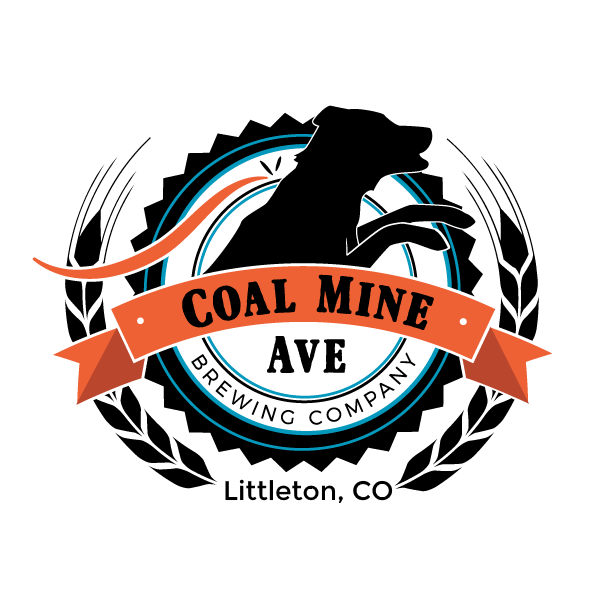 This may be the most dog-friendly brewery out there. Coal Mine Avenue Brewing Company will have a designated off-leash dog play yard with a couple of pieces of equipment from Gyms for Dogs. Originally named Off Leash Ales, those that wish to bring a pooch and have a pint will need to complete a dog registration on their website prior to their visit; online registration will be open closer to the brewery's opening.
Owner Manuel Baca says, "We have a unique bar set up with a roll-up window that allows be people both outside and inside to be served at the bar."
As for its first beers, Baca shares, "We plan to open with a Porter (as decided by our social media followers), a Cream Ale, a hazy IPA, and a special collaboration (to be revealed at future date)."
It is also the Year of the Dog and Coal Mine Ave Brewing plans to sell limited edition t-shirts. See the image to the right for the planned t-shirt design.
Golden is getting a real treat! Colorado Plus is adding a second location, according to BusinessDen. Instead of a beer focus like at its first facility in Wheat Ridge, this location will be cider focused and foods to be paired with those ciders.
This new location will be at 1100 Arapahoe Street.
Jake Minturn and Doug Hyndman purchased Elk Mountain Brewing from Tom and Marcia Bell in March 2017. Since, they have continued operating as Elk Mountain, but the Downhill Brewing Company brand should be launching soon. They also plan to have a small pizza kitchen.
Amongst the quaintness of Old Town Fort Collins will be Freedonia Brewing. They plan to produce German-style lagers brewed in "100 year-old all copper Jacob Carl Brewhouse following Germany's purity law for beer 'Reinheitsgebot.'"
G5 is a restaurant that opened in September 2016 and is now adding a three-barrel brewery.
Lost Friend Brewing Company is near Academy Boulevard and West Montbello Drive in Colorado Springs.
Their website lists they will have eight flagship beers, a running club and a page of pets needing to be adopted.
Imagine going into a hotel and being served a beer upon check-in. Sounds perfect, right? Well dream no more! You definitely need to make a reservation for your next Denver vacation or stay-cation here as you get yourself an experimental ale in a souvenir glass from New Belgium right as you check-in.
This new tasting room is called The Woods that features New Belgium brews. The Woods is owned and operated by the The Source Hotel. The Source Hotel is directly next to the The Source marketplace, which opened in RiNo back in 2013. The Woods will feature a ten-barrel system and be on the Source Hotel's rooftop. Up on the roof, there is enough space for 50 oak barrels. According to New Belgium this,
"Allows them to be nimble and innovative, and experiment with different recipes, styles, yeast strains, hops and ingredients that they aren't able to use on a large production level like they do in their Fort Collins flagship brewery."
Visitors should expect a variety culture of fermentations including Stouts, IPAs and Sours, with fruit sourced from Colorado's western slope.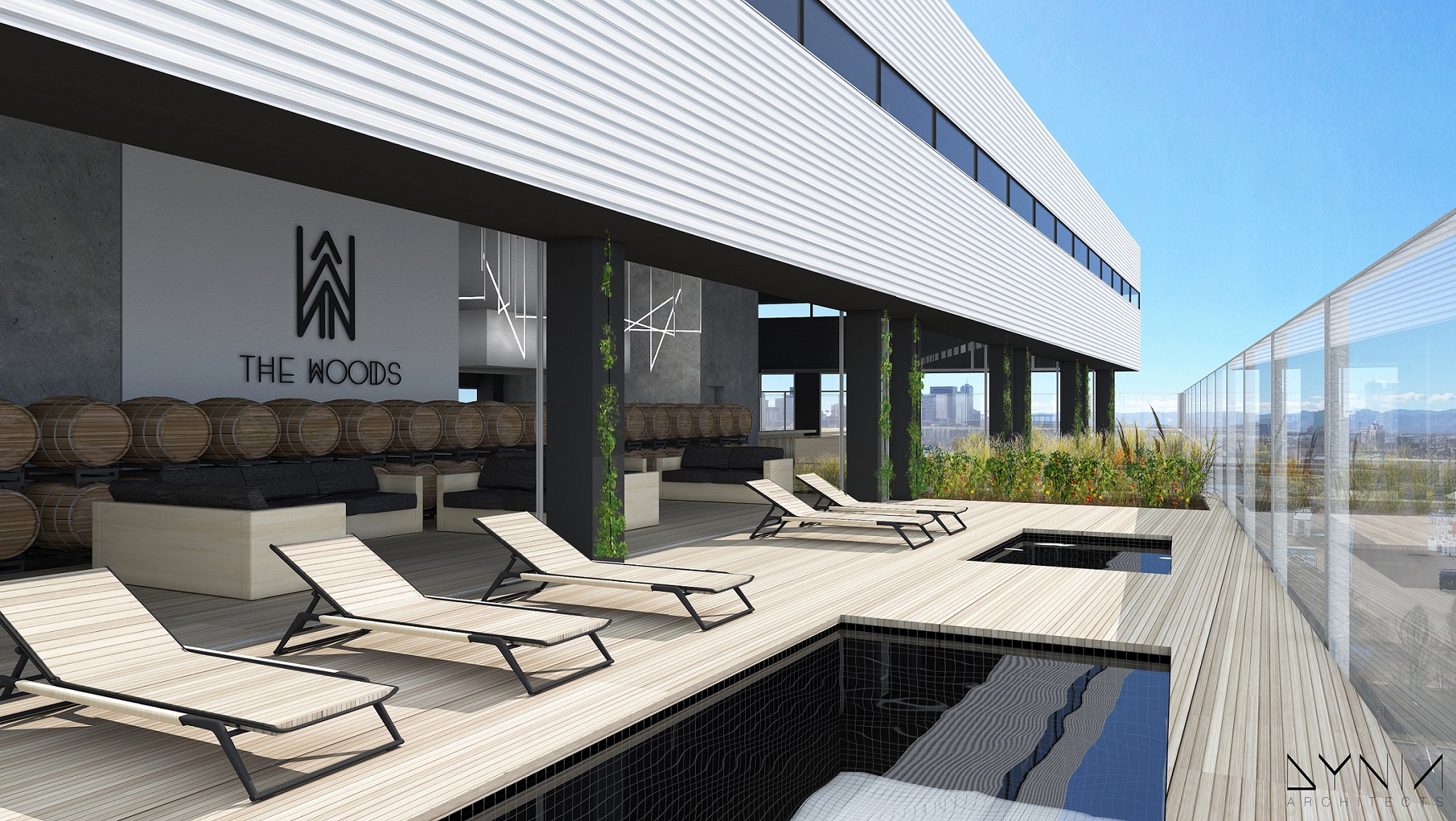 Besides The Woods on the Source Hotel's rooftop, this space also features a cantilevered pool, hot tub, and a restaurant with phenomenal city and mountain views. The rooftop is set in with natural greenery and light wood.
For guests of the hotel, you can order to your room:
Tasting flights
Beer-paired meals
Basket of beers
About the hotel
Besides The Woods on the rooftop, the Source Hotel also features:
100 rooms with 20 of those having a garage door window feature
2,300 square foot event space
Valet service and a 300 stall parking garage
Fitness center
Room service
And connected to all the great food and shops at The Source marketplace.
As for the design of the hotel, New Belgium shares:
"Designed by Stephen Dynia from Dynia Architects, the project creates a powerful duality between the iconic and historic 1880s warehouse that holds the existing Source, and the contemporary new build that will open as the first high rise in the RiNo neighborhood. Dynia preserves the integrity and residual authenticity of RiNo's original low-rise industrial past by creating The Source Hotel from eight distinct, one-story buildings angled and stacked on top of one another."
Odell Brewing (Denver) – Additional Location
Similar to New Belgium, another big Fort Collins brewery is also putting down some roots in RiNo. It is near the new Shake Shack and Ratio Beerworks.
Almost one year ago, Odell announced adding this new location focusing on experimental batches. It will feature two bars, an outdoor patio, a performance space, and 15 taps.
Check out PorchDrinking's full coverage when Odell's first made the announcement.
This Aurora brewery started back in November 2014 with 20 guest taps. Since, they expanded the size of their tap room, added ten more taps and a three-barrel brew house.  Speaking about their growth, Peak to Peak Tap & Brew says,
"We've been fortunate enough to sell every last drop of beer we make and still not have enough, so we soon realized we needed to expand production. After exploring expanding in our current location and contract brewing, we came across the Colfax space and decided to jump in!"
The new Colfax space takes over the now closed Mu Brewery at 9735 East Colfax Avenue. The new goal of the new space is to increase production for distribution.
Tap room hours at this new space will be limited from Wednesday through Sunday.
Peak to Peak also shares,
"Like our other location, we will have several taps of our own beer to choose from, a small cider and wine selection, and a limited food menu for those who come in hungry. The beer will be mostly our established flagships, but the expanded capacity also means we get to experiment more!"
Of all the Colorado brewery openings this spring, this brewery features two very unique qualities. First, their taproom will have a distinct New England theme. Second, they will offer a member brewer program where amateurs can schedule a brew day on their equipment.
To start, Pilothouse is founded by Jean Verrier. He designed the taproom from inspirations of the sights of coastal New England – from Newport, Rhode Island to Cape Cod, Massachusetts. Verrier originally hails from New England but moved to Colorado almost 20 years ago.
Verrier's describes how much the nautical and coastal theme are fully immersed in the brewery:
"Our bar top will be made of teak and will resemble a boat deck. All of our furniture is being custom built and most of it will be available for individual or business sponsorship. Additionally, our taproom will have cushioned bench style seating, which is being custom built with two of the five benches appearing around/in front of a real sailboat's binnacle, which will be prominently featured in our taproom. This binnacle will consist of a classic sailboat steering wheel with eight spindles and accompanying teak handles, pedestal, compass, guard with teak cup holders mounted to it, and fold-out teak table. Our taproom will have seating for up to 56 people. Our tasting trays were also custom made out of teak, mahogany, and maple."
Outside, you can get a drink from the patio bar, which has room for 70 people.
Inside, Verrier says they will showcase 32 different house beers and below is a brief selection of what will be on tap:
Red IPA that will be made from 100% East Coast ingredients
Maple Nut Brown made with real Vermont Grade A Robust maple syrup
Colorado Pale Ale made with Colorado malts, hops, and yeast
British Apricot Ale made with real apricots
Chardonnay Wheat made with a blend of malts and chardonnay grapes
Irish Strong
German Beers
Belgians
Brew Crew Membership
Pilothouse Brewing Company is definitely trying to help the amateur brewer be successful. Verrier explains:
"A special Brew Crew membership, for an annual fee of $95, to local area amateur brewers that would like to brew with us and put their beer on tap in our taproom. With their Brew Crew membership, amateur brewers will have the opportunity to brew on our systems in a competition style format.

They will also be able to purchase discounted ingredients from us that we regularly stock in our inventory among many other benefits. We will stock over 87 varieties of grain/malt, 50 varieties of hops, and 58 different strains of yeast and 73 other brewing ingredients.

Shortly after we open in mid-May, we will begin accepting Brew On Premises (BOP) appointments too from our member brewers as well as from non-member brewers.  BOP appointments will be for those brewers that want to brew beer for their own consumption on our professional equipment.  BOP appointments will be available during the work week, but not on weekends to start, as our equipment will be reserved for revolving amateur brewing competitions on the weekends.
Finally, amateur brewers should definitely go to the Pilothouse Brewing website as they have a Brewers Tools page. This page "contains instructions on the operation of our pilot brewing systems, their user manuals, videos, and a link to our brew day scheduling application," says Verrier.
Prost Brewing (Fort Collins) – Additional Location
As Fort Collins breweries New Belgium and Odell add locations in Denver, Mile High City brewery Prost Brewing is adding a location in Old Town Fort Collins.
Prost President David DeLine says,
"The system will be a 3.5-barrel copper-clad show piece for the taproom. With double batching, we will have a 7-barrel capacity for each brew. With this new system, we will be launching a new line of German inspired beers, but with a twist. We will break the Reinheitsgebot and add a modern twist. These will be taproom only and will include an IPL, Berliner Weiss, Gose, to start."
Check out this PorchDrinking feature about the exciting teaching brewery and how it is being constructed. The brewery received a huge boost of support from donors, including a big donation by Molson Coors.
Currently open on 400 Main Street as a restaurant, it will be serving its own beer shortly. According to Colorado Brewery List, the owner previously worked at Smuggler's Brew Pub in Telluride.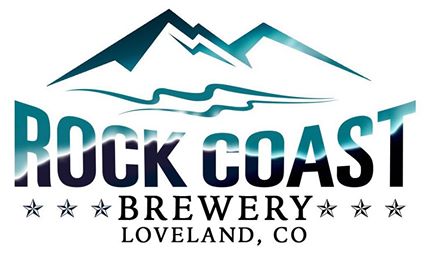 This brewery it is a family and friends-run business. See, Rock Coast founders Bob Shaffer and Dave Murphy have known each other for 18 years as co-workers. Furthermore, they both have brewed for about 20 years.  To add to the fun, joining the Rock Coast team are Dave's wife Libby and Bob's son Evan.
For their beers, Rock Coast says, "All our beers will have names inspired by Colorado landmarks like mountains, passes, bodies of water, and Colorado legends. We've partnered with a local sculptor who is creating custom bronze tap handles for each beer."
Look for many Belgian styles, IPAs, Stouts, and chili beers. You'll see some very classic recipes with some really creative ones.
Not to be pidgeonholed as just a taproom, the Rock Coast team thought it was very important to have food on site. Thus, all Rock Coast beers will be served at AKA Kitchen at 414 East 6th Street in Loveland. The Rock Coast team is working with the Executive Chef at AKA Kitchen to concoct beers to pair well with the food (e.g. blueberry muffins and pies). "It's going to be an incredible culinary experience," says Rock Coast Brewery. "We want it to be a place where everyone can come and spend time, regardless of what they like to drink."
Just a bit over two hours east of Denver, you can find this new brewery in Yuma. In a unique origin story, Tumbleweed Brewing and Wine Company shares, "Our brewmaster Trent destroyed a few stoves while home brewing over many years. A friend of ours bought a building and asked us to take our game to the next level."
Pretty simple. And we need to have more friends who believe in us to buy a building for us.
You can find Tumbleweed on Main Street in the old brick Mustains Grocery store building. To drink, they plan to have six taps and a selection of wines. You can also enjoy pub food with your brew.
The plan to be opened 4:00pm–10:00pm, Wednesday through Saturday.
June
You can already find this RiNo brewery's beers in cans, at bars, or even get a crowler to-go from their operations at 2801 Walnut Street, but their taproom opening should be happening this summer.
Have you ever been to Paonia before? If not, then perhaps a summer road trip here may be great idea. This special brewery will be Paonia's second brewery (Revolution Brewing opened in 2008). Owner Shawn Larson describes Paonia as:
"A town steeped in community values and historic traditions. Along with ranching and coal mining Paonia has continuously proven itself to be a major hub of agriculture in the state of Colorado. We have the highest percentage of organic farms and orchards per capita in the state of Colorado. Besides growing our own barley we will rely heavily on the surrounding orchards and farms to source the best ingredients available."
Last summer, Larson along with his partners Adam Gall and Frederick Zimmer, planted 11 acres of barley. It was then malted in Fort Collins where they ended up with 12,000 pounds of malt to start brewing.
As of now, Chrysalis currently has 150 oak barrels. Larson plans to initially brew a Saison, a Brown Ale and a Stout; each of these will be experimented with different yeasts, herbs, hops, fruits, coffees and more. Larson says, "It will be exciting to see how far we can push the limits of making amazing beer and endless varieties with a base recipe. All while trying to keep our ingredients as local as possible."
Our friends at the Colorado Brewery List say this was sold to new owners. It is closed right now but should open again this summer under the same name.
Located on what is an awesome stretch of breweries on South Broadway in Denver, Dos Luces is offering something very special. All of their recipes start with corn as the main ingredient. This is because all of their recipes are Pre-Columbian inspired.
Owner Judd Belstock tells us more about the two styles he will be working with,
"For thousands of years, Chicha and Pulque were the two bright lights illuminating the way for brewers in the Americas. Brewed from gluten-free ingredients, corn and maguey, these beers are rich in flavor and deep with history. Little known in the US, Dos Luces looks to these traditions for inspiration and aims to explore the vast possibilities these truly American ingredients hold. "
Belstock also shares his opening lineup of beers:
Inti — Chicha | 5.0% ABV

Brewed with malted blue corn a mix with whole kernels of Peruvian purple corn to give our Chicha its distinctive color and flavor.

Metztli — Pulque | 7.0% ABV

Inspired from aguamiel and regional corn, and blending maguey sap with malted blue corn. Touched with cinnamon and mixed with fruits, the spicy, sweet, and sour flavors.

Curados
Chicha Morada
Another brewery joining the scene in Loveland is Drätz Brewing Company. Located at 965 East 11th Street, this 65-seat tasting room is founded by Kerry Drake who is inspired by his family's history. They plan to serve eight flagship beers on tap as well as experimental, seasonal, and specialty beers throughout the year. Here is a sample of their initial beers:
Zephaniah Pale Ale
Quad Hop IPA
Abraham Oatmeal Stout
Drakken Baltic Porter
Ole John Indian Brown
Josias Belgium Dubbel
Several beers are named after family members starting from Josias Dratz. He was born in 1656 in Amsterdam, Holland, and immigrated to what is known as today as Manhattan, New York. Shortly after arriving, England had won the Anglo-Dutch war and started moving English settlers into the Dutch colony. To avoid harassment from the English moving into the settlement, Josias started to search for another name to sound less Dutch. The Drätz name was eventually dropped and changed to Drake.
The Laughing Leprechaun Meadery is owned by Guy McConnell, who started crafting mead in 1992. He then learned how to run a beverage operation with his volunteering and employment at Grimm Brothers Brewhouse. When the meadery opens in March, McConnell plans to "start out with several carbonated session meads of various flavors – traditional varietal, melomel, metheglin, pyment, etc." Laughing Leprechaun will also have guest taps of craft beer and braggot.
With its original location in Arvada, New Image is building a production facility in Wheat Ridge. Founder and brewer Brandon Capps explains the current status and future vision of the facility, "Our production at that site is expected to be 3,600 barrels, but we will be adding more tanks very quickly and are aiming to be on pace for 5,000-6,000 barrels annually by quarter three."
There will eventually be a taproom at the Wheat Ridge location, but Capps believes that will not be ready until the third quarter of the year as well.
For more information, check out our PorchCast episode from September 2017, when we spoke with Brandon Capps. You can also check out our Brewery Showcase of the original Arvada location.
This Baker neighborhood brewery will reside at 1st Avenue and Cherokee Street. According to Westword, they plan to be open Thursdays through Sundays and will share the space with a coffee shop.
Near Crystal Springs Brewing in Louisville, Pau Hana is a brewery and restaurant that hopes to celebrate the feeling of when you have just finished working. In Hawaiian, Pau Hana means "work is done" and owner Dan Regelson says, "we believe that the best way to enjoy that feeling is by sharing good food and beer with family and friends."
Regelson informs that they are starting with a tropical IPA, a Mexican-inspired lager, and a few others. As for food you can expect shared/small plates featuring ingredients from local farms.
If it is a nice day, they have a patio to enjoy the fresh air and have a couple of roll-up garage doors as well.
Back in 2012, River North Brewery opened at 24th and Blake. Three years later, River North Brewery had to leave the RiNo neighborhood. It moved north to 60th and Washington. In just a short matter of time, the neighborhood's namesake brewery will return to RiNo and open its new taproom at 3400 Blake Street. The new space will feature a private events lounge in the back, a large patio, and a seven-barrel pilot brewery and taproom. Check out the image below for a tentative layout of the new taproom.
Sleeping Elephant Brewing (Loveland)
According to Colorado Brewery List, this brewery will be in the Matador Mexican Grill in Loveland in the Centerra area.
We do not know too much about this brewery. Their Facebook page says they are a veteran-owned and operated microbrewery. When they open, they will be the first brewery in Elizabeth, which is about 16 miles east of Castle Rock.
In a few short months, instead of heading west off the Harmony exit on I-25 to Fort Collins, head east  to Timnath. They will have their first craft brewery and tasting room on 3rd Avenue.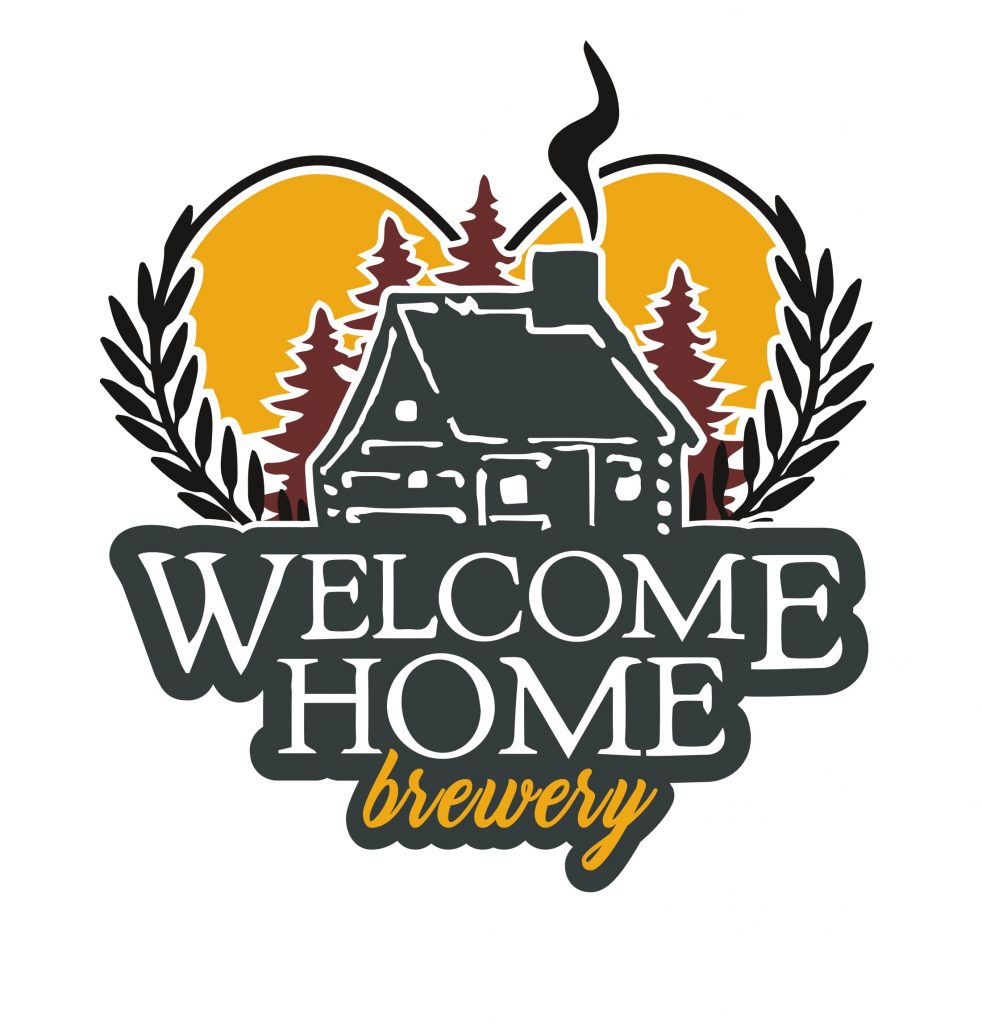 Finally, our last brewery we anticipate to open in the second quarter of 2018 is Welcome Home Brewery. The brewery wants to really give you the feeling of going over to a friend's house and hanging out. This is because owners Aaron Murphy and Sharon Cating-Murphy felt most breweries provided the same environment. "The hard metal bar stools, roll-up garage bay doors, and the variations on hard wood and metal tables. We wanted Welcome Home Brewery to be different," say the Aaron and Sharon.
The furniture, bar top, decor, and community fireplace should make you feel like your chilling out with your peeps. Aaron and Sharon say, "Think of a backyard barbecue at your friend's place, but Welcome Home Brewery is your friend, and we're bringing the beer."
They will brew on a six-barrel system and will have six beers offering year-round:
Cream Ale
American Wheat
IPA
Irish Red
Porter
Stout
In addition, they hope to have up to six rotating seasonal and experimental options.
---