No Comments
Brewery Showcase | New Image Brewing Company (Arvada, CO)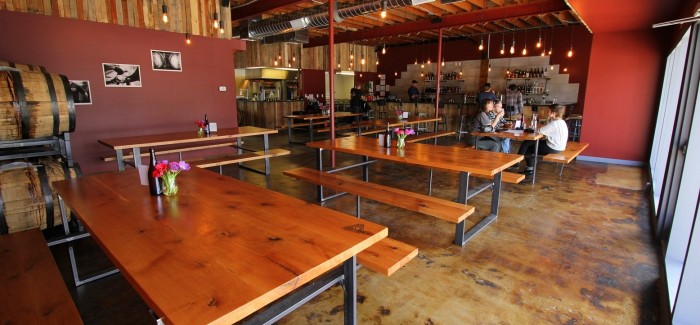 Arvada's newest brewery has finally opened their doors, and we couldn't be happier to welcome New Image Brewing Company to the neighborhood!
The road to New Image started way back in the day – when the owners Brandon Capps and Sean Fisher met in middle school back in Georgia. Having gone to school for electrical engineering and excepting an intern position with Anheuser Busch, Brandon found that his passion was in craft beer. Brandon joined a brewery in Pittsburg, but soon found himself craving Colorado. Gradually, both Brandon and Sean made their way out to Denver, paving the road to opening their own space. The owners created the brewery primarily because they wanted to connect with their community via craft beer.
Why did they pick Colorado? This is a prime spot for doing something community focused – one of the pair's main goals.
"There's something deep inside people where they need to make social connections and having a phone or tv is too much of a hindrance" Sean says.
They've kept the space free of flashy screens and overt technology. They even had their custom eight foot tables made by Rustic Trades, college friends of theirs who now have a space in CO Springs. The long tables facilitate patrons meeting each other and sharing not only brews but conversations. Craft beer is a perfect catalyst for people in our generation to share and talk and open up about things beyond the beer.
"We get to facilitate people trying new things and that's exciting." – Sean Fisher
One of the best parts of the brewery is the staff – they are all part of the team, all knowledgeable, educated and passionate. New Image boasts an educated staff and service like that of a restaurant but in the arena of an elevated tap room. The staff is all part of the team in that they all participate in beer training, cocktail development, etc. Brandon and Sean believe that if you treat your employees correctly and as part of the team rather than a tool, that attitude will show through to the experience your customers have (and keep them coming back).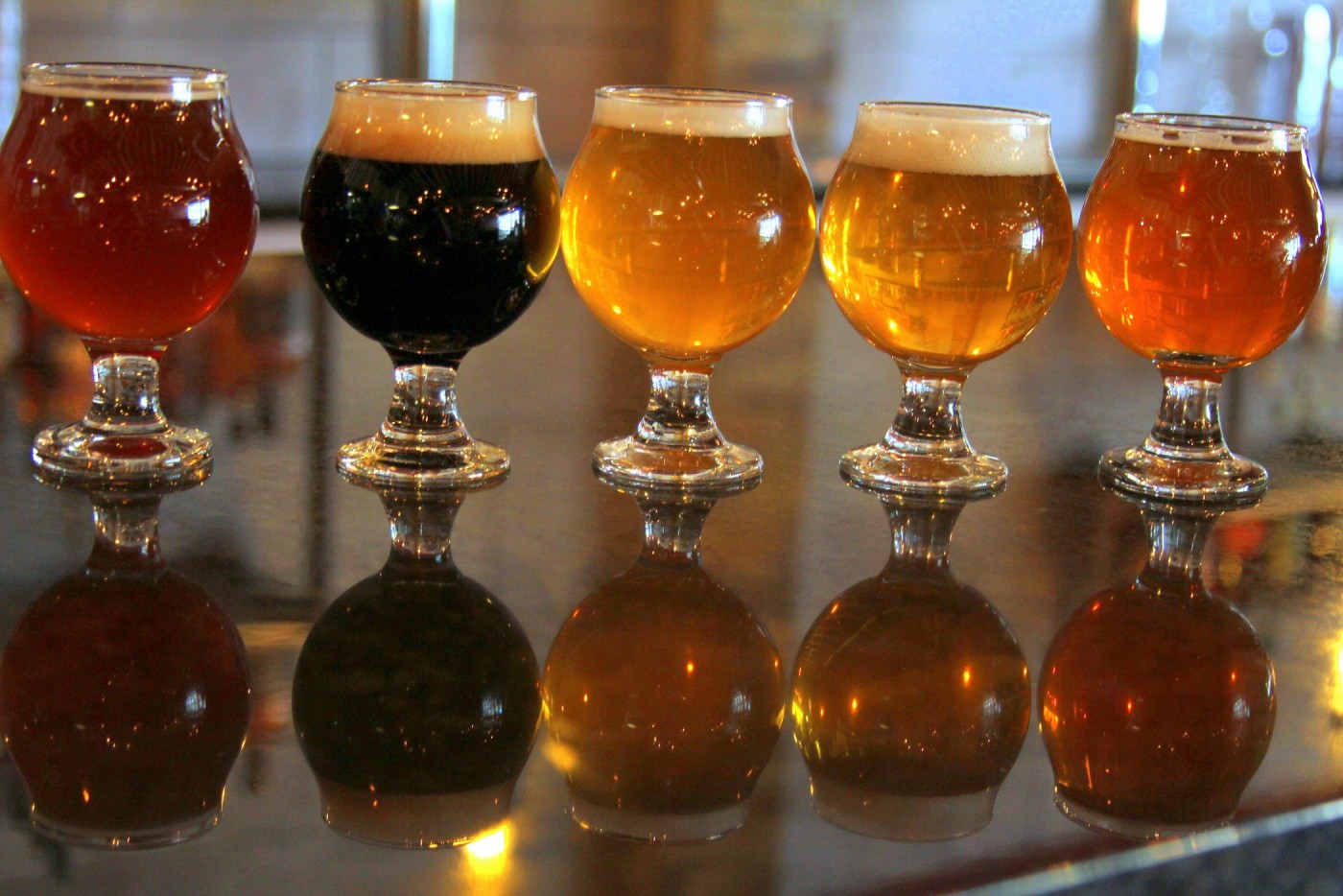 Currently, the brewery serves five of their own beers, along with a small selection of guest taps. These five include a Double IPA, a Saison, an Imperial Coffee Stout, a Rye/Wheat Wine and a Sour Saison mixed with kombucha from Boulder-based Rowdy Mermaid. Between the beer and the cocktails, there's something for everyone!
Personally, I'm a fan of the East Coast Transplant Double IPA. It's not as harsh and alcohol-forward as many other doubles and the hop content is nicely balanced. It's a Vermont style IPA – a little more hazy and they're using more Citra and Amarillo hops in this one. It pours a dark yellow color, the flavor is floral and sweet but not over the top.
The Melanoidin pours dark and opaque with a head that lasts and lasts. Spiced cinnamon and nutmeg, coffee stout made with cold brew, it's got low acidity and loads of caffeine. It's not cloudy but is full of coffee and vanilla notes – a stout even this hop head can enjoy.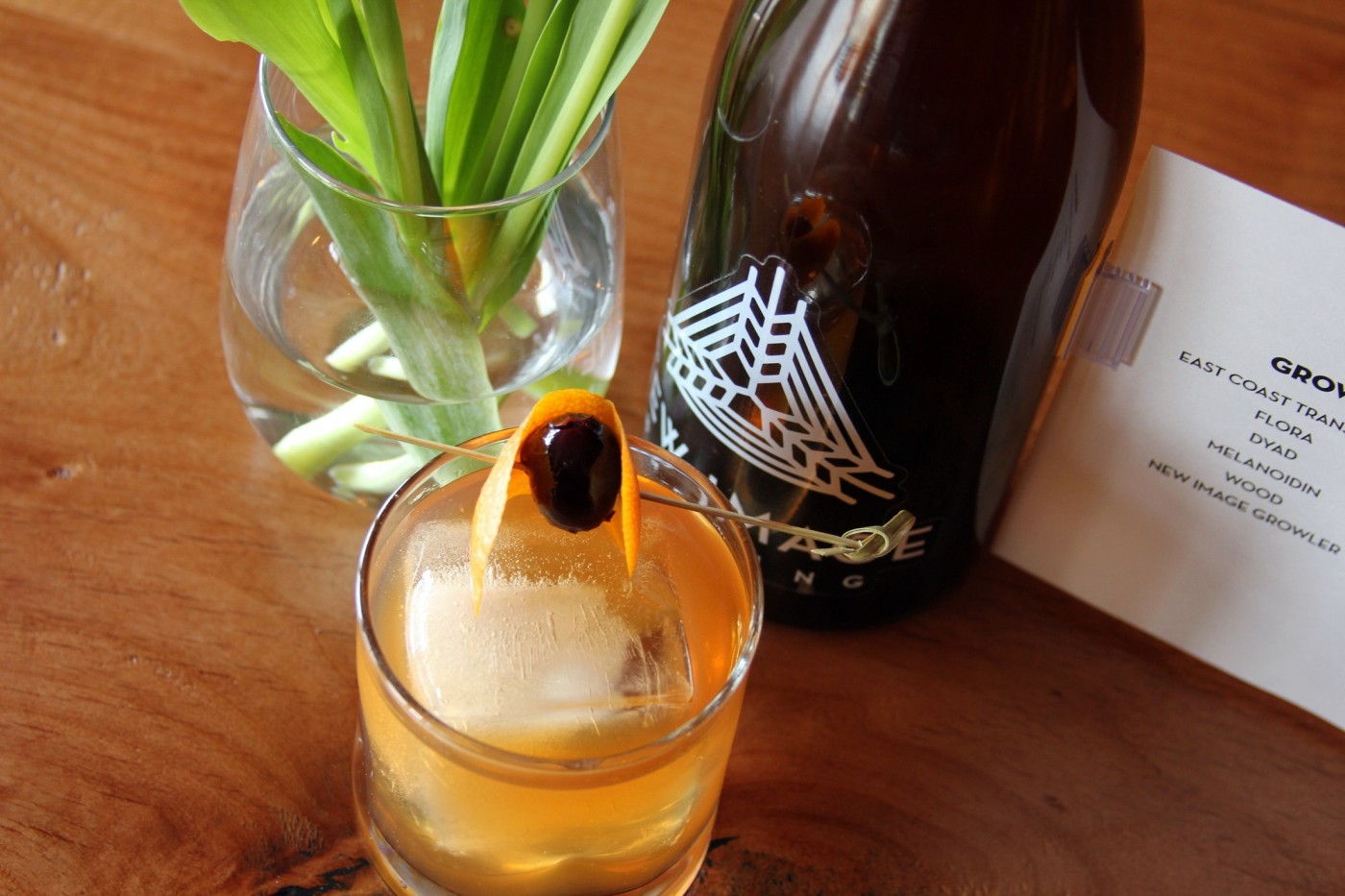 New Image Brewing not only serves their own craft beer, they also specialize in beer cocktails! The Seven Day Rye (a play on an Old Fashioned) is one of the brewery staples – made with hop bitters and a reduction of the Flora Saison, rye whiskey and bourbon-vanilla-bean soaked cherries with fresh orange juice and peels. Citrus fills the nose and a balanced fruit and spice mixture make up the rest of the beverage.
Brandon and Sean decided to offer their patrons a combination of cocktails AND beer because they wanted to ensure a space for folks other than just beer drinkers to come and share passions with friends. They're using their beers as simple syrups and as salad dressings in order to try and open people up to new flavors.
"We create our own simple syrups from scratch and use liquors off the beaten path" Sean elaborates. "We try to brew exciting and difficult things."
Unlike most breweries, New Image houses their own kitchen! The kitchen in this small taproom certainly does not disappoint. With inspired appetizers meant for sharing, they certainly bring home their intention to build a community.
The Food
Pork Kimchi Tacos
A pork braised with their Melanoidin imperial stout, quick kimchi made in house and an avocado mousse. These thoughtful ingredients provide flavors of citrus and vinegar combined with the sweetness of the pork, pairing well with the brews on tap.
New Image Salad
Mixed greens, heirloom cherry tomato, cucumber, carrot chips, parmesan and strawberry beergarette made with the Flora saison. It's a fresh and uncomplicated salad but the beergarette makes enough of a statement on its own.
Though all sounds delicious, one's got to think: Why go through the trouble of opening a kitchen in the first place?
"The environment allows people to stay and talk longer along with our shared plate experience" Sean explained. The kitchen is just another expression of their goal to create an area where people can meet others, build a community and foster such connections.
Not only is this a small kitchen in square footage, but its only small in regards to staff. Only two folks currently work out of that space! Darian is the head chef and has been cooking since he was 14. A Colorado native, he attended a culinary prep course during High School from which he was able to secure a scholarship to Johnson and Wales. A homebrewer himself, Darian was drawn to the new brewery and this opportunity to be a part of such a cool project.
Having brewed their beers thus far out of Funkwerks in Fort Collins, New Image just got their own fermenters in Arvada and will have the rest "soon". To even get the fermenters in their space, the New Image crew had to rent a construction grade forklift and drive it two miles on the road in order to lift the fermenters into their new location. The whole team was involved in the process and luckily no one got hurt, now they all have a great story to share with their friends and patrons.
From humble roots, Brandon and Sean have been able to turn their historic building into a proper tap room, their acquaintances into friends and their dream into a reality.
So what's on deck for the rest of 2016? You should expect seasonal changes in the beers and cocktails as well as the menu. They're planning to open their back patio as well as host more events – events that showcase other Arvada businesses and allow other local stars showcase their talents.
Hours
Monday: Closed
Tuesday – Thursday: 4p-10pm
Friday: 4pm-12am
Saturday: 12pm-12am
Sunday: 12-8pm
---