No Comments
A Bit Twisted Brewpub Brings Texas Smoke to Aurora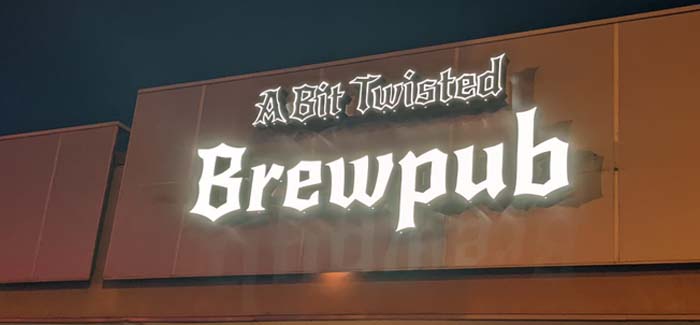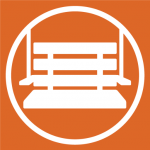 The smell of barbecue is about to get a lot stronger in south Aurora, CO. A Bit Twisted Brewpub is having its grand opening party this weekend, bringing with them an irreverent sense of humor, approachable atmosphere, and some down home Texas-style barbecue.
Brewery Buds
Owners Matt Vargocko and Brandon Foreman originally came from Texas. Vargocko moved to Denver in 2010. "When I first moved here I wasn't much of a brewery guy at all," said Vargocko. "Not too long after I moved here, Brandon came up here and was like 'let's go brewery hopping' and I was like 'What the hell is that?'"
Well, we all know how that turned out.
"It was fun as hell," Vargocko exclaimed. "I knew I had to do it more often. So I'd bring my wife with me, we'd go brewery hopping like crazy. I was hooked."
Passion Turned Hobby
Vargocko and Foreman dove head first into homebrewing as a hobby along with their third partner Michael Richie. Vargocko is the first to admit his initial creation was, ahem… not a masterpiece.
"I tried to make a Mexican Chocolate Stout because I loved what was at Copper Kettle," he said. "It was a total failure. Absolute trash."
Never one to give up, he persisted. Each batch improving slightly over the previous, to the point where he started to get really good at it.
"It got to the point where we were rolling through a bunch of beers and having people coming over and downing them," he said. "I then decided to buy Launch Pad's old system."
So what do you do when you make a lot of great beer? You throw a party.
"(Me and my friend Chris Becker) started having all these underground parties at my house," Vargocko explained. "We would have a ton of people show up and we'd just roll out a beer, all the time. We did another event at a park, we would have beer set up and we'd barbecue stuff and we'd just sell out of everything."
The constant demand coupled with the two friends' passion for the art of craft brewing led them to the inevitable conclusion – it was time to take this to the next level.
Going Legit
In 2018, Vargocko, Foreman, and Richie began searching for a space to open their own brewery, all the while perfecting their brewing even more. Finally their current location came available and Vargocko, Foreman, and Richie soft-opened their doors in September 2021.
Located right next door is another vacant retail location which Vargocko already has his eye on. Their current 2 BBL system is enough for now, but the Bit Twisted boys have their sights set on a larger brewing capacity and a larger brewpub space.
A Beer for Everyone
Citing heavy hitters like Outer Range, Vargocko says he aims for A Bit Twisted to become "a juice haven" for Aurora. Their latest creation, Cheating With Juice, is a hazy yet crushable NEIPA with Mandarina Bavaria, Azacca, and Eldorado Hops.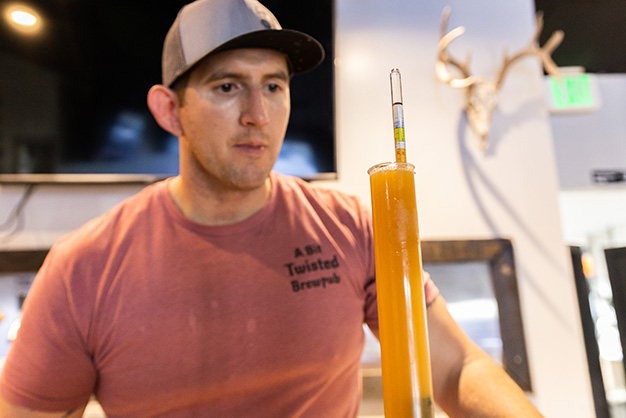 But while Vargocko appreciates a good hazy, he's not one to shy away from other styles. Their menu includes West Coast IPAs, stouts, saisons, fruited sours, a variety of beers to satisfy anyone's preferences. And that's by design.
A Bit Twisted aims to bring a neighborhood "basement party" feel to their brewpub. They want something on tap for everyone. It's how Vargocko, Foreman, and Richie started in the hobby and that's the vibe they want for their brewpub.
Friendly, approachable, yet…. A bit twisted as well.
"I don't like to do status quo," says Vargocko. "We like to get a little dark on things, like to have a little humor, make some crazy beer names. We want to be the South Park version of a brewery."
Current beer names?
Karen's revenge (Pumpkin Stout)
Island Boy (Pineapple Hefewizen)
Ashholes (Coffee Amber)
…just to name a few.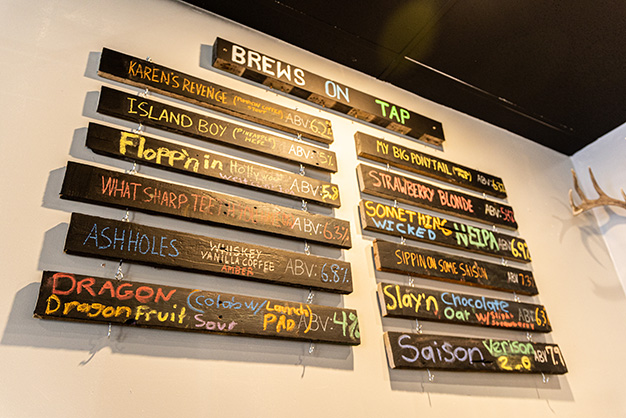 A Little Bit Country
In the same breath he mentions brewing, Vargocko is quick to mention his other passion – Texas style BBQ. Their offerings are straightforward but delicious – chicken, smoked brisket, and smoked pork.  Vargocko and team smoke the meat themselves.
"I only use oak in my smoker," he said. "Would never use anything else."
Vargocko is even quick to specify the region of Texas his BBQ style is from. Central Texas. Simple seasonings, oak smoked, simple yet delicious.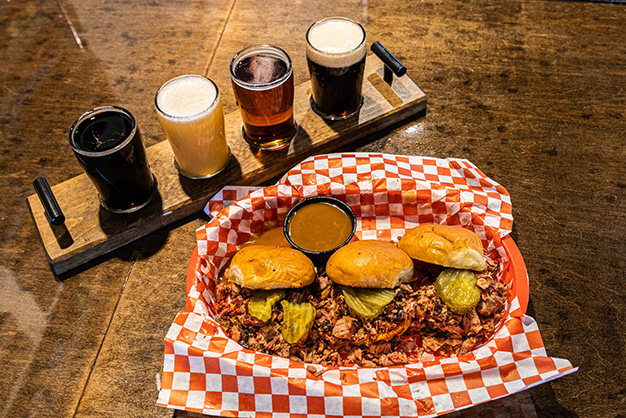 "I'm a better smoker than I am a brewer," Vargocko joked. And that's saying something because every beer we sampled was stellar, and paired very well with the brisket sliders he served us.
A Bit Twisted Grand Opening
Although they've been "soft open" for three months, A Bit Twisted will be having their grand opening this weekend, Friday through Sunday. They'll have live music, giveaways, and raffles to win food, beer, and even entire slabs of smoked meat.
Vargocko and his partners are excited to bring a little bit of Texas to their corner of Aurora. Simply put, it's their happy place.
"Today I came in and brewed beer… the most peaceful thing in the world," said Vargocko. "If I had my smoker back here I'd brew and smoke at the same time, I'd be in heaven."
"I want to brew beer, smoke meat, and watch football. Those are the three things that put me in heaven."
"Besides my family" he adds with a laugh.
A Bit Twisted Brewpub is having its grand opening party starting Friday at noon and their grand opening event can be found here. Follow A Bit Twisted on Facebook and Instagram.
---