inaugural – PorchDrinking.com
April 23, 2018 | Mike Zoller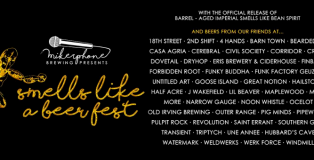 Avg. Reading Time:
5
min
By the time you're done reading this sentence, tickets for Mikerphone Brewing Smells Like A Beer Fest would have sold out. An exceptionally lucky 400 people obtained tickets to the inaugural event that will be held at the brewery on April 28 which features a star-studded lineup of breweries both local and from around the country.
The festival replaces Pale Pauper Day which had been held over the past few years as an alternative to the popular 3 Floyds Dark Lord Day. 
May 19, 2015 | Cory Pelc
Avg. Reading Time:
7
min
Well, if you weren't there, you missed it. There were no lines for beer, there were celebrity and aspiring brewers pouring their own wares, and there were many-a-food-tent setup with tasty nosh for pairing. Rhymes With Paste's Inaugural Fort Love Brewers Jamboree boasted lots of brewer cameos. I had the father of sour beer in America, Peter Boukeart of New Belgium lore, pour me a NBB Love. Then we joked around while we tasted his life's study, his hard work. He poured his livelihood into a glass for me to imbibe and then talked about how it was made. The goal of the this festival was to bring attention to the craft brewing industry as a whole. This festival did that and so much more.