No Comments
Pollyanna Brewing | Lite Thinking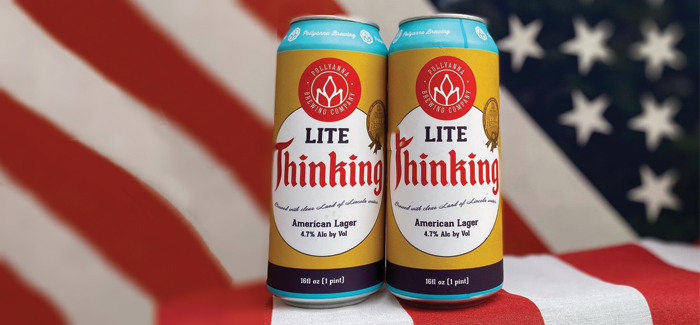 In 2016, I wrote a piece about Pollyanna Brewing Summerly Raspberry Wheat that stated, "Pollyanna Brewing's rapid success is almost unfathomable until you try the beer — and then it makes perfect sense. Just shy of two years old, Pollyanna Brewing is already expanding its production." Well, nearly five years after that story published, the brewery has opened two new locations and won a host of prestigious beer awards, including its Lite Thinking American Lager that won 2019 gold and 2020 bronze at the Great American Beer Fest (GABF).
View this post on Instagram
The beer, much like its GABF-award-winning Fruhauf Oktoberfest Lager, speaks to Pollyanna's deft ability to produce spectacular lagers (and a wonderful Kolsch-style, too). It's no wonder when one considers that the brewery's brewmaster, Brian Pawola's, spent six months in Munich, Germany, where he graduated as the salutatorian of Siebel Institute of Technology's Master Brewer Program.
While Lite Thinking possesses some historical European influence, it's an American Lager filled with state and regional charm. Lite Thinking consists of 6-row and 2-row malted barley, Midwestern corn and clear, Land of Lincoln water. Clear, indeed. Pour it in a tall glass and marvel at its clarity as bubbles float to the top like a Pilsner or even champagne. The light, crisp Lite Thinking offers a lovely malty flavor along with a few citrus notes.
View this post on Instagram
While it's not the lowest of low-cal beers, at 4.7% ABV and 135 calories, it's a smart choice for those looking to drink beer and refrain from adding to to any COVID-19 lockdown weight. The sessionable double-award-winning Lager reminds beer drinkers that one can drink Lite without thinking "lite" on flavor or quality. As Pollyanna declares: "Simplicity is the peak of civilization. That's that. Stay learned. Do some lite thinking."
Feature Image: Pollyanna Brewing on Facebook
---