No Comments
Ultimate 6er | Beat the Heat with Chicago Summer Beer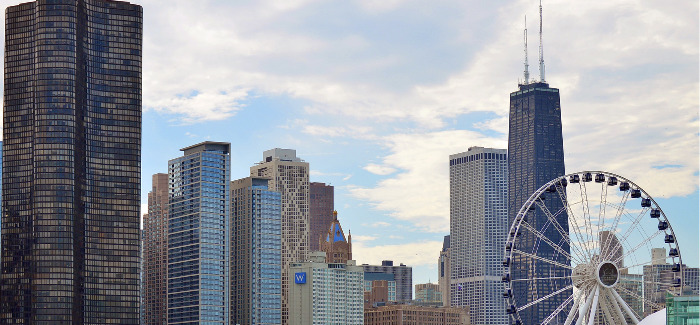 Refer to it as mid-summer; the dog days; the height of summertime. Call it whatever you want, but the fact is that it's hot outside in the Windy City. And so to beat the heat; we need a few refreshing beers. Whether you drink it watching a ball game while grilling or just basking in some air conditioning, it's satisfying to have a beer that fits the season. Here are six Chicago summer beers sure to help keep the mind off the endless beads of sweat forming all over your skin.
https://www.instagram.com/p/B0BYR3cFiO2/
Not only is it refreshing in taste, but it's sessionable, which makes it perfect for having a few on a lovely summer night. Illuminated Brewing has utilized experimental German hops along with its house yeast and then included orange and lemon zest to provide the saison with a fresh, lovely citrus flavor. Illuminated Brewing adds, "The wine-dry, crisp body and delicate citrus notes insure you keep Orange Sunshine close during those long Summer days melting your face under the Chicago sun."
https://www.instagram.com/p/BzwP7gfg5iA/
Ray Layer Peach DIPA is comprised of Peach Rooibos, oats, wheat, yeast stunts, and heaps of layers of "back-breaking cold-side hop loads." If one is looking for a beer to drink while on the beaches of Lake Michigan, this might be the perfect fit — It has all the magic of an ice-cold beer along with the pleasure derived from a summertime cocktail.
https://www.instagram.com/p/BzL-5x4Aayp/
Penrose seems to have cornered the market on the fun "Midwest IPA" idea, including its new summertime-refresher: Chill Haze, a hazy version of the Midwest IPA. Penrose describes it well as "massively hopped with Lotus and Experimental 10416 to bring out cotton candy and passion fruit aromas in a soft, pillowy body."  Beer drinkers will find plenty of hop-forward flavor and aroma in this beer that marries well with an abundance of citrus notes. It has a little bubbly from the carbonation and finishes dry.
Buckledown Brewing | Belt & Suspenders IPA with Grapefruit or Blood Orange
https://www.instagram.com/p/BzLot-Oht48/
Hey, pick your favorite. Do you like blood oranges, or do you like grapefruit? Maybe you want both. The recipe is simple for this particular Chicago summer beer. Take Buckledown's popular, aromatic IPA and add a little summertime fruit. The result is a beer you that's perfect for taking one's mind off those rising heat index values — throw them in a cooler and take them to any party.
https://www.instagram.com/p/Bz9brMsDFbR/
Most Mexican-style lagers are derivatives of traditional German brews, but with a twist. The Scorched Earth refresher features German Pilsner malt along with Hallertau Mittelfruh and Perle hops in the boil, as well as a substantial amount of Saphir hops used in dry-hopping the Mexican lager.
As Scorched Earth deftly describes Nacho Bizness, one can expect "a fiesta of bright aromas and flavors including tangerine, lemongrass, hay, sweet guava, honey-like bread and light cracker. It's crisp and dry, with just enough soft bitterness to balance the malt. This beer checks all the summertime boxes!"
https://www.instagram.com/p/BzvinAQF6yR/
The annual collaboration between Imperial Oak and Hailstorm is a lightly salted Gose-style (kettle sour) comprised of plenty of real mango, orange and key lime. It's part historical, classic beer and part margarita. I would suspect the flavor of this Chicago summer beer is enhanced if one pairs it with friends, music, patio lights and chips & salsa.
---