#snowday Archives – PorchDrinking.com
December 26, 2018 | Aimee Jackson
Growing up in Michigan, I have always found myself amazed at the power of snow. An overnight snowfall has the strength to shut down roads, schools, businesses, and any plans that I have for the day. As an employee of the public school system, I am one of those blessed adults who is still able to enjoy the thrill of having the phone ring at 5:30 a.m. to tell me that it is a snow day. My favorite winter days are those where the snow falls so quickly and in such great amounts that we have no choice but to stay home cozied up under blankets by our fireplace. With West Michigan's "lake-effect snow," it is not uncommon to have blizzards that last for several days in a row, making even a simple run to the grocery store a hazardous undertaking. Therefore, from November through March, I have learned to always be prepared by stocking our home with the essentials: a space heater, frozen pizzas, and of course, a few beers to keep us warm and cozy throughout these snowy days.
March 6, 2015 | Josh Buchanan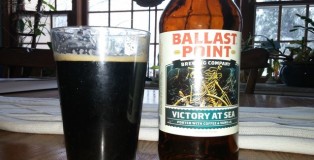 Brewery- Ballast Point (San Diego, CA)
Style- Imperial Porter
Availability- Limited Release
ABV- 10%
IBU- 60
It is hard to top the month of March in my book. Birthdays, March Madness, St. Patty's…and Snow Days. Looking back on my last birthday snow day, I have to go quite a ways back to 5th grade. This birthday ranks among the best albeit for different reasons, namely Super Mario Tennis on the N64. Who could be bothered to go outside when you have characters to unlock, friends to beat and aces to serve!?
Fast forward to today, and while the glory of adolescent gaming has shifted to become a thing of the past, there are battles that have been won on this March 6. Working (a term loosely used today) from home allows such posts to be written leisurely and motivated with a fine beverage at hand. Tapping into my Valentine's Day Weekend loot of hard to find bottles has brought out today's first Victory at Sea, an Imperial Porter by Ballast Point. Read More