#thewoodsrooftopbar Archives – PorchDrinking.com
February 1, 2019 | Zoe Lanterman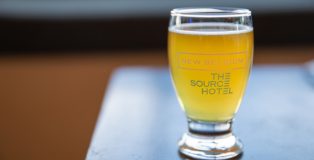 As the fourth-largest craft brewery in the country, New Belgium Brewing has the reputation of doing big things in the industry. However, their newest project at the just-opened Source Hotel seems to be in stark contrast to this model. The 10-barrel brewing system, run by brewer Geoff Wenzel, plans to focus on small-batch, artisanal creations with an emphasis on the Source community.
The Source, a former iron factory, was one of the first buildings in the country to put together the concept of a multi-use, multi-vendor space for patrons to explore and enjoy. Taking the idea of craft and re-imagining it through the lens of food and drink, The Source has created a hub of very talented and imaginative artisans. Seeing this concept come to life, New Belgium approached the Zeppelin team to become a part of this collaborative culture in 2014 and has been a critical part of making this vision become a reality ever since. Read More
August 20, 2018 | Zoe Lanterman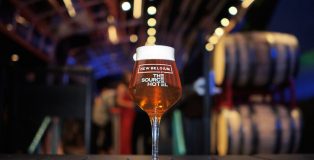 The long-awaited project pairing a budding local mixed-use development empire in Zeppelin Places, with one of craft beer's most storied pioneers, New Belgium Brewing, has finally opened to the public.
The Source Hotel, the fourth major mixed-use space in Denver's River North Art District from the Zeppelin team following Taxi, The Source and Zeppelin Station, has been a long time coming. In fact, New Belgium Brewing and Kyle Zeppelin's team had been collaborating on this project since 2014. Normal construction delays and accidents made opening a practice of patience for everyone involved, but the excitement was palpable as Kyle Zepplin (developer), Stephen Dynia (architect) David Stutz (The Source Hotel GM) and Kim Jordan (New Belgium) addressed the crowd at the soft-opening this past Thursday.