#wileyroots Archives – PorchDrinking.com
December 13, 2019 | Karen Mills
After an incredibly successful release on Black Friday eve of their latest barrel-aged beer, Du Hast Cake (and other delicious beers), Wiley Roots Brewing Co. is following it up with yet another fun, creative release. The Greeley local will not only be releasing nine new beers on Friday, December 13, but one of the beers will include a special mixed six-pack that creates a board game from the labels of each individual beer can.
August 1, 2019 | Jaclyn Menendez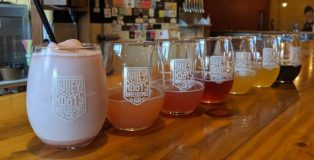 What can be accomplished in six years? Well, it takes six years to watch all the movies made since 2003, six years to get some seriously aged cheddar cheese, and, if you're a true PorchDrinker, six years to graduate college. Wiley Roots Brewing didn't need six years to become one of the most talked-about Colorado breweries in the scene today, but as they celebrated their sixth anniversary last weekend, head brewer and co-owner Kyle Carbaugh could tell you that those years have been filled with their share of change.