No Comments
Wiley Roots Announces First-Ever Board Game Created with Beer Labels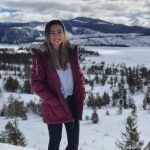 After an incredibly successful release on Black Friday eve of their latest barrel-aged beer, Du Hast Cake (and other delicious beers), Wiley Roots Brewing Co. is following it up with yet another fun, creative release. The Greeley local will not only be releasing nine new beers on Friday, December 13, but one of the beers will include a special mixed six-pack that creates a board game from the labels of each individual beer can.
Wiley Roots' Imperial Porter series is one that has been a staple in their release calendar for December. "The series was named after Something Came for you in the Mail Today, a viral Youtube video released in 2015," shares the brewery. The original Something Came for You in the Mail release was back in 2016 and featured an almond and hazelnut variant to the brewery's Deep Roots chocolate Porter. Over the years, the series has grown to present the brewery with the opportunity to experiment with flavors. They've used different spices and flavors such as coconut, coffee and candy canes—all of which were added to a higher alcohol version of the original beer. It was renamed "Imperial Somethin'" after Wiley Roots released an imperial version of the Porter in 2017.
This Year's Imperial Somethin' Release
The Wiley Roots team decided upon nine new beers for this year's release, six of which are Imperial Somethin' variants. "These six beers will be sold as both single variant four-packs and as mixed six-packs with six individual Imperial Somethin' variants that create a board game, with a set of special labels," shares the brewery. "This will allow fans to buy one mixed six-pack of all of the Imperial Somethin' variants and will provide the option of buying more single variant four-packs."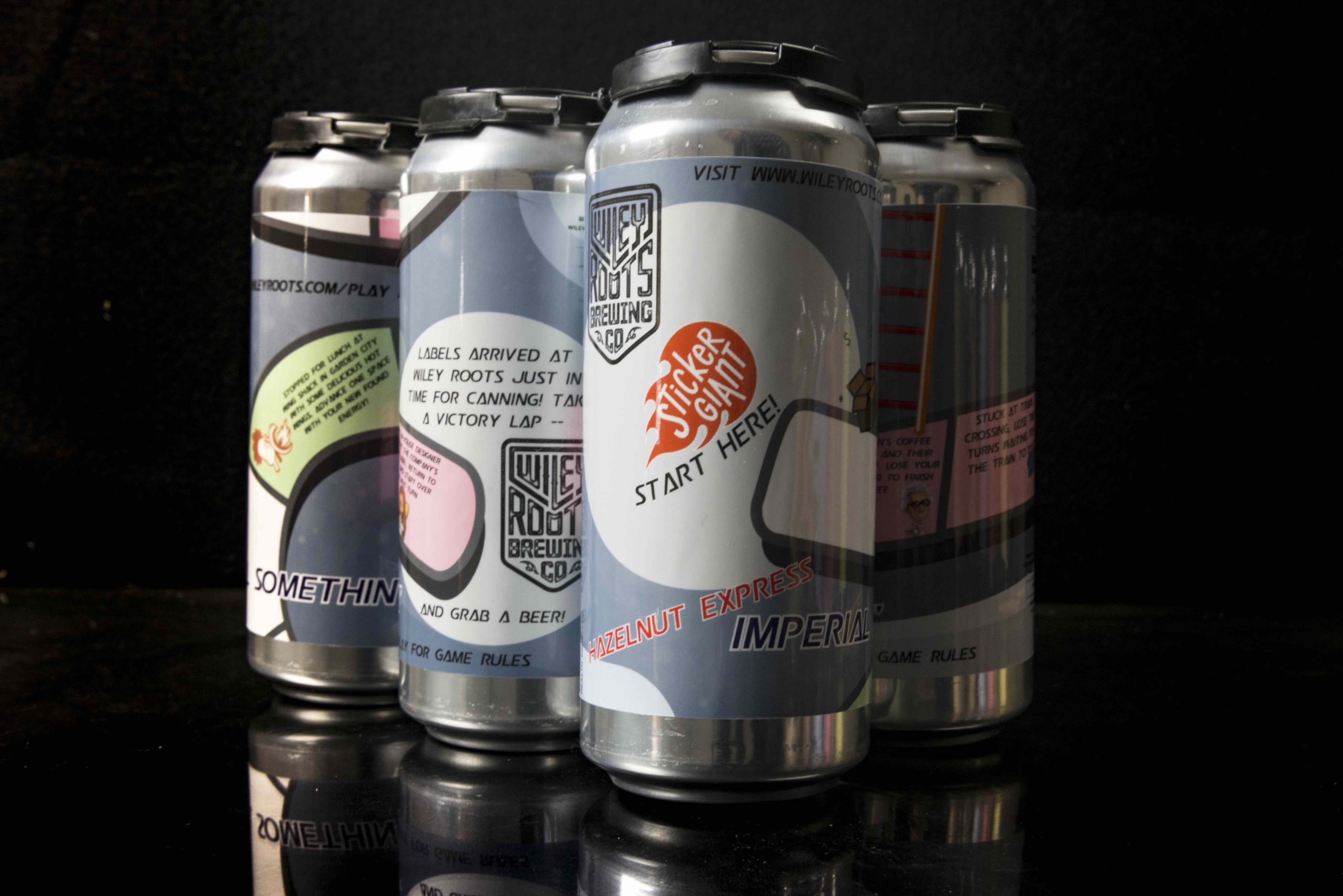 Owners Kyle Carbaugh and Miranda Carbaugh, said that they thought it would be fun to create a board game, as the perfect beer gift for any beer loving friend or family member.
"When we started talking about what to do with this year's series, we decided that we wanted to showcase the fun and playful side of these adjunct-heavy beers that we've become known for. Since we only release this series once per year around the holidays, we thought, what better way to do this than to actually make a game out of the labels?" said Kyle Carbaugh.
The Imperial Somethin' mixed sixers will be available directly from the brewery. It'll include each of the six variants:
Hazelnut Express | Imperial Porter with hazelnut
Graham Cracker Forms | Imperial Porter with graham cracker
Cinnamon Postcard | Imperial Porter with cinnamon
Chai Stamps | Imperial Porter with chai
Next Day Vanilla | Imperial Porter with vanilla
Certified Sugar Cookie | Imperial Porter with sugar cookie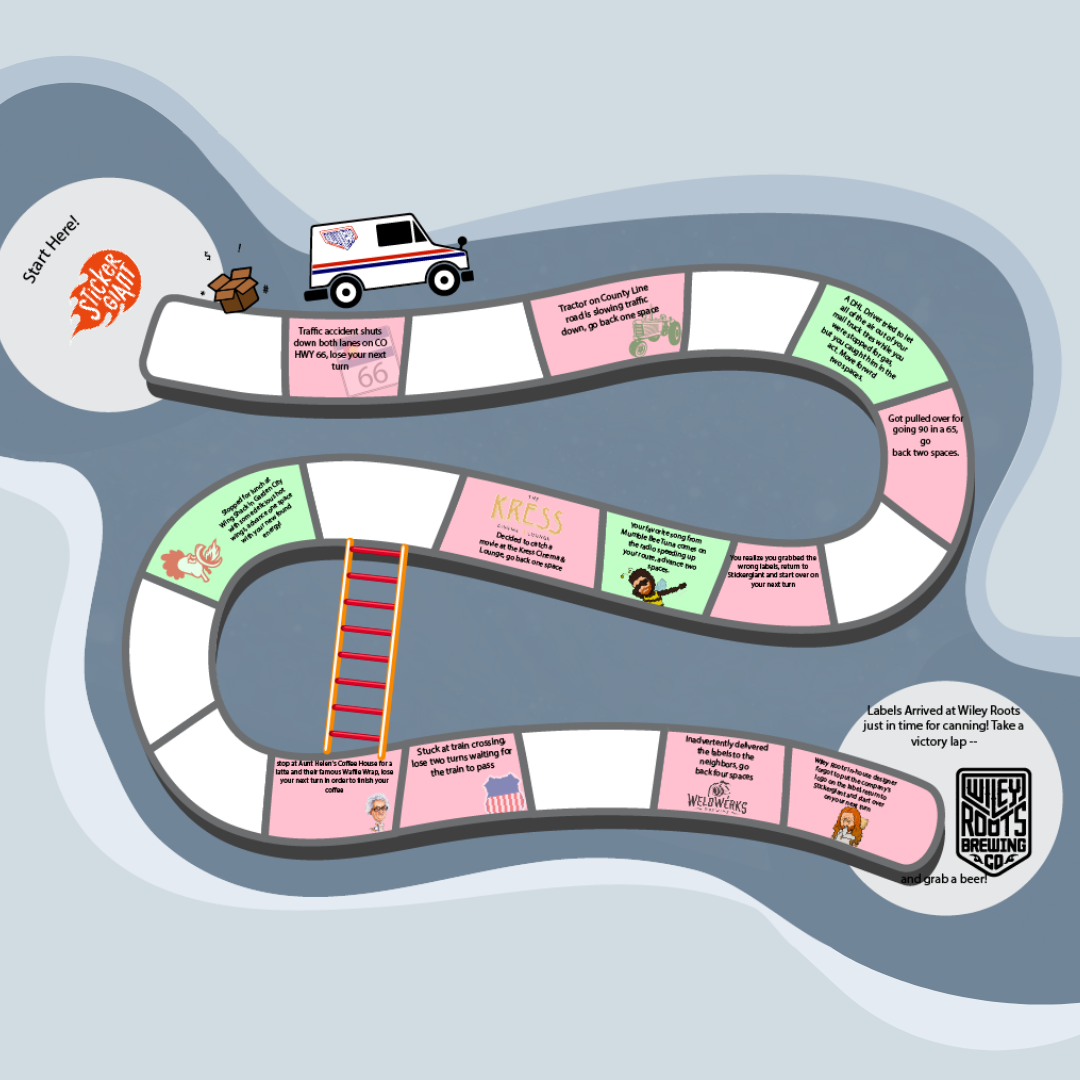 These mixed six-pack will have the labels of each part of the board game once combined. Simply remove the labels and place it inside of a case tray (the cardboard box included when buying a case of beer) and enjoy the game!
Along with these six Imperial Somethin' vairants, they'll also be releasing the following beers:
Swatches: Snowdrift Vibes | East Coast IPA with Amarillo, Mosaic and Motueka
Pastels: Alpenglow | Milkshake IPA with puréed pineapple, toasted coconut, and milk sugar, dry-hopped with Vic Secret and Cascade
Coffee Combos: Maple Glazed Donut | Blonde Stout with cold brewed coffee from Blue Mug Coffee Bar and Roastery, maple syrup and milk sugar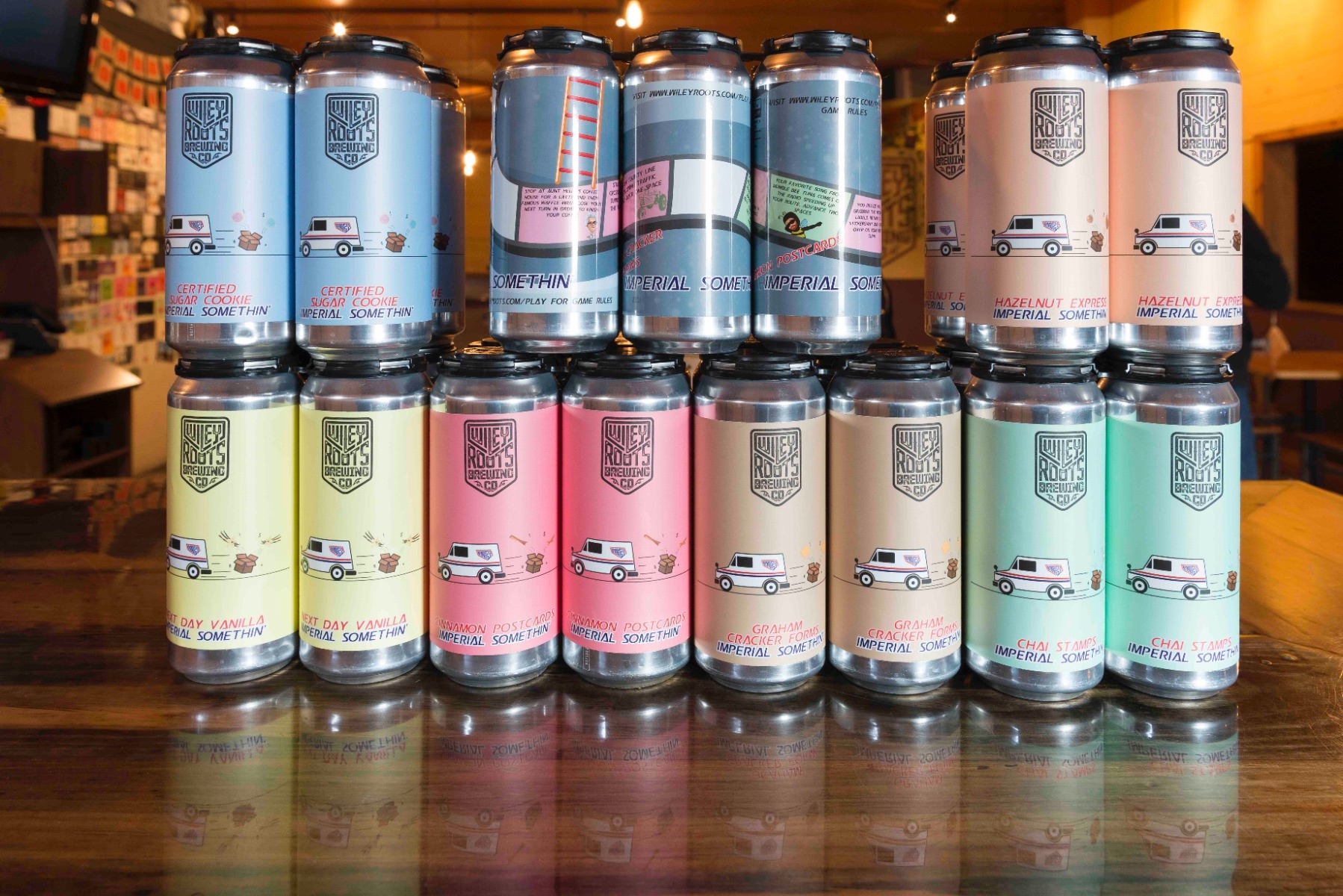 The brewery hopes by creating a fun board game from beer labels and offering so many different to-go beer options this weekend, people will make the trip up to Greeley to check out the brewery as we approach the holidays. Wiley Roots will have over 20 beers on tap and 30 to-go options this weekend, ranging from IPAs to Sours to traditional German Lagers to seltzers and more.
Feature Image Photo Credit: Wiley Roots Brewing Co.
---