No Comments
Uhl's Brewing Company Keeps Cranking Out Beer From New Facility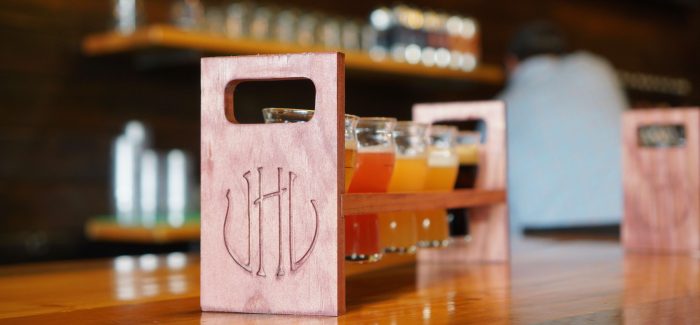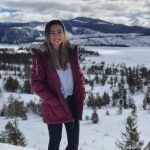 Uhl's Brewing Company opened its doors of its new Boulder tasting room on Saturday, March 14, the weekend before Colorado Governor Jared Polis enacted the state's shelter-in-place order in response to COVID-19.
Uhl's opening came as the pandemic began to unfold, but it hasn't stopped Aaron Uhl—founder, owner, head brewer, quality control manager, lead sales rep, delivery guy, and basically any other role you can think of—from looking ahead and adapting to these new obstacles. For the past couple of years, Uhl has been "gypsy brewing" (his term), and having worn so many hats in his operation, he's handling each challenge as it comes his way, without pause. 

Location and Grand Opening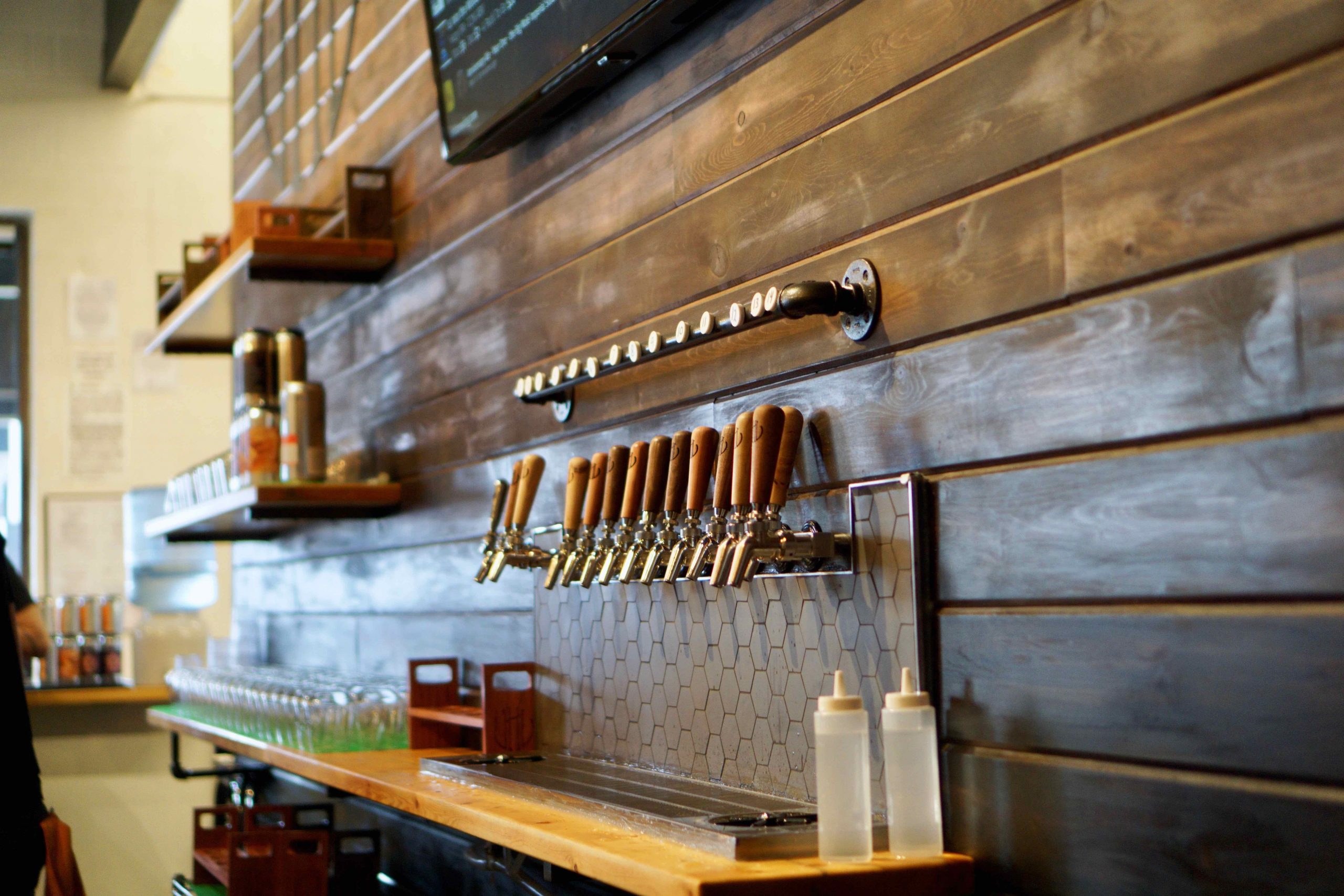 Uhl's Brewing Company took over the former location of Wild Woods Brewery old at 5460 Conestoga Ct., and joins a tight-knit Boulder craft community that's recently seen a slew of high profile departures in Fate Brewing, Boulder Beer Co. and the aforementioned Wild Woods.
At their grand opening, Uhl's debuted 14 unique beers on tap with a few more on reserve. In addition to a loaded draft lineup, the brewery also premiered three canned limited release beers in the 16 oz 4-pack format.
Alongside their numerous beer offerings, Uhl's does a great job of putting the spotlight on the greater community. Initially the brewery offered a grand opening, limited edition Uhl's Harmony tumbler glass, featuring artwork by local digital artist, Tripp Boggs, which sold out quickly. Margarita Rubiera, a local photographer and light painter, created the label artwork for the brewery's Wild Woods tribute beers, Into the Woods and Outta the Wild. She attended the opening and signed many of the labels.
Double Down was Uhl's third limited release for their grand opening. This double dry-hopped Double IPA was based on the flagship Hop Down recipe, with substantially more Citra, El Dorado, and Amarillo hops.
Background on Uhl's Brewing
Uhl's brewing program will focus on barrel-aged beers, heavily-adjuncted Stouts, hazy IPAs, overly fruited Sours, vegan-friendly brews, and pastry Sours. There will be more styles down the road that will join their evolving line of handcrafted offerings. The brewery plans to stick to creating unique, smaller-batch beers, while also offering limited canning runs, special crowlers, and limited-edition glassware.
"Having our own facility and taproom will be able to allow us to offer limitless styles and flavors of beers to delight your taste buds," the brewery shares. "We are expanding our core line up of Hop Down to include Loh Doun, an American hazy Pale Ale at 4.2% ABV, and kettle-hopped with the same hop additions as Hop Down: Citra, El Dorado, and Amarillo. Our second addition to the core line up will be Ray's Lager, a full-bodied, crisp, and bready Vienna-style lager. These will all be offered in 12oz 6-pack formats where Uhl's Brewing Co. can be found on shelves."
Catching Up with Aaron Uhl About the New Brewery
Aaron Uhl started off his brewing journey as a homebrewer. Over the course of his homebrewing career, Uhl has amassed more than 35 awards in beer and mead competitions, including a GABF Pro-Am win with Fate Brewing in 2016, and a Best of Show in his final homebrew competition.
After looking into various business models and the cost of purchasing equipment for larger-scale brewing, Uhl settled into contract brewing (aka gypsy brewing) in 2018, which resulted in distributing his beer to local stores and restaurants for the first time. As his beer gained a fanbase, Uhl grew the distribution footprint (slowly) up and down the Front Range. He chose to have just one flagship beer—Hop Down—while the rest of his portfolio will be comprised of a rotating line of "one and done" recipes from his 15 barrel system.

Ray's Lager and Loh Doun had been added to the brewery's core lineup at the time of the grand opening. Now, with the ever-changing landscape of the pandemic, Uhl shares that he did take the time to re-evaluate what it'll look like as the country regains "a new normal." He hopes to add two more "core" beers to be regularly produced, but doesn't want to exceed five beers a month.
The science of developing a recipe, he shares, is what he finds the most rewarding. He enjoys looking at every detail—such as cost per ounce, cost to the consumer, etc—and takes a numbers-oriented approach to his brewing. There's a thrill that accompanies being able to hit the numbers and create that efficiency. By tweaking the details and fine-tuning each recipe with detailed notes that he takes as he brews, Uhl can continue to hone his craft while he considers the next recipe.

Once public spaces reopen, and brew kettles fire up again, Uhl shares that he's looking forward to doing more collaborations. He enjoys brewing new recipes, and one of his favorites was with Finkel and Garf, creating the recipe for Pineapple Malt Shake. The collaborators were able to create a lactose-free milkshake IPA recipe so that all could enjoy the beer, even those with lactose intolerance. Uhl has also created vegan-friendly pastry sours by removing the lactose component of the beer, and will be revisiting those recipes in the future.
Uhl shares that he'll be doing can and glassware releases once things pick up again, and submitting entries for GABF (pending what happens with the pandemic). He's got some new beers coming out, including Hazy IPAs, a Lager, and more of the Free Rhiz series. The new SKUs will be hitting the tasting room first, and the distribution footprint 1-2 weeks after the initial release. He's aiming to have different variants of hazies that can be offered as a to-go option in crowlers, and plans to release another Lager in crowlers as well.
Currently, Uhl's Brewing is having to re-evaluate and make changes to the business plan they had in place, given that they believed the taproom would be open at this point.  There's a lot of communication involved with vendors and distributors as the brewery tries to figure out what the "now" looks like, business-wise. They currently have limited delivery windows; you can order their beer online here to pick up during those windows.
With full-on brewing operations slowed for the time being, Uhl's production of beer has slowed somewhat as well. And that's the toughest part right now—there is no specific when at the moment—
when things will come back online, when businesses will start to ramp up, when it will be safe and prudent to source more ingredients. Once a date is set, Uhl's may not re-open their taproom immediately. A full tap list is the goal before re-opening, and at that point, Uhl is hoping to have a Grand Opening 2.0 party, complete with more canned offerings, glassware with a new design, and much more.

---