No Comments
Pop Culture Week in Review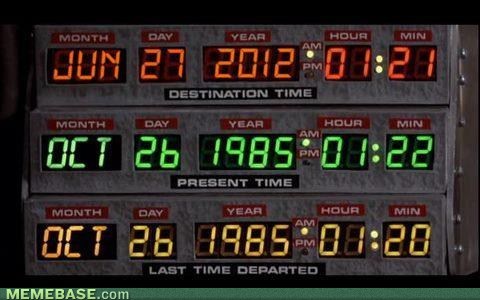 What I'm currently digging: AV Club's "AV Undercover" series.  Grouplove covers Andrew W.K.  Young the Giant covers R. Kelly.  Other things cover other things.  They are currently in the middle of their third series and I highly recommend checking out the back log as well.
I was all set to write a very impassioned, glowing review of Aaron Sorkin's The Newsroom.
 Then I talked to my friend Colin and he broke me out of the stupor I got whirled into by all the fast talking. I understand that Aaron Sorkin's writing can be polarizing. Actually, I don't understand it, but I accept that certain people think this way, though I do this begrudgingly. That being said, this show is VERY Sorkin. Mile-a-minute talking? Check. Characters that make the extremely risky decision that always turns out to be right? Check. God-like father figure who knows everything everyone's going to do before they do it? Check.
And you know what? I don't care there's nothing new here. I like what he does. He does it well. And the speech TV character, Mackenzie gives about the integrity of journalism (around 37:00) is the exact way I feel about television writing. Maybe don't treat your viewers like idiots. I might be delusional here but I like to think that most of Americans aren't idiots. Don't write your show to be watched by idiots and sell that to them as good comedy.
I'm going to keep watching, especially now that I've acquired access to this network through slightly less illegal means than before. However, you can watch the pilot completely legally on YouTube.
In other news:
Nora Ephron, screenwriter of Sleepless in Seattle, has passed away at 71. 
One of her many credits include When Harry Met Sally … I don't think I can really express how much this movie means to me. I know it isn't the best movie ever but I love it with all my heart and I love this woman who gave it to us.
[yframe url='http://www.youtube.com/watch?v=QCqiHZdDnZI&w=420&h=315′]
The Spice Girls reunited for the opening of their Mamma Mia-esque musical, Viva Forever!  
Okay, obviously Posh never smiles. But I actually believe her sulk this time as I wouldn't want to help promote a narrative surrounding the music of the Spice Girls either. Though I would totally be one. I would naturally be Scary Spice because of my naturally intimidating demeanor. I can do the rap part of Wannabe and of any group of girls (being of Belgian decent), I am obviously the 'ethnic' one.  Naturally, having all the spices in one place sparked rumors of the lady power group performing at the Olympics though I'm not sure why. I often collect with a group of four others and no one has ever speculated any type of performance, Olympic or otherwise. All the women were very enthusiastic about the show, except for Victoria who stuck near a corner and nibbled on a single cube of cheese for over an hour.
But the Spice Girls musical is not even the most heinous thing to happen to the stage as of late. For that, we must thank Billy Ray Cyrus who is making his Broadway debut as Billy Flynn in Chicago. Flynn is the suave, silver-tongued lawyer trying to get murderess Roxie Hart acquitted for killing her husband. And when I hear 'suave and silver-tongued,' I immediately think of Billy Ray Cyrus. I would go all "What are they thinking?" but Jerry Springer has also graced the stage as Flynn so its a little late to question their judgement.
I don't even understand what the point of The Office is anymore.
They are hemorrhaging talent like its going out of style. Obviously, Mindy Kaling, show runner Paul Lieberstein, and not really a loss James Spader have already left the show to pursue anything else. Now you can add B.J. Novak to that list. He will not return as a series regular but he will still have a recurring role and possibly will write some too. Basically, he's trying to slowly scoot out the back door and hope no one will notice. I mean, but really, what good is Ryan without Kelly anyway?
Wednesday, a meme made its way around the Internet.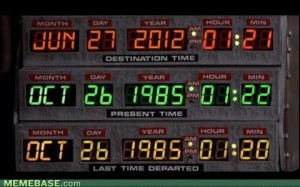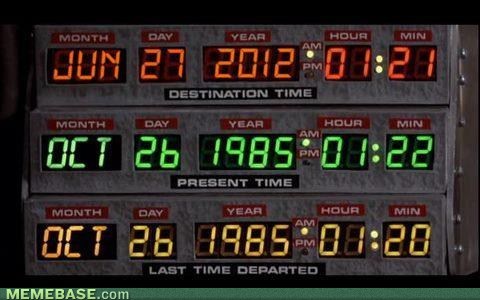 That's all. I crack myself up and that's all that matters. No, obviously I'm talking about the Back to the Future meme that made everyone once again lament the fact we still don't have hover boards.
But then the Internet nerd trolls came out from under their bridges to feed on everyone's idiocy. The image above proved to be Photoshopped by some dude at film blog Total Film because the power makes him feel alive. I can't imagine this was a complicated Photoshop job, but my skills consist solely of opening a picture and saving it under a different file format so I really have no idea. But they fooled the likes of the king of the Nerdist empire, Chris Hardwick. I will use any excuse to pull him into conversation, even if it is to slightly shame him.
Damon Lindelof is heading back to the small screen.
Well, after he completes several more films, including Star Trek 2: Subtitles TBA. He recently set a three-year deal with Warner Brothers Television and his first project from that gravy train is developing an adaptation of Tom Perrotta's novel The Leftovers for HBO.  This is the first I'm hearing about this novel.  Hello- with the ammount of television I watch, do you really think I read?  From what the Internet has told me, the book follows people who didn't get beamed up after the rapture.  Get it? The Leftovers.  Oh Tom.
I'm not sure if I should appologize for inflicting Gotye on you but…
[yframe url='http://www.youtube.com/watch?v=qJlbPXZEpRE&feature=player_embedded#!']
And now to get that song out of your head, let's watch a scene from Spaced that communicates the same thought, but by a bleach blonde Simon Pegg.
[yframe url='http://www.youtube.com/watch?v=bUQfHRfX2o8′]