No Comments
PorchDrinking.com Redesign: Letter from Chris Knost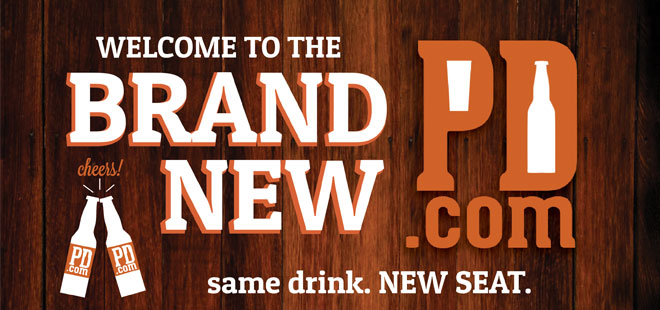 PorchDrinking.com Redesign
When Tristan asked me to redesign the site, I knew I'd have my hands full. How could I transform an already great content driven site and redesign the aesthetics to reflect the culture, community and enthusiasts that both read and write it's content?
Less is More
If you've ever been involved in the design industry, this tireless mantra is nothing new. Design pioneer, Ludwig Mies van der Rohe, coined the aphorism, "less is more," in the early twentieth century in an attempt to focus his designs on extreme clarity and simplicity. Minimalism, as it is most referred to now in the context of design, refers to simple, unadorned designs that embody only the most basic and fundamental needs. So, that's what I did with PorchDrinking.com.
White Space, Typography and Color Palette
To make it easy for our readers to scan and read the content, we've allotted a lot of white space. Choosing to incorporate a lot of white space allowed our content to breathe. In doing so, the white space, allows our users to focus on the content.
Keeping with the identity of PorchDrinking.com, our use of colors is limited. Monochromatic variations of our Daytona Sunset Orange are few and far between.
Typography shouldn't have to be hard to read. It should be comfortable enough to read on any device and optimized for a natural user interface. With that direction in mind, we've picked the following three fonts for use across the site.
Headlines: Bitter by Sol Matas. A "contemporary" slab serif typeface for text, it is specially designed for comfortably reading on any computer or device. The robust design started from the austerity of the pixel grid, based on rational rather than emotional principles. It combines the large x-heights and legibility of the humanistic tradition with subtle characteristics in the characters that inject a certain rhythm to flowing texts.
Navigation/Paragraph: Droid Sans is a humanist sans serif typeface designed by Steve Matteson, Type Director of Ascender Corp. Droid Sans was designed with an upright stress, open forms and a neutral, yet friendly appearance. Droid Sans was optimized for user interfaces and to be comfortable for reading on a mobile handset in menus, web browser and other screen text.
Details: PT Sans Narrow was developed as a part of the project "Public Type of Russian Federation". PT Sans is based on Russian sans serif types of the second part of the XX century, but at the same time has a very distinctive features of modern humanistic design.
The Grid
I don't think I could have gotten away with not discussing the recent posts grid. The main idea behind our grid-based design is a solid visual and structural balance at the heart of our homepage while offering readers the most up-to-date information with strong visual attraction.
Moving Forward
At the end of the day, we aren't trying to reinvent the wheel; this is just a small glimpse of the decision choices we made in the best interests of our readers. In the end this is the most important thing—how the end user feels when browsing our site.
Our commitment to you will always be to provide the best possible content with the simplicity and clarity of the most current design standards. We really hope you enjoy the newly redesigned PorchDrinking.com site!
Cheers,
Chris