7 Comments
Out of the Kitchen and into the Tap House: Women in Beer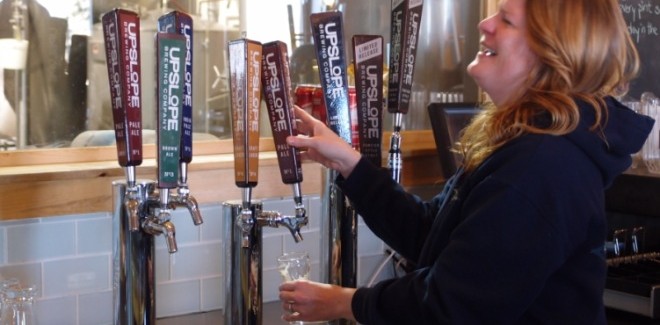 By now it is obvious that craft beer is exploding across the nation. New breweries are opening up often, especially in Colorado, and the community continues to support the growing industry. Beer events are constantly packed with beer enthusiasts and the Great American Beer Festival continues to sell out faster and faster each year- yet, I am not sure of how much longer the record time can be beat as selling out is getting down to a matter of minutes. Though men originally were the beer drinkers, more and more women are acquiring a taste for beer and local groups, like the Crafty Ladies and Ales 4 FemAles, and national groups, like Girls Pint Out and Women Enjoying Beer, are vastly increasing with passionate and curious women.
Rightfully so, women used to hate alcohol because it kept their husbands away, abusive and irresponsible to the wife and family they were supposed to nurture. Though women may have been partly the culprits behind prohibition back in the 1920s, today our nation has progressed significantly with a corresponding increase of women in the work force which is also evident in the growing craft beer industry. Careers in engineering, technology, law enforcement, sports, and business are still highly dominated by men but women continue to work themselves into these careers as they seek their passions.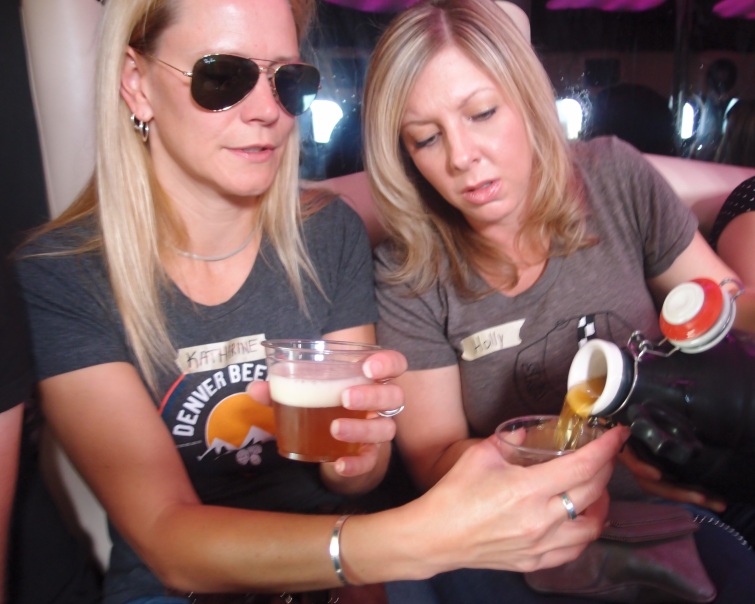 Lady beer groups have been growing significantly in the Denver area. These groups provide a friendly and educational atmosphere as well as support and encouragement for women looking to explore a career in beer. To gain different perspectives on the growth of women in local beer groups, I interviewed Katie O'Shea, creator of Crafty Ladies (CL), and Holly Elkins, creator of Girls Pint Out in Denver. In just the last year, CL has doubled in size with almost 700 women who participate in the events. The group began with regular tastings held at Highland Tap and Burger (HTB) and now events include brewing at local breweries, field trips to breweries, and other special events. Katie said that CL started in 2011 as a way to have a "fun, community-oriented activity" at HTB that would bring women together while exposing them to cool beer experiences.
Girls Pint Out (GPO) in Denver started in November of last year and has been growing ever since with currently over 200 members. Early this year they officially became a part of the national organization which began in early 2010 with the first chapter founded in Indianapolis. GPO is now in 25 states with a total of 35 chapters, so not only is it growing locally but nationally as well.
GPO has the same idea as CL but they meet at various beer spots in the Denver area weekly but also plan road trips to other breweries across Colorado. An event I sadly missed out on was when GPO went tubing on Clear Creek River. Holly states that "all the work to prepare for our adventure ended after one jaunt down the rapids." She mentioned being afraid of someone getting injured but in the end, only a few bruises were obtained and she adds, "it made the beers on the patio afterwards all that much more enjoyable." Cheers to that!
Some fun events from the past year with the CL has been brewing a Black Saison with Upslope, hops harvesting with Oskar Blues at the Hops n Heifers Farm, and taking a field trip to Caution Brewing Co. where Katie reminisces, "a tie in beer trivia led to a tie-breaking dance-off to proclaim a winner." Sounds like fun!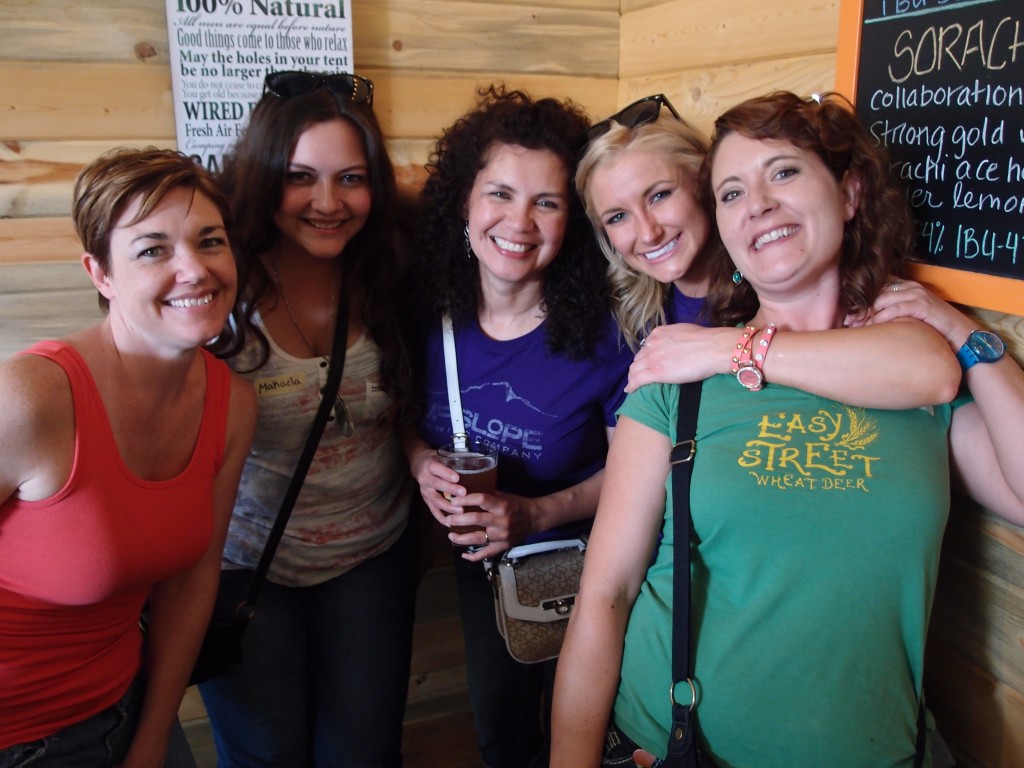 As far as changes in the beer industry related to women, Katie explains, "I've definitely seen a lot of breweries, distributors, importers, etc. really catch on that they have been missing out on a fairly untapped and broad section of the market and really seek out female beer drinkers." Katie makes a very valid point as women make up 50.9% of the population. It would be silly if the beer industry thought they could continue to market toward men and still expect to grow. Luckily, people in the industry have caught on but hopefully the motivation is not just about making money. As a restaurant owner, Katie has noticed that women are less likely to be drinking the macro brewery beers compared to men. Maybe it was just our taste buds that were lacking pleasure originally but now that craft beer has taken off with such a variety of styles, women are intrigued and ever seeking the next craft beer.
Holly has noticed an increase of women in the industry and believes women are being more recognized for their talents. Holly sums it up by saying "I think it's encouraging other women that have an interest to become involved and feel confident they can work in the craft beer industry right alongside any man."
Both Katie and Holly agreed that their favorite part of these groups is getting to know all of the great women that love beer. "Our common denominator, beer, has a way of making people feel comfortable and a sense of community," Holly comments. Her original intent was to provide more educational events but she has noticed in her situation that the social atmosphere is what women are seeking more.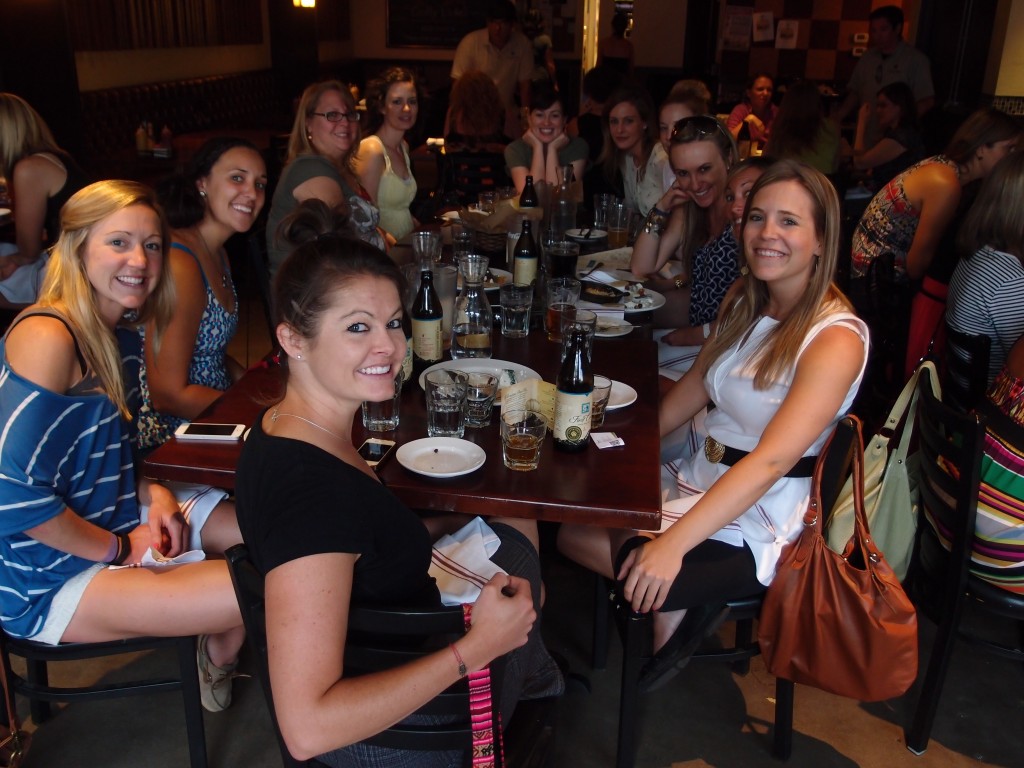 Now let's take a deeper look into the view from inside the beer industry with one of our lady brewers. Bess Dougherty, a brewer at Wynkoop, got involved in beer just after turning 21 due to working at a liquor store where, with the guidance of co-workers, she began to taste good beer. She originally shared brewing equipment with friends but eventually got her own. After a work trip to Belgium, Bess said she fully knew she was going to make beer for a living and now, she does just that.
Bess shares that her love of the beer process is the combination of art and science and she especially enjoys recipe development. She is currently working on a beer that will be aged in gummy bears and other candy for a local fundraiser. Last year she made a cleverly delicious Gingerbread Stout. It was like taking a bite of a gingerbread cookie!
Bess loves the creativity involved in brewing and if it were her choice, she would just brew all the time, but dedication to brewing entails attention to other areas, especially for a lady brewer. She has been known more recently for her efforts in lady collaborations with other women in the beer industry in Colorado. This began as a way for women to get together and enjoy each other's company while brewing since typically most of them are surrounded by men on a daily basis. Bess also is a part of the Pink Boots Society which was created to empower women beer professionals to advance their careers in the beer industry through education.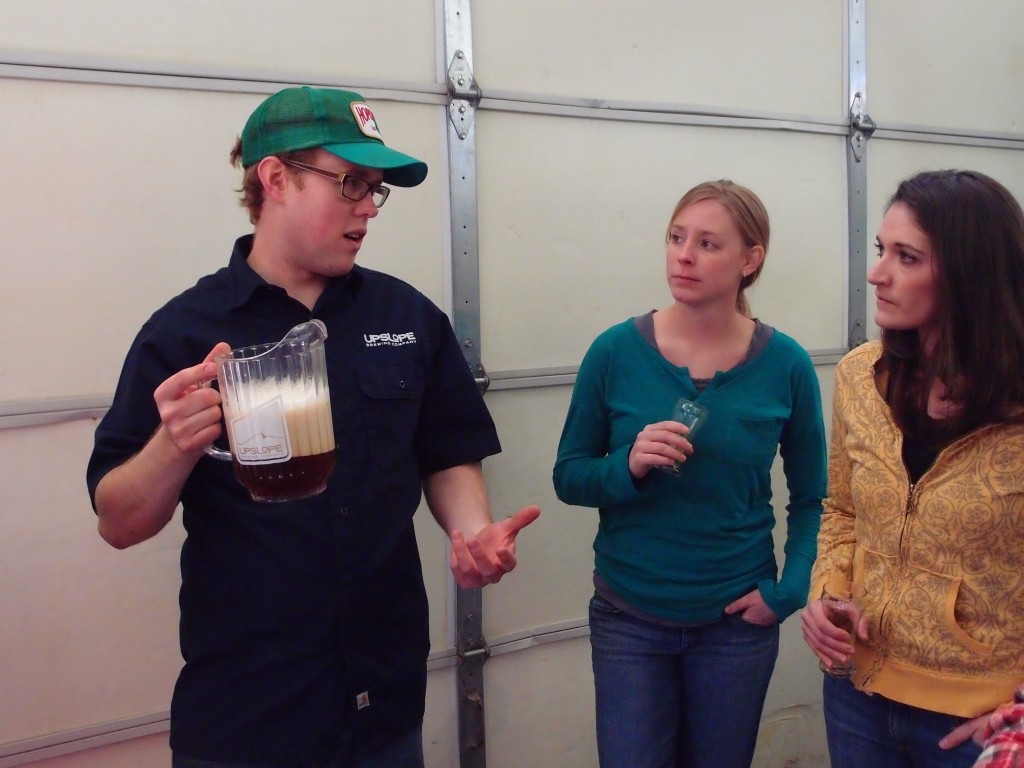 Though society has come a long way with women in the work force and in this case, women in the beer industry, there is still much room for growth. Bess went on to express the shock and amazement she receives from people when she tells them her chosen profession. Though this is not particularly bad, it just goes to show how much more we need to open our minds to all possibilities and not always make assumptions. Bess further explains that at festivals she will get grief from men questioning her knowledge of beer and not taking her seriously when she tells them she is a brewer. Introducing our first contestant in the proverbial Who Knows More About Beer Game Show where beer festival attendee will take on the lady brewer in a battle of the beer wits!
Though humorous, this is also something I can relate to because even simply as a woman beer lover, I often get stereotyped and assumed ignorant in matters concerning beer when at a bar. The love of beer should be, and in fact is, independent of gender. It may take a while to really alter societal views but we are moving in the right direction. Bess feels that the more educated women are about beer, the more it will influence the growth of women within the industry and help to get away from societal stereotypes.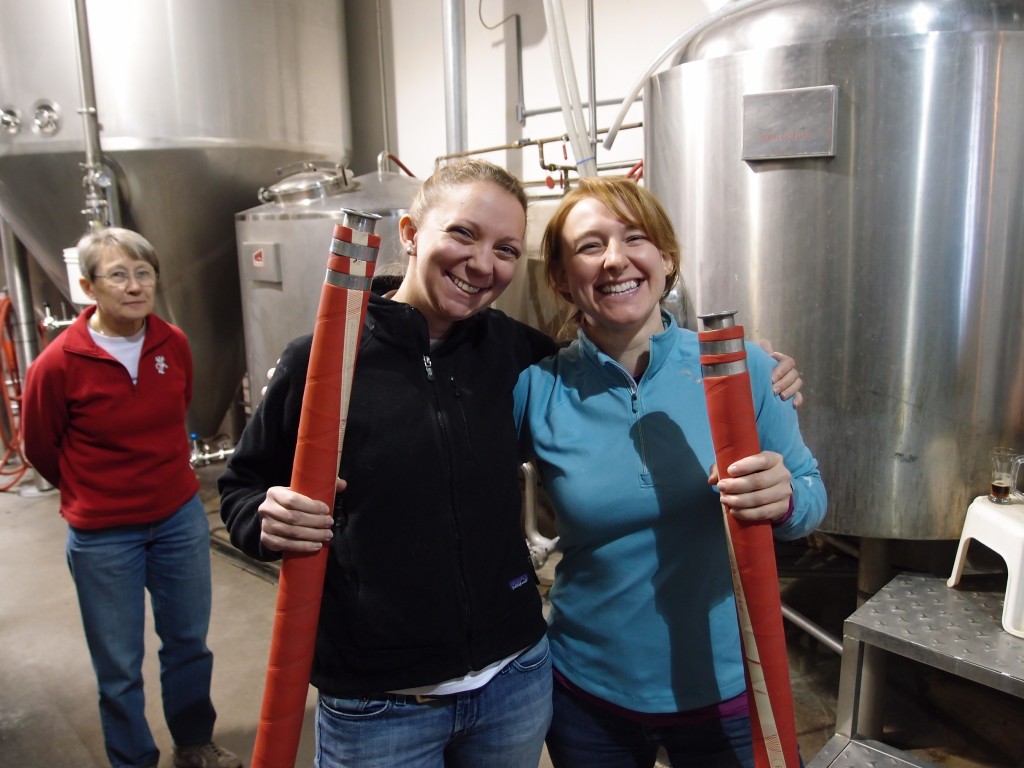 As we explore further into the tap house, Bess encourages that though it can be frightening and intimidating as a woman brewer, once in the industry, it is much less stressful. There is both a physical and mental demand but with hard work and dedication this can be overcome. Bess was fortunate enough to already know her co-workers at Wynkoop, making it an easier transition, but honestly, there is still a personal struggle to constantly prove oneself, Bess proclaims.
This did not stop her though and it should not stop you if this is the direction you seek. Bess' advice for getting into the beer industry is to obviously start with home brewing, but then also to shadow a brewer to help you become familiar with the brewing process on the commercial level; this will naturally promote networking and familiarity with the inner workings of breweries. Since the competition is high right now, making connections is essential and getting a creditable education (Siebel) will go a long way if you are interested in brewing for a living. However, there are other beer professions, like sales and marketing, for those that just want to be a part of the beer community in lieu of full on brew house action. Lastly, Bess leaves us with "if this is your passion, go balls to the wall."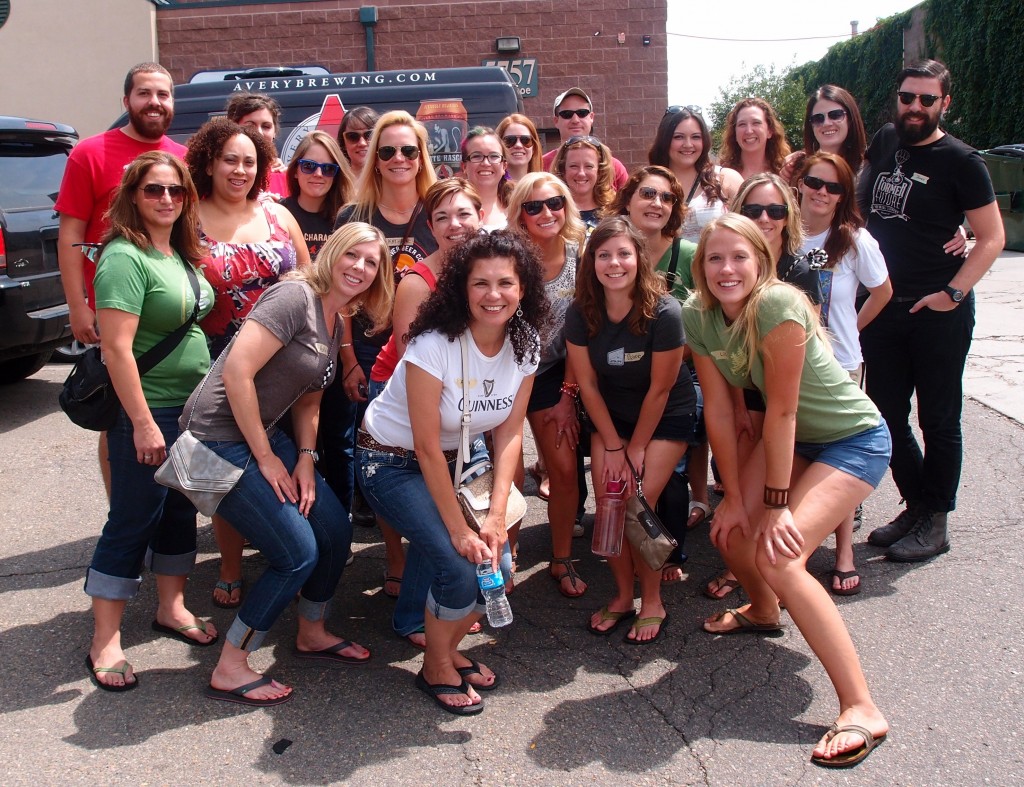 If you are local to Denver and interested in learning about craft beer, meeting cool women, and getting involved in the community, check out Crafty Ladies Beer Club and Girls Pint Out in Denver. Ales 4 FemAles is another group that mainly meets at the Left Hand Brewing tap house.
If not in the area, be sure to check out Girls Pint Out to find a chapter near you! In addition, Women Enjoying Beer is a national group that serves the professional beer industry in marketing to women as well as encourages and educates the female beer drinker. Ginger Johnson, founder and owner, resides in Oregon so many events are in that area but she also visits other cities often.