No Comments
Festival Recap | 2016 Collaboration Fest
In its third iteration, the 2016 Collaboration Fest boasted its biggest and most successful 'collab fest' yet. The Denver-based festival invites breweries to collaborate with one another to create unique, one-off beers that are to be poured at this festival only with some of the beers being made available otherwise but in most scarce amounts. Our friends over at the Colorado Brewer's Guild and Two Parts put on one hell of an event and stepped up in all of the right places. Sports Authority Field at Mile High continues to be a great facility for the event as we got to mill around and talk shop with many a brewer and imbiber alike again this year.
Our favorite beers from Collaboration Fest 2016
Mocking Baered Episode II: La Isla Se Está Quemando
Tropical Saison | Baere Brewing, Mockery Brewing & Inland Island Yeast
This tropical Saison was brewed as a continuation of the Mocking Baered Series. They used loads of house-smoked pineapple to give this saison an incredibly unique flavor profile. Citrusy bite meets with sweet maltiness and fades into a light smokiness on the finish. La Isla Se Esta Quemando and they like it that way!
Kara+Kelissa: "The tropical Saison had the most uniquely delicious pineapple-mango smokiness to it. The smoked fruit was sweet and refreshing and didn't impart any of the bacony notes that can come from smoked malts. "
Cory: "Holy shit! Bright, funkiness exudes from the first quaff. Then smoke settles on the palate as pineapple cascades in the finish. Queue Smoke on the Water immediately!"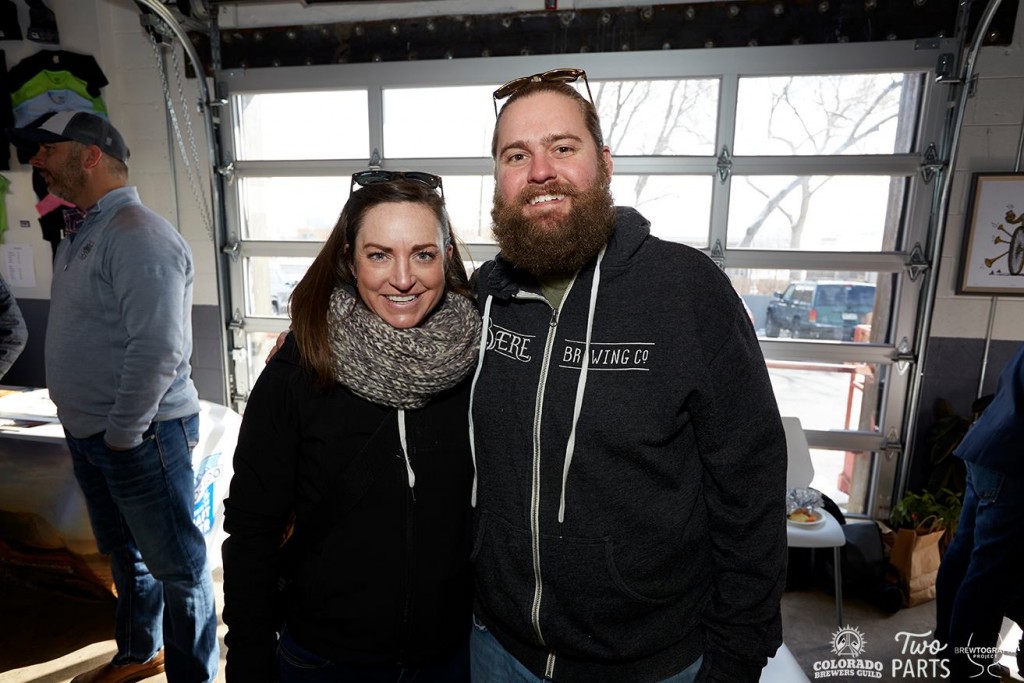 Neoteric
Sour IPA | Crazy Mountain Brewing & Stillwater Artisan Ales
Description: Lots of citrus, tropical fruits and white fruits from hops- orange, apricot, white grapes, melons, pineapple. A lactic fermentation gives a tart finish. The ale will be fermented entirely with Brett.
K+K: "The Brett fermented so cleanly in this beer and highlighted the citrusy fruit notes extremely well. It finishes with a perfect level of funkiness that never overwhelms this balanced and unique beer."
---
Sweet Tea Amber Ale
Amber Ale | Former Future Brewing & Brewery 85
Description: American-style amber ale infused with black tea. Envision the classic hallmarks of Southern sweet tea.
K+K: "This creative fusion actually tasted reminiscent of a tart Arnold Palmer, something like a sour radler mixed with iced tea!"
---
Barrel-Aged Mocha Stout
Imperial Stout | WeldWerks Brewing & Snowbank Brewing
Description: Imperial Stout brewed with Nuance Chocolate Madagascar cacao nibs and Zoe's Cafe Peruvian coffee, aged in a Breckenridge bourbon barrel.
K+K: "This one seemed to be one of the clear festival favorites – we're pretty sure at least 10 other people recommended it to us throughout the festival. The aroma was savory – a deep, rich chocolatey oak smell. Kara held it in her glass just smelling it for a while. The taste was everything you want out of an Imperial Stout – deep, rich, velvety, and not at all alcohol-hot."
Cory: "One of the rare barreled collaborations from the fest, this heavy hitter held a line from the second it hit the jockey box. I must have had 5 or 6 pours myself. Keep an eye on these folks. With a viscous, boozy brew like this, it's not hard to see why folks are hyping WeldWerks and their barreling proficiency but the chocolate prowess that Snowbank has been churning out make this a hands down festival winner for me. Another pour please . . . "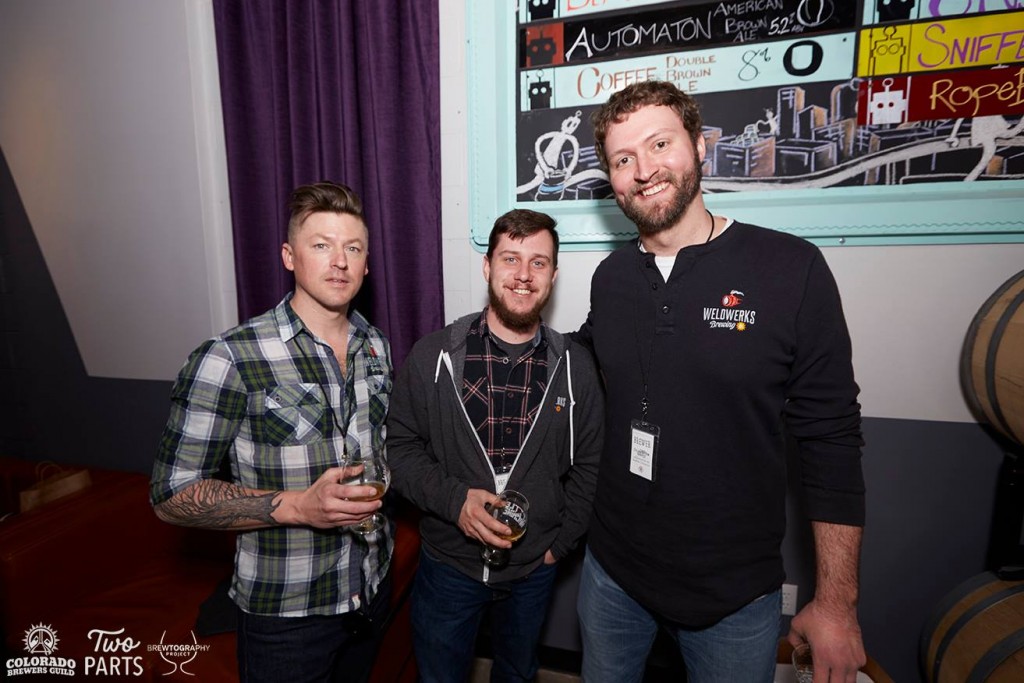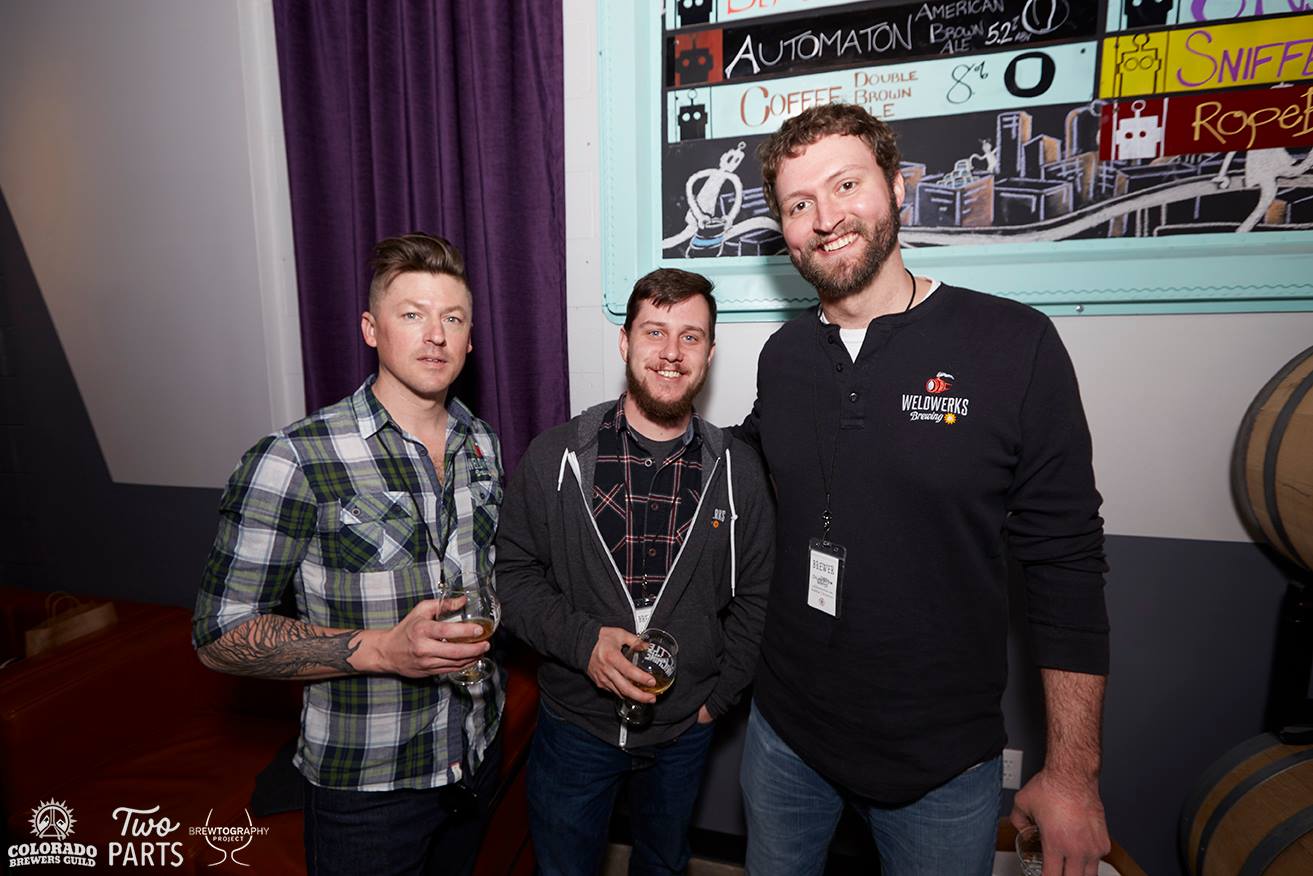 Rock Star
Sour Blend | Falling Rock Tap House & Star Bar
Description: This beer is a collaboration between the two of Denver's most popular craft beer bars and New Belgium Brewing Company. Chris Black, owner of Falling Rock Tap House and Justin Loyd, owner of Star Bar, created this blend. This will be the third blend that Falling Rock and Star Bar have done together with New Belgium. For Blend #3 they will be using Felix Foeders (light colored) for the first time, something totally different for both of the bar owners.
K+K: "This one was definitely the most sour beer we tried, the Felix blends were absolutely on point. It was like feel-it-in-your-teeth sour, but as heavy as the acidity levels were, the complexity and complete balance of this one kept us going back for several refills."
Cory: "Yep. This. All of this. This pucker-packing sour beer is a reminder of how awesome New Belgium is and why they are the godfathers of American sour beer. If this was on tap anywhere in town on the regular, you would find me drinking from the fire hose on this one. So sessionable. Again, I probably had like 47 pours of this."
---
Kvassier
Rye Bread Kvass | Call To Arms Brewing, Denizens Brewing & Conshohocken Brewing
Description: It'll be a Rye Bread Kvass that they'll brew together and then blend with sour barrel projects. The bread will come courtesy of Raleigh St. Bakery, which is a local cottage food bakery near Call To Arms.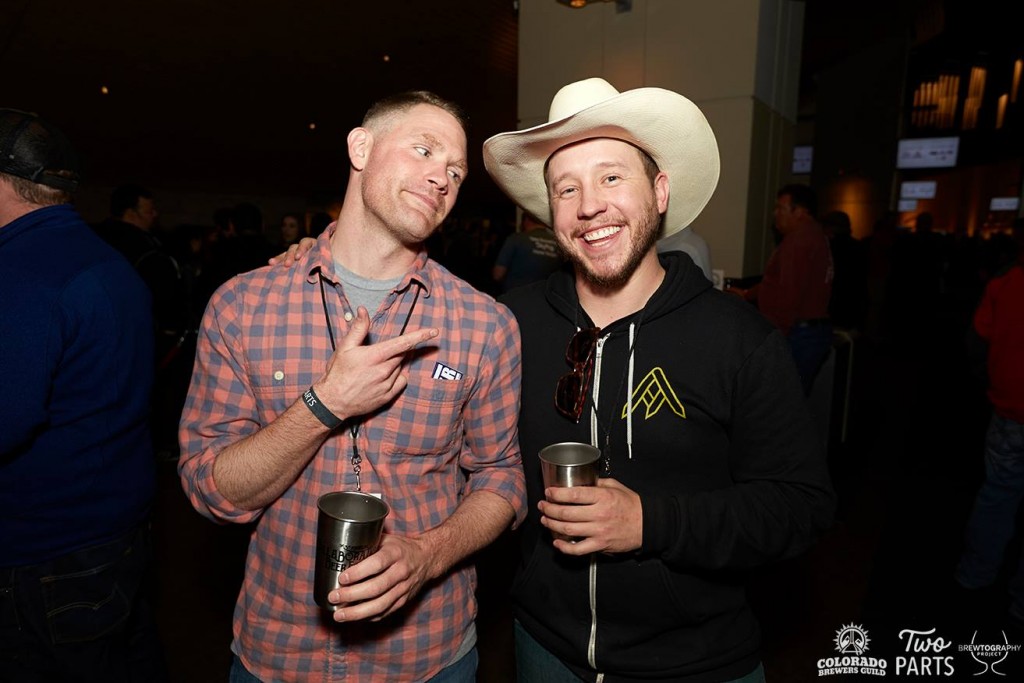 Let's Get Incredible
Brûléed Grapefruit Saison | Ratio Beerworks & New Belgium
Description: 5.2% Saison brewed with about 200 bruleed grapefruits and coriander.
---
Fourth Estate Chocolate Stout
Belgian Chocolate Stout | Lost Highway Media Collaboration: American Craft Beer Radio, Brewtally Insane, Focus on the Beer, PorchDrinking.com, Denver Business Journal, 9 News, The Brewtography Project & Westword
Description: Big and sweet enough to be desert, but not so heavy or boozy that it puts you to sleep.
---
Honey Pear Braggot
Braggot | Mockery Brewing & Saucony Creek
Description: This sweet Braggot was allowed to go through a second fermentation with fresh pear juice. Bright honey aroma wraps itself around fresh pear notes.  Clean and surprisingly drinkable at approximately 10%ABV, this Braggot was brewed both in Colorado and Pennsylvania using local honey from both areas.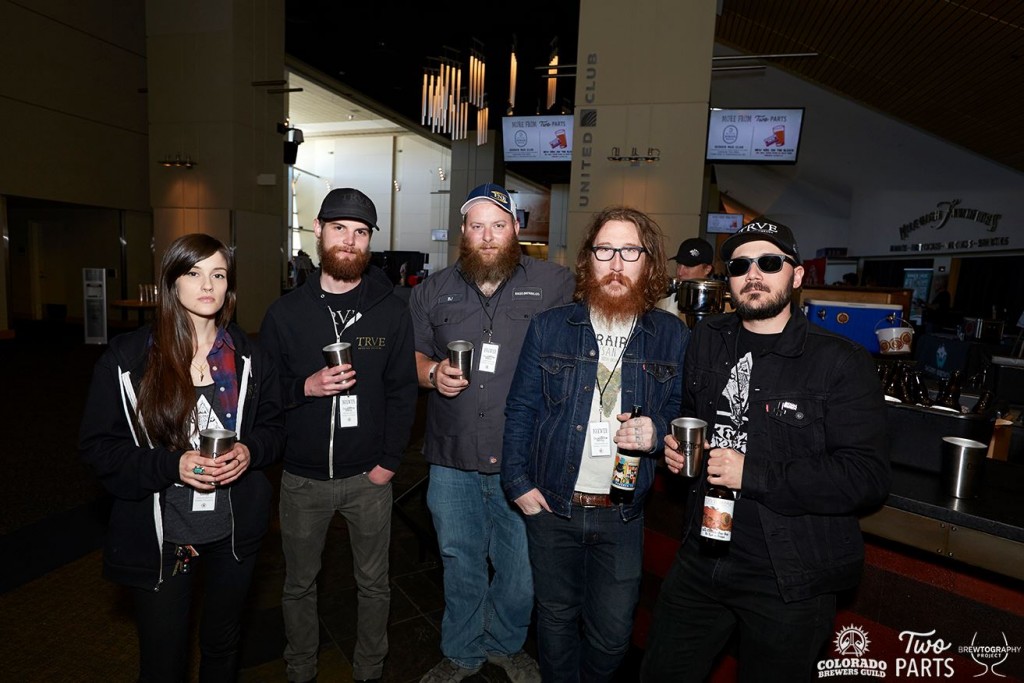 TRVE Brewing & Prairie Artisan Ales Collaboration
Oak-Aged Gose on Oklahoma & Colorado Peaches | TRVE Brewing & Prairie Artisan Ales
Description: A beer whose character is a blending the respective terroirs of our two breweries.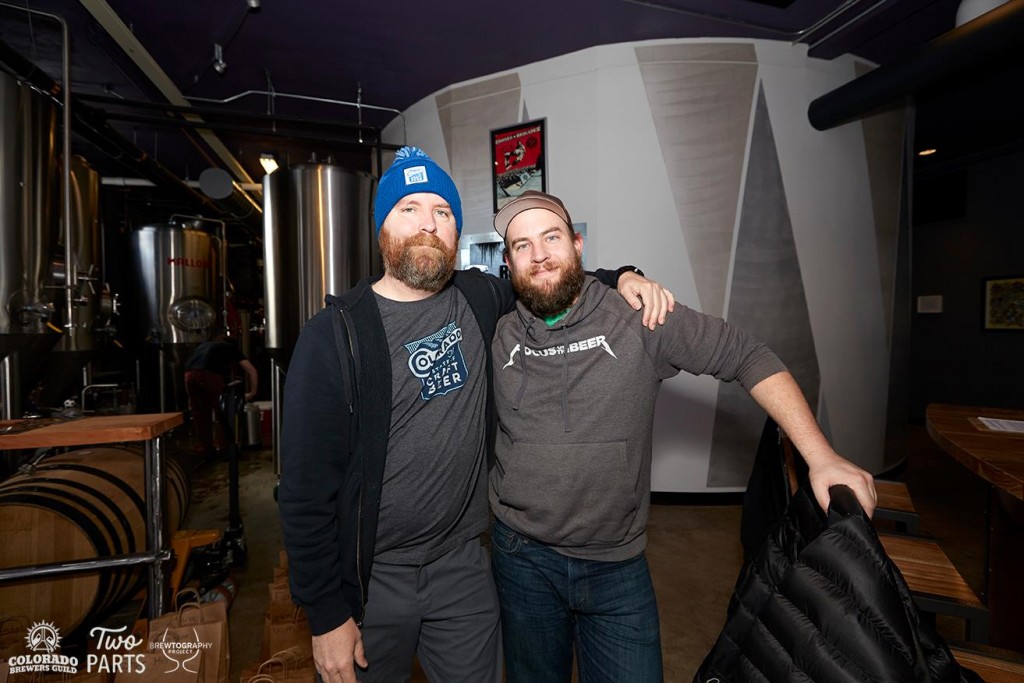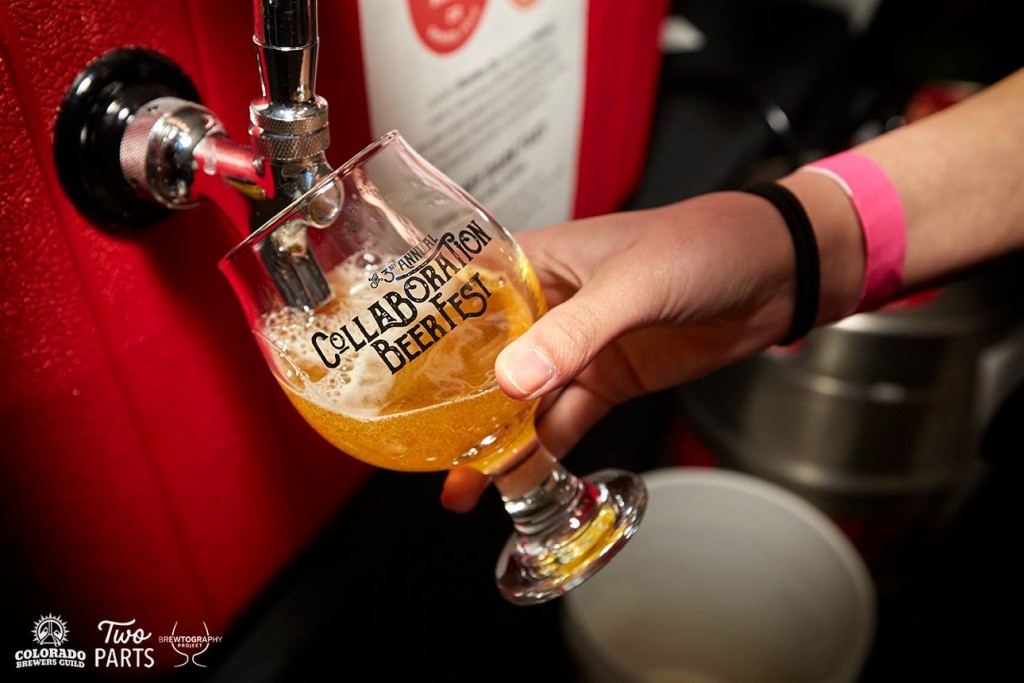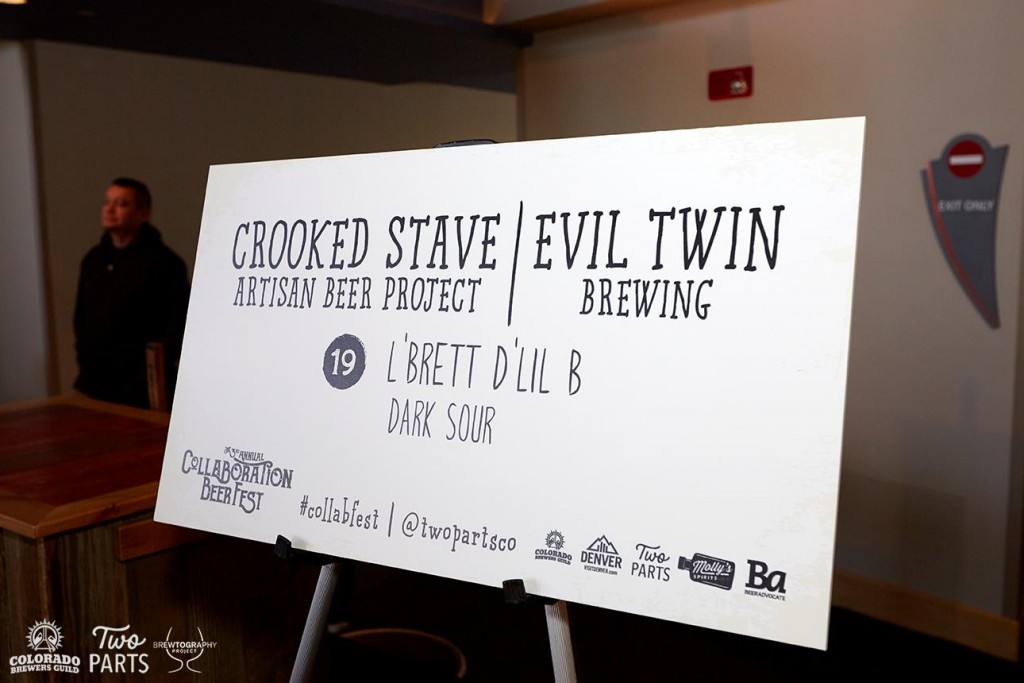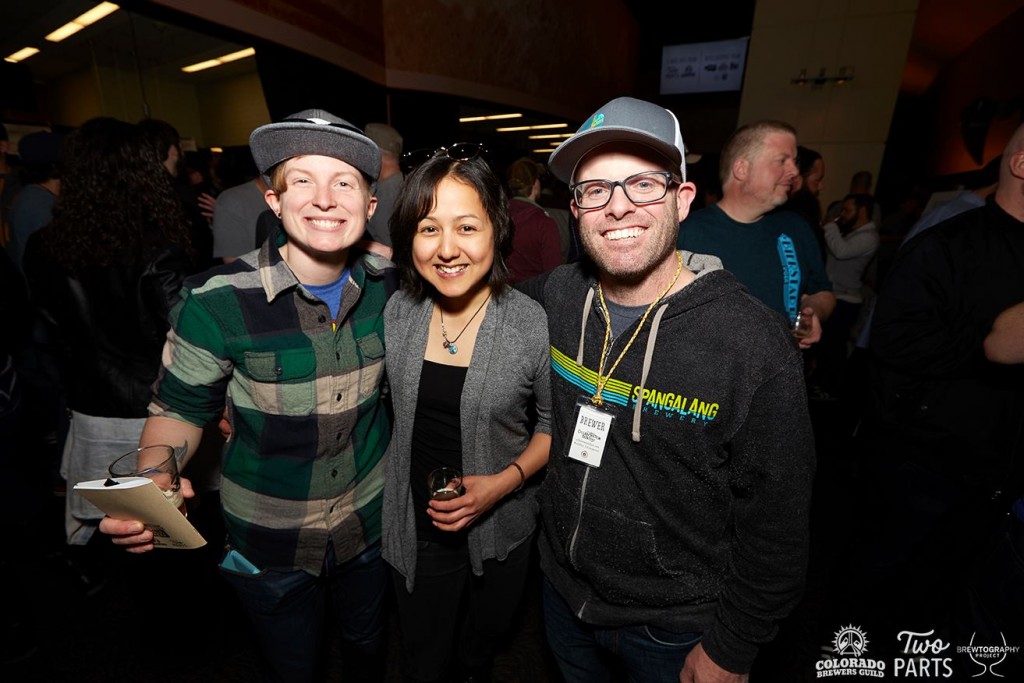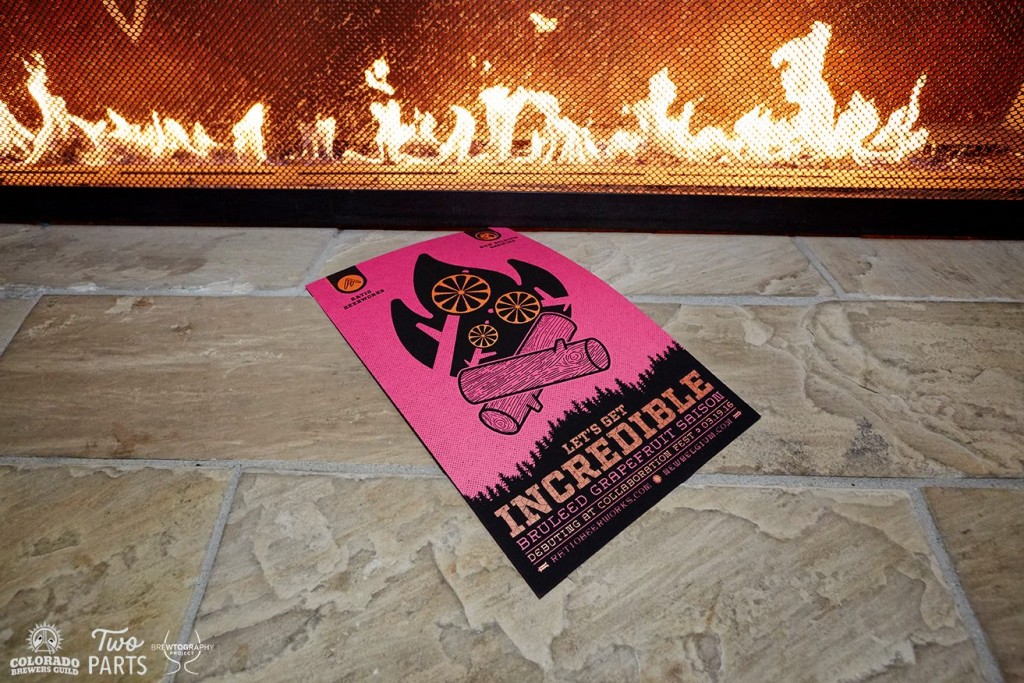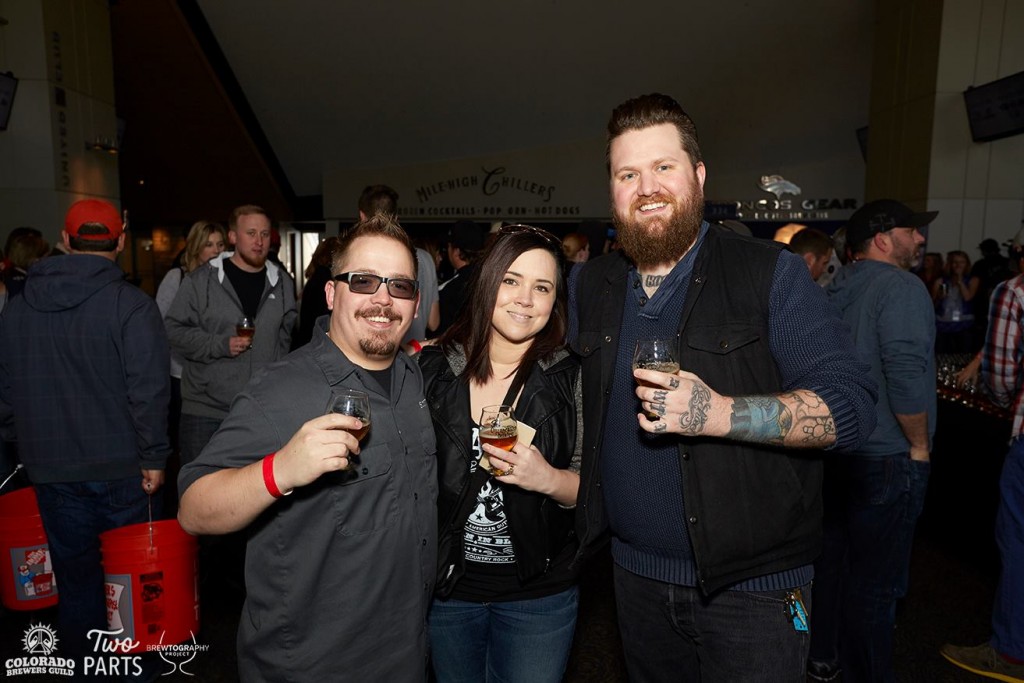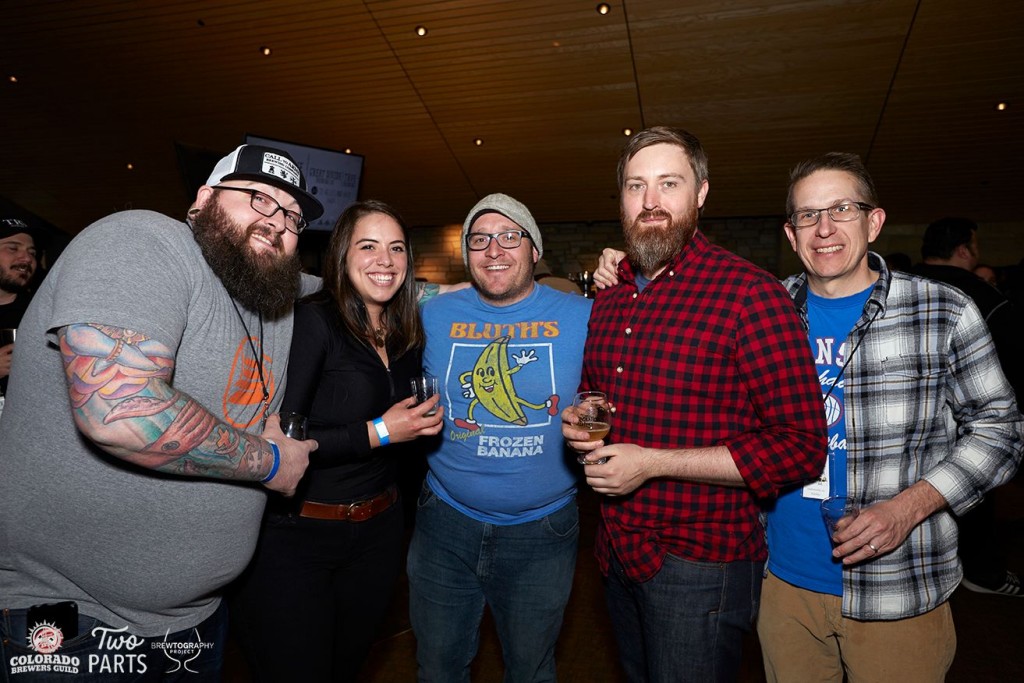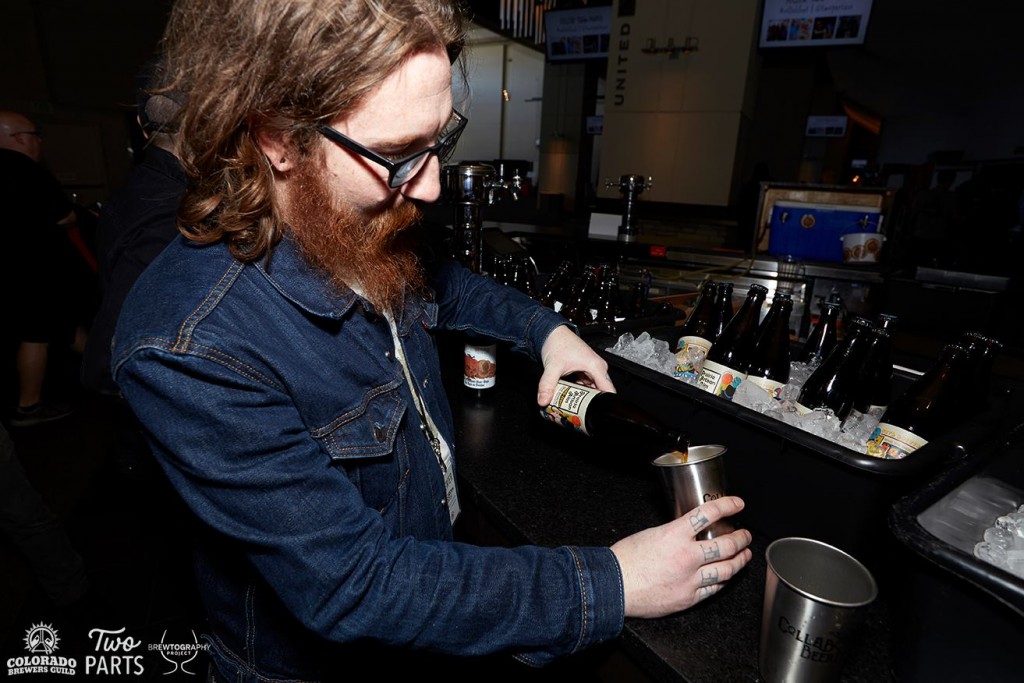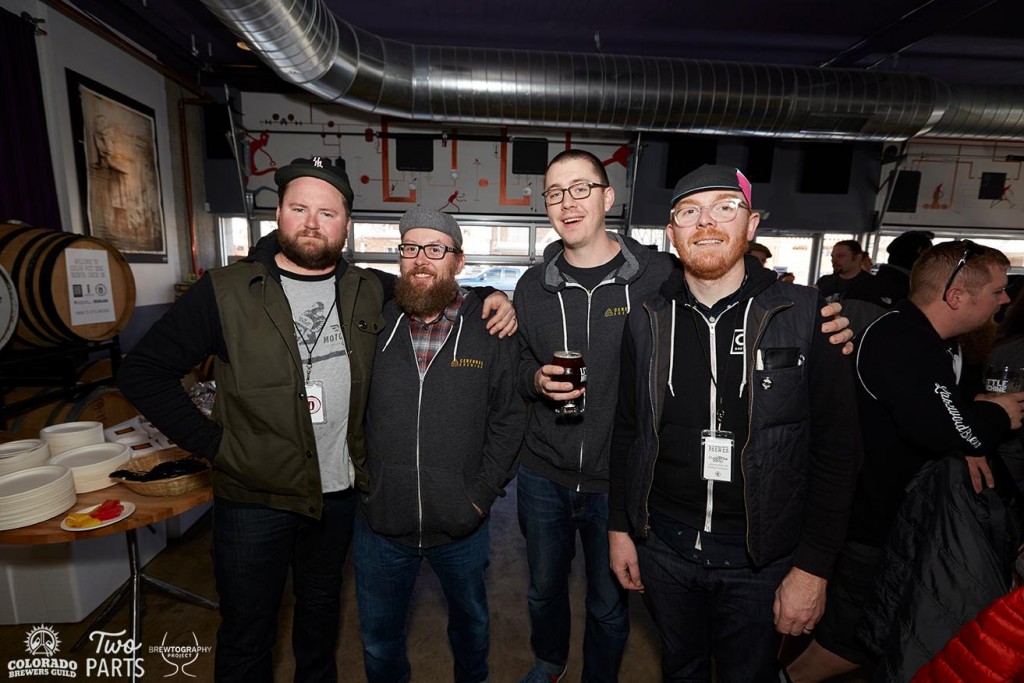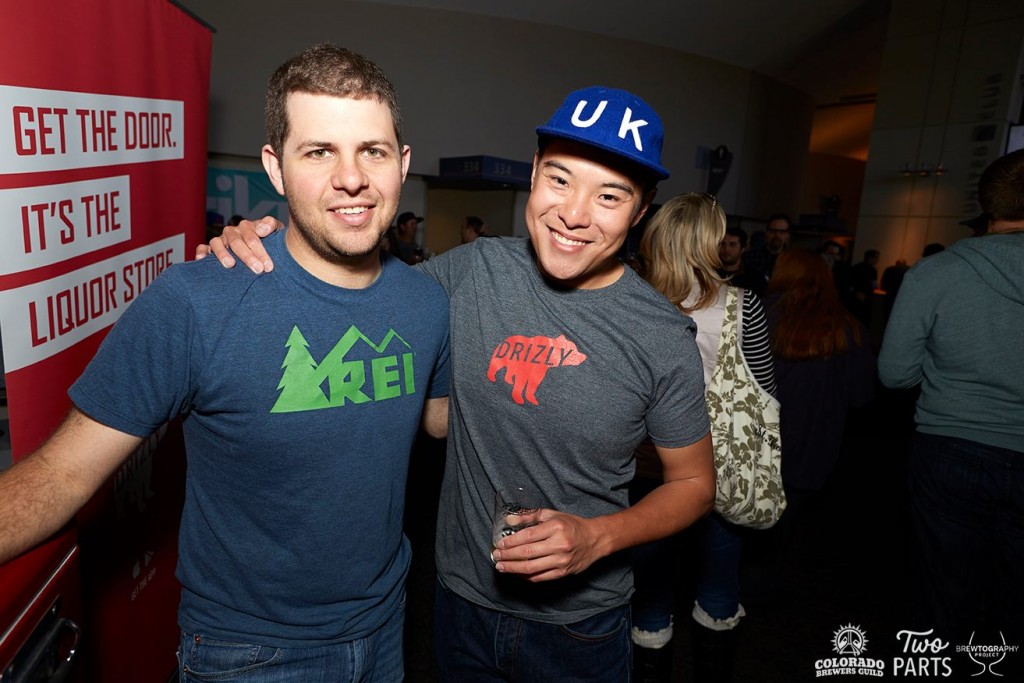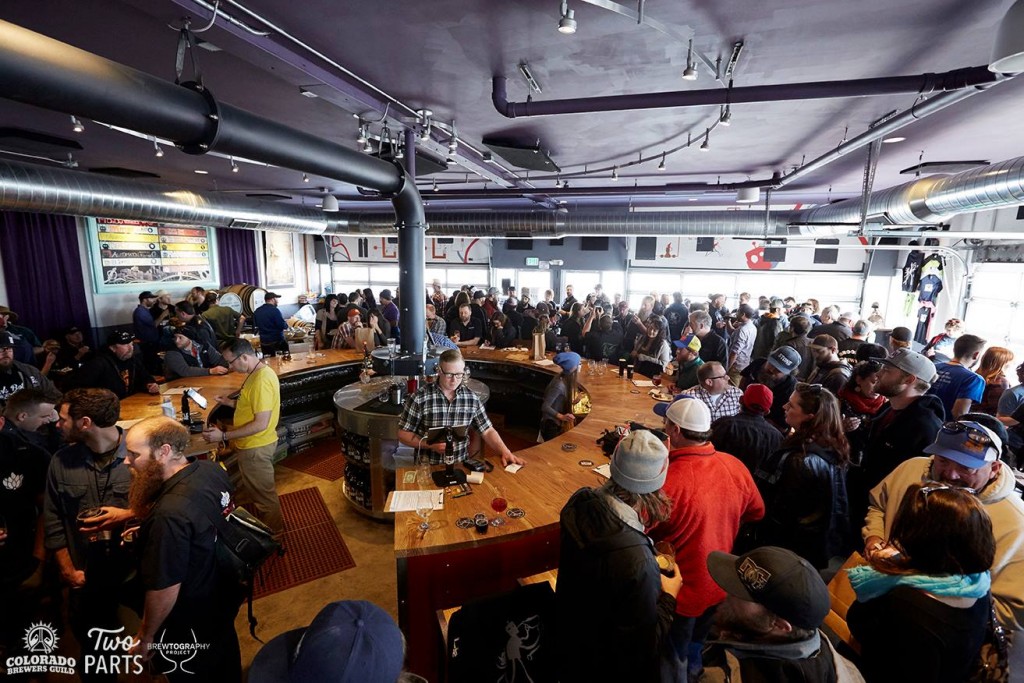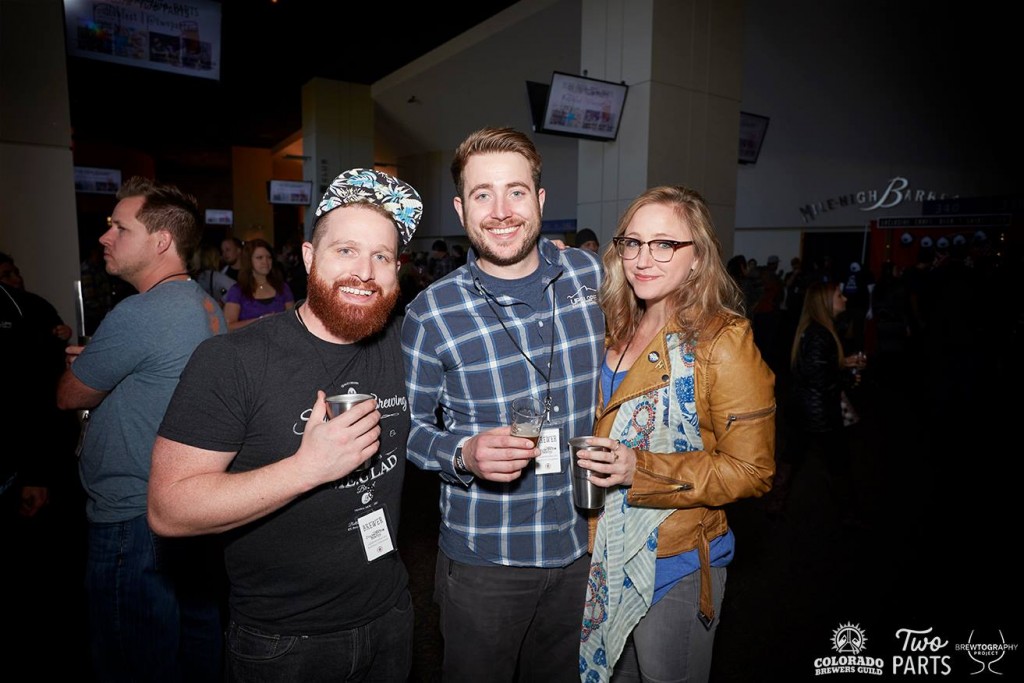 Until next year…
This years addition of which beer was which on the TV screens above proved to be much more navigable than last year's festival proceedings and we really appreciated that. It was great seeing so many friends in one place. To those that have not participated or visited this event, it may be the most worthwhile and valuable event to go to to try truly NEW beers. We'll be back next year and each subsequent year to champion the collaborative process and welcome imbibers of all walks of the craft beer world. Keep up the good work!
---