No Comments
Welcome to Our Regional Denver Beer Beat Event Coverage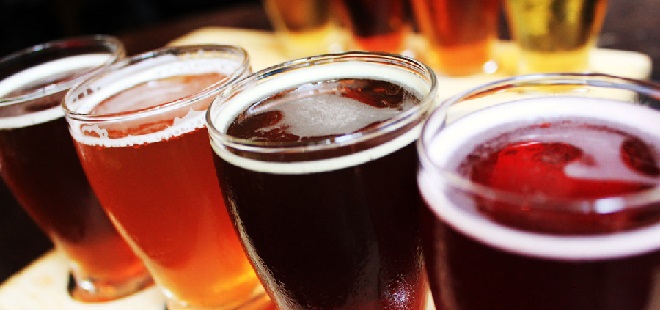 Each week we will be bringing you regional coverage of your favorite beer events happening in your area. Did we miss something? Let us know!
Thursday, December 5, 2013
Barrels and Bottles Brewery (Golden) – Drop in to B&B for an Elevation Beer Co. Whiteout Tap Takeover featuring 7 different Elevation beers including: First Cast IPA, 8 Second Kolsch, Little Mo' Porter, Downpour Fresh Hop, Apis IV, Barrel Aged Apis IV, and Fanboy Barrel Aged Double IPA. Sample the brews of Elevation Beer Co. at this event and 15% of their sales will go to help CAN'd Aid Foundation.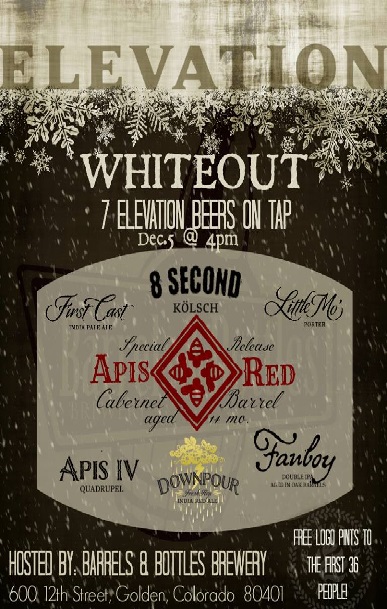 Denver Beer Co. (Denver) — Your sweet tooth should be excited for this one! Join DBC for their first Beer & Chocolate Pairing this Thursday, December 5th.
They will serve 5 tasters. Each paired with two different chocolates for $25.
Check out the line up:
'TIS THE SAISON: Dark Choc. Lemon & Dark Choc. Raspberry
GRAHAM CRACKER PORTER: Dark Choc. Peanut Butter & Milk Choc. Amaretto
IMPERIAL PUMPKIN: Dark Choc. Chai & Milk Choc. Hazelnut
RUSSIAN IMPERIAL STOUT: Dark Choc. Chili Pepper & Dark Choc. Black Cherry
BARLEYWINE: Milk Choc. Orange & Milk Choc. Sea Salt Toffee
All the chocolate will be provided by the crafty folks at The Chocolate Therapist Franchising, LLC.
See, this will be good for you. More info here.
Friday, December 6, 2013
Oskar Blues (Lyons) – The 11th CANiversary – Viva Lyons at the original Oskar Blues Grill & Brew, Lyons, CO. The first folks to throw craft beer in a can are having a party about it. You should go. We should all go. Oskar Blues kicked off the Canned Beer Revolution so many years ago now that they're celebrating where it all started at Oskar Blues Grill & Brew in Lyons, CO on Fri. Dec. 6th. This year, they have the amazing West Water Outlaws headlining with Rocktin Grove opening the show up at 7pm. Tickets are $10 and will most definitely sell out so get them here before they're gone.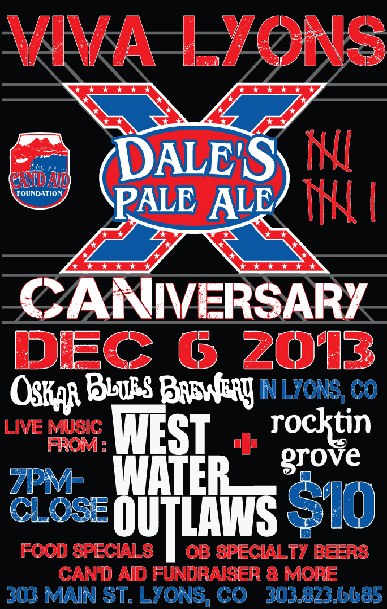 Our Mutual Friend Malt & Brew (Denver) – OMF First Anniversary – Night One: Winter Warmer Release. Friday, December 6th at 7pm will mark the 2nd release of Winter Warmer, a beautifully complex 10% abv Old Ale. This crowd favorite has notes of fruit, dark chocolate, roastiness, toffee, & black currant. The standard Winter Warmer will be pouring, as well as Winter Warmer on oak and cherries as well as Winter Warmer on Madagascar Vanilla Bean and Novo Coffee. Musical guests and Denver locals Flashbulb Fires, A Mouthful of Thunder, and Confluence will perform in the brewhouse. Food Truck "The Special" will provide their delicious vegan/vegetarian fare, a new concept from the great people who brought you Waffleganger. More info here.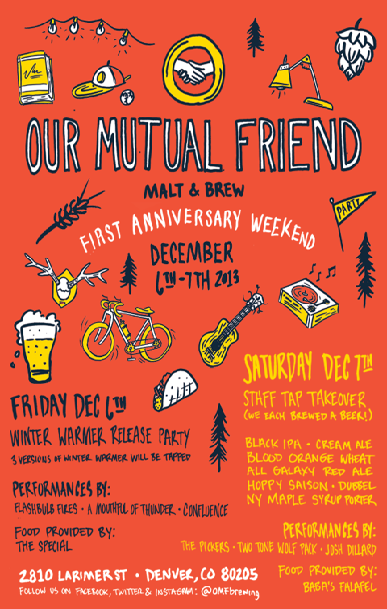 Saturday, December 7, 2013
Hops & Pie (Denver) – Denver's Little Big Beerfest welcomes Perennial Artisan Ales and will showcase their lineup of fresh and tasty barley-pops. Check out the following ales on draft: Aria, Hommelbier, Saison de Lis, Peach Berliner Weisse, Heart of Gold, Hereafter, Peace Offering, Barry Rye and La Boheme Kriek.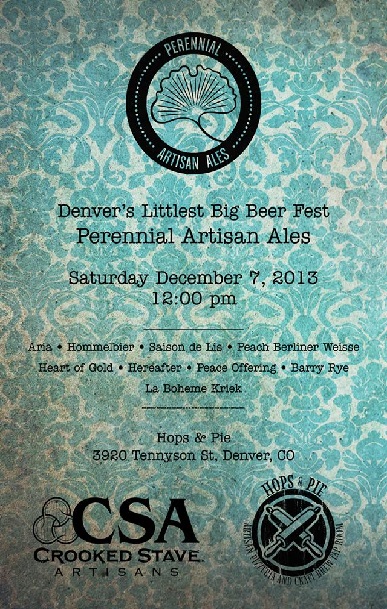 Wynkoop Brewing Co (Denver) – Parade of Darks (SOLD OUT)
Wynkoop Brewing Co. hosts its fourth annual "Parade of Darks" festival with proceeds going to Metro CareRing. The event will take place from 1 to 4 p.m. on Dec 7. In years past, the event has brought prowess of boasting over 80 different winter seasonal, stouts, sour beers, barleywines and brown ales from the best breweries in Colorado and otherwise. This year's lineup promises to be larger and more diverse. All proceeds of the event go to Metro CareRing, Denver's largest hunger-relief organization directly serving low-income families. The funds will be utilized to provide healthy food, nutrition education, self-sufficiency programs, and supportive services to help family's access services to overcoming the primary causes of hunger. Tickets for the event are sold out but keep your eyes and ears to the sky and ground for more ticket releases and chances to win tickets for the event.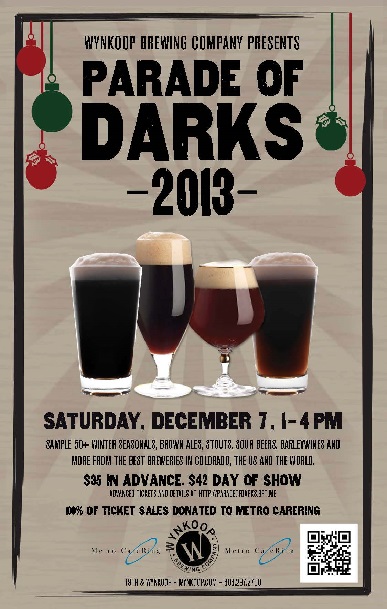 Our Mutual Friend Malt & Brew (Denver) — Saturday, December 7th is the actual birthday of OMF! To celebrate, the 7 employees/owners of the brewery each chose a style to brew a small batch of for a "Staff Tap Takeover" at 7pm. The list includes a Black IPA, All Galaxy Red ale, Blood Orange Wheat ale, Dubbel, Hoppy Saison, Cream Ale, and a NY Maple Syrup Porter. Tasters and full pours will be available. Musical guests and Denver locals the Pickers, Two Tone Wolf Pack, and Josh Dillard will perform in the brewhouse. Food Truck Baba's Falafel will provide be out front. More info here.
Monday, December 9, 2013
Breckenridge Brewery (Denver) – Pin Up Girls Calendar Release Party from 6:30 to 9 p.m. Join the featured brewer Up Girls Calendar Release Party from 6:30 to 9 p.m. Join the featured brewery gals at this signing party celebrating the release of the 2014 Women of Colorado Craft Brewing Calendar. More info here.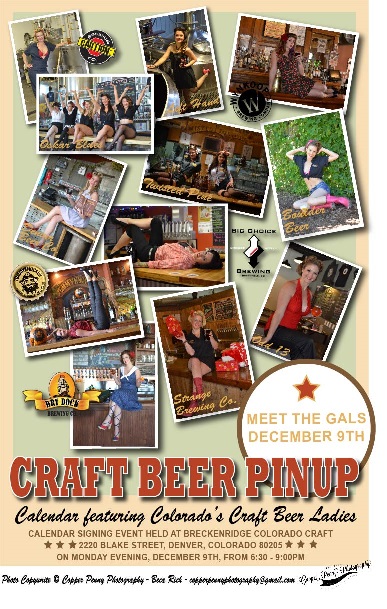 Crooked Stave Artisan Beer Project (Denver) – Crafting A Nation will be hosting an event at the Source Taproom at 7p.m. In celebration of the holidays, they will be hosting an intimate screening of their film on Monday, December 9th at Crooked Stave's Source Taproom.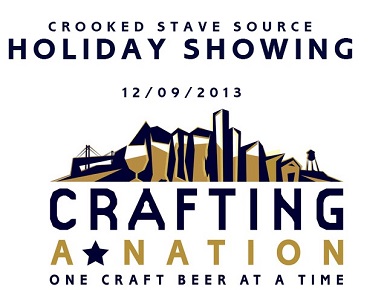 Tickets: $10 Click HERE to purchase
Immediately following the screening, there will be a one of a kind Q and A session with key players in the craft beer industry (more will be added):
-Brewers Association's Chief Operating Officer Bob Pease
-The Colorado Brewes Guild's Marketing and Communication Guru Steve Kurowski
This will be your chance to ask the questions about craft beer that you have always wanted to know! Hope to see you all there!