5 Comments
The Changing Faces of Late Night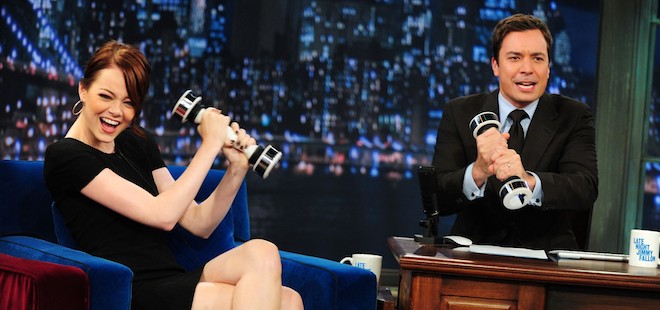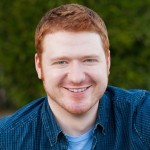 2014 is going to be a year of change. We might see a human organ produced by a 3-D printer, nations rise and fall, and hopefully the retirement of Justin Bieber. Despite these impressive technological and cultural milestones, there is an even greater transformation facing our nation – nay, the world. Yes, even greater than The Biebs playing shuffle board.
NBC's The Tonight Show is the longest-running entertainment show in the United States, but up until now you could count how many hosts it's had on one hand. Starting on February 17, 2014, the current Late Night host and former SNL cast member Jimmy Fallon will be taking the reins from Jay Leno as the sixth host of the beloved program since it went on air in 1954. Late Night, which has aired right after The Tonight Show since 1982, will see its fourth host take the stage in the form of fellow SNL veteran Seth Meyers.
With the exception of the first two hosts of The Tonight Show, Steve Allen (1954-57) and Jack Paar (1957-62), every other comedian that has held the position is still a household name. Your grandparents may rave about the good ole' days with Steve Allen, but they also rant about the crazy kids today with their rollerblades and world-wide-interweb, so you have to take it with a grain of salt. The revered Johnny Carson hosted for 30 years (1962-1992), Jay Leno from (1992-2009, 2010 – Present), and Conan O'Brien got a shot for a seven month stint (2009-10). While the last two transitions didn't occur without a healthy dose of drama, this one appears to be going quite smoothly. In case you're not well versed in NBC history, I'll give you a brief look into the hubbub that ensued the last couple times Jay Leno was involved.
David Letterman hosted Late Night on NBC from 1982–1993, with the assumption that when Johnny Carson called it quits, he would take over the iconic time slot. However, NBC threw a curve ball by bringing in Jay Leno to host instead. Understandably, Letterman gave NBC the finger and took an 11:30pm slot on CBS, Late Show with David Letterman, which has seen a successful run since it began in 1993. In fact, in 2013 Letterman became the longest-running late night talk show host in TV history. It's safe to say that he has earned his place in television fame, although he never got to sit behind the official Tonight Show desk.

Even if you weren't familiar with Letterman's story, odds are you recall the disastrous debacle that occurred when Conan O'Brien took over the post from Jay Leno in 2009. Basically, Jay Leno had contractually and publicly agreed to step down after 17 years and let Conan take over. But when the time came, Jay wasn't quite ready for bedtime and made a deal to have his own show come on at 10:00pm, cleverly titled The Jay Leno Show. This created an awkward lineup of television where we had three talk shows with basically the same format aired nearly back-to-back-to-back. NBC scrambled to fight off low ratings by proposing moving Jay Leno's show to 11:35pm and pushing The Tonight Show with Conan O'Brien to 12:05 a.m. Conan refused to be the host that steered the show out of the same time slot it had enjoyed for over 60 years and opted to bow out. Conan, like Letterman before him, gave NBC the finger and took his own show on TBS, Conan, which is still going strong.
Fortunately, unless old Jay pulls a fast one again, Jimmy Fallon will oversee a peaceful transfer of power next month. Over the years, Tonight Show hosts have been former radio performers, comics, or game show hosts, but Fallon will be the first one that is an alum from another long standing comedy program, Saturday Night Live. Although Conan O'Brien wrote for SNL for three years and occasionally appeared as an extra, he was never a full-fledged cast member. Not to take away from any previous hosts, but it should definitely inject some energy into The Tonight Show formula to have a performer like Fallon with such an established background and myriad of talents.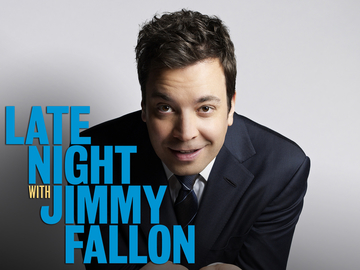 Jimmy Fallon started as a comic, but made it onto SNL in 1998 and stayed until 2004. He then did a handful of movies before he was tapped to take over Late Night in 2009. And thank God he was, because I lost sleep over the idea of Carson Daly taking the helm. Remember his amazing comedic timing on Last Call with Carson Daly? Me either. But I digress. Jimmy Fallon made a name for himself on SNL with his ability to do uncanny impressions ranging from Jerry Seinfeld to Bono, as well as his song parodies where he strummed an acoustic guitar. Since taking over Late Night, he has made a steady transition to a host that can let his guests be funny when it's appropriate, but totally steal the show when it's necessary. He has his own running bits, such as "Thank You Notes", where he writes sarcastic notes to everything from balloon animals to people who ride their bikes on the sidewalk. He also has simple activities that put guests in a light not normally seen on late night talk shows, such as playing the game Taboo with members of the audience paired up with the celebrity guest and himself, or having lip syncing contests, which have understandably gone viral. If you haven't seen Joseph Gordon-Levitt lip sync "Superbass" by Nicki Minaj, then you'll never know his true potential as a performer. Fallon even does duets with musical guests, which almost seems like a nod to variety programs of the past like The Dean Martin Show. So you can tell your grandparents that this Jimmy Fallon fella is playing Pictionary and harmonizing with his guests, which might bring a tear to their eye as they remember the wholesome television that aired in the 50's and 60's. Oh, and did I mention that The Roots will continue to be the house band for Fallon and do renditions of popular songs using school house instruments like xylophones? They will. You're welcome.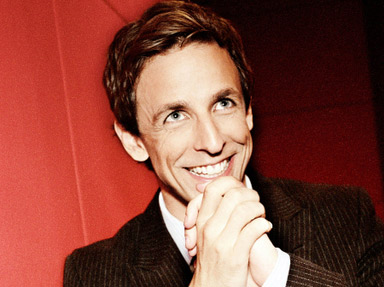 So, what could be better than an SNL cast member on late night TV? How about two? Although we haven't seen Seth Meyers' brand of Late Night yet, it should be a safe assumption that he'll knock it out of the park. Meyers has been on SNL since 2001, where he climbed to the rank of head writer in 2006 and hosted the legendary Weekend Update segment solo from 2008-2013. Tina Fey credits him for having written some of the famous sketches revolving around her portrayal of the Republican Vice Presidential candidate, Sarah Palin. Meyers does his own impressions as well, summoning his inner John Kerry, Peyton Manning, and Anderson Cooper, to name a few. Looking at his track record, we know that he has both the chops and the sharp mind to bring smart comedy to the 12:35pm time slot on NBC. The biggest problem facing the network is probably how they are going to hang on to his talent, since Jimmy Fallon may form a hilarious, yet solid glass ceiling that would hinder Meyers' advancement in the lineup. Fallon is only 39 years old and might get quite cozy in his new gig. Meyers is 40 years old and if his show is as successful as it's expected to be (Lorne Michaels loves him, by the way), he may start to get very tempting offers from other networks whenever his contract is up for renewal. Still, keeping a phenomenal television line-up phenomenal is a problem that many networks would love to have; so don't shed too many tears for NBC.
I would just be sure to tune in for what will be an historic moment in television on February 17, 2014, when we see two very capable comedians take on roles that put them in the same wheelhouse as Johnny Carson and David Letterman. NBC is spending $5 million renovating Jimmy Fallon's current studio to prep for the transition to The Tonight Show and purposely chose the date of the transition so they could take advantage of the media exposure they will enjoy during the 2014 Winter Olympics. The least you could do is flip the channel over or set the DVR just to make sure Jay Leno actually did retire.