No Comments
PorchDrinking's Weekly Denver Beer Beat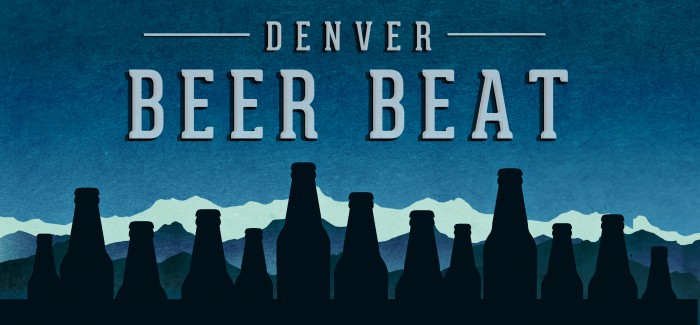 Is it patio time yet?!? It's so close I can taste it! Please follow along as we showcase the not-to-miss events in this week's Weekly Denver Beer Beat including a grip of St Patty's Day happenings, some more beer releases, beer & yoga classes and a dive deeper into future events. Get stoked!
While I divulge in great specificity (well, mostly, depending on how much info a brother can get); all events are subject to change. So it's always good to follow up with your favorite craft brewery through social media and to check back with PorchDrinking.com for updates on all things craft beer!
Wednesday, March 12
Yak & Yeti Restaurant & Brewpub (Arvada) – They've set a date for their first KROC homebrewing club collaboration of 2014. Jose Smythe (an agave porter aged on oak) release will be 4PM on Friday, March 14th with special brewer Dennis Hensen.
River North Brewery (Denver) – On Wednesday, March 12th, River North will offer up another special Wayward Wednesday tapping. This week it's a keg of the locals' favorite: Whiskey Barrel J. Marie.
Thursday, March 13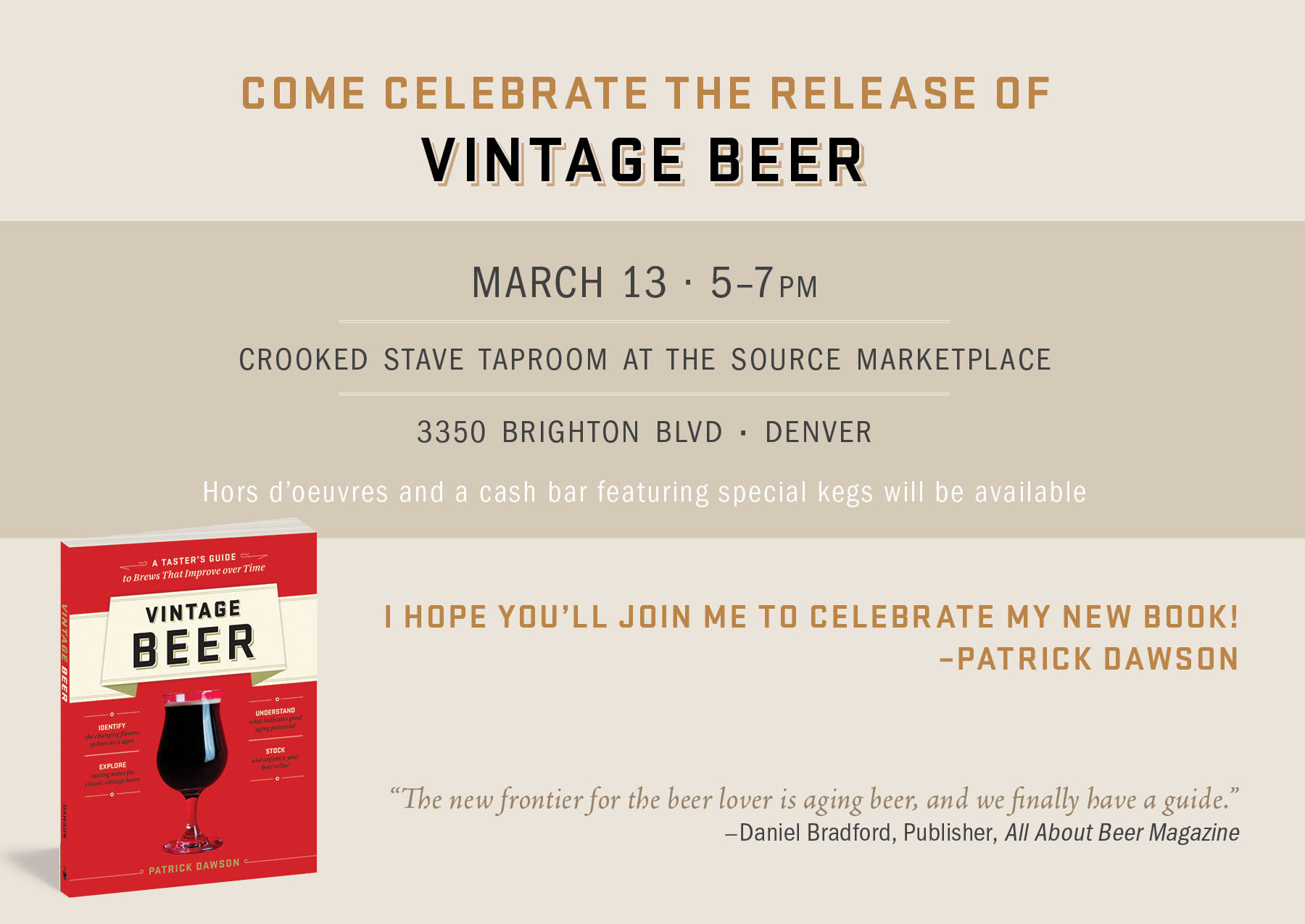 Crooked Stave Taproom (Denver) – Come celebrate the release of a new book in the craft beer community, Vintage Beer by Patrick Dawson. The book release party is March 13 at Crooked Stave in Denver from 5:00 to 7:00 p.m. Crooked Stave's own, Chad Yakobson, did the technical editing on the book. Hors d'oeuvres and a cash bar featuring special kegs will be available. Come talk shop with Patrick and Chad and support your local craft beer scene!
Saint Patrick's Brewing Co (Englewood) – Its St. Paddy's week and Saint Patrick's Brewing Company is ready to let their banner fly! This Thursday March 13th, they will release six brews just in time for your green merriment: Imperial Oak Oatmeal Stout, Red Lager, Honey Helles Bock, Strawberry Fire, Pilsner Wit, and Saison Apple Lager. Also, Lana'i Dry Hop Lager is available again!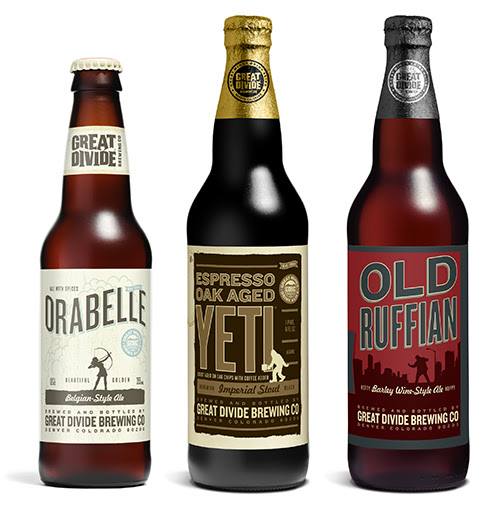 Great Divide (Denver) – Spring Season is making its way back into town, which means that your favorite GD winter favorites have one foot out the door already. Let's toast the last few days of cold weather together; explore their online beer finder to load up on Orabelle, Espresso Oak Aged Yeti, & Old Ruffian while you still can.
Friday, March 14
Copper Kettle Brewing (Denver) – Come celebrate St. Paddy's Day early the folks over at CKB! Sure to be a great party so bring your friends and your green to get your weekend celebration started right! "Help Me Out Stout," their Dry Irish Stout, will make a return at 12pm. It's bitter from roasted barley and a generous dose of hops and then smoothed out with Nitro for a creamy, masking effect. Dogtown Concessions will be out serving up some Irish inspired grub around 7p!

Our Mutual Friend (Denver) – Winter Warmer release! On Friday, March 14th 2014 Our Mutual Friend Malt & Brew will release the 2nd year of Winter Warmer. Available in 22oz bottles, this 10.4% Old ale is incredibly complex with hints of chocolate, coffee, acidic notes, raisin and black currant, all which come from the use of house roasted barley & brown malts. Cascade and summit hops impart a complimentary aroma and bitterness. While this is a new release, it is also the conclusion of the availability of this winter seasonal. Only 300 bottles were filled and will be available for purchase and on draft in the taproom starting at 2pm. The Special is doing the food. Limit 2 bottles per person. Party!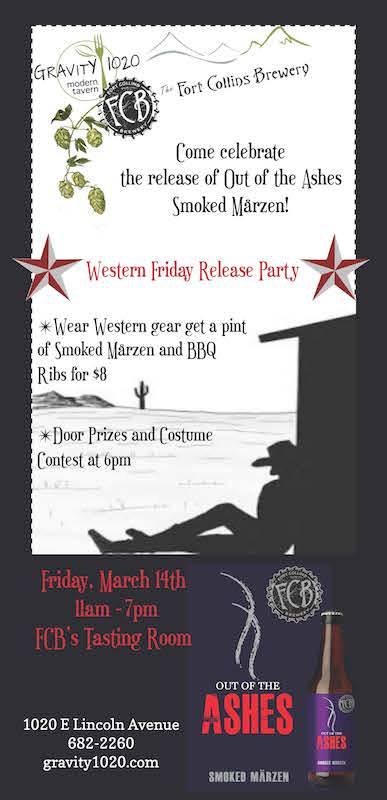 The Fort Collins Brewery (Ft. Collins) – The Fort Collins Brewery, along with Gravity 1020 Modern Tavern, is excited to announce the release of the 4th chapter to the Out of the Ashes (OOA) series. 'Smoked Märzen' will be released in style with a Western Friday Release Party on Friday, March 14th. Smoked Märzen boasts rich caramel and molasses sweetness with a touch of nuttiness. A classic German style, brewed with American boldness. To celebrate the release of the Smoked Märzen, FCB is hosting a Western Friday Release Party in their Tasting Room from 11 a.m. – 7 p.m. on Friday. Everyone dressed in western gear will receive a pint of Smoked Märzen and BBQ Ribs for $8. Out of the Ashes is a bomber series of limited release beers that showcase the varied and unique flavors and aromas delivered from malt smoked over wood-burning fires. This series was created to be shared with food and friends.
Saturday, March 15
Falling Rock Taphouse (Denver) – LoDo's premier craft beer connoisseurs, the Falling Rock Taphouse, is opening its doors a bit early this Saturday. They will be open at 8:30 am for the parade, which is beginning an hour earlier this year in addition to running the route backwards. It will still be in front of the bar, and we will have the patio open. However, remember, we do not take reservations so get here early and be aware of the streets around us being closed down earlier than usual.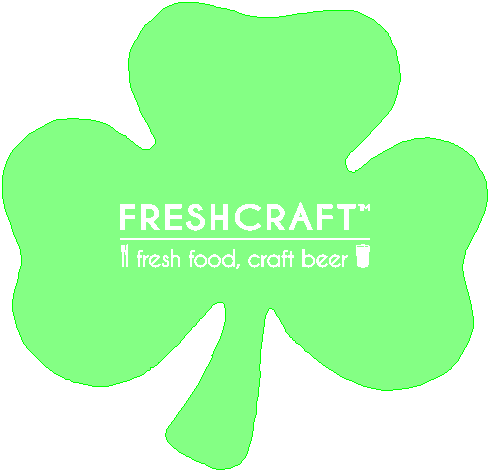 Freshcraft (Denver) – Those familiar with their amazing St. Patrick's Day Parade breakfasts already know, but for those that don't, join the Freshcraft folks starting at 9am for some Irish inspired dishes. Their chefs will be whipping up some Corned Beef Hash and Eggs, Irish Cheddar Waffle Sandwich, and Biscuits with Lamb Gravy.  They will be serving breakfast until 11am and then switching over to even more amazing Irish inspired dishes throughout the day and night. Irish inspired Craft Beer will be on draft all day including Bonfire Irish Red, Denver Beer Co. Maewyn's Dry Irish Stout, and Black Bottle Shameless Irish Stout. Drink specials during breakfast will include $5 Jameson Irish Coffees and our signature Bacon Bloody Marys with a choice of 10 oz Irish Style craft beer back.  During the remainder of the day we will be offering $7 Irish Mules plus our normal Happy Hour specials from 3-7pm, and late night Happy Hour from 11pm-1am.  We hope to see everyone here!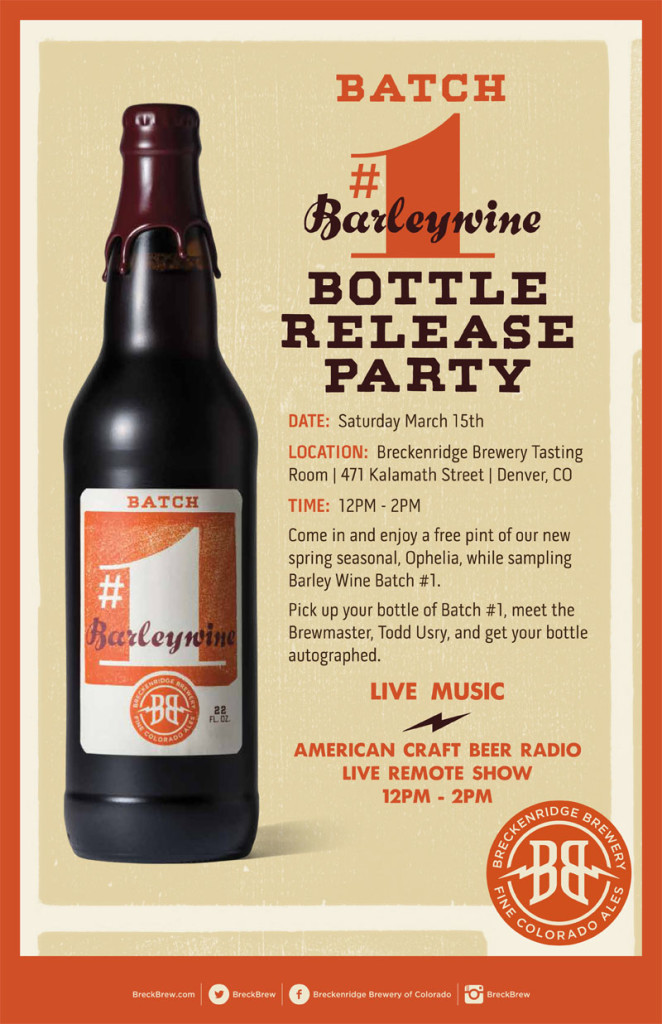 Breckenridge Brewing (Denver – Kalamath Street Taproom) – Breckenridge Brewery will introduce a new beer, Barleywine Batch #1, today by selling 22-ounce, wax-topped bottles out of its Kalamath Street taproom. The beer debuted in January at the Big Beers, Belgians and Barleywines Festival in Vail. Cold-conditioned for three months and barrel-aged in fresh American Oak barrels for another six, this beer comes in at 10.1 percent ABV and is the brewery's first barleywine. American Craft Beer Radio will be broadcasting live as well. The brewery plans to release a limited run of its Barleywine every year.
Grimm Brothers Brewhouse (Loveland) – This Saturday, March 15th, Grimm Brothers will host a St. Patty's Day Party from noon to close. They will be tapping their Bearskin Irish Stout right at 12pm. Road Grill will be providing some Irish food pairings and Irish Dancers from 3pm to 4pm. There will be some swag available as well such as free shirts, hats, pints and growlers throughout the night. Sounds like a stompin' good time to me!
Sunday, March 16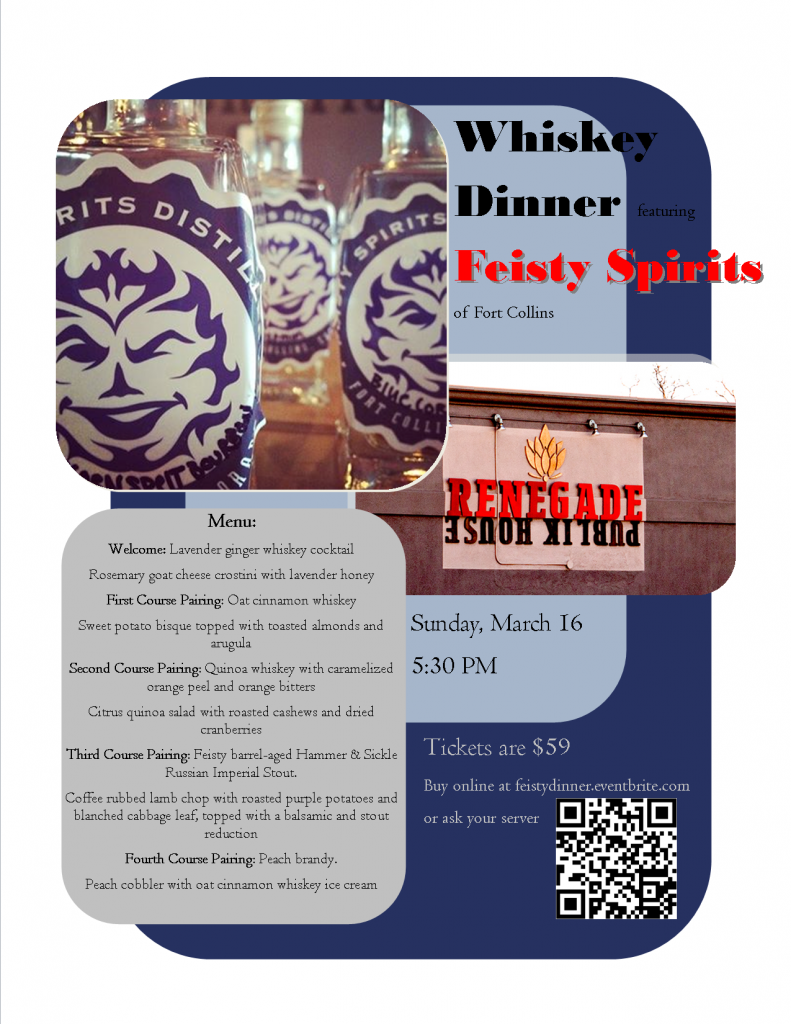 Renegade Publik House (Denver) – Come out to Renegade Publik House's first Whiskey Dinner featuring Feisty Spirits of Fort Collins.
We are ecstatic to have the opportunity to put together a meal that highlights the intricate and dynamic flavors of Feisty Spirits. This small distillery opened its doors in 2013 and has a passion for distilling. They are constantly experimenting with different grains and additives to create unique and flavorful whiskeys. A special feature at this dinner is a barrel-aged Hammer & Sickle, aged in a Feisty whiskey barrel. Please join us for this one-of-a-kind event on Sunday, March 16 at 5:30.
Tickets are also available at Renegade Brewing Company and Renegade Publik House for $59 with no transaction fee.
Menu:
Welcome: Lavender ginger whiskey cocktail
Rosemary goat cheese crostini with lavender honey
First Course Pairing: Oat cinnamon whiskey
Sweet potato bisque topped with toasted almonds and arugula
Second Course Pairing: Quinoa whiskey with caramelized orange peel and orange bitters
Citrus quinoa salad with roasted cashews and dried cranberries
Third Course Pairing: Feisty barrel-aged Hammer & Sickle Russian Imperial Stout.
Coffee rubbed lamb chop with roasted purple potatoes and blanched cabbage leaf, topped with a balsamic and stout reduction
Fourth Course Pairing: Peach brandy.
Peach cobbler with oat cinnamon whiskey ice cream
Monday, March 17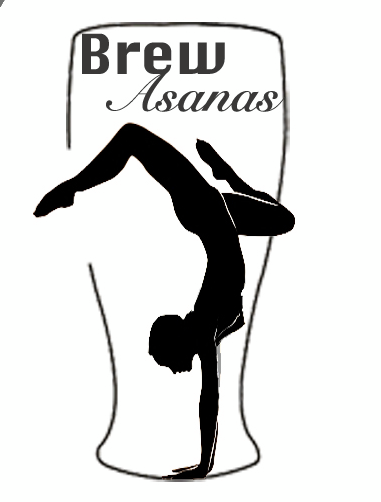 BrewAsanas (Denver) – Beer? Check. Yoga? Check. One might have to call it BrewAsanas. Could two things like these ever co-exist? You bet your flexible-ass they can! BrewAsanas takes a rocking one hour yoga class and follows it up with a brew in a local brewery.
This week's classes are as follows:
Monday, 17th at 6 p.m. – Jagged Mountain Brewery (1139 20th St, Denver)
Tuesday, 18th at 6 p.m. – Kokopelli Beer Co. (8931 N. Harlan Street, Westminster)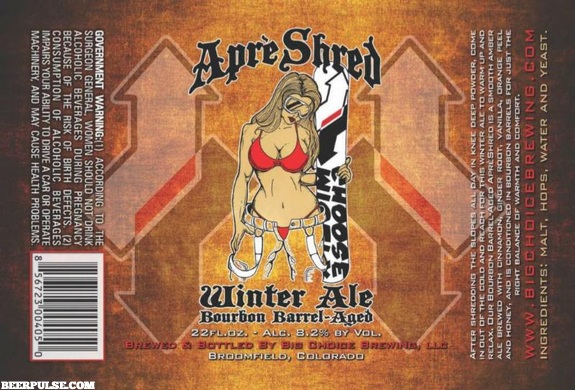 Big Choice Brewing (Broomfield) – Big Choice Brewing will release its bourbon-barrel-aged ApreShred Winter Ale in bottles and on tap starting at around 3 p.m. "This awesome spiced winter ale includes hints of cinnamon, vanilla, ginger root, honey and orange peel and aged in a bourbon barrel to give you something nice to enjoy at your leisure," the brewery says. It's $22 for a 22-ounce bomber bottle; limit two per person. First come, first served.
Left Hand Brewing (Longmont) – St. Paddy's Day will be a day to tip your hat to Left Hand's always delicious Milk Stout. The brewery is hosting a "Pour Hard" contest at 4pm, 5pm and 6pm. Best hard pour of their Nitro Milk Stout wins a case of that very beer! FREE BEER POTENTIAL?! Um, yes please!
Tuesday, March 18

Crooked Stave Artisan Beer Project (Denver) – They will be tapping specialty blends and rare kegs from their Barrel Cellar every Tuesday @ 6:00pm
Our Mutual Friend Malt & Brew (Denver) – Every Tuesday for $10 you get an artist series glass (10oz) and three fills (under 8% abv). Every month will feature a new artist.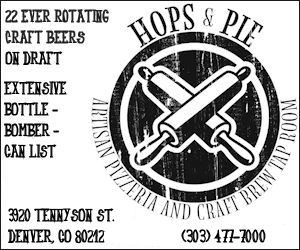 Hops & Pie (Denver) – Today is Tuesday 23 Night from 5pm to close. Get an 18″ Pie with 2 toppings and 2 draft beers all for $23.
Them Future 'vents:
It's almost Colorado Craft Beer Week so it's time to get that liver-piece primed up and ready to go. Here are some future events to keep on your radar, because they are going to be so-gnar!
Epic Brewing (Denver) – March 21 – 29 is Colorado Craft Beer Week, and for the Barley's Angels Denver event, on March 24th, 7pm they're learning about Epic Brewing's beers. Brewer Kim Collins is hosting the ladies of craft for a roaming pairing through the brewing floor. She'll lead the group through a discussion of four craft beer tasters matched with locally made tomatillo, red, smoky jalapeno, and habenero salsas. Specific beer pairings will be revealed at the tasting. The tour will include a trivia contest about beer production, with prizes from Epic Brewing. Tickets will be limited. Register today to reserve your spot. To learn more about Barley's Angels, visit them online at www.barleysangelscolorado.com
Upslope Brewing (Boulder) – On March 25th at 7pm, Upslope and Barley's Angels are putting the Yum! into craft beer tastings with a pairing that matches four Upslope tasters with four bakery confections. Bouldern's Samantha Rolen has carefully chosen the pairings and will discuss why she made her selections, while answering questions about the art and science of baking. Staff from Upslope will also be available to answer questions about the brewing process and give a tour. To learn more about Barley's Angels, you can also visit our website at www.barleysangelscolorado.com
Great Divide (Denver) – Join them for their inaugural P.M. Beer Brunch at Snooze, an A.M. Eatery. Four Great Divide beers paired with four Snooze brunch favorites.
Location: Ballpark Snooze: 2262 Larimer Street, Denver, CO, 80205.
Date/time: Tuesday, March 25th at 6:30pm.
Tickets: $50 (tax and tip included). Space is limited and pre-registration/payment is required.*
For Tickets – www.imbibedenver.com/snooze
Questions? Email us! [email protected].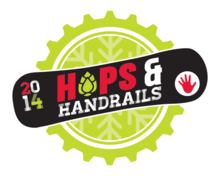 Left Hand Brewing (Longmont) – Save the Date! March 29th! Hops & Handrails – Experience the Best of Colorado: 20 craft brewery tasting + 25ft ramp snowboard competition!
Until the next installment, stay thirsty and Keep Denver Beer'd!