No Comments
PorchDrinking's Weekly Denver Beer Beat | CBC Events (UPDATED)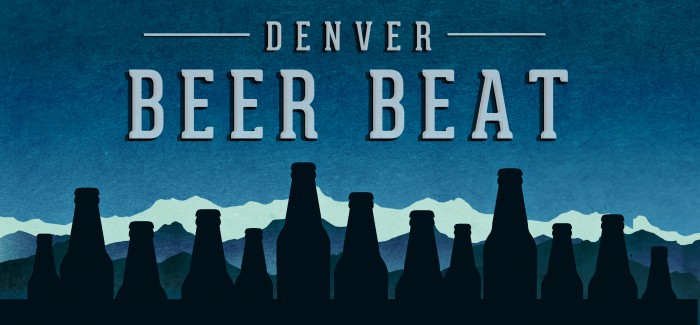 **UPDATED**
The PorchDrinking Weekly Denver Beer Beat is coming to you a bit early this week because of the Craft Brewers Conference AND World Beer Cup rolling through town. With these two mega-beercentric events come a lot of beer specific events and happenings. So we have compiled a comprehensive list of CBC events for the week (we minimize the badge only stuff because it just isn't fair for us to brag on those badge only happenings). Follow us as we venture through the daily events, seminars, expositions, demonstration, and nightly events. We will be using the hashtag #PDdoesCBC2014 to document our journeys. Please follow along with us Twitter and on Facebook as well.
The Craft Brewers Conference is the premier craft brewing industry educational event bringing together more than 4,000 of the world's leading brewers, brewery owners, brewery/brewpub marketing and management, and brewing supply professionals.
The Craft Brewers Conference, hosted by the Brewers Association, is the only industry event that serves both brewpubs and packaging breweries.
Monday, April 7th
Highland Tap & Burger (Denver) – Highland Tap & Burger will host a tap takeover of local favorites and some hard-to-get out of state breweries. Here's the rundown of the breweries: Avery, Cigar City, DC Brau, Firestone Walker, Flying Dog, Maui, Surly. Most of the kegs will get tapped at 3 PM.
Boulder Beer Co (Boulder) – Just in time for National Beer Day – Join Boulder Beer at the Tap and Handle in Fort Collins for a very special Killer Penguin Vertical Tasting where they will sample 2009, 2011, 2012 and 2013 Killer Penguin (barleywine) back-to-back. Learn more about this rare bird and hang with Bearded Brad and the Tap and Handle crew this Monday at 5pm!
Cheeky Monk (Denver – Colfax Location) – 6pm – Join Steve Wagner, Mitch Steele, Pat Tiernan, Todd Karnig and Jason Armstrong from Stone Brewing as Cheeky Monk kicks off the Craft Brewers Conference week in Denver. Four of their great beers with wings paired with each one: Stone Enjoy By, Stone Suitable for Cave Aging Imperial Smoked Porter Aged in Bourbon Barrels, Stone Cali-Belgique IPA Aged in Red Wine Barrels, and Kyle Hollingsworth/Keri Kelli/Stone Collective Distortion.
Lucky Pie (Louisville) – 4pm – DOGFISH HEAD TAPPING – In celebration of the Craft Brewers Conference, Lucky Pie Pizza will be tapping a number of rare Dogfish Head beers on Monday to kickoff the week!! All the beers will be on tap at 4pm and running until they kick so make sure to get there early to enjoy them. Here are some of the beers on tap: Noble Rot, Immort Ale, World Wide Stout, Kvasir, Sah'tea, Positive Contact and more.
Sam and the crew are looking forward to having some brews with everyone!! For more info.
Tuesday, April 8th
Hops & Pie (Denver) – River North Brewery Pilot beer and tap takeover at Hops & Pie! Trent and Drew got together to brew a Belgian Dubbel with tart cherries. Only two kegs exist, and the first will be tapped at Hops & Pie at 11am. They'll also tap a keg of J. Marie Barreled & Bretted, along with some other RNB brews. The kegs go on when HnP opens, and Trent will be there around noon to talk about the beers.
Our Mutual Friend (Denver) – Keep the Glass! They are on week 3 of Glass 7.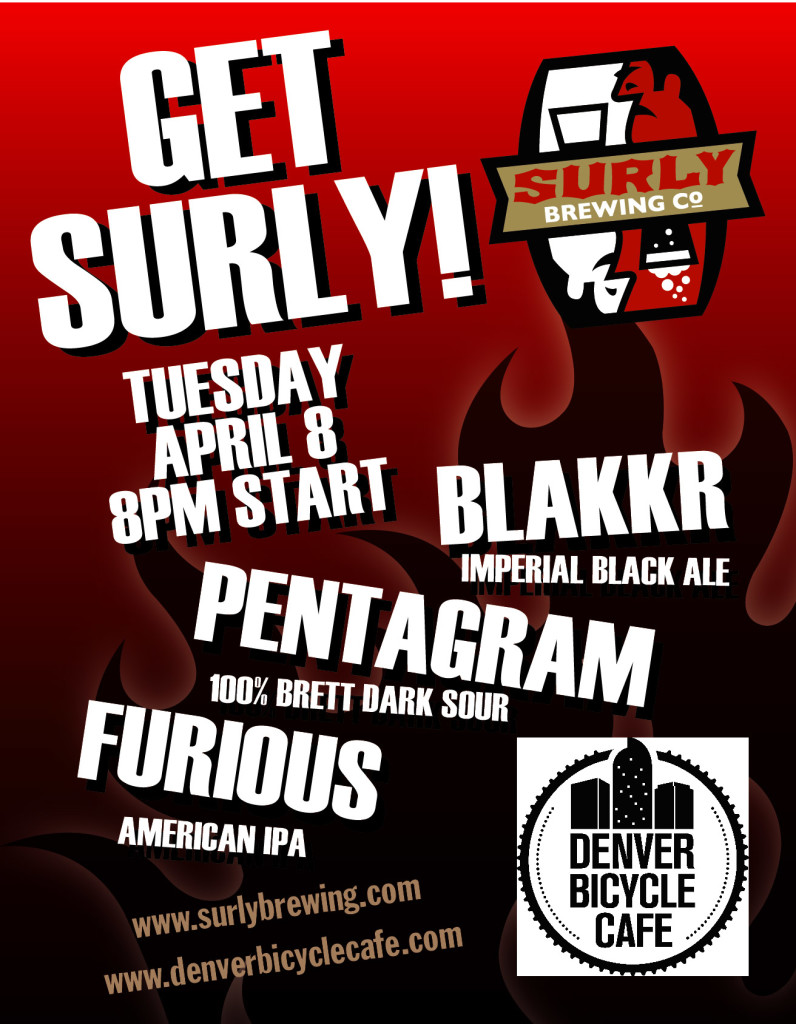 Denver Bicycle Café (Denver) – Get SURLY with Denver Bicycle Café and Surly Brewing Co (MN). Three of Surly's brews will get tapped at Denver Bicycle Cafe and will not disappoint. The three brews will be Furious, Pentagram and Blakkr hitting the lines at 8 PM.
Falling Rock Tap House (Denver) – 1pm -Book sale/signing for Italy Beer Country the Story of Italian Craft Beer by Brian Jansing & Paul Vismara (two of our bartenders). Italian Beers including Toccalmatto's Tipo Pils, Zona Cesarini, and Salty Angel Gose, PLUS Super Baladin, LoverBeer Madamin.
Park & Co (Denver) – 4:30pm – DOGFISH HEAD CBC HOPPY HOUR – Kick off a week chock-full of amazing events with Dogfish Head and the Park & Co crew. To accompany some of Park & Co's amazing food, Dogfish Head be tapping into their IPA portfolio and celebrating another year of the Craft Brewer's Conference. Hoppy Hour starts at 4:30pm on Tuesday and will include the following brews: 60 Minute, 61 Minute, 90 Minute, Burton Baton, Hellhound on my Ale AND the Holy Grail for Hopheads, yes, 120 Minute IPA.Get there as early as possible because they'll be giving out our IPA glass to the first customers while supplies last.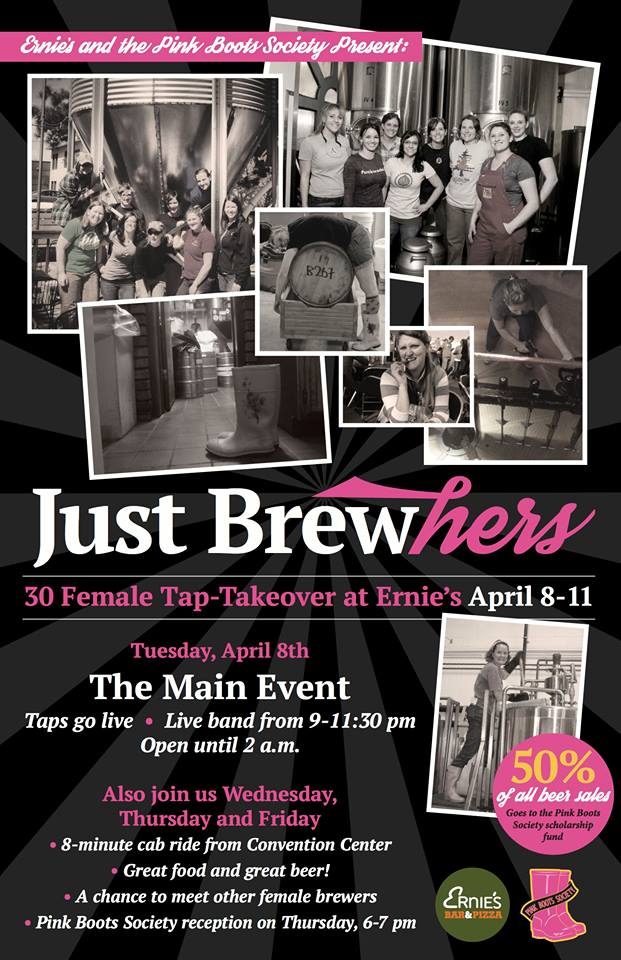 Ernie's Bar and Pizza (Denver) – Just BrewHers : 30 (Female Brewer) Tap Takeover! Meet the brewers and experience delicious beers April 8 through April 11: Open til 2am. Special Pink Boots Reception Meet & Greet on Thursday night from 6 – 7pm! Ernie's Bar & Pizza will launch a 30 female brewer tap takeover featuring females from all over the United States, with a focus on local female brewers.  This unique tap takeover will kick off on Tuesday, April 8 when the majority of brewers will be on hand at Ernie's to mingle with guests and enjoy some live blue grass music after a long day at the conference. The beers will remain on tap through Friday, April 11 and are expected to sell out fast!  Ernie's will donate 50 percent of the beer proceeds to the Pink Books Scholarship Fund to help send a female brewer to school.
Star Bar (Denver) – Cigar City Brewing Highlight at 4pm – Sliding into CBC week with some great beers is the always eponymous Cigar City Brewing (Tampa, FL). Come on out to Star Bar for Florida Cracker Belgian-style White Ale, Jai Alai IPA, Tocobaga Red Ale, and Passion Fruit Guava Grove via draft as well as some Invasion Pale Ale and Humidor Series IPA via cans! Then, at 9:30pm until close, Star Bar hosts "the" Welcome Reception After Party! Join Odell Brewing at 9:30 pm for special Odell Brewing beers including Fernet Porter, Friek, Wolf Picker, Loose Leaf! Word on the street is that Perennial and Prairie will also be in the house this evening. Star Bar is THE place to be on opening night of CBC!
Odell Brewing (Fort Collins) – Odell Pink Boots Society Dinner – For a special beer dinner catered by Odell's own Katie Guiffre and other local women chefs! We will be pairing our beer with locally sourced food from our hometown of Fort Collins, Colorado. The dinner is open to all who love craft beer. Tickets are $20.00 each for PBS members who have access to the promotional code (check your PBS emails!)  and $30.00 for non-PBS members. All proceeds will go to the Pink Boots Scholarship Fund. Come support women in the brewing industry and ladies loving craft beer!
Euclid Hall Bar & Kitchen (Denver) – 12pm – Boulevard tapping: Chocolate Ale (5 kegs til its gone all week) & Euclid Sour (all week long). Then at 6pm, there will be a No Label Brewing (TX) tapping: Elda M. Bourbon Barrel Milk Stout and a surprise.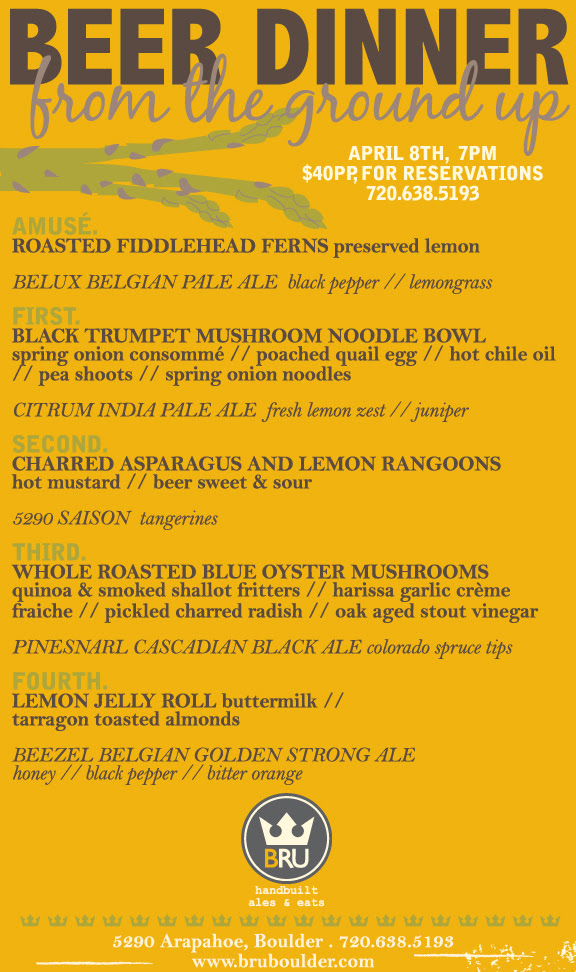 BRU Handbuilt Ales & Eats (Boulder) – Join Bru Handbuilt Ales for their next Beer Dinner, 'From the Ground Up' on Tuesday, April 8th at 7pm. $40 per person, seating is limited, for reservations call 720.638.5193.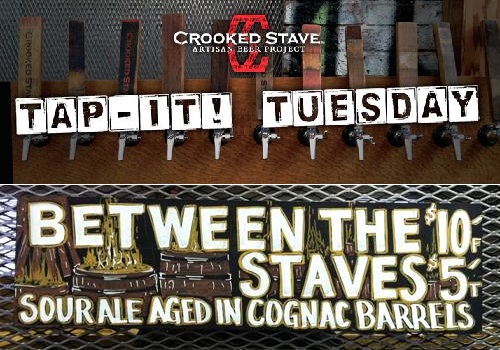 Crooked Stave Artisan Beer Project (Denver) – On Tuesday, April 8 @ 6 p.m. they will be tapping Between the Staves, a collaboration brew with Anchorage Brewing Company. Celebrate CBC with this dark sour ale fermented in oak and aged in Cognac barrels. They will also be releasing bottles of the brew – 750ml bottles, $17 each (CASH ONLY), 2 bottle limit.

The Kitchen (Boulder) – On Tuesday, April 8 @ 6:30 p.m., The Kitchen Boulder presents a beer dinner featuring brews from Crooked Stave Artisan Beer Project & Melvin Brewing. There will be four courses with a beer from each brewery per course (eight beers total) for $75. Call the restaurant (303) 544-5973 for reservations.
Crooked Stave
– Vieille
– Surette
– L'Brett d'Plum
– Raspberry Dark Origins
Melvin Brewing (Jackson Hole, WY)
– Melvin IPA
– Asterisk Double IPA
– 2×4 Pale Ale
– Ch Ch Cherry Bomb
Marlowe's (Denver) – Boulder Beer's 35th Anniversary Imperial Black IPA Release Party! The "After Party" following the CBC Welcome Reception. Live music from Gipsy Moon. Open to the public, but all CBC badge holders get two free Boulder Beers! Hope to see you there! Party is from 9:30pm – 12:30am!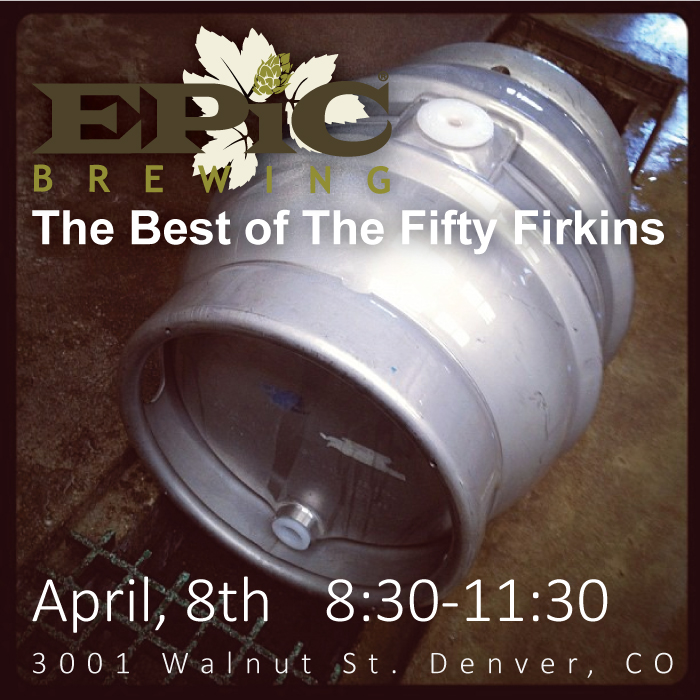 Epic Brewing (Denver) – Firkin time! Most places crack a single barrel of some new deliciousness. In Epic's case, they're not doing 1 firkin, but 25 different firkin at one time! This coming Tuesday, April 8th at 8:30pm Epic Brewing will offer up 25 firkins of different Epic beers.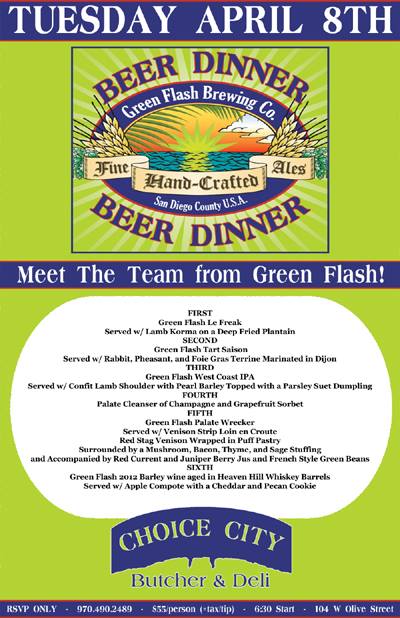 Choice City Butcher (Fort Collins) – Meet the owner and brewers of Green Flash Brewery this Tuesday! Check out the menu! Call 970.490.2488 for a spot.
Wednesday, April 9th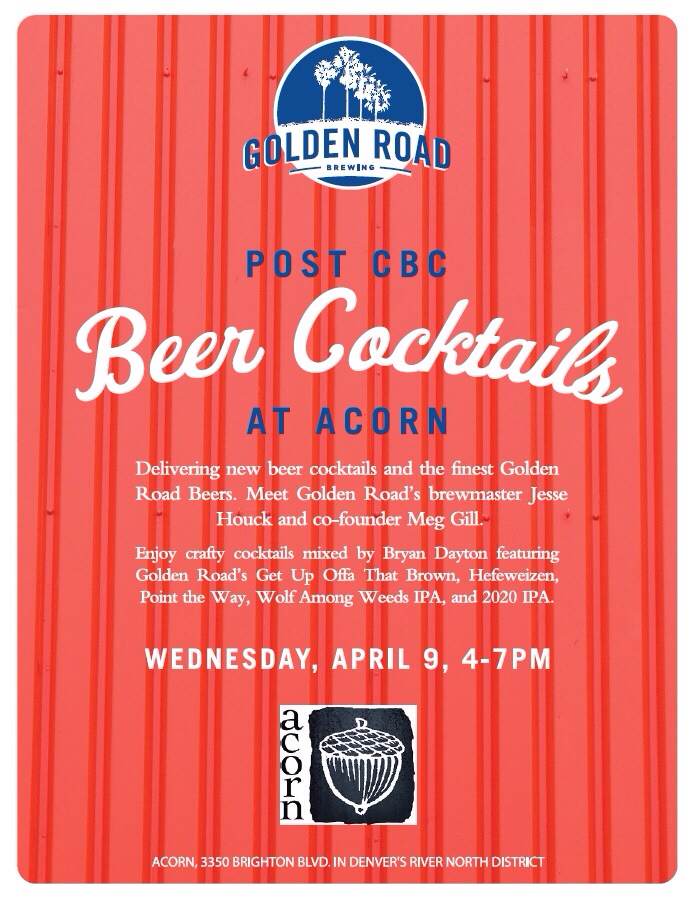 Acorn! (Denver) – Head over to the Source's Acorn! for some Post-CBC Beer Cocktails – 4:00pm – 7:00pmMeet Golden Road Brewing's brewmaster Jesse Houck and co-founder Meg Gill while enjoying crafty beer cocktails mixed by Acorn's Bryan Dayton. Cocktails will feature Golden Road's Hefeweizen, Point the Way IPA, Wolf Among Weeds IPA, 2020 IPA and Get Up Offa That Brown. Take this opportunity to mingle with Golden Road Brewing (CA) while they are in town for CBC 2014 – we are obviously huge fans of the brewery but these folks are really making some great craft beer!

Hops & Pie (Denver) – Hops & Pie will tap a selection of beers from the Crooked Stave and Jester King (TX). Crooked Stave will be bringing Batch 60, Nightmare on Brett, Origins (if its finished fermenting!), Surette and Winter St. Bretta. Jester King will be bringing La Vie en Rose, Noble King, RU55, Ambree, Ol' Oi, Atrial Rubicite, and Funk Metal.
Our Mutual Friend (Denver) – Denver Homebrew Club's Gose is tapping! Lemon tartness, herbal and salty goodness!
Ale House at Amato's (Denver) – SweetWater Brewery of Atlanta, GA and Breckenridge Brewery have partnered on "O' Tay," a collaboration bee. The brew will be a dry-hopped red wheat wine ale and will available later this month on draft in Colorado. On Wednesday, April 9, the Ale House at Amato's will be tapping a keg of the beer.
TRVE Brewing (Denver) – Come hang with Ritual Chocolate, Huckleberry Roasters, A Cheese Peddler, Black Sheep Baker and us for a couple hours of eatin' the coolest consumables Denver has to offer.
We'll be offering a killer selection of chocolate, coffee, cheese, bread and beer specifically curated to blow your goddamned mind.  $15 will get you a hefty plate of rad samples, along with beer and coffee to wash it all down. Space is limited – don't sleep.
River North Brewery (Denver) – 3pm – Wayward Wednesday! B-Side Avarice and Barrel-Aged Avarice on tap together. Come help settle the eternal debate: which barrel-aged Imperial Stout reigns supreme?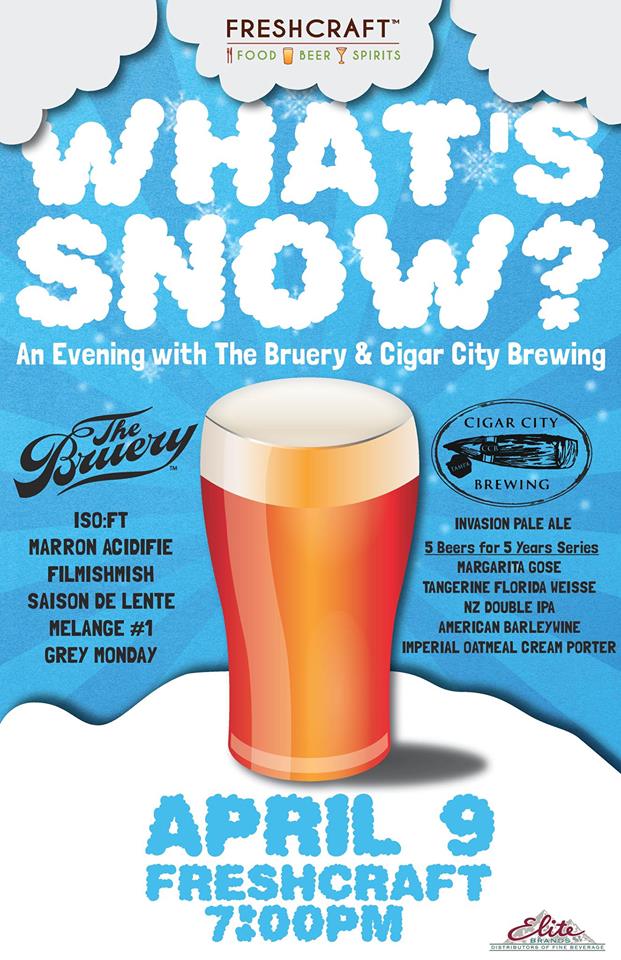 Freshcraft (Denver) –  ' What's Snow?' I don't think we need to get into detail about what's going on here. To say that you should be excited to sample The Bruery and Cigar City on the same night is an understatement. The beer speaks for itself, nuff said. Tapping at 7pm. See ya there!
From Cigar City on draft will be: 5 for 5 American Barleywine , 5 for 5 Imperial Oatmeal Cream Porter, 5 for 5 Tangerine Florida Weisse, Invasion Pale Ale
From The Bruery on draft will be: Filmishmish, Saison De Lente, Melange #1, Grey Monday
Bottle pours of both Collaboration beers made by both will be available – ISO:FT, Marron Acidifie.
Falling Rock Tap House (Denver) – 5:30pm – 30 different Saisons, including Boulevard, Crooked Stave, Firestone Walker, Jandrain Jandnouille, Jolly Pumpkin, Nogne, Perennial, Prairie, Off Color, Victory, Stillwater, River North, Sierra Nevada and Ilkney.
Denver Beer Co (Denver)  – Join Denver Beer Co for a good old-fashioned pizza party tonight at 6 p.m. when the brewery welcomes in two of the city's best pizza trucks, Basic Kneads Pizza & Brava! Pizzeria. There will also be live music from Modern Whiskey Market.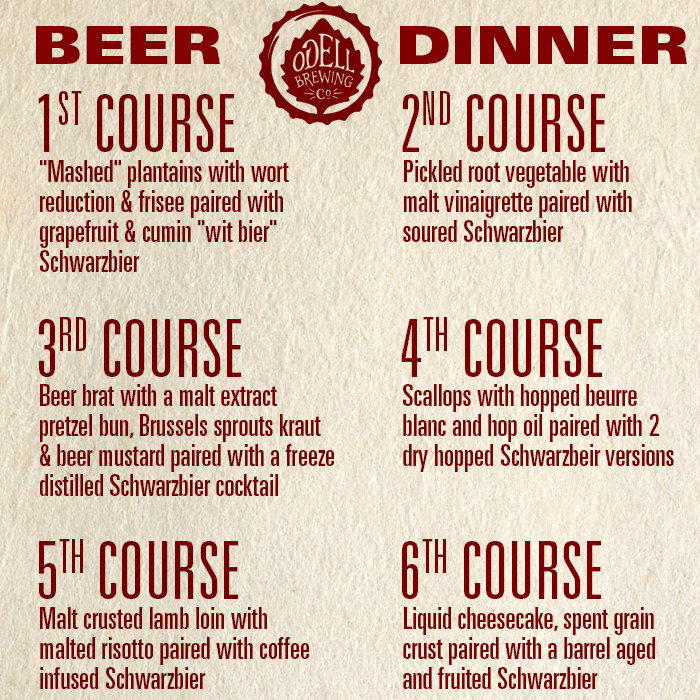 Lucky Pie (Denver) – Odell Brewery Beer Dinner! A very special beer lovers event.  A one of a kind and one-night-only collaboration between the brewers of Odell Brewery in Fort Collins and the Chefs of Lucky Pie have created a 6 course beer dinner pairing 6 varieties of a specially made Schwarzbeir.  The exceptional German dark lager will be crafted 6 different ways to be paired with 6 outstanding courses of food.
Pour House Pub (Denver) – 11:00am – DOGFISH HEAD/WELLS & YOUNG TAPPING – The Pour Pub will be ringing in the Craft Brewers Conference with multiple tappings throughout the week from various breweries, but on Wednesday April 9th they will be tapping some special brews from Dogfish Head and Wells & Young's Brewery. Starting right when they open the doors they will be offering these specialties: Dogfish Head Midas Touch, Burton Baton, Wells & Young's Bitburger and of course, the limited collaboration between both Wells & Young and Dogfish Head, DNA. Make sure to swing by and try out this limited release as it most certainly won't last all day.
Backcountry Pizza and Tap House (Boulder) – Firestone Walker's Adam Firestone, David Walker and Brewer Matt Brynildson will be taking over the Backcountry taps for the night. Look forward to the opportunity to try a 3-year vertical of Parabola, Anniversary Ales, some older vintages of their barrel-aged barleywine Sucaba, Velvet Merkin, Double DBA, Stickee Monkey, Agrestic and Lil Mikkel'. If you are in Boulder on Wednesday night, this is the place to be!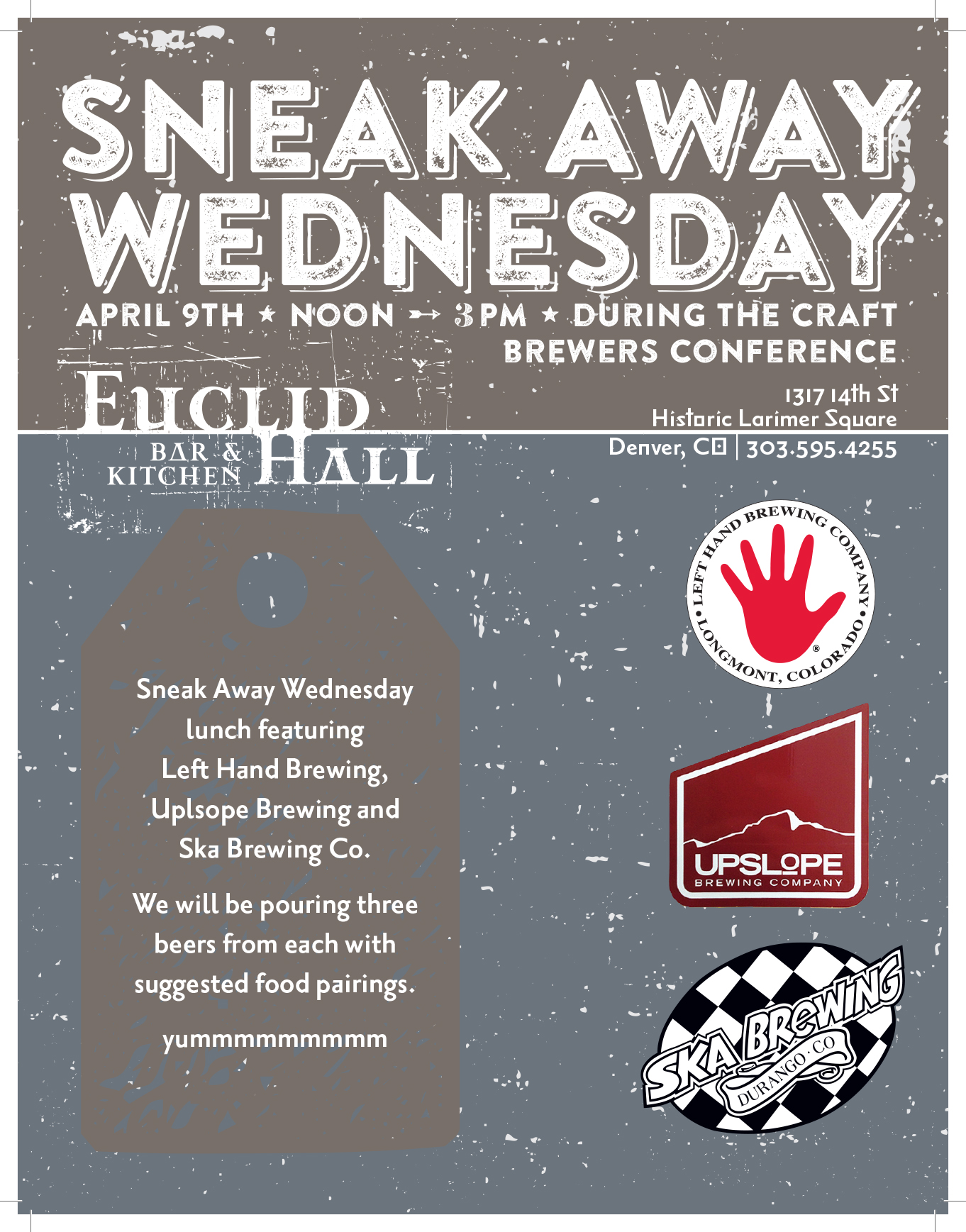 Euclid Hall Bar & Kitchen (Denver) – Ska Wipa Snapa, Upslope White Tai IPA, Left Hand Good Ju Ju and the Sneak Away Wednesday lunch featuring the three breweries. They will be pouring three beers from each with suggested food pairings (you don't have to do what they tell you…it's just what they liked) 12pm-3pm. From 5pm – 9pm, Bonfire hangs out at Euclid and they pour 2-3 of their canned beers. If that's not enough reason to stop in, at 7pm Boulevard Brewing will be tapping their Foeder Projekt sour beer. National reps will also be in attendance.
Cheeky Monk (Denver – Colfax location) – Dogfish Head Cheeky Pre-Game – The Cheeky Monk Beer Cafe will be hosting a pre-show get together featuring some great Dogfish Head brews. Join in on the fun and a few beers & bites before heading down to The Ogden/Dogfish Head's Beer-Music-Mashup (see below). Some beers they'll be featuring include Aprihop, Positive Contact, 90 Minute IPA and some delicious World Wide Stout.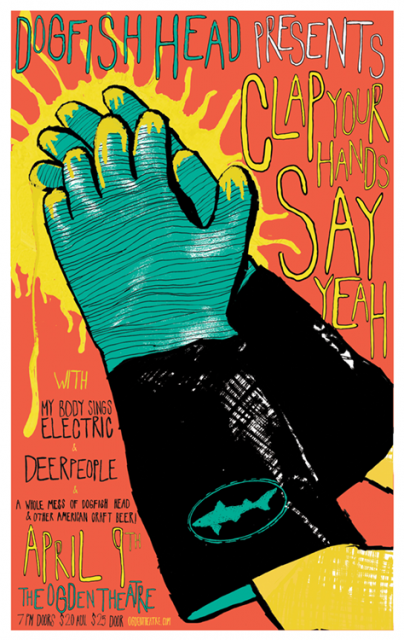 Ogden Theatre (Denver) – Dogfish Head Craft Brewery presents THE Beer-Music-Mashup featuring a killer line-up of craft beer, and live performances!  It's THE mashup you can't miss.
The Line-Up… Clap Your Hands Say Yeah, Deerpeople, My Body Sings Electric, Tickets are $20 advance / $25 at the Door. Craft Brewers Conference attendees are admitted with their badge for free and enjoy VIP access to the second floor (notice we said badge, you need your badge). Doors open at 7pm, Show starts at 8pm(ish). On Tap…90 Minute, Namaste, Indian Brown Ale, American Beauty, Positive Contact. P.S. DFH pints are $5 for the evening & Sam will be throwing out some uber special DFH swag #winning–
Star Bar (Denver) – 5:00pm–8:00pm – SWEDISH INVASION! Ska Brewing and Dogfish Head welcome our Swedish Brewing Brethren to Denver and the the Craft Brewers Conference. This is the official release of Ska's collaboration with Nynashamns Angbryggeri, WIPA SNAPA, and will feature a pouring of Kvasir, Dogfish Head's Ancient Ale brewed collabortively with Nynashamns, as well as Sah'tea.
Denver Bicycle Café (Denver) – Brewers from Stone and Maui will stop by Denver Bicycle Cafe on Wednesday night to share a bevy of brews, chat and run some brews through a Randall and some local coffee. It's always fun to #putsomecoffeeonit.
Thursday, April 10th
Hops & Pie (Denver) – H&P will host a festival of bourbon-barrel-aged beers today featuring ten brews from Odell, Sun King, Elevation, Mission, Grand Teton, Stone, Eel River, and Oskar Blues.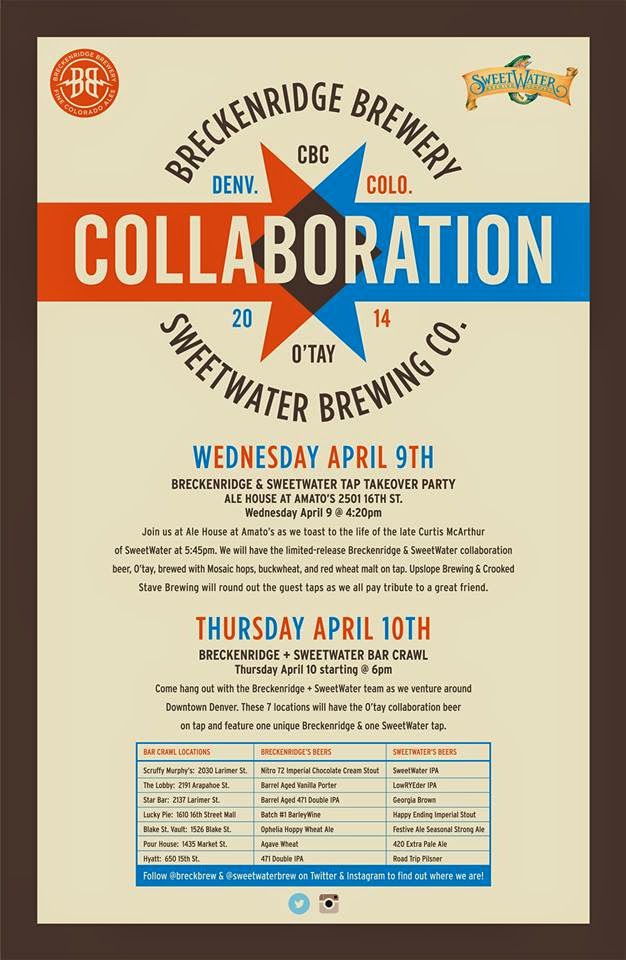 SweetWater Brewery and Breckenridge Brewery will embark on a crawl to seven Denver bars including: Scruffy Murphy's,The Lobby, Star Bar, Lucky Pie, Blake St. Vault, Pour House,  and Strata Bar at the Hyatt Regency. Each account will carry the collaboration beer and an additional unique beer from each brewery. Follow @BreckBrew and @SweetWaterBrew on Twitter and Instagram to locate the crew and join the crawl yourself.
River North Brewery (Denver) – 3pm – B-Side-by-Side! Both B-Side Avarice and B-Side Quandary will flow in the taproom. NOTE: This is the absolute last keg of B-Side Quandary!
Breckenridge Colorado Craft (Denver) – 5:00pm–7:00pm – 6th Annual Skavery Tour de BoulDurango Happy Hour – The Tour de BoulDurango is a six-day, 476-mile odyssey over seven mountain passes from Avery Brewing in Boulder to Ska Brewing in Durango to raise money for local charities, and encourage the spirit of collaboration for which the craft beer industry has become known. This July will mark the 6th year of the annual ride.  During the Craft Brewers Conference, Ska along with Avery Brewing, Boulder Beer, Left Hand Brewery and Oskar Blues will be hosting a happy hour to kick off this year's fundraising efforts. Attendees will enjoy a slideshow of past rides and be able to compete in stationary bike races. Specials beers from all five breweries will be available on tap. Proceeds benefit Bicycle Colorado.
Falling Rock Tap House (Denver) – 5:30pm – 30 different Barrel Aged beers including Anchor, Anderson Valley, Boulevard, Dogfish Head, Elevation, De Struise, Full Sail, Funkwerks, Green Flash, Lagunitas, Lost Abbey, Port, Odell,  Mikkeller, North Coast, River North, Rogue, Sierra Nevada, Stone and Victory.
Strange Craft Beer Company (Denver) – We've added a special pairing for CBC Week!  Join us at the brewery for a first time IPA beer, cheese and salami pairing between Strange and A Cheese Peddler.  Sample our 3 delicious IPA's paired with fine cheeses and salami from A Cheese Peddler.  It'll be fun for out-of-towners and our regulars alike.  Hope to see you! 
Euclid Hall Bar & Kitchen (Denver) – 6pm – Anchor OBA, Anchor IPA, Anchor Saison & Brewdog Cocoa Psycho, Brewdog Dogma, Brewdog Libertine Black IPA tapping. Representatives from both companies will be here.
RedLine Contemporary Arts Center (Denver) – The Art of American Craft Beer. Now in its second year, Amber Waves will be held on April 10, 2014 at the RedLine Art Gallery and feature more than 25 American craft breweries showcasing art in both its traditional and liquid form. Each brewery will contribute an amber-colored beer, along with a custom art piece commissioned exclusively for a silent auction to be held during the event.  All proceeds from the event directly benefit the non-profit RedLine Art Gallery, a diverse urban laboratory where art, education and community converge, in Denver, Colorado.Tickets are $25 and include a tasting glass and perfect beer pairing bites to include a gourmet pretzel station, buffalo wings, chile rubbed bacon sticks and other displayed hor d'oeurves.  You must be 21 or over to attend.
Participating Breweries include: Allagash Brewing, Avery Brewing, Breckenridge Brewery, Deschutes Brewery, Dogfish Head Craft Brewery, Drake's Brewing Co., Evolution Craft Brewing Co., Excelsior, Flying Dog, Fordham/Old Dominion, Great Divide, Lagunitas, Maui Brewing Co., New Belgium, No-Li Brewing Company, Odell, Oskar Blues Company, Port Brewing & The Lost Abbey, Post Brewing, Real Ale Brewing, Roadhouse, Sierra Nevada, Ska Brewing, Stone Brewing Co., Stoudts, Strange Craft Brewing Company, Three Floyds, Victory Brewing Company Tickets on sale now!  Purchase them here! Craft Brewers Conference attendees are admitted with their badge for free (notice we said badge, you need your badge).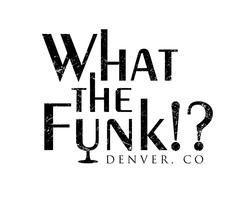 EXDO Event Center (Denver) – What the Funk!? Festival – 6:00pm – 10:00pm – What The Funk!? is an invitational festival celebrating barrel-aged, wild, sour, and funky beers, and this go around, a few ciders! Basic Kneads Pizza and Street Frites Denver will be serving food.
Details & tickets: http://www.eventbrite.com/e/what-the-funk-cbc-denver-2014-tickets-10827919599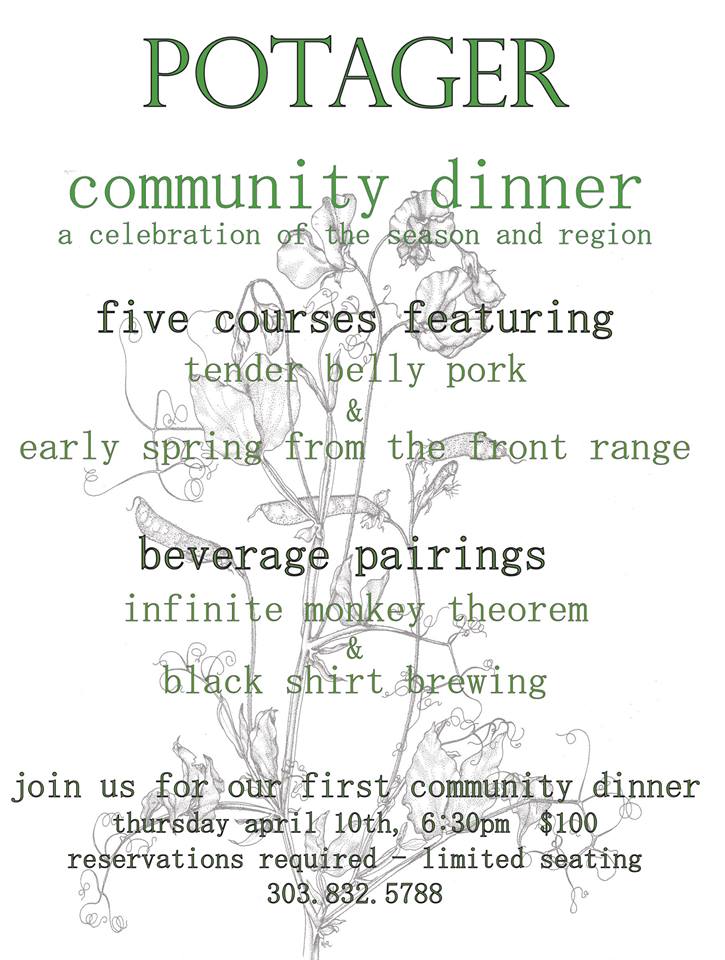 Potager Restaurant (Denver) – 6:30pm – Five courses featuring Tender Belly pork, beverage pairings featuring Infinite Monkey Thereom wines and Black Shirt Brewing Company brews!
seating is limited and by reservation only. call 303-832-5788
Friday, April 11th
Hops & Pie (Denver) – Hops & Pie will tap a selection of beers from the Bruery and Cigar City.
Our Mutual Friend (Denver) – Sour #2 is tapping. Tart and bright. Get over there already!
River North Brewery (Denver) – 6pm – River North, Funkwerks and Denver Bicycle Cafe bring you "Funky River." Three beers each from each brewery and a live bluegrass band, Timber. River North will be tapping three versions of its J. Marie farmhouse ale: classic, Wine Barrel Aged J. Marie (Chardonnay), and J. Marie Barreled & Bretted. River North Brewer Derek will be on hand to answer questions and enjoy some tunes.

Post Brewing (Lafyette) – 11:30am-2:00pm – BREWING WITH FRIENDS – Post Brewing Co and Dogfish Head (Bryan Selders of Post Brewing left Dogfish Head to start-up Post Brewing in CO) are teaming up for a 3 Course Luncheon. Beer pairings will be orchestrated by Dogfish Head Brewer Sam Calagione and Post Brewmaster Bryan Selders. $55/person. To purchase tickets, call the Post directly at 303.593.2066. Tickets for this event will move fast. Act quickly. Some great pairings will take place and it is rumored that a 2006 vintage of World Wide Stout (Dogfish Head) will be in attendance!
Euclid Hall Bar & Kitchen (Denver) – noon – Stone tapping. Kyle Hollingsworth/Keri Kelli/ Stone Collective Distortion IPA brewed with elderberries and coriander, Stone Cali-Belgique IPA aged in red wine barrels.
Falling Rock Tap House (Denver) – 5:30pm – 30 different Sours including Allagash, Boulevard, Bruery, Cantillon, Elysian, Firestone Walker, Gueuze Tilquin, Lost Abbey, New Belgium, Odell, Russian River, Siren and Trois Dames.
Tooey's Off Colfax (Denver) – WRAP-UP PARTY! – 10pm – Celebrate the end of an amazing conference week with Ska Brewing and DC Brau. This event will feature a live performance by the Dendrites and a special tapping of Taster's Choice, a collaboration between Ska and DC Brau. Taster's Choice is Doppelbock style lager brewed with coffee.
Saturday, April 12th
Hops & Pie (Denver) – Hops & Pie will tap a selection of beers from Firestone Walker (CA).
River North Brewery (Denver) – 1pm – For the grand finale at their taproom, River North is partnering with its statewide Colorado distributor, CR Goodman. CR Goodman will setup their draft trailer outside the taproom for a day-long party with mountain views, River North beer and Denver sunshine. The brewery will tap rare and barrel-aged kegs throughout the day, and local foodtruck El Toro the Tot will serve their handmade burgers and tater tots.
Sunday, April 13th
Avery Tap Room (Boulder) – Sunday Brunch Series every Sunday 9am-12pm Featuring Lilikoi Kepolo, White Rascal Beermosas, Joe's Redbeers, and savory dishes like Salmon Eggs Benedict and Biscuits & Gravy. Check out the full menu!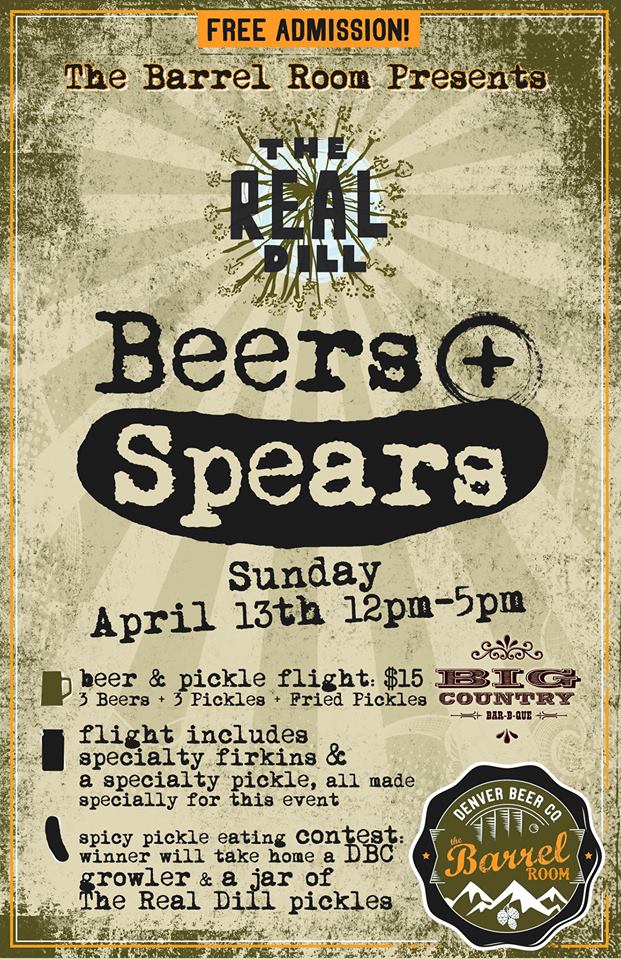 Denver Beer Co (Denver) – DBC will team up with the Real Dill for round three of Beers & Spears, its beer-and-pickle paring. This time, the pairing will include three beers paired with three pickles, as well as fried pickles from Big Country Bar B Que. Oh, and there will be a spicy-pickle eating contest, too (the winner gets a growler of beer and a jar of pickles.) Tickets are $15.
Tuesday, April 15th
McLoughlin's Restaurant and Bar (Denver) – DOGFISH HEAD BEER DINNER – Join the crew at McLoughlin's for a special evening featuring a specially crafted menu paired up with some amazing Dogfsih Head Craft Brewed Ales.The menu will consist of 4 courses with beer pairing including Kvasir, Theobroma, Hellhound on my Ale and Burton Baton.Cost is $50/person and for more information and RSVP contact [email protected] or (303-573-5131).
Stay tuned to PorchDrinking.com and our social media outlets for further goings-on and event news and catch the Denver Beer Beat each Wednesday!
Stay thirsty and keep Denver Beer'd!