No Comments
PorchDrinking's Weekly Denver Beer Beat | ACBW Events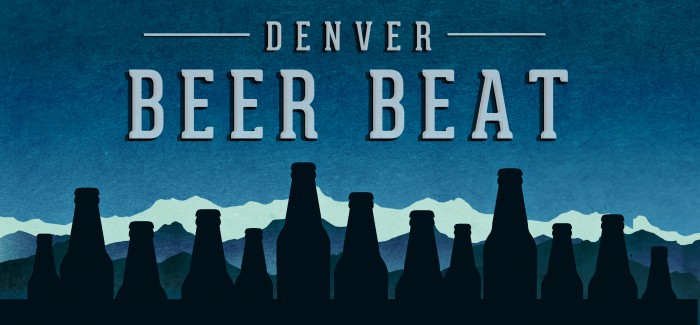 Hey there PorchDrinkers! Native to the city and looking for events to tide you over for the week? New to the city and looking for the best place to find tasty suds? Visiting and looking for events to hit while you are in town? Check out this week's Denver Beer Beat . . . did we miss any events in this week's? Let us know.
American Craft Beer Week, which runs through May 18, kicks off as "beer lovers everywhere will toast the country's craft beer renaissance during the ninth annual celebration," according to the Boulder-based Brewers Association, which organizes the week. "With more than 2,800 small and independent craft breweries and hundreds more popping up across the country every year, the observance of ACBW is more significant than ever before. Across all 50 states, craft beer lovers, breweries, wholesalers and retailers will celebrate the culture and community of craft beer." Events are taking place at breweries, beer bars and restaurants all over Colorado and a handful of other states, as well. American Craft Beer Week is another excuse, in our minds, to dip your toes into that chocolate fountain of beer, Augustus. So, Cheers for beers! And let's pig out on this week's events.
Tuesday, May 13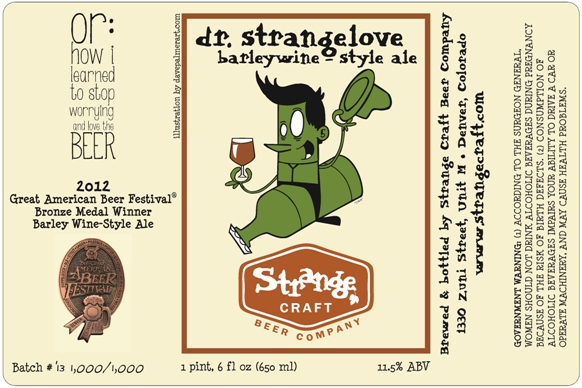 Strange Craft (Lincoln Park – Denver) – Strange Craft will tap its 2012 Batch of Dr StrangeLove Barleywine today at 3 p.m. The beer is a doomsday of deliciousness ready to explode with sweet maltiness and will deliver a big bomb of a full mouthfeel!
Crystal Springs Brewing Co (Louisville) – Come check out the new Crystal Springs Brewing Company taproom in Louisville, CO for their 4th Anniversary.  There will be 13 amazing beers on tap and some surprises, including a special tapping of Tic Wit, their belgian wit.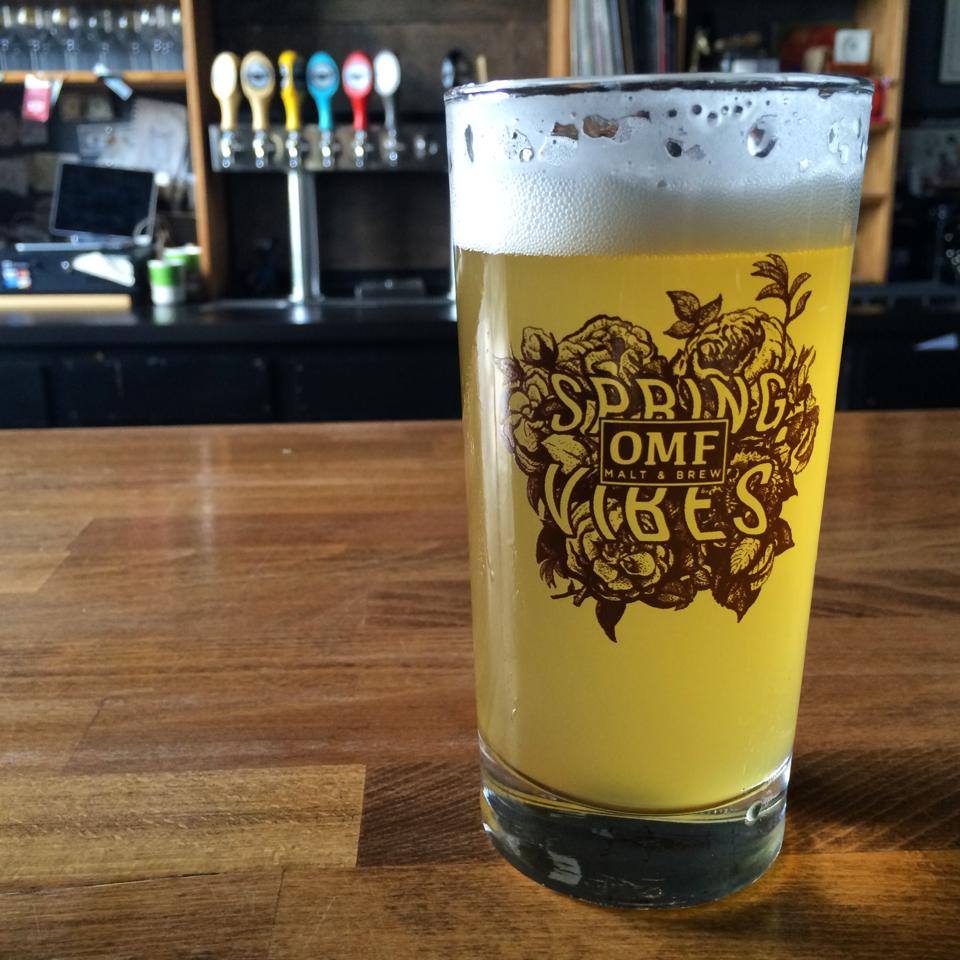 Our Mutual Friend Malt & Brew (Five Points – Denver) – Keep the Glass! Every Tuesday for $10 you get an artist series glass (10oz) and three fills (under 8% abv). Every month (or while supplies last) will feature a new artist. Support local art and local suds! Glass #9 by Mr. Andrew Hoffman starts today. Cheers!
BRU Handbuilt Ales (Boulder) BRU + Upslope Brewing Company are teaming up for some YUM factor… Make your reservations now. Call 720.638.5193.
Epic Brewing (RiNo – Denver) – "Fancy Beer and Cheese Pairing" featuring three Epic Brewing Saisons paired with three local artisanal goat cheeses. Seating is limited; so make sure to purchase a ticket beforehand.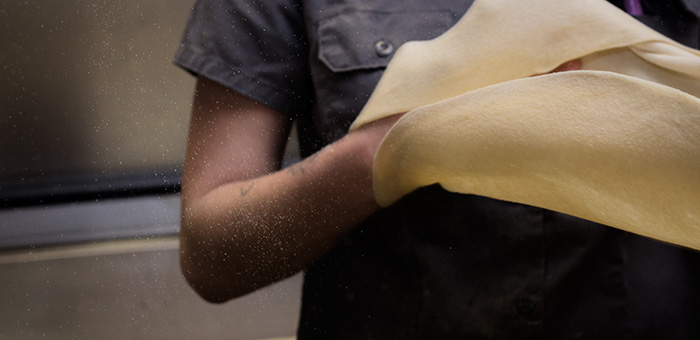 Hops & Pie (Berkeley – Denver) – Tuesday Night 23 is here, 2 topping 18″ pizza and 2 drafts for 23 bucks from 5-close

Black Sky Brewery (Baker – Denver) – Black Sky Brewery is unleashing a storm of events to reign down on the cohabitants of the Baker neighborhood in Denver. Prepare to have your bowels engorged with the most metal-est of beers! Hails for ales! American Craft Beer Week just got heavy! Tonight kicks things off with the Ale of Yoto Release Party. 13-time award-winning sci-fi/fantasy novel The Bane of Yoto, published by FiXT, is setting its sights on beer lovin' taste buds. Author Joshua Viola has partnered with Denver's Black Sky Brewery to create The Ale of Yoto, a blueberry wheat beer crafted by master brewer Harry Smith. Buffalo Burgers are also happening. Get ther' at 7pm, peasants!
Wednesday, May 14
Hops & Pie (Denver) – Today's Wednesday special is $2 Craft Can Night from 5pm to close.
Barrels and Bottles (Golden) – The brewery will be tapping a coveted guest tap from Russian River. Consecration American Wild Ale will be tapped and ooh-and-awed at for hours. Guh, I love this beer so much.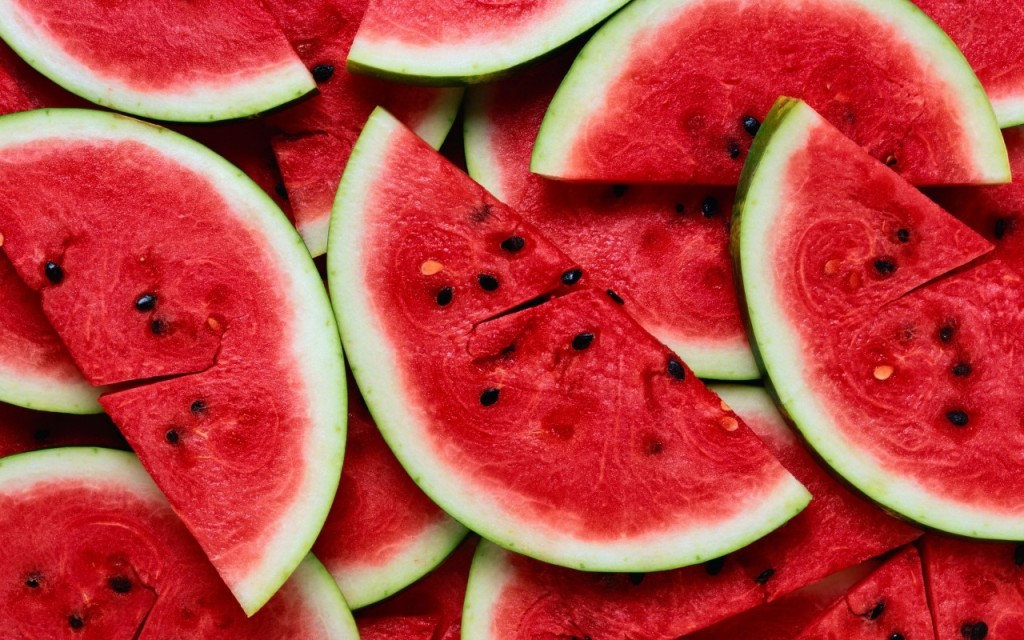 Copper Kettle Brewing Co (Denver) –  This month is all about trying out our tasty beers with some fun fruit added. We will be featuring a different fruit cask every Wednesday. Join us every Wednesday for a new, specialty 10 gallon firkin. Get here early because this cask will go quickly! CKrepes out at 3 with their yummy and expanding menu. This week we will be enjoying our Bavarian Helles with some tasty watermelon. Such a refreshing combination!!
Our Mutual Friend (RiNo/Five Points – Denver) – Our Mutual Friend will tap a 7.3% ABV Brett Farmhouse ale on Wednesday at 4 PM.
The Mayor of Old Town (Ft. Collins) – Plan to attend the Pucker Club Sour Panel coming up next Wednesday, May 14th from 6pm to 8pm. Meet the Wizards of Wood – Lauren & Eric Salazar (New Belgium), Andy Parker (Avery Brewing), and Thomas Ledder (Avery Brewing). They will be featuring several sour ales from New Belgium and Avery Brewing including some blended NBB/Avery beers and some rare and hard to get sours. Cost is $15 for a tasting flight. Just one part of Fort Collins Beer Week. Also, tonight is Unfiltered Wednesday from 5pm to close. Get a Boulevard Unfiltered Wheat beer or a New Belgium Snapshot Wheat Beer for just $2.50.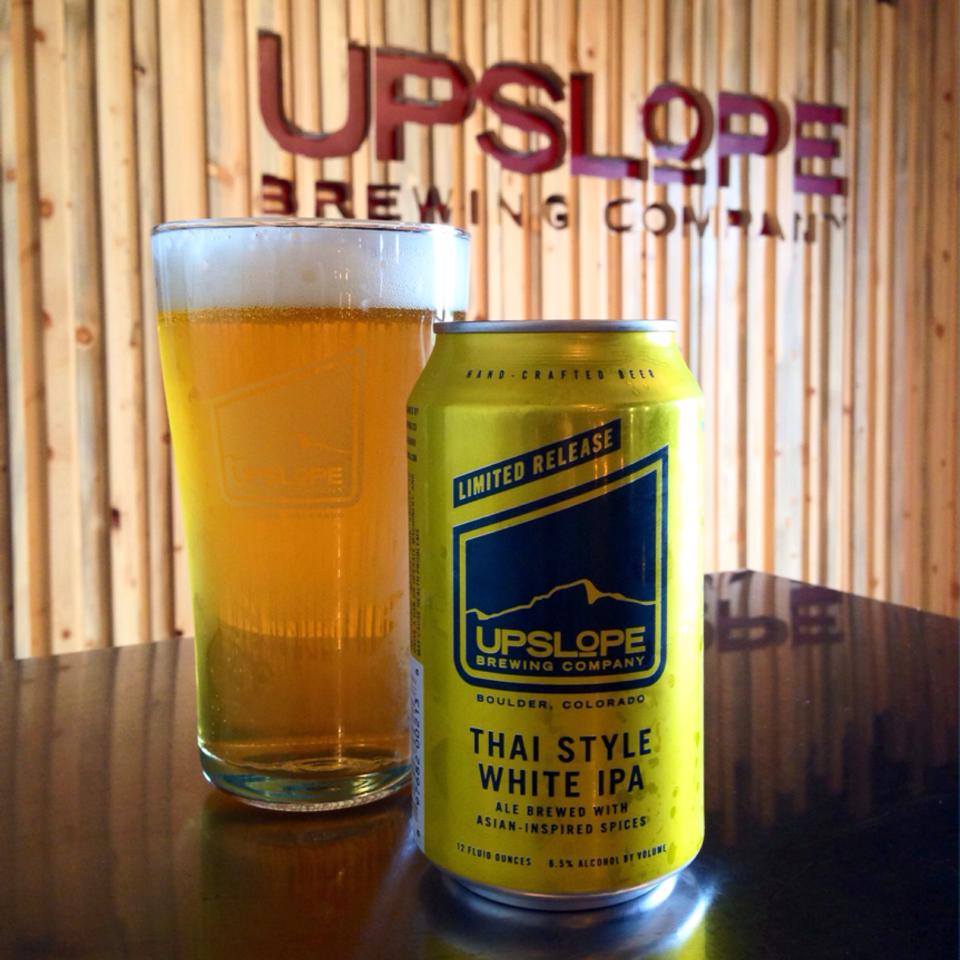 Upslope Brewing (Boulder) – The NEW Limited Release can is their Thai Style White IPA, available exclusively in the Mix Box this summer! Join them this Wednesday for the Release Party at Flatiron Park when, for 1 day only, you can buy it in 6-packs!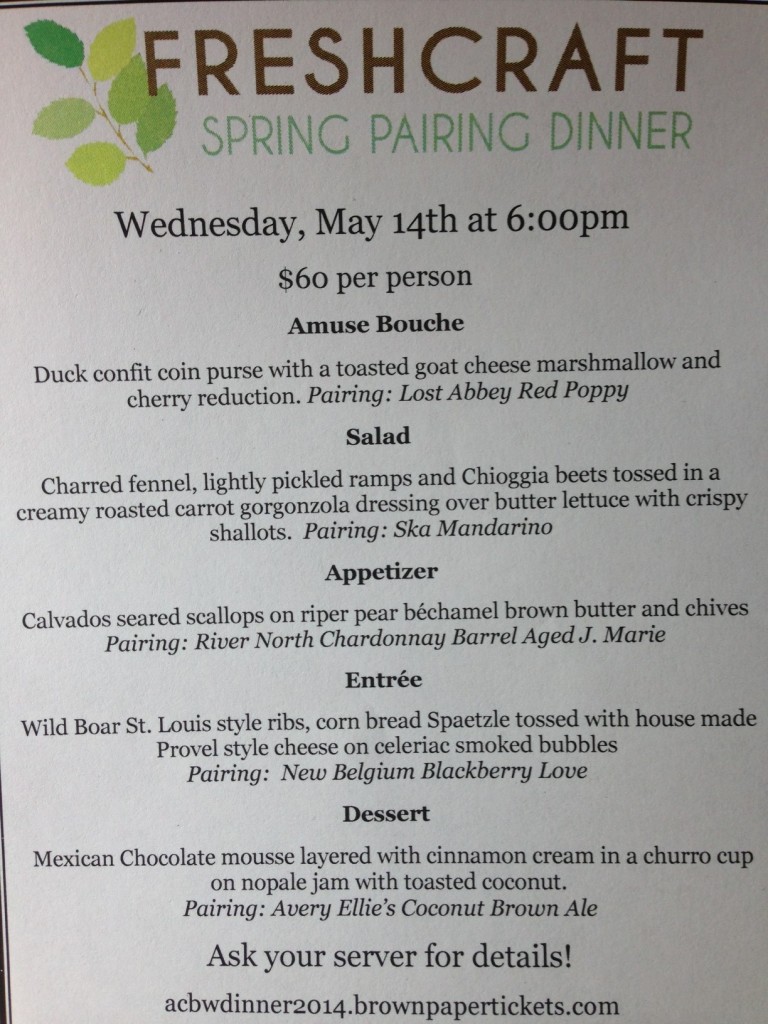 Freshcraft (LoDo – Denver) – ACBW Spring Food & Beer Pairing Dinner – Freshcraft will be putting on an amazing five course food & beer pairing dinner with seatings every 30 minutes starting at 6 pm. Please take a look at the AMAZING selections on the menu.  We will have representatives from the breweries on hand to discuss the beers.   You can select what time will work best for you when purchasing your tickets.  Tax & tip is included in ticket price.  Don't hesitate, space is limited and we usually sell these dinners out.  Ticket sales will end 48 hours prior to the dinner so that we can procure the necessary product.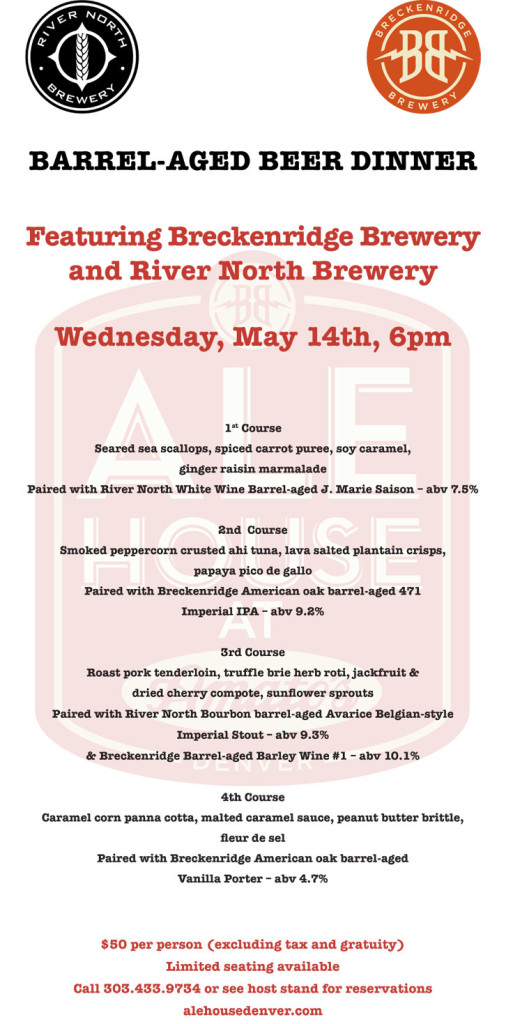 Ale House at Amato's (LoHi/Jefferson Park – Denver) – River North Brewing and Breckenridge Brewing will host a Barrel-Aged Beer Dinner at the Ale House at Amato's at 6 PM. Head to the Ale House at Amato's on Wednesday for a special beer dinner featuring all barrel-aged brews from Breckenridge Brewery and River North Brewery. Tickets are $50. Call 303-433-9734 to reserve your seat.
Cheeky Monk – Colfax Location (Capitol Hill – Denver) – Stop by the Cheeky Monk on Wednesday, where they'll pair East Coast beers with Cheeky's award-winning mussels.
Thursday, May 15
Dry Dock Brewing (Aurora) – On Thursday, Dry Dock will be tapping ApriHot. They created this spicy habanero version of the Apricot Blonde with their friends at The Wing Hut. They'll be at South Dock selling chicken wings at 4 pm when that beer taps! This event will be a scorcher!
Barrels and Bottles (Golden) – Tap takeover with Big Choice Brewing on the handles. Keep an eye out for some of their limited offerings.
Cheeky Monk – Colfax Location (Capitol Hill – Denver) – On Thursday, the Cheeky Monk (Colfax Location) will pair some notable West Coast brews with wings & sauces. You had me at West Coast Brews.
Post Brewing (Lafayette) – Calling all women! From 6-9pm, The Barleys Angels will be at The Post Brewery. Men you can come too (if you are a guest of a lovely lady). This will be a beer tasting and food pairing event with a brewery tour by their brew master, Bryan Selders, followed by a wonderful family style dinner afterwards. Tix are $40 and there are still tickets available for this awesome night to learn about our great craft beers! The $40 includes food, beer tasting and gratuity.
For tix go to http://goo.gl/3RjJXW See you there!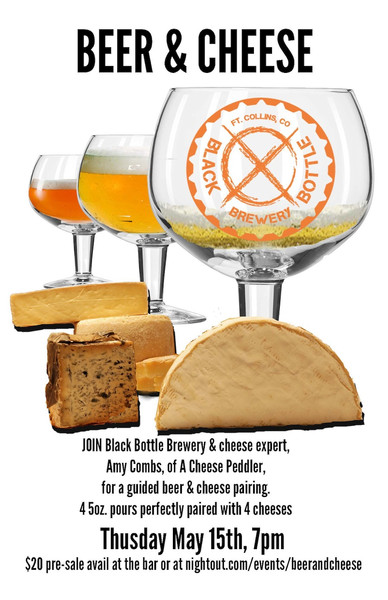 Denver Bicycle Café (Capitol Hill – Denver) – Join Black Bottle Brewery, and cheese expert, Amy Combs of A Cheese Peddler, for a guided beer and cheese pairing. 4 5oz. pours perfectly paired with 4 cheeses. Snag them ticket pieces right her'.
Friday, May 16
Jake's Brew Bar (Littleton)- Jake's Brew Bar just expanded and is celebrating with 36 beers on tap, two cask brews, and over 40 different bottles. We can't wait to get on that new patio!
Freshcraft (LoDo – Denver) – 7pm – Great Divide is taking over Freshcraft starting at 7 p.m. with a special tapping of Barrel Aged Yeti that spent some time in Fireside Whiskey barrels from local distillery, Mile High Spirits. Also on draft will be Rumble, Chocolate Yeti, and Saint Bridget's Porter.
Cheeky Monk – Colfax Location (Capitol Hill – Denver) – Hip-To-The-Hop Night at Cheeky Monk's Colfax location. Hoppy favorites are on tap at Cheeky and will be moving quick.
Barrels and Bottles (Golden) – Release party of their collaboration with Upslope. "Stanky Leg" Sour Mashed Extra Pale Ale! Get it while you can!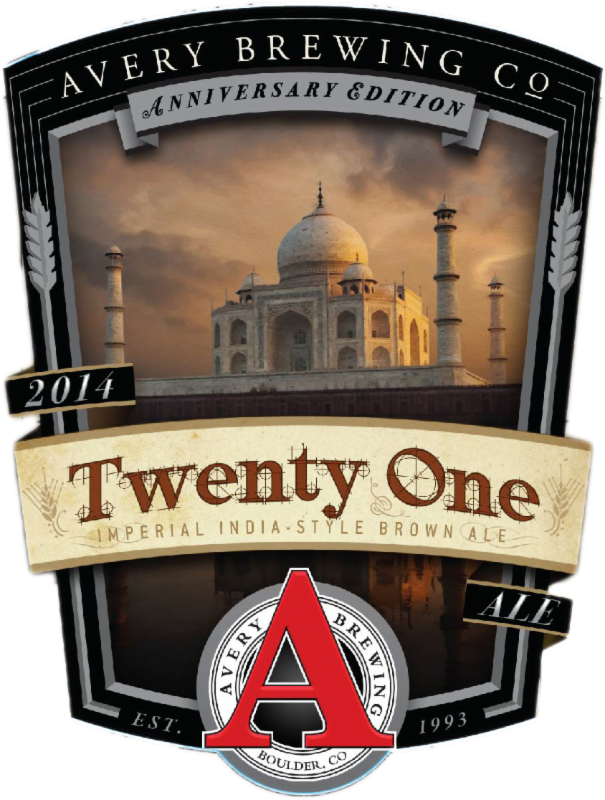 Avery Brewing Co (Boulder) – Avery Brewing is finally going to be old enough to drink! The brewery is turning 21 this year and will release their "Twenty One" Anniversary Beer on Friday, May 16th at 5pm at their Tap Room. This year's anniversary beer is an Imperial India-style Brown Ale.
Marczyk's on Colfax (East Denver) – Burger Night at Fairfax Wine & Spirits (Marczyk's on Colfax)! Jess will pour free samples of River North Brewery brews paired with cheeses, and Marczyk's will cook up gourmet burgers in the parking lot. Tasting starts at 4pm with the grill firing up at 5pm.
Saturday, May 17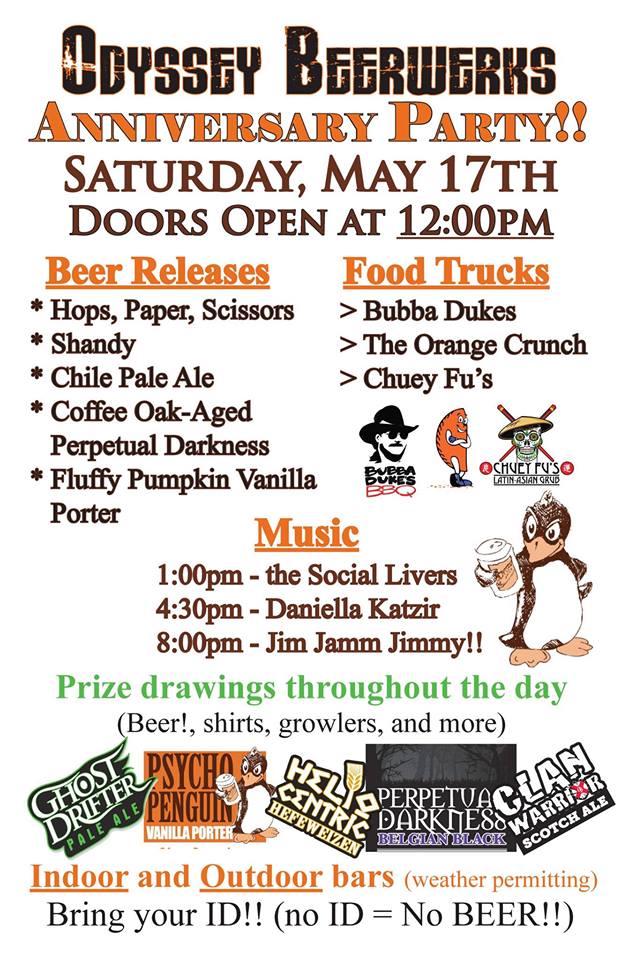 Odyssey Beerwerks (Arvada) – Odyssey Beerwerks will celebrate its first anniversary at noon. In addition to the ten beers already on tap, Odyssey will release five special beers throughout the day. There will also be three food trucks (The Orange Crunch, Chuey Fu's, and Bubba Dukes BBQ) and live music (The Social Livers, The Prairie Scholars, and Jim Jamm Jimmy). The brewery will be drawing for prizes and there will be plenty of activities to keep you busy as if you need anything other than their delicious brews. You know what; we will just see you down there!
Vine Street Pub (City Park West – Denver) – Vine Street Pub celebrates their 6th Anniversary with a bit of a Party 4:20 PM (we see what you did there!) to 9 PM. Live music, BBQ and an ALL NEW Mountain Sun Beer Release will highlight Vine Street's Anniversary Party.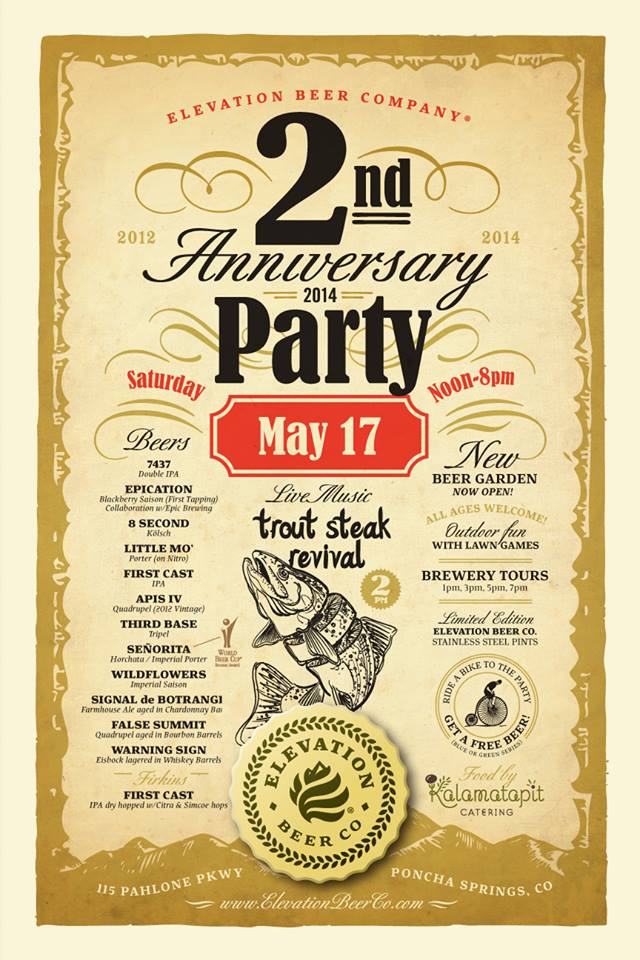 Elevation Beer Co (Poncha Springs) – Just SouthWest of Denver in the mountain town of Poncha Springs, our good friends at Elevation Beer Co. are throwing down for their 2nd Year Anniversary Party during American Craft Beer Week! Live music from Trout Steak Revival, food from Kalamatapit Food Truck, and plenty of great beers to go around! For those of you looking for that getaway this weekend, this may be right up your alley.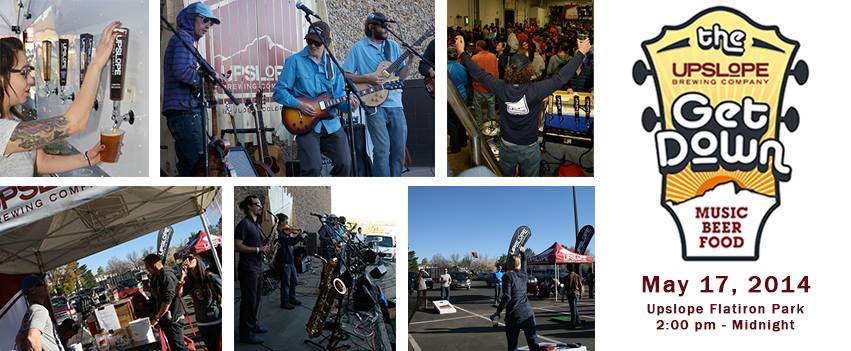 Upslope Brewing (Flatiron Park – Boulder) Head to Boulder for the Upslope Get Down, a free music festival today from 2 p.m. to midnight at Upslope Brewing Company's Flatiron Park location. The brewery will take over its back parking lot to host eight bands on two stages for continuous music all day, along with food trucks and Upslope beers. Bands include Eufórquestra, Fox Street, The Movement, GOOD GRAVY!, Gipsy Moon, Rocktin Grove, Hot Soup, and Rowdy Shadehouse.
Colorado Cider Company (Valverde – Denver ) – Denver AHA Rally – Colorado Cider Company – Folks in attendance will enjoy Colorado Cider Co samples, take home a Rally-exclusive gift from the AHA. Attendees will be given a complimentary Colorado Cider Co. tasting glass and meet Colorado Cidermakers and AHA staff. There will also be a VIP cidery tour, and of course, another chance to mingle with local homebrewers. Win great prizes from the AHA and Colorado Cider Co. AHA rallies are free to current AHA members. Non-members can join now, or sign up onsite at a discounted member rate. Save time and fill out a membership form in advance to bring with you to the Rally. Don't forget to RSVP to help us properly prepare for the event.
Freshcraft (LoDo – Denver) – Emily Hutto, writer of Colorado's Top Brewers, will be at Freshcraft 3-5 p.m. to chat, sell, and sign copies of her new book. Also, sample a pairing from the aformentioned book: Freshcraft's Chicken Paillard with Dry Dock Amber. And for your funk fiends, a special keg of Dry Dock Sour Apricot Blonde will also be flowing.
Sunday, May 18
Epic Brewing (RiNo – Denver) – Get ready to get schooled! On beer that is! Join Epic brewer, Brian Arnold, at 1 p.m. or Barrel Manager, Anthony Baez, at 3 p.m. for a session on the essentials of enjoying all things craft beer. Topics include proper glassware, purchasing, storing, and cellaring beers. Each session includes time for a Q&A session; so come with your toughest questions to challenge these experts.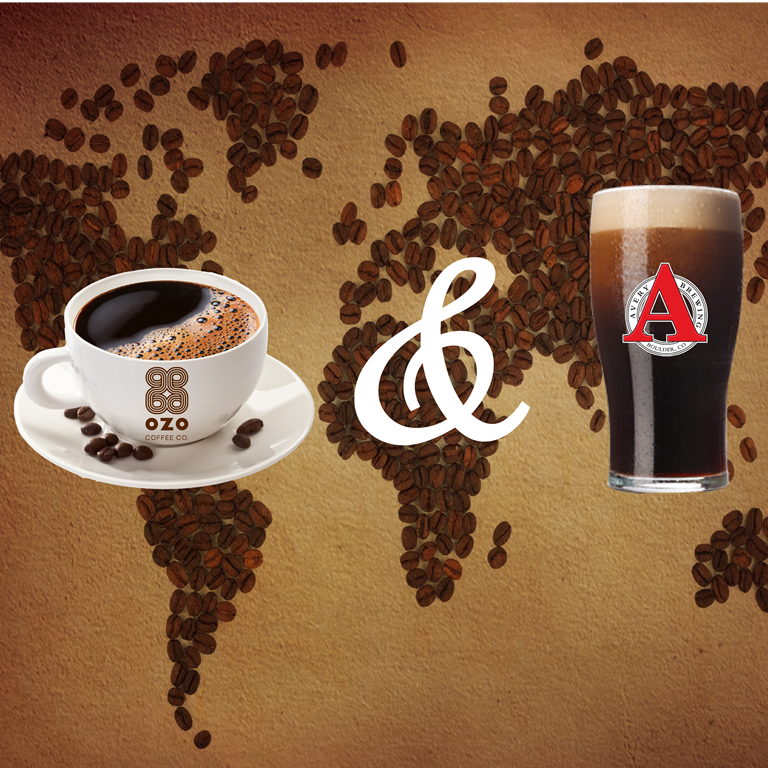 Avery Brewing (Boulder) – Sisterhood of the Hop & Ozo Coffee present "Roast & Toast" at Avery's Barrel-Aging Cellar. Join the roasters of Ozo Coffee and the toasters of Avery Brewing for a unique confluence of your morning cup & your evening pint. Sample single-origin coffees and craft brews, and then create your own blends! Tickets $20 available in our online Gear Shop and the Avery Tap Room.
Monday, May 19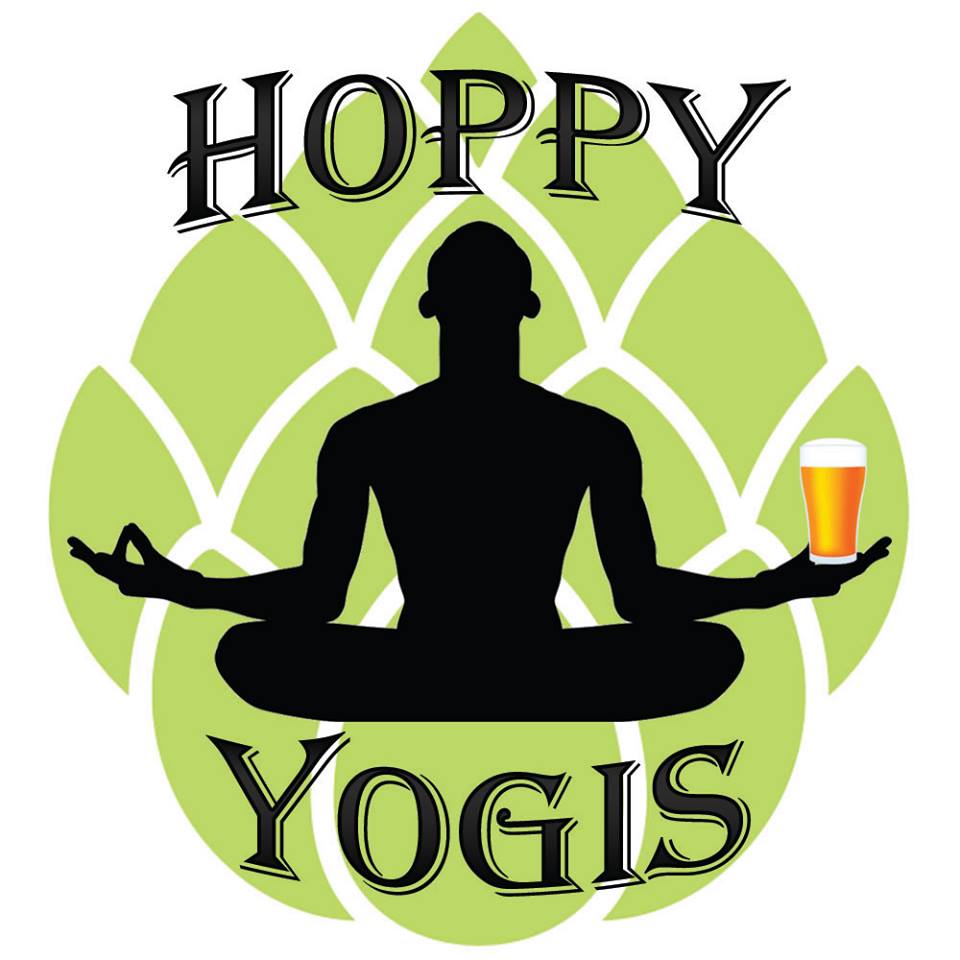 Wynkoop Brewing Company (LoDo – Denver) – Hoppy Yogis present a night of Yoga+Craft Brews+Awesomeness at the Wynkoop. From 6:15- 7:15: Yoga Class (Please arrive at 6 to get settled and set up your mat and water. This is all levels, sans ego). At 7:15 there will be an Optional Brewery tour (ask Shannon if you're interested) and from 7:15-9:30 will be an Eat Drink & Mingle portion of the program: Hang out, and enjoy some craft beer with other like-minded people who share your passion for brews and yoga! 10% off food from Wynkoop! This event is all about bringing people together to share a love of yoga and craft beer (or who want to learn more about either in a friendly and welcoming environment), so Hoppy Yogis are not charging for the event. The yoga class is being offered on a donation basis, so please leave a cash donation in the designated areas or with the instructor that reflects what you are able to give and what you think the class is worth.
Strange Craft Beer Company (Lincoln Park – Denver) – Despite celebrating all week, today is Strange Craft's official fourth birthday and the brewery is commemorating the occasion with a cheese pairing with A Cheese Peddler. Tickets are $30 and you'll get beer, cheese, salami, and chocolate. The event starts at 6 p.m. with live music from Fourth Dog Floyd.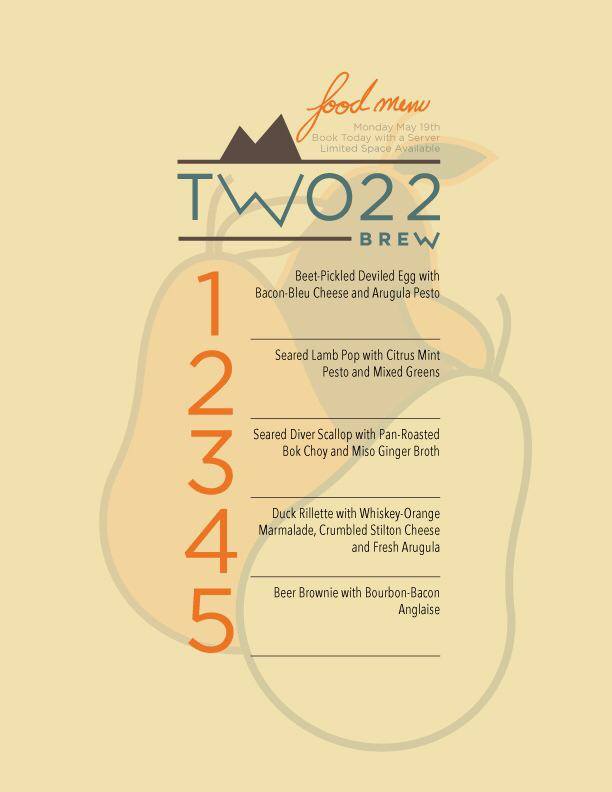 Two22Brew (Centennial) – Two22Brew is hosting their first beer dinner . They are partnering with East Coast Joe's for a gourmet small bite pairing. Tickets are $40 and will get you five small bites paired with five Two22 beers. The event is limited to 30 people so get your ticket early!
Tuesday, May 20
Crooked Stave Artisan Beer Project (Five Points – Denver) – They will be tapping specialty blends and rare kegs from their Barrel Cellar every Tuesday @ 6:00pm.
Our Mutual Friend Malt & Brew (Five Points – Denver) – Keep the Glass! Every Tuesday for $10 you get an artist series glass (10oz) and three fills (under 8% abv). Every month (or while supplies last) will feature a new artist. Support local art and local suds! Cheers!
Odyssey Beerwerks (East Arvada) – Get a FREE BEER every Tuesday when you buy a growler fill. Offer good all day on Tuesdays. Also enjoy Happy Hour 3pm to 5pm.
Future Events
May 24th – Epic Brewing Company – Join the BeerAdvocate for another round of brews. This time they'll be at Epic Brewing Company in Denver on Saturday, May 24 from 1-5pm. They'll be drinking beer, making friends, and having an … epic time. No cover. Pay as you consume. All are welcome, so bring your friends! More info and updates can be found here.
May 31st – Hops & Pie – Hops & Pie will host another classic 'Denver's Littlest Big Wild & Sour Fest II' from noon to close. They will have over 12 hard to get wild and sour ales on tap including such beers as: Classic Gueuze, Vigneronne & Mamouche from Cantillon, Consecration from Russian River, Friek from Odell, Clutch & Felix from New Belgium, Cuvee de Tommee from The Lost Abbey, Oude Gueuze from Tilquin, Blueberry Tart from Elysian, Rueuze from The Bruery, and Das Wunderkind from Jester King. Flights and single pours will be available. No tickets necessary.