No Comments
PorchDrinking's Weekly Denver Beer Beat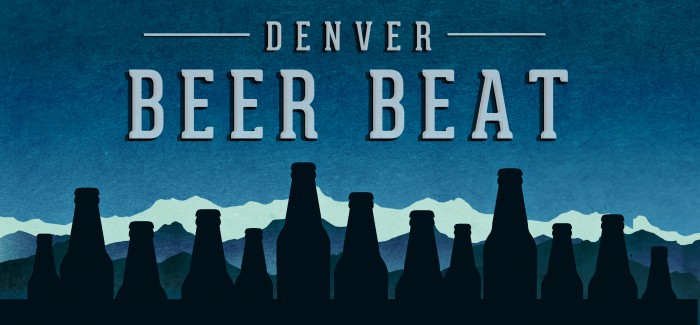 Hope your Memorial Day weekend was of the utmost chillness. We here at PorchDrinking love an excuse to get on the patio or porch to swill some suds with our buds. We hope you found some time to do that as well. The end of May brings us a new brewery opening, a handful of upcoming festivals, beer dinners & pairings, biking for beers and again, beautiful Denver weather that promotes popping the top of your favorite barley pop. Here are the weekly events we think you should be privy to.
**NEW BREWERY OPENINGS: Wonderland Brewing on May 30th (more info below)**
Wednesday May 28
Hops & Pie (Berkeley) – Hops and Pie Artisan Pizzeria & Craft Brew Taproom's Wednesday special is $2 Craft Can Night from 5pm to close. Plus, this week's Artisan Sando is: A patty melt Hops & Pie Style – All natural local ground beef patty from our pal's over at Western Daughter's Butcher Shop with cream cheese, jalapeno, root beer braised onions & applewood smoked bacon pressed on house bread.
River North Brewery (Five Points) – 3pm – For tomorrow's Wayward Wednesday tapping, they'll pour a pilot Belgian Pale Ale. For all you Locals, this is also the R&E wedding brew version two. Five gallons only, first pours at 3pm tomorrow.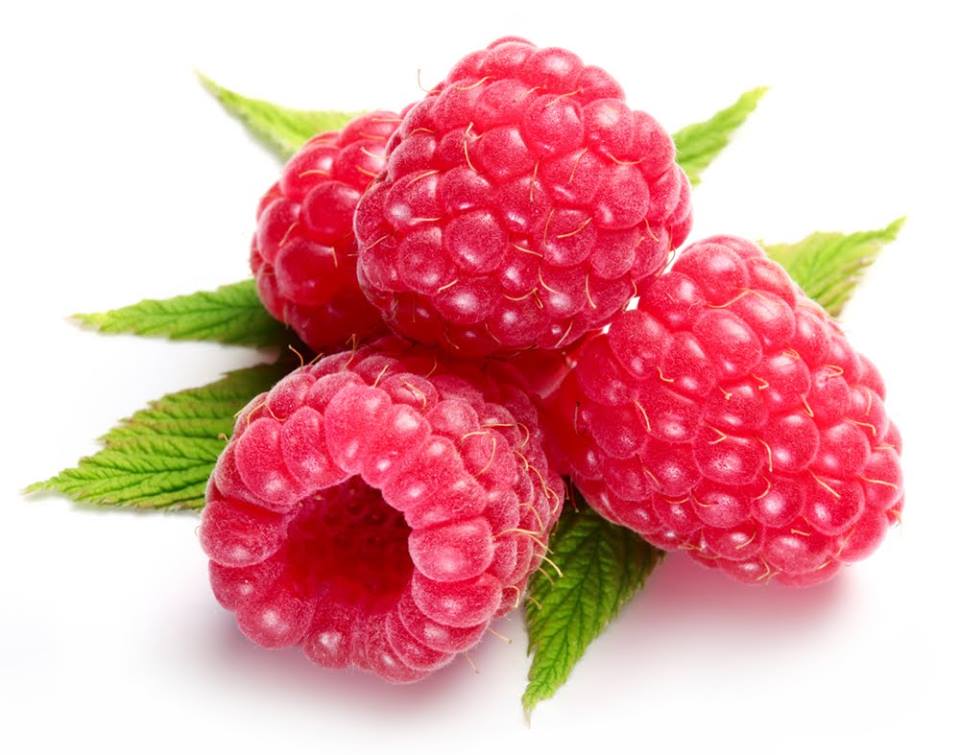 Copper Kettle Brewing Co (Indian Creek/Southeast Denver) – CKBC will wrap up May "Fruit Beer" Cask Month this Wednesday with a firkin tapping of "Raspberry Le Chapeau" at 3pm. This month is all about trying out our tasty beers with some fun fruit added. This week we our Le Chapeau, wine barrel aged saision, with delicious raspberries. A sweet and sour combination added to an already delicious beer.  Plus Ckrepes will also be on hand serving up tasty food also at 3pm.
Jagged Mountain (Five Points) – Here's the taproom event schedule for the rest of the week:
– Wednesday: Open from 4pm-10pm, live music featuring Danny Shafer, Cilantro food truck
– Thursday: Open from 4pm-10pm, Jagged Mtn Run Club at 6:30pm, Fried Pie Mama food truck
– Friday: Open from 2pm-11pm, Wong Way Veg food truck
– Saturday: Open from noon-11pm
– Sunday: Open from noon-7pm, Cilantro food truck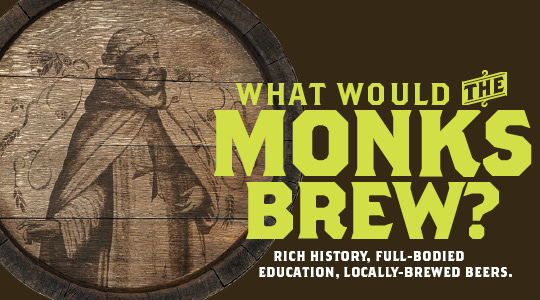 Regis University (Regis) – What Would The Monks Brew? Beer Tasting and Movie Screening at Regis Mountain View Room, Claver Hall North Denver Campus at 6:30 p.m. Join the folks at Regis University for a free beer tasting with a variety of local brewers, and movie screening with the producers of Crafting a Nation, a documentary about the American craft brewing industry. Food and non-alcoholic drinks will be provided.  Must be 21+ with ID to drink. Come learn more about  Regis' Applied Craft Brewing Certificate, and meet and mingle with local craft brewers and enthusiasts. RSVP REQUIRED – SPACE IS LIMITED
Funkwerks (Ft. Collins) – Ride your bike to Funkwerks on Wednesdays and get your second beer free!
Lucky Pie (Louisville) – Lucky Pie Louisville is hosting a Chef vs. Chef dinner featuring the pizza joint's Louisville Chef, Josh Stone, and his sous chefs in a four-course, head-to-head showdown. Guests will choose their favorite courses as well as who's beer reigns supreme between Sam Adams and Sierra Nevada. Tickets are $65 per person including tax and gratuity and can be purchased at LuckyPieTickets.com.
Thursday May 29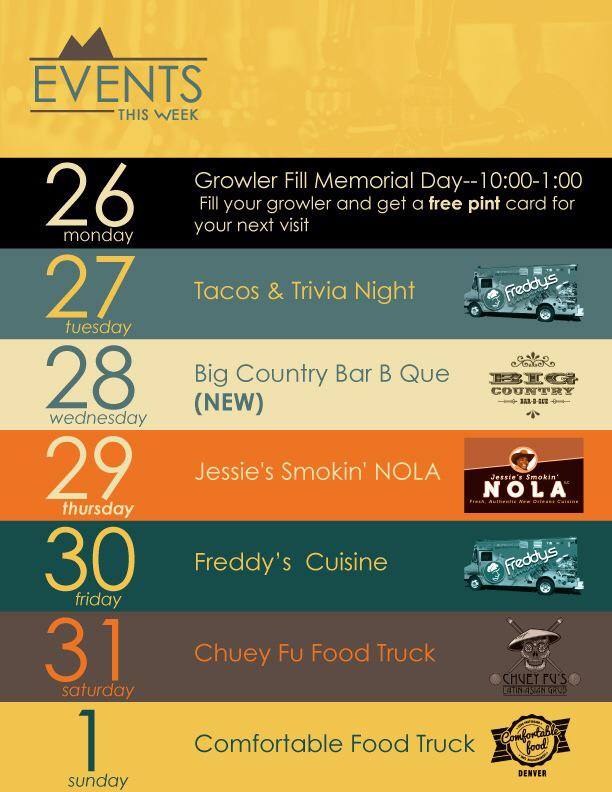 Two22 Brew (Centennial) – Here's the calendar for this week! Fun food, including a new truck on Wednesday!
Friday May 30
Ping Identity Corporation (Central Business District) – 5pm – 8pm – Built In Homebrew Challenge – 10 Startups Brewing their house beer for you to taste. Your ticket inside brings you unlimited Homebrewed Libations +  Bites from Lucky Pie Pizza + Outdoor Tech Dance Party. Better yet, all proceeds are benefiting the Gabby Krause Foundation.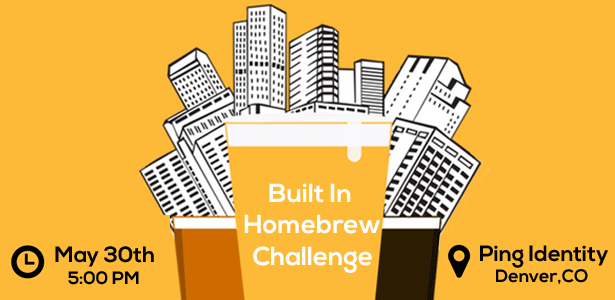 Participating Homebrewing Startups: ReadyTalk, Ombud, Commerce Kitchen, CaptainU, Simple Energy, Slice of Lime, Location3 Media, GoSpotCheck, SpotXchange, PingIdentity + Wynkoop Brewery
Other notable inclusions:
Souvenir BIB glass courtesy of Remy Corp for the first 100 attendees and DJ Mario Zoots spinning the jams!
The Judges:
Erik Mitisek, Chairman of the CTA
Jose Vieitez, Co-founder of the Boomtown Accelerator
David Odom, Principal of Arsenal Venture Partners
Rachel Scott, Dir. of Marketing at Quick Left
Tristan Chan, Founder of PorchDrinking.com
Greg Moore, Lead Brewer of Wynkoop Brewery
Wonderland Brewing Co (Broomfield) – Their official Grand Opening celebration will be on May 30th from 12pm to 11pm. Wear any concert t-shirt from the last century and get entered into hourly drawings for 'Wonderful' prizes. They will also have the Basic Kneads food truck on site starting at 5pm. Welcome to Wonderland!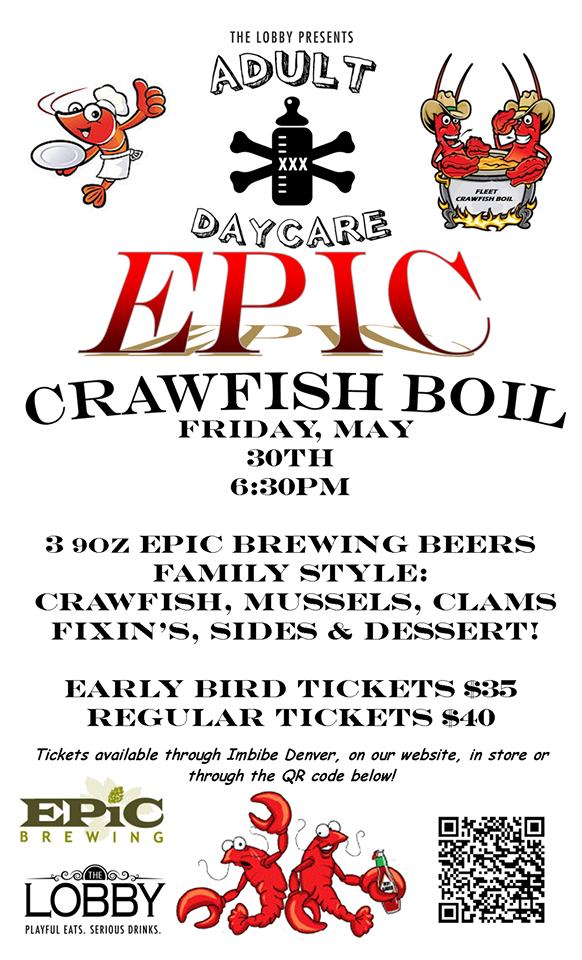 The Lobby (Five Points) – For their second Adult Daycare of the season, they're having an EPIC crawfish boil! Not only is it epic as in completely awesome, but also because they're pairing up with EPIC Brewing! They're pairing three EPIC brews with a family style feast that will have you whistling dixie! Tickets are only $40 for all of the crawfish, mussles, clams, fixin's, sides and dessert that your hungry little tummy can muster, as well as three 9 oz EPIC brews to keep you properly hydrated! As always you'll also receive an Adult Daycare "bib" and participate in a bib decorating contest, drunk coloring contest, and more! Tickets are available through Imbibe and are selling out quick so snag one before they swim away!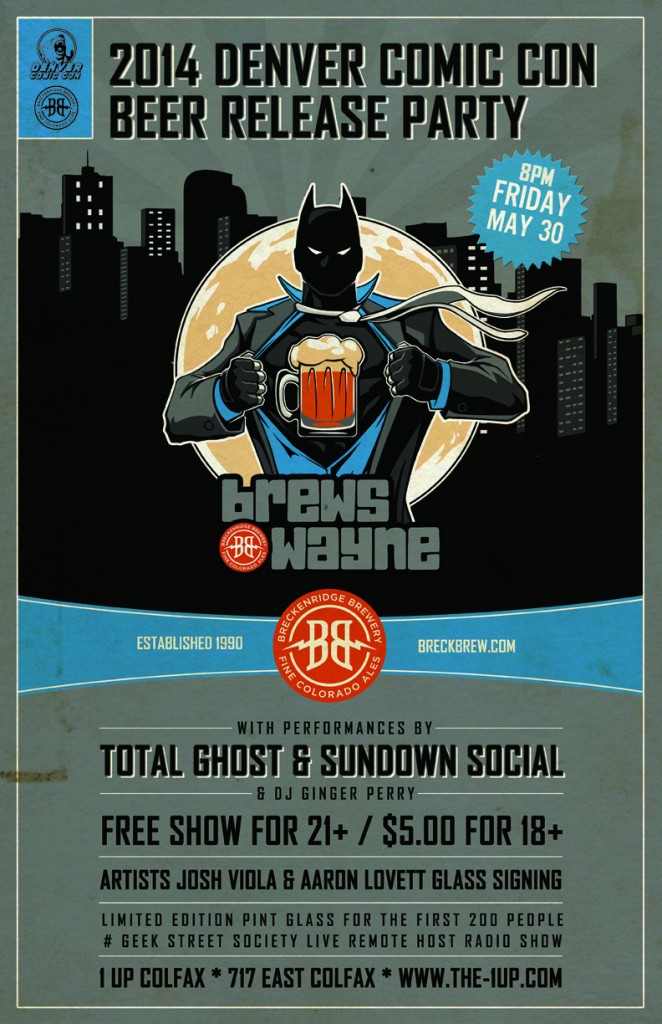 The 1up – Colfax (North Capitol Hill) – The Brews Wayne debut party at The 1up – Colfax, 717 E Colfax Ave in Denver, will begin at 8:00 p.m. on May 30th and feature live music from Total Ghost, Sundown Social, and DJ Ginger Perry. The limited release Brews Wayne is a hoppy amber ale, a hybrid-style with two distinctly different, yet complimenting flavors. This full body amber ale has an herbal and floral punch of aroma with woody undertones. With a hearty malt base and lively hop character, Brews Wayne is the perfect beer for the playboy by day and superhero by night. The first 200 fans to arrive will receive one of the limited edition pint glasses. Artists, Josh Viola and Aaron Lovett, will be at the party to unveil the commemorative art. Breckenridge Brewery will provide samples of Brews Wayne to attendees and have their infamous photo booth on hand to capture every moment. In addition, Geek Street Society will be in attendance remote hosting their radio show.
Following its launch at The 1up – Colfax, the beer will be served at the Denver Comic Con, in addition to several taprooms throughout the Denver area while supplies last. For a complete list of locations, visit BreckBrew.com/DenverComicCon.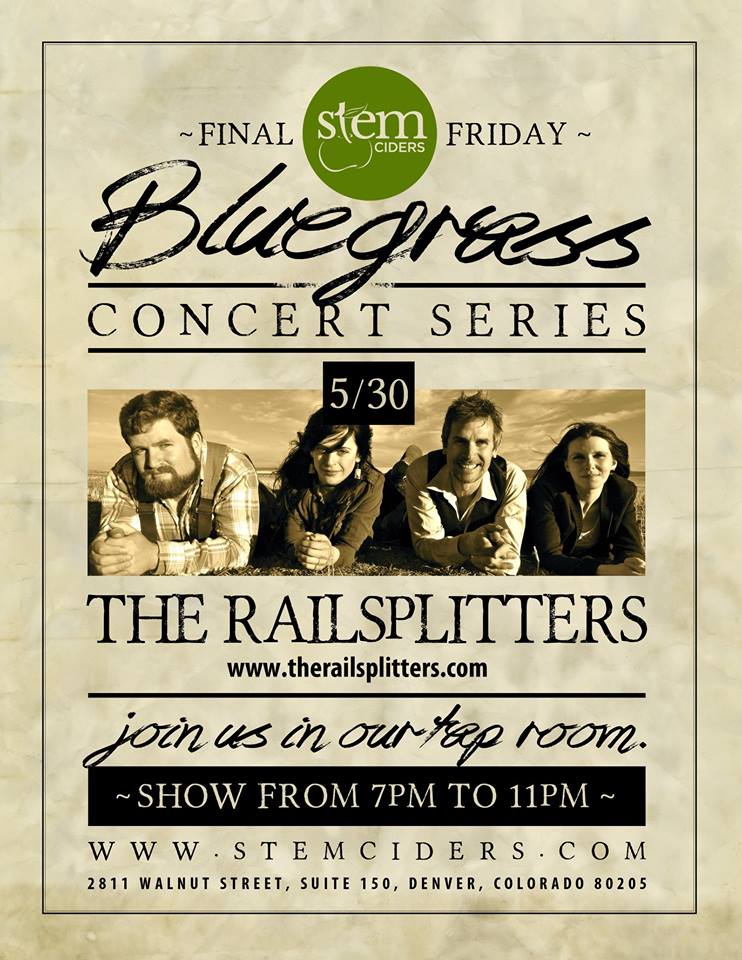 Stem Ciders (Five Points) – Join Stem Ciders in their Tap Room for their Final Friday Bluegrass Concert Series. This month they are happy to host The Railsplitters. You should probably get here early to get a spot. See you Friday!!!
Saturday May 31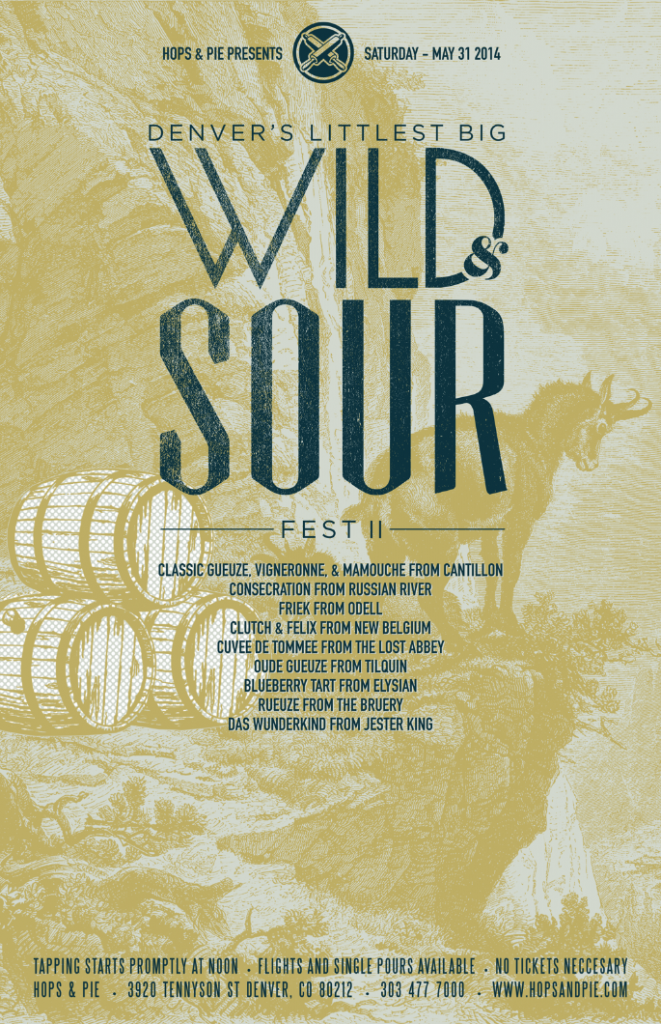 Hops & Pie (Berkeley) – Hops & Pie will host another classic 'Denver's Littlest Big Wild & Sour Fest II' from noon to close. They will have over 12 hard to get wild and sour ales on tap including such beers as: Classic Gueuze, Vigneronne & Mamouche from Cantillon, Consecration from Russian River, Friek from Odell, Clutch & Felix from New Belgium, Cuvee de Tommee from The Lost Abbey, Oude Gueuze from Tilquin, Blueberry Tart from Elysian, Rueuze from The Bruery, and Das Wunderkind from Jester King. Flights and single pours will be available. No tickets necessary.
Burning Can (Lyons) – Host: Oskar Blues Brewery in Lyons, Colorado – It's the Burning Man for beer drinkers and lovers of outdoor adventure sports. This festival takes place during the Lyons Outdoor Games in Lyons, Colorado, where participants can camp and enjoy brews from more than fifty-five breweries. This festival features the best canned craft beers and mixes it with a variety of adventure sports as well. There will be live music at the end of the day. The VIP session starts 1 hour early at 3pm.
Front Range Rally Beer Fest (Loveland) – The 2nd annual Front Range Rally beer fest in Loveland, CO. There will be 40 craft breweries pouring more than 100 unique craft beers, 10 food trucks, 2 live bands and even a special VIP tent this year. Tickets are available now, including Designated Driver tickets. This is a huge fundraising event for Food Bank for Larimer County. Visit www.frontrangerally.com for more info and tickets. Tickets are also available at: Big Beaver Brewing, City Star Brewing, Crow Hop Brewing, Grimm Brothers Brewhouse, Loveland Aleworks, Odell Brewing and Verboten Brewing.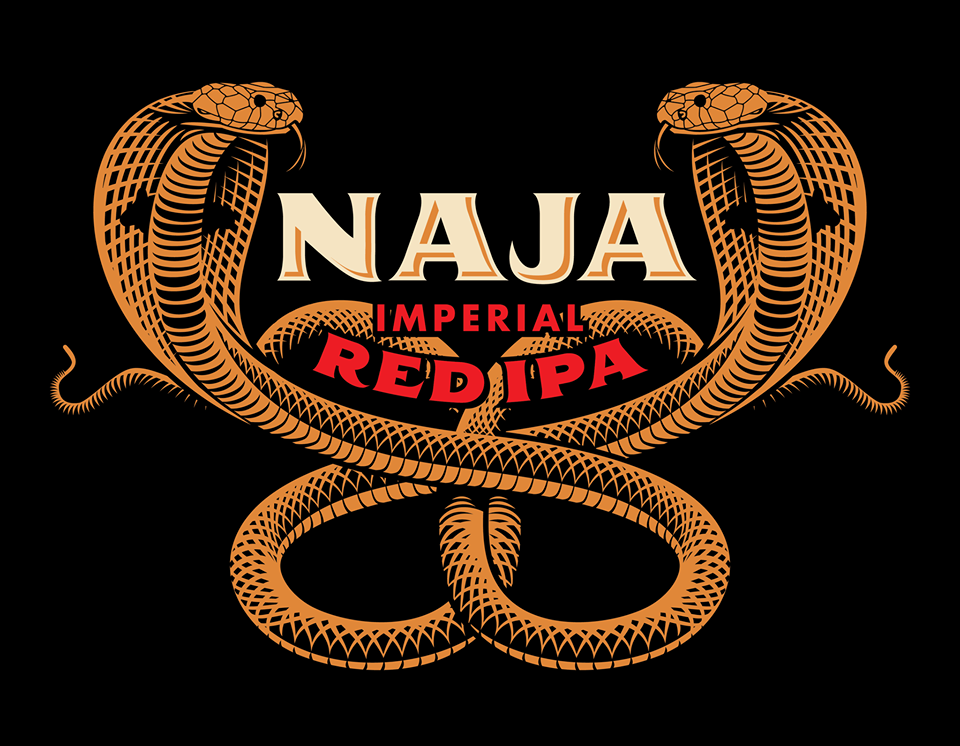 Copper Kettle Brewing Company (Denver) – Come on out to the tap room to get one of the first bottles of their third year-round bomber release,  Naja Imperial Red IPA!! This American Red Ale comes in at 9.0% to pronounce its malt character with a great citrusy and piney hop aroma and flavor!  CKrêpes & CKatering will be out at 2pm serving their always amazing and appetizing cuisine!
Sunday June 1
Big Choice Brewing (Broomfield) -. For $60, you'll receive a 1-year membership that kicks off on June 1, 2014. Your membership card will entitle you to One free Big Choice Pint glass, Happy Hour on pints all the time ($3.50 on any $4.50 pint), Happy Hour on Growlers all the time ($2 off new Growlers and $1 off refills), $4.50 Super pints (22oz), first dibs on bomber releases, an Ugly Mug Club t-shirt at the end of the 1st year, and a discount on next year's renewal. The membership spans June 1st, 2014 through May 31st, 2015. Sign up online or at the brewery.
Monday June 2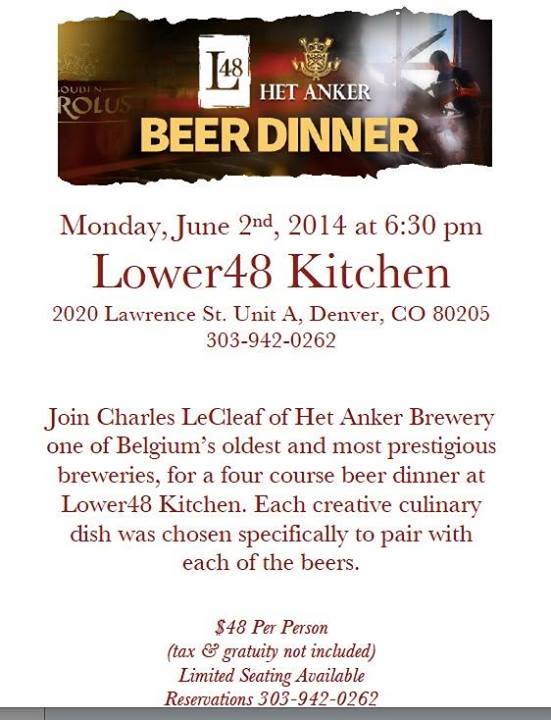 Lower48 Restaurant (Five Points) – Newly opened and explicitly delicious, the Lower48 Kitchen is excited to host Charles LeCleaf of Het Anker Brewery, the maker of famed Gouden Carolus and one of Belgium's oldest and most prestigious breweries, for a four course beer dinner. Each creative culinary dish was chosen specifically to pair with each of the beers. Join them Monday June 2nd for their first beer dinner of the summer. Limited seats. Let's raise a glass to another amazing eatery that supports craft beer!
Tuesday June 3
Crooked Stave Artisan Beer Project (Five Points – Denver) – Crooked Stave will be tapping specialty blends and rare kegs from their Barrel Cellar every Tuesday @ 6:00pm.
Our Mutual Friend Malt & Brew (Five Points – Denver) – Keep the Glass! Every Tuesday at Our Mutual Friend for $10 you get an artist series glass (10oz) and three fills (under 8% abv). Every month (or while supplies last) will feature a new artist. Support local art and local suds! Cheers!
Verboten Brewing (Loveland) – Their Bike-in Tuesday special is back! Bicycle your way on in to the taproom and they will give you $1 off pints on Tuesdays.
Renegade Brewing Co (Denver) – How do you get $1 off all your beers, every Tuesday? It's easy! Just ride your bike into Renegade on Tuesdays and get $1 off every beer!
**PS We like all of this biking and brewing action! **
Odyssey Beerwerks (East Arvada) – Get a FREE BEER every Tuesday when you buy a growler fill at Odyssey Beerwerks. Offer good all day on Tuesdays. Also enjoy Happy Hour 3pm to 5pm.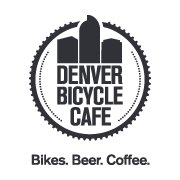 Denver Bicycle Café (North Capitol Hill – Denver) – 6pm-12am – $2 Craft Can Night – Jessica selects something special from Colorado to showcase every Tuesday night.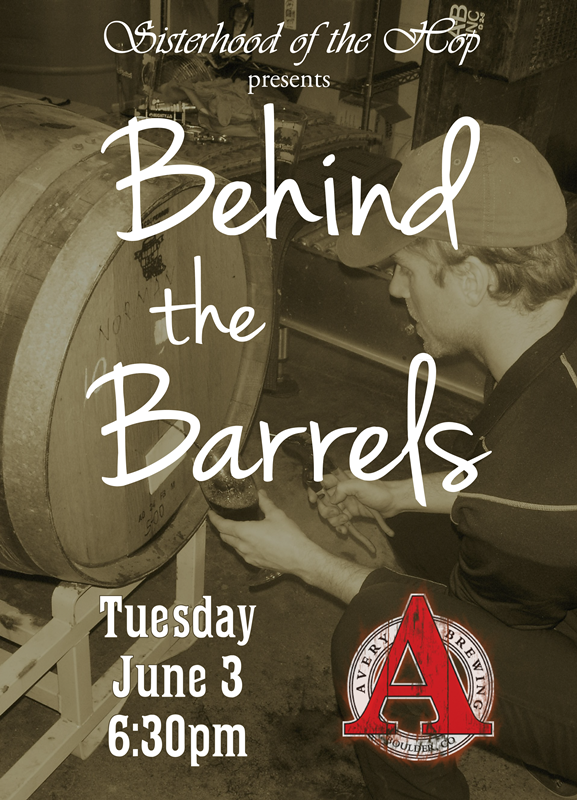 Avery Brewing Co (Boulder) – Sisterhood of the Hops presents "Behind the Barrels" at Avery Brewing on Tuesday, June 3rd at 6:30pm. Take a peek behind the barrels and explore the wild world of sours! Avery Brewing's Sisterhood of the Hop and Avery's Chief Barrel Herder will be pouring sour and wild ales from the Avery archives & samples straight from the barrels! Get funky: www.averybrewing.com/tickets
Future Events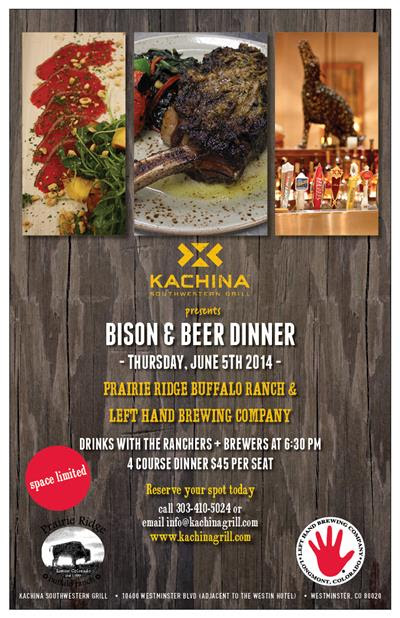 June 5th – Kachina Southwestern Grill (Westminster) – Join Kachina Southwestern Grill for their Bison and Beer Dinner – featuring Prairie Ridge Buffalo Ranch and Left Hand Brewing Company on Thursday June 5th, 2014. Call to make your reservation today :: 303-410-5024
June 5th – 2nd Annual Highlands Ranch Beer Festival at Civic Green Park (Highlands Ranch)
Time: 2:00pm – 6:00pm, VIP 1:00pm. Cost: $25 General adv, $35 day of, $40 VIP. On sale April 7th. Colorado, often called the "Napa Valley of Beer", is home to over 210 local breweries and brewpubs. In celebration of our beer culture the HRCA proudly presents the 2nd Annual Highlands Ranch Beer Festival. Live music, local and national breweries and lawn games will be present at this event. Unlimited one ounce samples and a souvenir tasting glass is Included in the ticket pricing. Must be 21+ to imbibe in tastings. Individual beer will be available for purchase. Proceeds will benefit the Highlands Ranch Scholarship Fund. The festival is open to all ages; however, only those over 21 can consume alcohol. Proper ID required upon entry.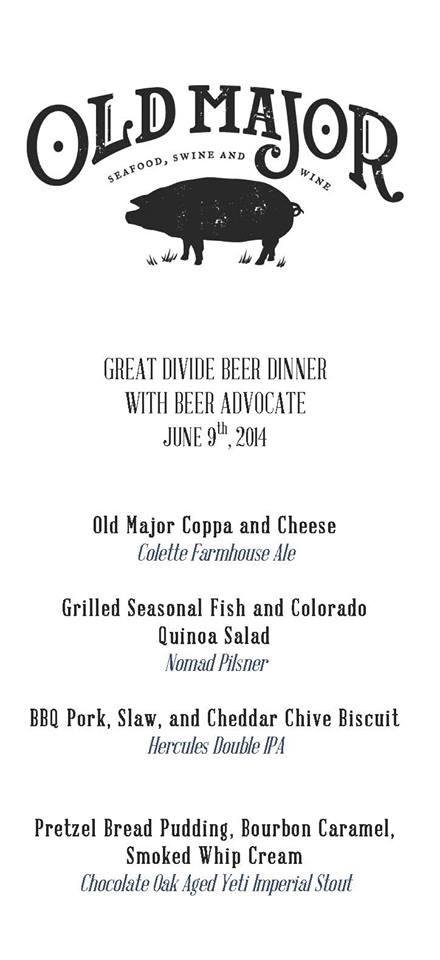 June 9th – Old Major (LoHi) – BeerAdvocate Presents: A Beer Dinner with Great Divide Brewing Co.!
Come taste what they're cooking up at Old Major and experience some fantastic beer pairings for a very affordable price – $65 (includes tax and gratuity.) To make your reservation, please call 720-420-0622 or reserve online: http://oldmajordenver.com/reservations. See you on June 9th!
June 11th – Post Brewing (Lafayette) – Backyard Brewmaster Dinner – Join ​the Growe Foundation ​for ​a ​summer ​evening, ​seated ​alongside ​friends ​at ​a ​community ​table ​in ​the ​backyard ​of ​Post ​Brewing. ​Executive ​Chef ​Brett ​Smith ​will ​be ​creating ​some ​special ​"Fresh ​from ​the ​Farm" ​dishes ​to ​accompany ​the ​sessionable, ​down-right ​delicious ​brews ​that ​Brewmaster ​Bryan ​Selders ​will ​showcase ​during ​the ​dinner. ​ ​Tickets include ​food, ​wine, ​beer ​and ​gratuity. ​This is ​a ​21 ​and ​older ​event. ​ All proceeds benefit the Growe Foundations Garden to Table program in BVSD schools. Buy tickets here.
That's a wrap for this week's Denver Beer Beat.  Cheers to ye and may eternity find us in as good company as this! Check ya later!
Stay Thirsty! and Keep Denver Beer'd!
Did we miss any events in this week's? Let us know.