No Comments
Roundtable Discussion | Fruit-Infused Beer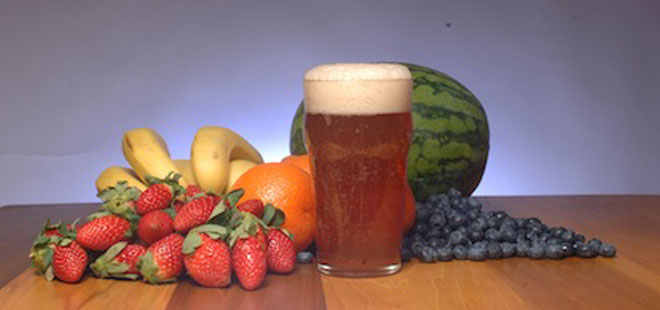 We all know that summer doesn't officially start until June 21 but that doesn't mean mother nature cares.
So in honor of the beginning of summer-like temperatures and the need for a refreshing beverage, this week we asked our staffers: what is your favorite fruit-infused beer? Here's what they had to say.
---
It's so hard to pick just one: Upland Wheat, Cascade's Elderberry and Dry Dock's Apricot Blonde are all great.
---
I've been a fan of Founder's Rubaeus Raspberry Ale lately.
---
Hell or High Watermelon by 21st Amendment. Also, just had the Hala Kahiki Pineapple Ale by Rivertowne Brewing. Never thought pineapple could taste so good in beer!
---
Avery Brewing's Momi Hiwa Barrel-Aged Coconut Porter paired with Anywhere? Cascade's Apricot Ale. Locally, Avery's Lilikoi Kepolo.
---
Haven't had it yet but their animation makes me want to – Sixpoint RAD
---
It may be boring, but Funkwerks Saison!
---
Leinenkugel's Summer Shandy. Mmm.
---
Colin, I guess you must have "flunked" the "advanced craft beer drinkers" survey too, along with most of the rest of us! 😉
---
What can I say? I like what I like.
---
Beer By Design Brewery just did a "four hour sour" with our wheat ale, and it drinks like a Berliner Wiesse. We split it into 4 batches and have a plain wheat and infused the other 3 with raspberries, strawberries or blueberries. I can't get enough of the blueberry.
---
Epic Brewing's Brainless on Raspberries/cherries/peaches
---
Yes, Brainless is awesome! Once had Brainless Cherries with Brett… holy cow!
---
Can we get some New Glarus Raspberry Tart in here? No, seriously can I have some please?!?
---
I'm looking at you Lindsay Snyder
---
I think lemongrass is more of a plant than a fruit, but I will go with West Sixth's Lemongrass Wheat. If you haven't tried this yet get your butt to Kentucky (or southern Ohio) and pick some up.
---
Epic Brewing's Brainless on Peaches. I want 7 right now just thinking about it.
---
New Glarus raspberry and cherry definitely deserve a shout out. A little pricey but oh so worth it.
---
Any of Jackie O's fruit-infused beers, including their Kinda Fuzzy, a Peach Wheat Ale, Razz Wheat, and Paw Paw Wheat.