No Comments
Star Wars: The Hype Awakens | *Updated November 28*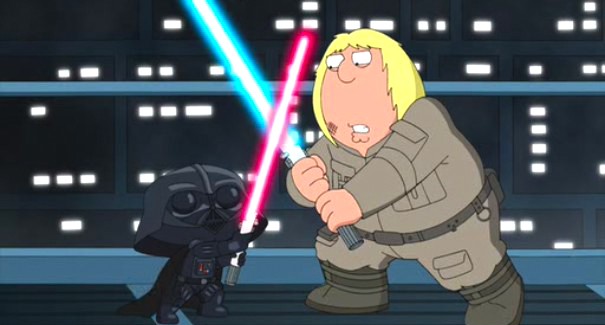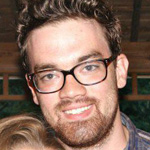 Well, just like that, we're more than halfway done with this journal. What journal, you ask? Why all the Star Wars posts on PorchDrinking? To sum it up: I'm going to be writing on PorchDrinking.com every single day between now and the release of Star Wars: The Force Awakens, bringing you all the latest hype, news, and personal anecdotes to explain why one nerd (me) believes it to be such a special and important franchise.
Catch up here:
And skip ahead here:
---
Sunday, November 22
I've been spouting off for quite some time now that The Force Awakens will be the most financially successful movie in the history of cinema. And I stand by that. And now, thanks to a tweet from my Dad, I've been challenged (or maybe just inspired) to back that statement up with some data. Here's the question:
If advanced sales for Star Wars VII were counted, where would it rank now on 2015 box office list? And how much of that would be just due to Drew's purchases?
Ha, ha. But it's a really good question! To put it another way: The Force Awakens won't be out for another three and a half weeks, but how much has it already dominated among other movies to come out in 2015?
Luckily, we have a nice round number to begin with, courtesy of this stat in "The Hollywood Reporter" just last week:
For those who can't get the image to load: Star Wars: Force Awakens Racks Up $50M-Plus in Advance Ticket Sales.
Let's say for sake of argument that the movie is holding steady at $50 million in the box office. Where does that put it among all the movies to come out in 2015?
Short answer: Not that high up… YET.
The top 5 movies in 2015, according to The-Numbers.com (ranking domestic box office only):
Jurassic World – $652 million
The Avengers: Age of Ultron – $459 million
Inside Out – $356 million
Furious 7 – $351 million
Minions – $335 million
So The Force Awakens, for all its presales, is not yet in this stratum. But it's already passed some other box office disappointments, including Jupiter Ascending, Pan, and The Man From U.N.C.L.E. By my rough count, The Force Awaken has already cracked the top 70 or so domestic releases of the year.
Expect that number to go much, much higher.
---
Monday, November 23
I have said before that I planned on going to Disneyland.
I went to Disneyland. And I was reminded once again of how thankful I am to live an hour away from the happiest place on Earth.
Now, this was not the all-out Star Wars-filled Disney excursion that I ultimately still plan on enjoying. I'll be dedicating a trip to Disneyland to my pre-The Force Awakens hype next month. But like listening to Christmas music before Thanksgiving, it feels premature to do a Star Wars-centric visit four weeks before the movie (especially when I know I'll be back once more in early December). Also related to Thanksgiving: it just so happens that Heather and I (hi, Heather!) went to Disneyland on the pre-Thanksgiving weekend that many people consider to be the worst time to visit.
That means that the wait times for Disneyland rides looked something like this:
Waiting for the newly Star Wars-themed Space Mountain or the Star Tours: Now Featuring Jakku rides would take a total of 3 hours of standing in 90 degree weather (stay warm, friends in the Midwest!!!). Which isn't exactly my idea of a good time, when Disney has so many other amazing attractions around the park. Oh, also… shoutout to the Disneyland Wait Times app. It's a lifesaver.
Still, I dipped my toe pretty deeply into the Star Wars waters. You may remember from my last Disney post that new the entire Tomorrowland section of the park has been temporarily re-branded in honor of The Force Awakens.
And then of course, an entire gift shop was turned into Star Wars merchandise. No Mickey ears, no Disneyland-branded sweatshirts… just Star Wars stuff. Including a full-sized X-Wing hanging from the ceiling.
Yes, I loved hearing John Williams' Star Wars score playing over the speakers at Disneyland. And yes, I loved getting to make my own little droid action figure in the gift shop. But here's why my trip really got me hyped for this movie, and made me feel great about my Star Wars obsession:
The fans. Star Wars fans turned out in droves. A woman in line at Pirates of the Caribbean had a tote bag depicting the Obi-Wan versus Darth Vader duel. A little kid in a full Darth Vader costume asked his parents if he could get a lightsaber. A girl wearing a Rey t-shirt stood in line with her friends to go on Hyperspace Mountain when the wait hit an hour and forty minutes, and Fast Passes were out for the day. Entire families came in shirts announcing themselves as "Daddy trooper," "Mommy trooper," "Sister trooper," etc. A grandmother being pushed through the park in a wheelchair wore a flat-bill "Star Wars" cap, which was maybe the most fly piece of streetwear I've ever seen on an octogenarian.
You can be cynical if you want to. You can say that Disney is pandering to Star Wars fans because their market research says that those fans are so excited, they'll spend money on anything, including little BB-8 souvenir drink cups that don't even hold as much liquid as a large. Maybe it really is as much a money-making scheme as a celebration of culture. Maybe. But for me, it feels good to be surrounded by hundreds of people who – for right now – are equally excited, anxious, and optimistic about the future of a franchise that's meant so much to them.
To some of the people at Disneyland, Star Wars is an obsession more than a passion. It's part of their identity, not just a favorite movie. And while they're in the happiest place on Earth, they don't just consume Star Wars like a customer. They get to live the experience that they've been imagining.
That's worth the cost of admission.
---
MORE NEW FOOTAGE, if you're into it. I'm sitting this one out; like I've said, at this point I'm okay with people in the cinemas next month knowing more of the plot than I do. That's just more for me to enjoy on the day of the release.
That said, the thumbnail of this clip does show a character I'd never seen before, so if you're REALLY spoiler-averse… obviously it's too late, and I'm sorry!
It's sort of odd, now that I think of it, that every time a TV spot drops, it gets dissected and discussed for the 1-2 seconds of new footage it contains. People know they're gonna show fans a whole 2 hours of new footage next month for… like… 12 bucks, right?
---
Tuesday, November 24
I really wish I could remember the moment I found out that Darth Vader was Luke's father. [Sorry for the spoiler, but if you're reading the 30th post of a Star Wars journal, I'm going to assume you're up to speed on a 35-year-old plot point]
The reveal of the most evil and menacing figure in the galaxy being our hero's long-lost dad is the quintessence of twists. But it'd been a long time since I got to experience – or witness – the emotional wallop of Luke's innocence shattering.
Which is why I love this video.
Watch as a bunch of kids react to the scene in Empire Strikes Back where Darth Vader tells Luke the truth. It's cute to catch the shock and disbelief flash in their eyes. You can almost see them connect the dots in their heads — that means Obi-Wan lied! and how is Luke going to fight his own dad?!?! Sometimes I forgot what the emotional implications of this reveal are. It's funny that even in 2015, people are stunned by the Skywalker lineage.
As a side note… One day, watching my (hypothetical) kids find out Darth Vader is Luke's father will be one of the highlights of fatherhood.
---
Brief note. Don't want to belabor it. But this is one of the most exciting things to come out of the Hype Awakens blog. Josh, our social media coordinator, is strategic with how he shares PorchDrinking content. And yesterday, a tweet linking to this blog got some interesting feedback: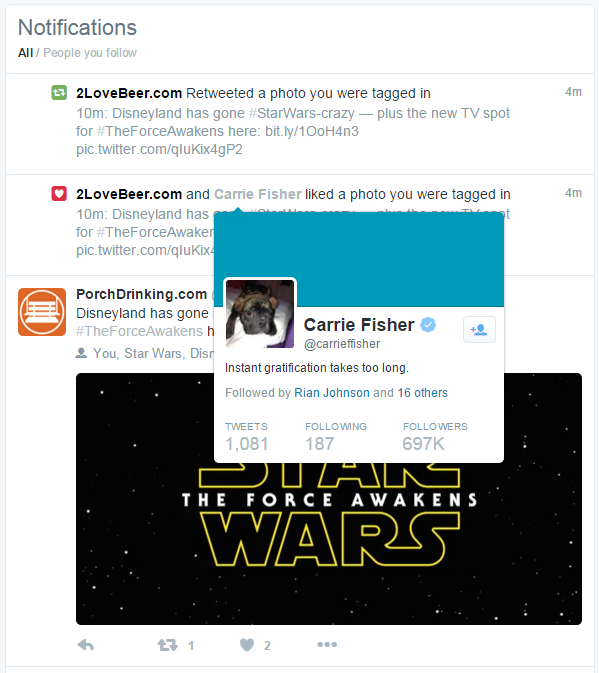 Carrie Fisher liked a link to the Hype Awakens blog. Not saying she likes the blog. Not saying she even read it. But she is aware of its existence now – at least passively.
My six year old self wouldn't believe that Princess Leia was aware of something I wrote. 1996-Drew would've been proud to have a tweet linking his blog liked by Princess Leia… if he knew what tweets or blogs were.
Kudos to the PorchDrinking social media team. And Ms. Fisher, since you're obviously reading… feel free to share a link with Mark and Harrison, too.
---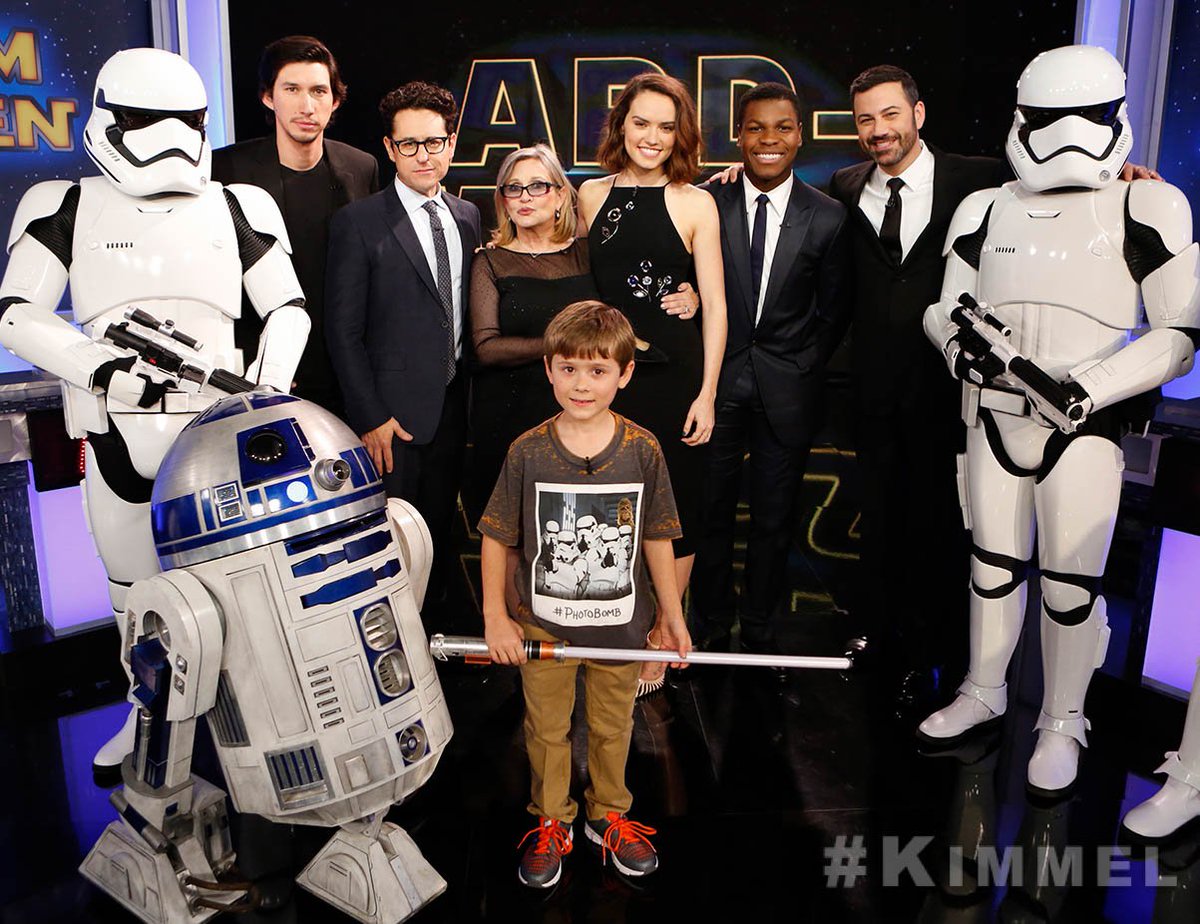 My new bestie Carrie Fisher joined co-stars Daisy Ridley, John Boyega, and Adam Driver – plus director JJ Abrams – on "Jimmy Kimmel Live" on ABC last night. Kimmel did what any reasonable person would do – he fan-boyed out.
---
Wednesday, November 25
In a similar vein to yesterday's post, here's a thought experiment: what's the right order for watching Star Wars movies for those who have never seen them before? If you happen to know someone who has never seen any of the 6 films, where do you start? There are really two (maybe three) common schools of thought.
Release Order:
A New Hope
The Empire Strikes Back
Return of the Jedi
The Phantom Menace
Attack of the Clones
Revenge of the Sith
Chronological Order:
The Phantom Menace
Attack of the Clones
Revenge of the Sith
A New Hope
The Empire Stikes Back
Return of the Jedi
F*** The Prequels Order:
A Fan Edit Condensing the Events of Phantom Menace, Attack of the Clones, and Revenge of the Sith to One Single Movie
A New Hope
The Empire Strikes Back
Return of the Jedi
There are, of course, some problems with each of these. If you start with the prequels, Revenge of the Sith completely ruins the reveal that Vader is Luke's father (which is a really great moment, as I mentioned yesterday). If you wait for the prequels… you end on a sour note, and you also have no idea why the hell Hayden Christensen is standing there at the end of Return of the Jedi.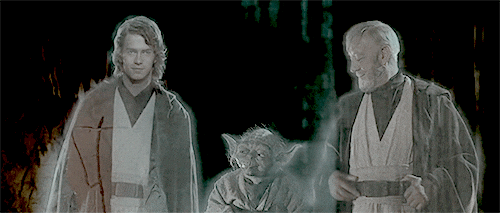 So that's why I'm into the Machete Order, a fan essay that details why you should watch the movies in the following order: A New Hope, The Empire Strikes Back, Attack of the Clones, Revenge of the Sith, Return of the Jedi.

No awful Phantom Menace (think about it; you don't really miss anything important). The reveal of Luke's lineage is preserved for Empire. Then a new viewer gets to go back and see Anakin's turn to the dark side before coming back to watch Luke prepare for his ultimate battle with his father.
I think there's a lot to be said for this order. And I like the idea of limiting Jar-Jar's screen time.
I will be re-watching all the films before The Force Awakens comes out next month. I'm going in Release Order. Because at least for the first 6 hours, I can just enjoy how wonderfully made the Star Wars universe is, and forget about its latter-day blemishes.
---
Star Wars: The Force Awakens will be rated PG-13. The announcement came in today. Per MPAA regulations, that means they're allowed one use of the "F-word" in a non-sexual context.
My guess: someone says "I've got a bad f—in' feeling about this."
Not really.
---
This scene has been floating around. It's the first actual clip from The Force Awakens with dialogue and score, presumably exactly as we'll see it in theaters. I'm holding off, but please do enjoy this NEW FOOTAGE:
---
The Skywalkers are PorchDrinkers. Now Mark Hamill is liking our stuff. The guy whose action figures I played with growing up has hit "like" on a tweet about a blog dedicated to professing my love for Star Wars. This feels like a very soft digital pat on the back, and I really appreciate it. This Thanksgiving week, in addition to my friends, family, girlfriend, roommates, job, health, and many other blessings, I can now add one more, however nerdy: I'm thankful Mark Hamill and Carrie Fisher giving love back to fans who are excited to relive the magic of Star Wars.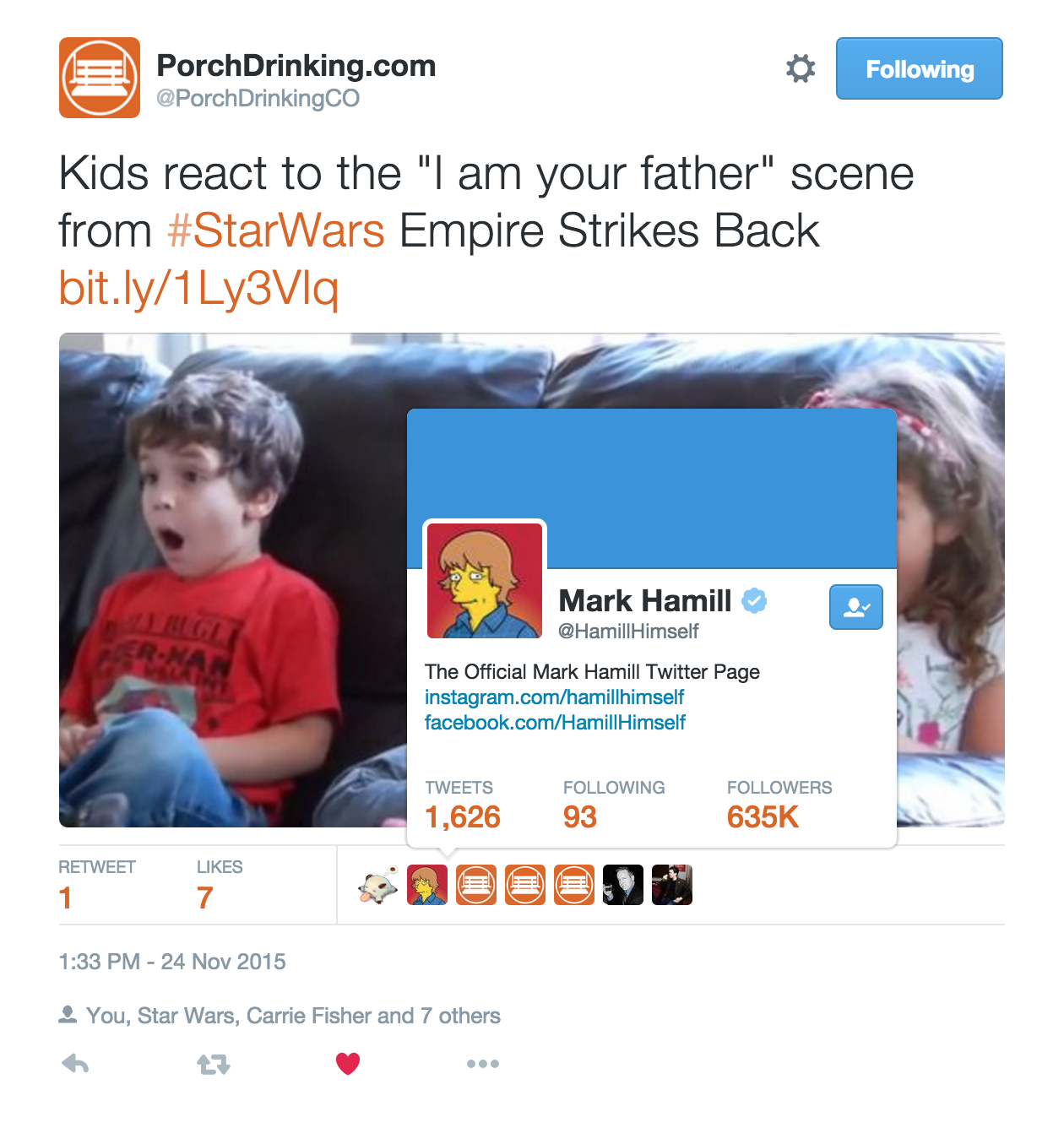 ---
Thursday, November 26
Happy Thanksgiving! Thursdays are known in the world of internet-speak as "Throwback Thursday" or #tbt, and today is also a day of giving thanks for the people, experiences, and blessings of our lives. Last year, I went home for Thanksgiving, and looked back on mementos from my youth that my parents had pulled out of some box in some closet. Today, I want to share one of those uncovered memories – which, apropos of this blog's subject matter, relates to my Star Wars fandom.
My second-grade teacher, Mrs. Roberts, used to keep out blank pamphlets on a table in the classroom. At our own leisure, we were encouraged to "write a book" (really just doodle in the 8 or 12 pages of computer paper stapled together to look like a paperback book). Most kids wrote about their pets, or their favorite sport, or what they did over the summer.
My friend Jake and I wrote Star Wars fan fiction where the characters from Space Jam occupied the galaxy far far away.
Jake and I bonded in first grade over our mutual love for Star Wars. It doesn't take much to find a best friend when you're six; it's even easier when you have the same obsession.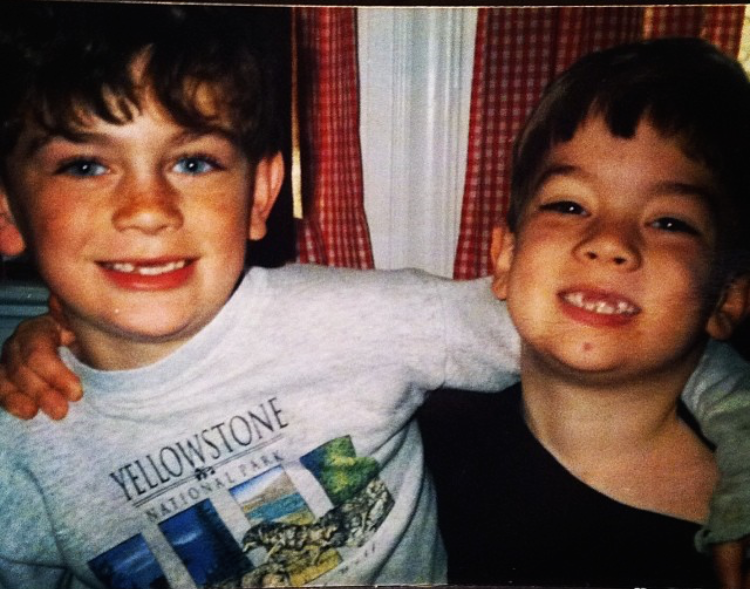 So, for the first time on the internet, here's a Jake & Drew original Star Wars story.
Happy Thanksgiving, everyone!
---
Friday, November 27
Be warned: today's post is full of hype. Chock-full. One of the longest posts yet.
People love Boba Fett. But I never really got the love for him. Which is why today I made an effort to learn more about why he's so popular, and give him a second chance to win my love.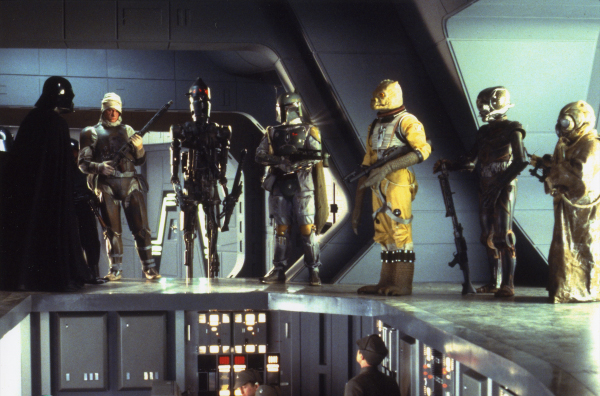 For anyone who doesn't know… Boba Fett is a bounty hunter – the guy with the green armor who you've seen on all sorts of merchandise. Boba made his first appearance in Empire Strikes Back in the scene in which Vader sends a whole team of bounty hunters after the Millennium Falcon.
He has a total of four lines in Empire Strikes Back, and no dialogue in Return of the Jedi (except for a scream). Here is the entirety of Boba Fett's dialogue in the original Star Wars trilogy:
"As you wish."
"He's no good to me dead."
"What if he doesn't survive? He's worth a lot to me."
"Put Captain Solo in the cargo hold."
That's it. So I've always been a bit surprised by the fervent devotion to Boba Fett exhibited by many Star Wars fans. His action figures are considered to be some of the most rare (and hence valuable). He's one of the most commonly cosplayed characters. He has his own video game franchise. Fan fiction goes from text to highly produced unlicensed sequels. Demand for more Boba was so severe, George Lucas put him firmly in the canon of the prequel movies. Remember Jango, Boba's dad, who happened to be the model for the ENTIRE clone army?
I never really got why people were so into Boba Fett. I didn't dislike the character… I just thought some people took him way too seriously. But I don't want to be close-minded. I'm willing to listen to other people. And it turns out, a lot of people have a really good reason for liking Boba Fett.
In short: He's really good at his job, and isn't afraid of anything.
That first line – "as you wish" – is in response to a specific order from Darth Vader – the most terrifying man in the galaxy – not to disintegrate Han Solo. Clearly even Vader has heard of Boba Fett's reputation for ruthlessness and extreme violence.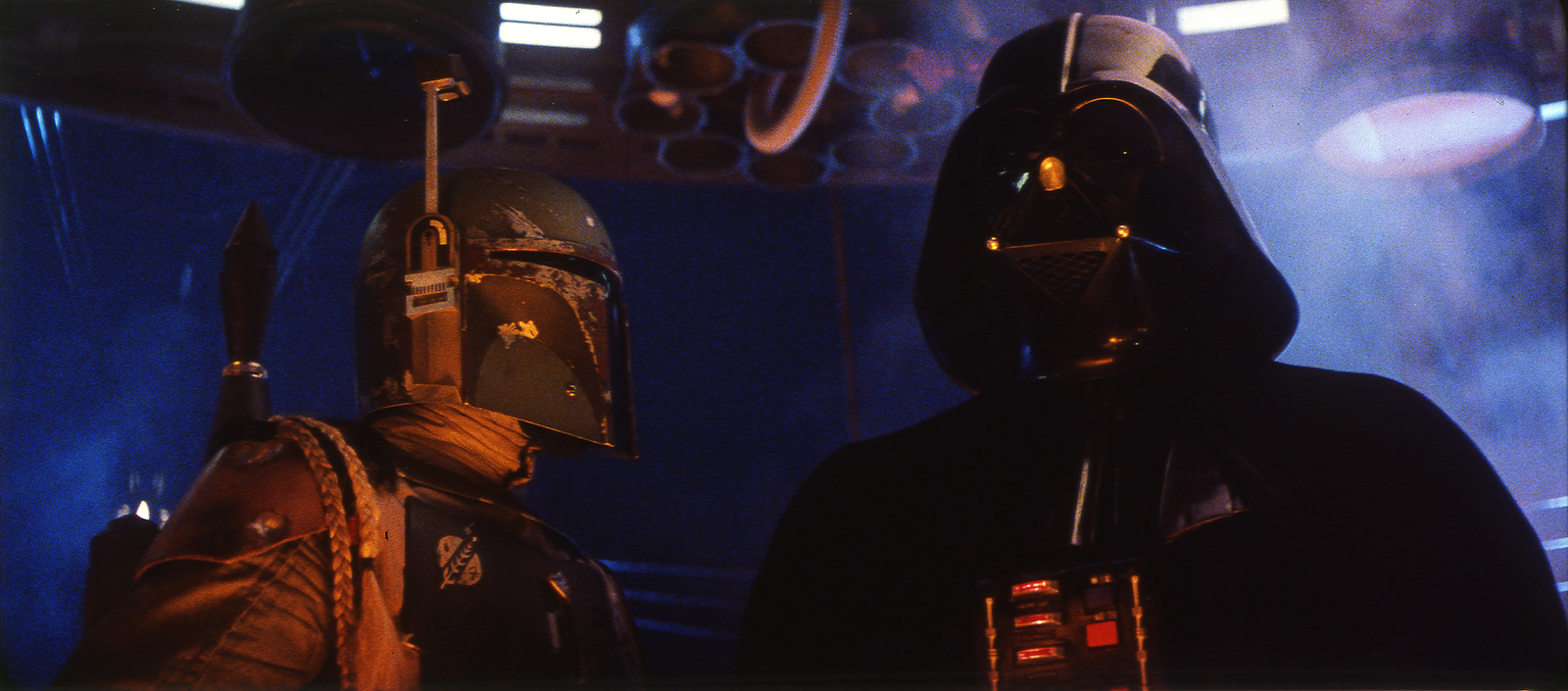 Then, when all those other bounty hunters failed to catch the Millennium Falcon, Boba Fett alone figures out Han's maneuver where he hid on the back of a Star Destroyer. In addition to having cool armor and a mysterious attitude, this is a guy who was clearly very good at hunting people down. He was basically the galaxy-far-far-away version of Liam Neeson's character in Taken.
Those second lines – "he's no good to me dead" and "what if he doesn't survive? He's worth a lot to me" – are really gutsy. Boba Fett has the nerve to tell Darth Vader what to do and what not to do. He doesn't care that the last guy who talked back to Vader got force-choked; his bounty was the most important thing. And Vader backed off!
Why, a fan might wonder, does this masked guy have the unmitigated nerve to tell Vader what to do – and why did Vader let him get away with that? What did he do to get this reputation, and just how ruthless is he?
There's no answer in the movies. And maybe that's part of the intrigue, too. The fact that Boba Fett says so little only builds his mystique. Fans don't know what he looks like or where he come from, but they know he's a badass bounty hunter. Featuring him in all the merchandise, fan fiction, and video games allows fans to simultaneously celebrate Boba Fett and fill in their own gaps in knowledge about him; he could be and do anything, after all.
I mentioned back in week 3 of this Hype Awakens blog that JJ Abrams himself saw value in the mysteries of the Star Wars galaxy. I quote:
When Star Wars first came out, it was a film that both allowed the audience to understand a new story but also to infer all sorts of exciting things that might be.
Boba Fett exists in a world built on the storytelling principle that anything is possible, some amazing things happen frequently, and the audience gets to draw their own conclusions about what else could, might, or did happen outside the story they're seeing. And he is perfectly designed for that world. Boba Fett endures as a fan favorite because he's strategically crafted to be mysterious, but quite obviously dangerous.
Other fun Boba Fett facts, from my research:
Boba Fett's first appearance in Star Wars was actually before Empire Strikes Back – and no, I don't mean the appearance with Jabba in the A New Hope scene I mentioned last week. Boba Fett debuted in the god-awful Star Wars Holiday Special of 1978 — which I cannot wait to talk more about as we approach the holiday season. His action figure also came out before we ever saw him in Empire Strikes Back, which is why fans knew his name despite its absence in Empire. The fan following was destined to be before Boba Fett ever uttered a line in a Star Wars movie.
At one point in the making of Revenge of the Sith, George Lucas wanted Boba Fett to be the one to kill Mace Windu (Samuel L Jackson), since Windu killed Boba's father Jango. Not gonna lie, after all this research into Boba Fett, I kind of like the idea of that.
The re-releases of the original trilogy have substituted the voice of Boba Fett with that of Temuera Morrison, who played Jango in the prequels. For your sake, I have included the ORIGINAL voice of Boba Fett (Jason Wingreen) in his scenes below:
Saturday, November 28
Last night, I watched Empire Strikes Back again.
Most of it. Then I fell asleep right before the Cloud City scene. Sorry for my update today being less than substantial. In honor of Empire Strikes Back, though, I present two things:
1 – The entirety of the "Family Guy" spoof of Empire, titled "Something, Something, Dark Side," a callback to the show's bit about generic Star Wars dialogue. Watch the hour-long episode here!
2 – Deleted scene where Threepio tricks Stormtroopers into getting eaten by a giant Wampa. It's so terribly made, I'm glad it was deleted:
Back next week with more hype! May the Force be with you!
---