No Comments
Ratio Beerworks Grand Opening!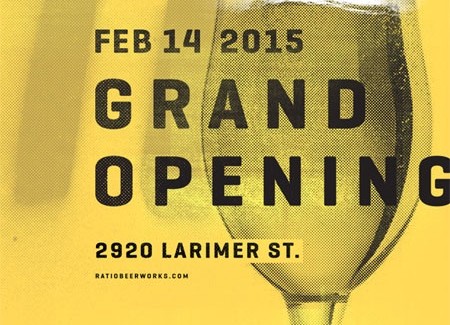 FOR IMMEDIATE RELEASE
Ratio Beerworks Announces Grand Opening on Larimer St.
New production brewery and taproom to open its doors in February.
Denver, Colo. (January 26, 2015) – Ratio Beerworks, located at 2920 Larimer St. in Denver, will be hosting its grand opening party on Saturday, February 14th. The new brewery, which includes a 1,500 square foot taproom and 4,000 square foot production facility, will open its doors at 12pm in the RiNo™ Arts District of the historic Five Points neighborhood.
Ratio Beerworks plans to offer a lineup of five (5) meticulously crafted flagship beers, including an Extra Pale Ale, Dark Scotch Ale and its French-American Saison among others. Normal bar service and an onsite food truck will be available until midnight.
Consistency and creativity are primary goals as Ratio plans to open amongst many of its peers in the area. The eclectic taproom will occupy over 80 craft beer enthusiasts with an additional standing area on the side patio, which will be developed to approximately 4,000 square feet of outdoor space in the spring.
Ratio Beerworks normal operating hours will be Tuesday through Thursday from 3pm to 11pm, Friday and Saturdays from 12pm to 12am and Sundays from 12pm to 10pm. The brewery will be closed on Mondays.
More information and general grand opening happenings will be posted to the breweries Facebook, Twitter and Instagram feeds as the celebration gets closer.
RSVP to the Grand Opening via the brewery's events page.
About:
Ratio Beerworks is craft brewery that focuses on meticulously crafted beer served in an eclectic taproom located at 2920 Larimer St. in Denver, CO. For more information please visit ratiobeerworks.com.
###