No Comments
Cooking with Beer | Apple Cinnamon Pretzels with a Pecan Beer Topping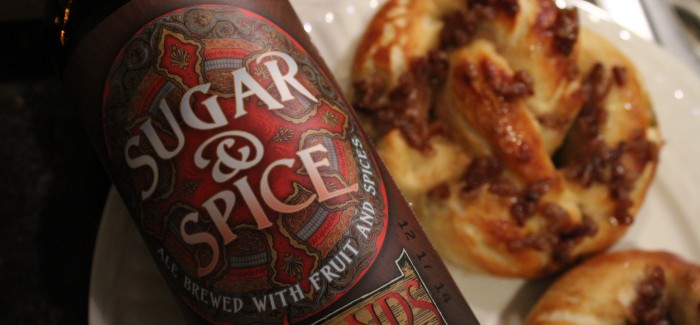 'Sugar and spice and everything nice!' That is what my parents always told us girls were made of. I'm sure they changed their opinion about that saying as soon as I turned 13. Luckily, I (mostly) grew out of my crazy phase and, as I got older, I started Cooking with Beer. Now, the things made of sugar and spice are these apple cinnamon pretzels topped with a pecan beer sauce, made with 4 Hands Brewing Co.'s Sugar & Spice. I hope my parents will accept these scrumptious treats as a peace offering for all those years I showed them that little girls may not be so sweet after all.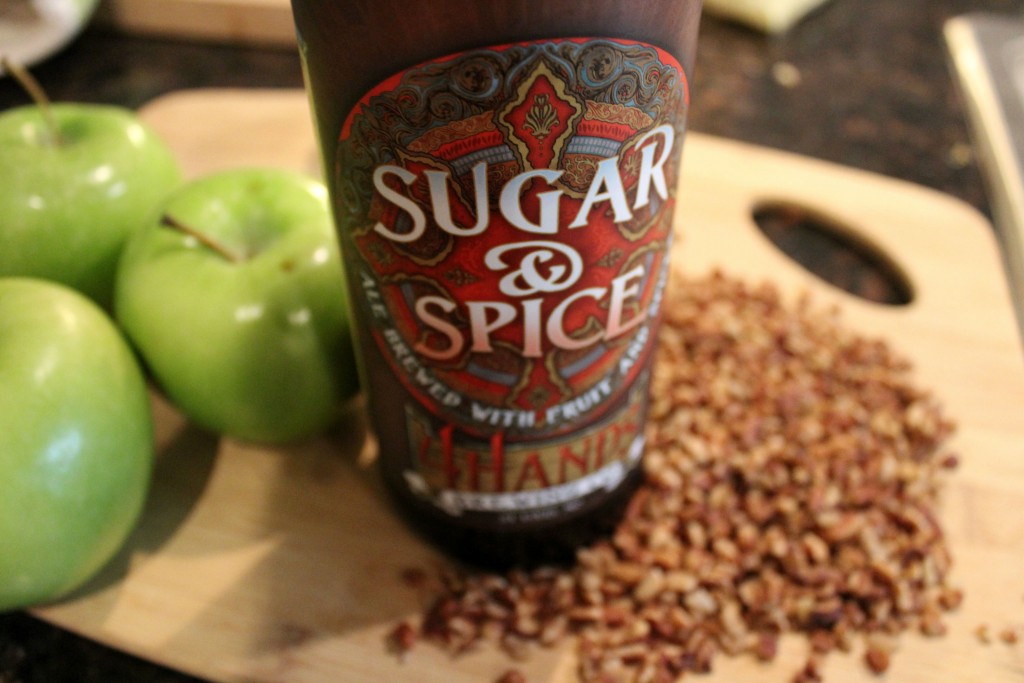 Ingredients
1 ½ cups warm water
1 tbsp sugar
1 packet of active dry yeast
1 tsp kosher salt
½ tsp cinnamon
4 ½ cups all purpose flour
4 tbsp unsalted butter, melted
1 cup chopped Granny Smith apples
1/3-2/3 cup of baking soda
1 cup Sugar and Spice by 4 Hands Brewing Company
2 tbsp buttter
4oz chopped pecans
1/4 cup sugar
Directions
In a large bowl, combine the water, sugar, and yeast. If the yeast has been laying around in your pantry, make sure it is not expired. Allow the mixture to sit and bubble for about 10 minutes.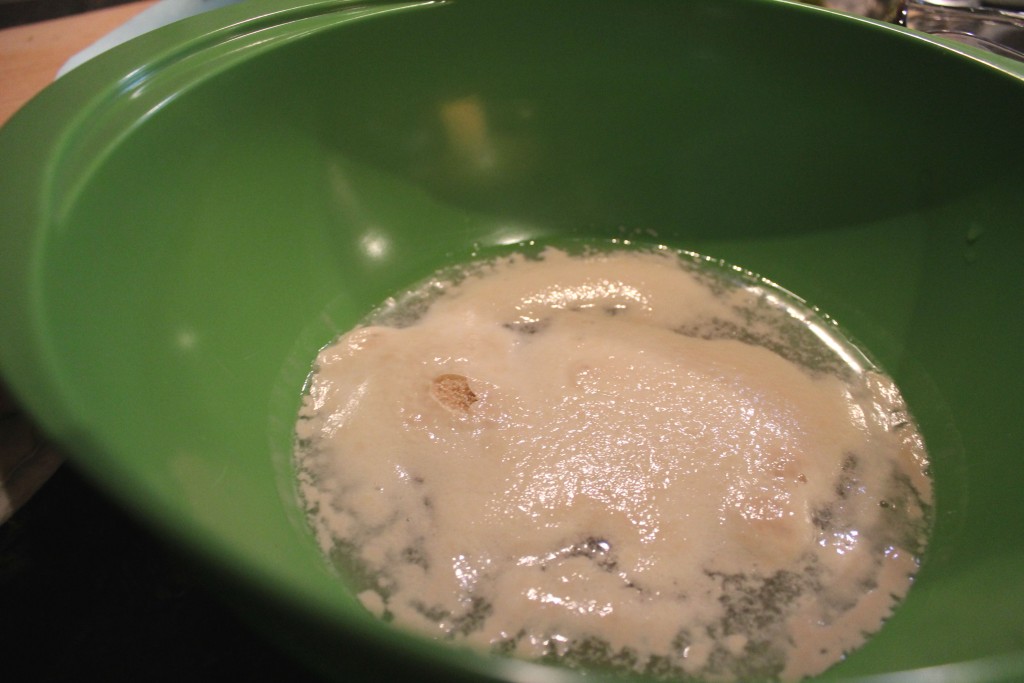 Next, add the melted butter then slowly add in the flour, about one cup at a time.
After every cup, add some apple chunks.
Mixing with a handheld electric mixer will be OK at first but a stand-up mixer is ideal. If you don't have either of those (like me because both broke!) you'll have to put your muscles to work. Once everything is combined in the bowl, knead the dough for about 5 minutes or until you can't take the pain any longer. If you're using a stand-up mixer, knead the dough with the bread hook until it pulls away from the sides of the bowl.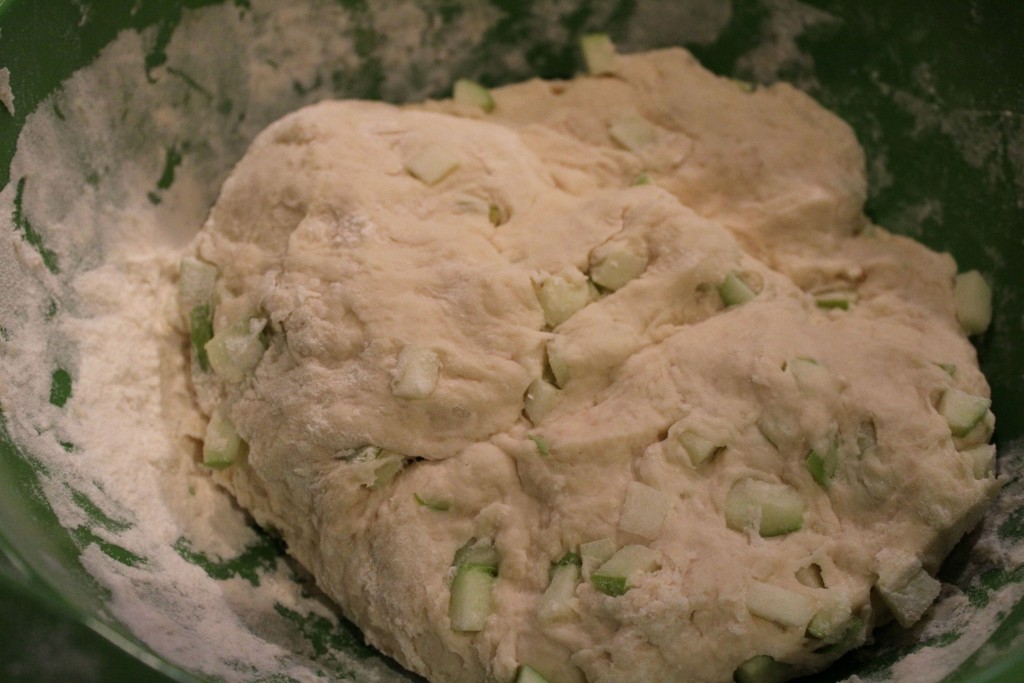 Cover the bowl with a towel and place it in a warm dark area for an hour or until it doubles in size. Before you start rolling the pretzels into shape, boil a giant pot of water, adding 1/3 cup of baking soda for ever 5 cups of water that you add. Also, preheat the oven to 450°F. Then, roll out strips of dough and fold them into a pretzel shape. It is not easy to describe how to do this in words and it is much harder to take pictures of yourself doing it, so watch the gif. below.
When the pretzels are in the appropriate shape, line some baking sheets with parchment paper. Boil each pretzel for a minute and then place onto the parchment.
As you can see below, it is also really hard to take a picture with steam billowing up into the camera. Cut me some slack, people.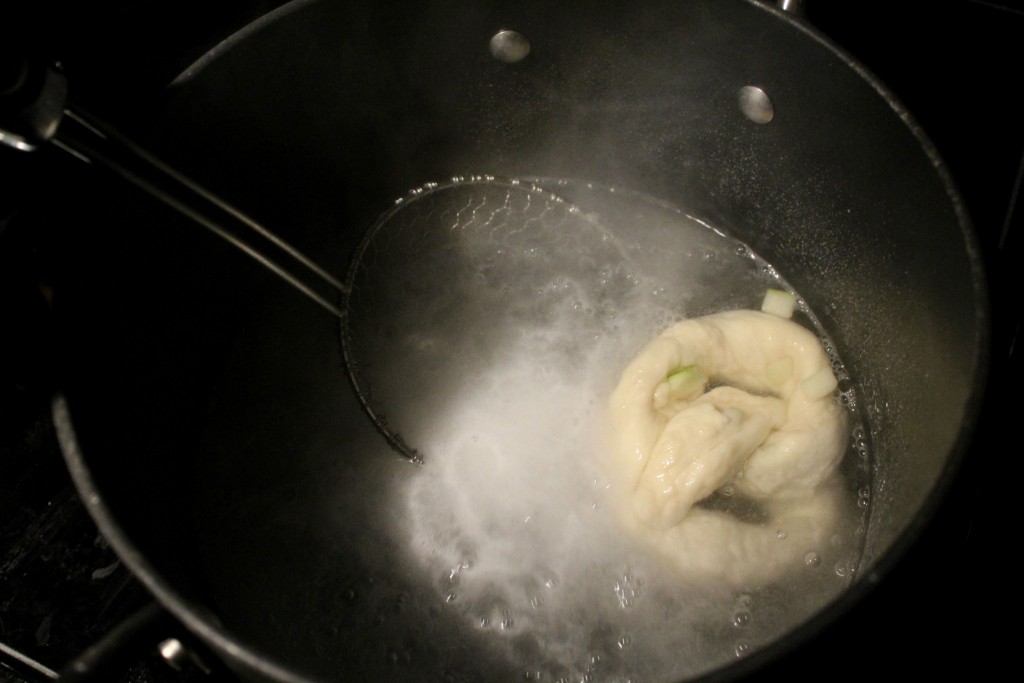 When the tray is filled, pop it into the oven for about 12-15 minutes or until the top turns golden brown.
While the pretzels are baking away in the oven, you can start to work on the pecan topping. In a medium sized saucepan on medium-high heat, pour in the beer and butter.
When the butter melts, continue to let the beer-butter liquid simmer for about 10 minutes. Then, add the sugar and stir until dissolved. Finally, pour in the pecans and simmer for another minute before removing the pan from the heat. Allow the liquid to cool completely and thicken up before using it. When the cooling is finished, spoon a bit of the buttery pecan goodness on top of each pretzel and enjoy!
Love cooking with beer? Check out our Cooking with Beer section or DrinkandSpoon.com for more boozy recipes.
---