No Comments
Cooking with Beer | Le Freak-ishly Good Beer Salad Dressing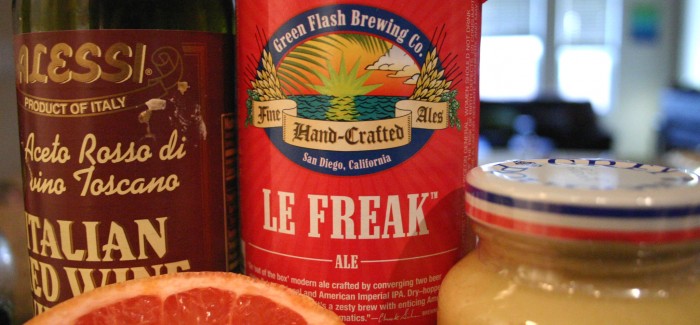 Salad dressing and beer: two things that I love. One thing I hate… is salad. Now you may ask, how could you like salad dressing but you don't like salad? Because I'm smart and because eating leaves is just gross. Like I claim in my bio, I'm just like Leslie Knope and we both 'hate salad and other disgusting things.' Seriously though, who was the first person to look down at the ground and decide that they wanted to nom on some grass? It's not good and I refuse to give in to this veggie loving society. Instead, I will dip my pizza, fries and mozzarella sticks in ranch. I will marinate all my meat in Italian dressing and I will coat every patty melt in 1000 island. That's just how I roll.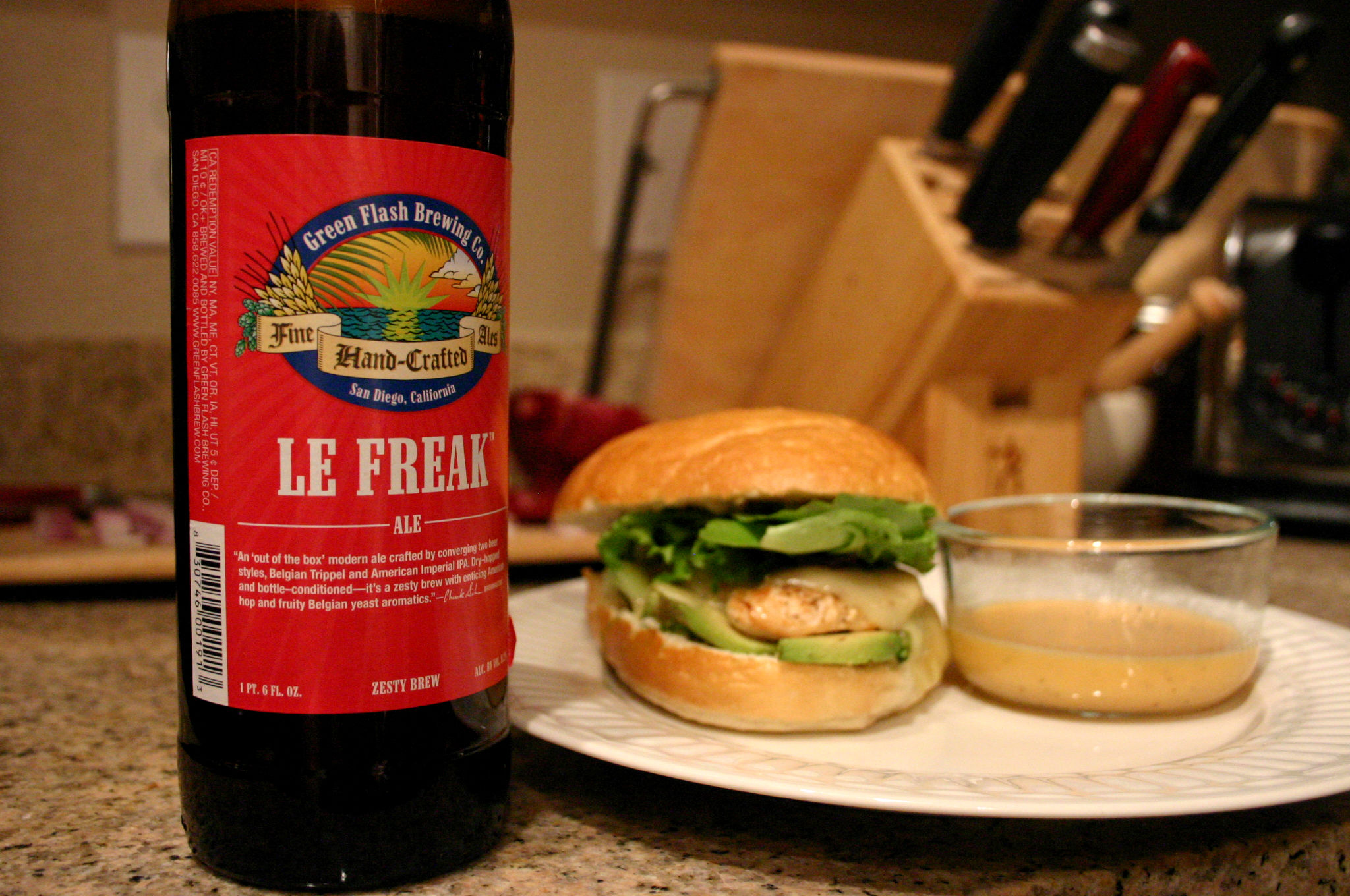 To combine my two loves (salad dressing and beer) I decided to make a salad dressing with beer. For some of you this may be a fascinating concept, and for others this may be old news. What I can promise you is this: you haven't had a beer dressing like this one before. By combining grapefruit and Le Freak by Green Flash Brewing Company, I created a zesty pink sauce that I will now use on as many foods as I can.
When I started coming up with the recipe, I knew I needed/wanted garlic and citrus. As soon as I took a sip of Le Freak, I knew exactly what I had to do. It was like the food gods looked down on me and said, "Chelsea, you will make a grapefruit dressing and it will be unbelievably delicious and somehow you will get it right on your first try." Of course, I didn't believe them. I've only made a salad dressing once in my life. I figured I'd be doing some sort of kitchen experiment all night, trying to make the ingredients work together and look pleasing at the same time. Luckily, Le Freak made it easy. This brew is yeasty but chock full of citrus and spice. It was the ideal brew for what I planned to forge from the depths of my kitchen. The end product was perfect and just what I wanted – garlic and citrus.
My salad-loving freak of a boyfriend used my saucy masterpiece to dress his salad of mixed greens, walnuts, blue cheese, and strawberries. I used it to coat my chicken, avocado, provolone, and mixed greens sandwich. We were both quite pleased with our use of the dressing. Try out the recipe and let me know what you decide to put it on but please, for the love of all things unhealthy and delicious, don't put it on a salad.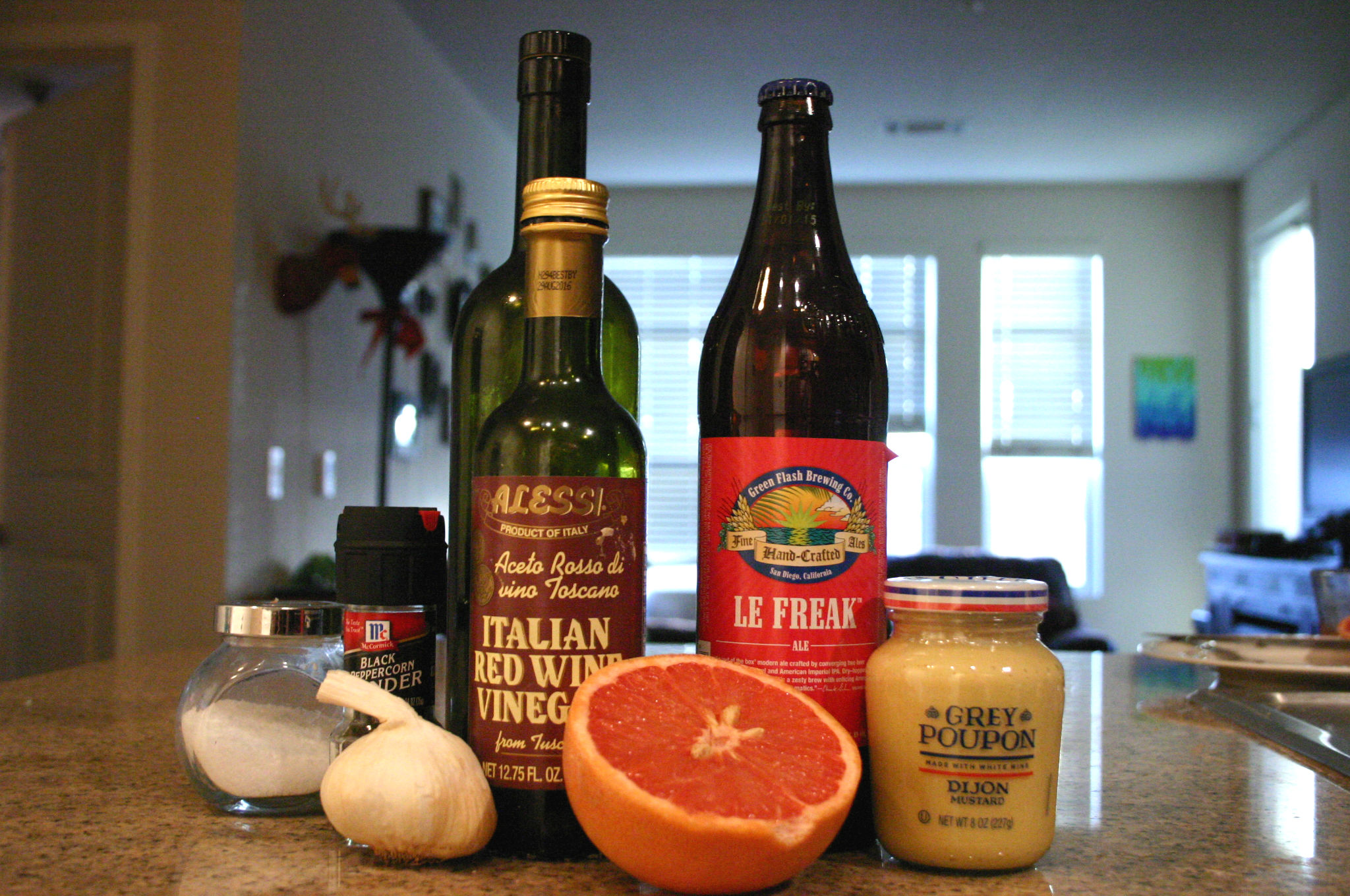 Ingredients:
1/3 cup Le Freak by Green Flash Brewing
½ grapefruit
1 tbsp red wine vinegar
¼ tsp fresh ground black pepper
2 tsp Dijon mustard
1 clove of garlic
1 tsp agave nectar or honey
1 tbsp flour
½ cup olive oil
Directions:
Go grab your blender, things are about to wild. The most annoying part about eating grapefruit is cutting around all the slices. Unfortunately, you will have to do that here as well. Precisely cut and scoop out slices from half a grapefruit. Do it over a bowl to collect any juice and dump that in the blender along with the slices. I even gave my grapefruit a good squeeze to any remaining goodness out. Next, pour in Le Freak, the red wine vinegar, dijon mustard, agave nectar and the clove of garlic – basically everything but the olive oil and flour. Turn the blender on and while it's running, slowly add the olive oil. Do it right because it will keep the dressing from separating into two layers later on. Then, add the tablespoon of flour just to thicken things up a bit. Finally, you're ready to enjoy your creation and there should be plenty of beer left over for you to drink with your meal. Bon appétit!
Want more awesome recipes with beer? Check out my page at DrinkandSpoon.com
---