No Comments
GABF 2015 | Our Favorite Beer Names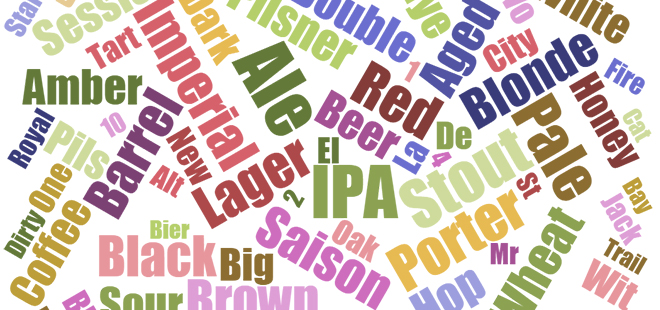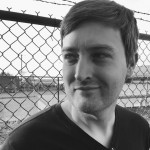 The word cloud above contains the most common words in the names of ~3,800 beers poured at the 2015 Great American Beer Festival. A review of these names with fellow PorchDrinker Brady Akers reminded us that the creativity of craft brewers isn't limited to their recipes. Some stick to safe, identifiable words and phrases that clearly explain what you can expect from their beer. Others look to pop culture references, inside jokes or even their family for inspiration. After great deliberation and many pun-induced groans, we'd like to share our 15 favorite beer names from GABF 2015.
Indiana's Sun King won a bronze in category 5 (Belgian-Style Fruit Beer) with this tart, cherry-laden beer unlikely to leave you SOBER, which true Busey acolytes know means "Son of a Bitch, Everything's Real."
This unusual and refreshing chili Maibock from Denver's Mockery Brewing will keep you guessing until the end of your glass.
This frat-tastically named beer earned its Illinois-based brewer a GABF silver medal in category 45 (Bock).
4. Gravity Brewlab | A Kriek by Any Other Name (Kriek)
Screw roses. Give me a beer aged on sour cherries any day of the week.
This California brewery won a GABF silver medal in category 43 (American-style Dark Lager) for the beer equivelent of a reverse Rachel Dolezal.
We have no idea where this name came from, but it's weird, random and completely awesome.
7. Strangeways Brewing | Wake Me Up Before You Gose (Gose)
WHAM! This Richmond brewery's gose will take the grey skies out of your way and put a boom-boom into your mouth.
This 100% Brettynomyces pale ale ferments all the way down to 1.003FG! That's even cleaner than your fussiest coworker's desk.
If the name doesn't leave your tongue tripping, a taste of this dry-hopped, kettle-soured pale ale fermented with Hog Plum juice will.
10. Solemn Oath Brewery | Full Mallow Jacket (Double Stout)
I love the smell of a double stout aged 20 months in Heaven Hill barrels in the morning… or the night… or whenever. Wait, that's Apocalypse Now. Hmm…this is awkward. Do any of you people know where these individuals learned how to write?… Private Joker.
I'm not sure who would win the mythical battle between ninja and unicorn, but an unfiltered double IPA brewed with 5+ pounds of hops seems like the right thing to drink while spectating such an event.
Beer.create(:name => "Ruby on Rails", :ABV => "2.8%", :description => "delicious", :writerjoke => "epic fail")
According to @drinkandspoon, this 10% ABV barleywine is named after me.
This creatively-named quad from Las Vegas took home a bronze medal at GABF 2015 in category 80 (Belgian-style Strong Speciality Ale) with a roar of laughter.
15. Holy City Brewing | Smells Like Rick (Bourbon-barrel Pilsner)
We'll let the brewery describe this one:
"Timmons writes our beer descriptions.
Timmons' wife is Summer.
Summer's Dad is Rick.
Rick likes bourbon.
Our Bourbon Barrel Pilsner smells like Rick."
-Chris Brown
---