One Comment
2013 GABF Must Try Beer List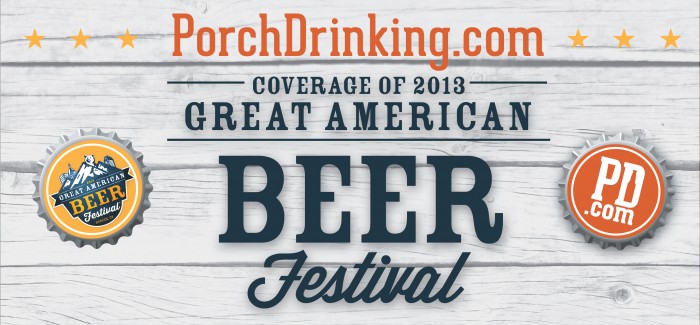 From our extensive pour list, a few of our resident beer geeks have put their heads together to compile a list of "must-try" beers at GABF. These are beers that we have either tried ourselves and give the highest praise or are from breweries that we have come to know and love who's beer intrigues us enough to hype it up! So here we go, make sure you taste your way through some of these beers at GABF, and if you manage to catch one of our staff at the same booth, be sure to throw up a high-five!
AC Golden – Mountain
Peche
American Wild Ale
Alamanac Beer Co – Pacific 
Heirloom Pumpkin Barleywine – Aged in Brandy Barrels 12% ABV
Anderson Valley Brewing Company – Pacific NW
AV Wild Turkey Bourbon barrel aged Barney Flats Oatmeal Stout (AVWTBFOS)
Gatlin Damnosis (our soured, bourbon barrel aged, barley wine)
Avery Brewing Company – Mountain
Ross's's Melange – Barrel aged sour ale
Tweak – Coffee Imperial Stout
Uncle Jacobs Imperial Stout
Thensaurum – Barrel aged sour ale
Ballast Point – Pacific
Sculpin IPA
Bell's Brewery
Kalamazoo IPA: Brewed (and bottled) at our original brewery in downtown Kalamazoo with local hops grown about 17 miles from the brewery.
Mr. Castries Vilnius: A Jamaican Rum Barrel Aged Baltic Porter
Big Choice Brewing
#42 Poblano Stout – Category 5-A – 5.7% abv
Black Bottle – Mountain
Dramamine – Wood Aged Sour (Porter aged in Merlot barrels)
Blue Mountain – Mid-Atlantic 
Un-spiced Imperial Pumpkin Ale w/Cocoa Nibs aged in American Rye Heaven Hill Bourbon Barrels
Boulevard Brewing Company @ Great Lakes
Tank 7 Farmhouse Ale
Brooklyn Brewery – Mid Atlantic
Black Ops – Barrel aged Imperial Stout
Sorachi Ace – Single Hop (Sorachi Ace) Saison
Cigar City – SE Region
White Oak Jai Alai IPA (American IPA aged on American Oak)
Cucumber Saison (lower alcohol Saison infused with cucumber)
Hunahpu's Imperial Stout (Imperial Stout aged on chocolate, vanilla, chiles, and cinnamon)
Copper Kettle
Mexican Chocolate Stout
Crooked Stave – Mountain
Origins – Wood and Barrel Aged Sour Beer – 6.6%
Crystal Springs – Mountain
Black Saddle, Russian imperial stout
Deschutes Brewery – Pacific NW
The Abyss
Black Butte 25
Destihl – Great Lakes
Sour Paw Paw Ale
Begian-style Lambic
Sour Raspberry Flanders
Sour Strawberry Flanders
Dogfish Head – Southwest
Choc Lobster
61
Elevation Brewing Company – Mountain
Apis IV 2013 Belgian Honey Quad 10.7%
FATE Brewing Company – Mountain
Coffee IPA
FATE Watermelon Kolsch 5.0% ABV, 20 IBU
Funkwerks
Quad
Deceit- Belgian style Golden Ale
Gigantic Brewing – Pacific NW
MASSIVE! – Barleywine – 12% ABV
Golden Road Brewing – Pacific 
Hefe
Goose Island – Mountain 
Sofie Paradisi
Bourbon County Stout
Bourbon County Stout Coffee
Great Divide – Southwest 
2012 Hibernation
Half Acre
Space
Hangar 24 – Pacific
Pugachev's Cobra – Wood & Barrel Aged Strong Stout – 15.8%
Heavy Seas – Mid-Atlantic 
Greater Pumpkin – Pumpkin Beer – 9% ABV
Jack's Abby – Hoponious Union
Jolly Pumpkin Artisan Ales – Great Lakes
iO — Saison brewed with rose hips, rose petals & hibiscus, aged in oak with wild yeast & souring bacteria. 6.8% ABV
Lakewood Brewing
The Temptress – Imperial Milk Stout 9.1% ABV – 56 IBU
La Cumbre – Mountain
Elevated IPA
Project Dank: Operation Return of the Pharoah
Logsdon Farmhouse Ales
Seizoen Bretta
Loveland Aleworks
American Sour Ale W/ Raspberries
Mystic
Saison Renaud
Mountain Sun Pub and Brewery – Mountain
Big Boi Bob Bourbon Barrel-Aged Imperial Chocolate Milk Stout
New Belgium Brewing – Mountain/Southeast 
Coconut Curry Hefe
Transatlantique Kriek
Le Terroir Dry Hopped Sour Ale
NBB's Love Leopold
La Folie Sour Brown
New Glarus – Great Lakes
Serendipity – Category 3/Fruit Beer
New Holland
Dragon's Milk Reserve – Smaug's Breath
Night Trippper Reserve – Aged in New Holland Rum and Whiskey Barrels
Ninkasi Brewing Company
Tricerahops Double IPA
Odell Brewing – Mountain 
Fernet Porter
Oskar Blues – Mountain
Double Impact Dark Beligan Strong Ale
Renegade Brewing – Mountain
Dark Passenger Belgian Dark Strong Ale, 11% ABV, Pro-Am submission
River North Brewing Company – Mountain
B-Side Quandary: Quandary Quadrupel aged in bourbon with cherries – 11% ABV (LIMITED)
Rogue – Pacific NW
Beard Beer!
Russian River – Pacific
Pliney the Elder (Double IPA)
Framboise For A Cure (Blonde Ale aged in Chardonnay Barrels with Brett and Fresh Organic Raspberries)
Propitiation (Barrel Aged/Sour Porter)
Sam Adams- New England/Pacific
American Kriek
Utopias 2012
Shorts Brewing – Great Lakes/Mid Atlantic
Pigpen – Intensely Hopped IPA aged in bourbon barrels with Brettanomyces – 7.7% ABV
Bourbon Woodmaster – Imperial Brown Ale fermented with maple syrup and toasted pecans, and aged in bourbon barrels – 10.0% ABV
Sierra Nevada – Pacific
Narwhal Imperial Stout – Category 81B Imperial Stout – 10.2% abv
Sun King – Great Lakes
Afternoon Delight – Wood & Barrel Aged Strong Beer
Surly
Furious American-Style IPA 6.4% ABV
Cynic French and Belgian Saison 6.66% ABV
Coffee Bender Coffee Beer 5.3% ABV
The Bruery – Pacific
Oude Tart with Cherries
Sour in the Rye with Peaches
Chocolate Rain
Three Floyds – Great Lakes
Arctic Panzer Wolf Double IPA
Zombie Dust American Pale Ale
Upslope Brewery
Imperial IPA
Wynkoop Brewery
25th Anniversary Kriek
Rocky Mountain Oyster Stout
Yak & Yeti Brewpub
Chai Milk Stout
Disclaimer: PD staff is obviously biased towards breweries that we know and are familiar with where we have region staff. If we missed a brewery or beer that you think deserves hype, please comment below and let everyone else know!
Cheers!