No Comments
Chicago's Atlas Brewing is now Burnt City Brewing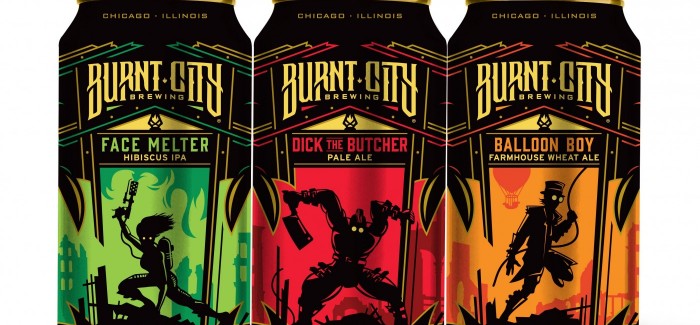 Macrobreweries are buying craft breweries. Breweries are fighting over names and labels. All this "business talk"  may shock, annoy, and upset craft-beer aficionados, but let us not forget, that beer (like any product) is a commodity. No one knows that more than Burnt City Brewing, who up until a few weeks ago, was known as Atlas Brewing Company. Ben and John Saller opened Atlas Brewing in 2012, but they recently lost a legal fight with D.C. Brewer, Atlas Brew Works, who opened at roughly the same time. The court's decision forced John and Ben Saller to drop the Atlas name and come up with a new one. So, much as Chicago arose from its Great Fire of 1871, Burnt City Brewing is determined to rebrand, rebuild, and return to craft-beer glory.
Ben and John Saller certainly didn't enjoy the fight, but unlike most new brewers, the Sallers have a unique opportunity to create a new brewery without having to start from scratch. John explained, "It was certainly a blow when we learned we would have to change the brand we had spent four years developing, but we were determined to survive the transition, and there's been a lot of new energy since we decided to burn everything down and start fresh with Burnt City."
Burnt City Brewing is giving us the opportunity to bring a new attitude to what we were doing before… all of a sudden nothing is sacred, and that's liberating." ~ John Saller
It doesn't take long to notice some of the changes, such as with Burnt City's new, bold post-apocalyptic label artwork (provided by Ian Law and Adam Muran of Mighty Few). Burnt City Brewing has also replaced Atlas' more traditional names with new names and a few new recipes.  Ben noted, "While our farmhouse wheat and pale ale are essentially unchanged, we're doing away with our rye IPA and canning our Face Melter Hibiscus IPA instead." So, look out for cans of Dick the Butcher, Balloon Boy, and the aforementioned Face Melter. Ben added, "We'll also be canning rotating seasonal beers."

One of Burnt City Brewing's unique themes involves the Dinosaur Series, which started with one beer — Pterodactyl Deathscream Imperial Red IPA. Ben explained, "Both the name and the beer itself were a little more over the top than our typical style. The beer was well-received, and I love dinosaurs, so I decided to name more beers after dinosaurs."  Like any good nano or micro brewery, the dinosaur series is found only at the brewpub. But, Burnt City Brewing is no ordinary brewpub. Located at 2747 N Lincoln Ave on Chicago's North Side, Burnt City BrewPub and Bowling is a place where one can not only consume great beer and fun food, but one can also enjoy some hip, upscale bowling. They also recently resurrected the historic Jay's Potato Chip factory on Chicago's Southside, which offers greater space for canning and distribution.
With Chicago's Craft Beer Week (May 19-29) arriving shortly, patrons will have the opportunity to see Burnt City's new beer and renovated taproom — and they can do it in style. For instance, Burnt City is hosting the 4th Annual Steampunk Ball. Burnt City notes, "Channel your inner history buff, get out your dusty sewing machine, and don your best steampunk attire for the classiest party ever to pay homage to a fictional era."  They add, "We can't wait to see you in your very best, totally tricked out, historically inaccurate costumes, toasting to alternative history. Bonus points if you come as Steampunk Lionel Richie." One can only presume that additional bonus points are granted to anyone truly dancing on the ceiling (but please watch the paint, they just remodeled).
Burnt City is also collaborating with Brickstone Brewing during Chicago Craft Beer Week. Also, "We're partnering with Penrose Brewing. We'll have a bunch of their beers on tap, and we're collaborating on a sour pear Saison with them," said John.  It just goes to show, even in the midst of a few legal fights, craft brewing still exudes community and collaboration. As Ben mentioned, "My impression is that learning of legal entanglements that breweries are involved in doesn't really lessen people's enjoyment of good beer."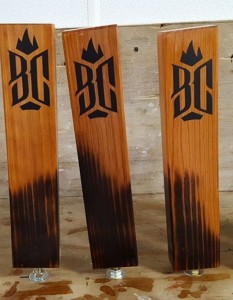 In truth, most brewers are just fun-loving beer nerds. Then again, they might just be nerds in general. When I asked John about any changes to the Dinosaur Series, he exclaimed, "We might add a Helicoprion beer, or possibly an Azendohsaurus beer. Now you might be saying 'Hey, wait a minute, Azendohsaurus is a an non-archosauriformes archosauromorpha, and Helicoprion is totally a holocephalans, more related to a modern-day shark than to a dinosaur,' and to that we'd have to say 'screw you.'"  It may be a business, but no one said it had to be a serious business. 
If you have a good sense of humor, or are in touch with your inner-geek, or like bowling, or love great beer and good community, it's pretty certain you'll love At—uh… Burnt City Brewing. The name may change, but the brewers are still the same. They just happen to have been granted a second chance to start a brewery, and it's allowing them to be wildly innovative. And, when brewers get innovative, everyone's a winner.
---
Location
Burnt City Brewing (formerly Atlas Brewing Company)
2747 N. Lincoln Ave Chicago, IL 60614
Hours of operation
Monday-Thursday: 5:00pm-11:00pm
Friday: 5:00pm-2:00am
Saturday: 12:00pm-2:00am
Sunday: 12:00pm-11:00pm
---