No Comments
2016 Chicago Beer Classic's Pour List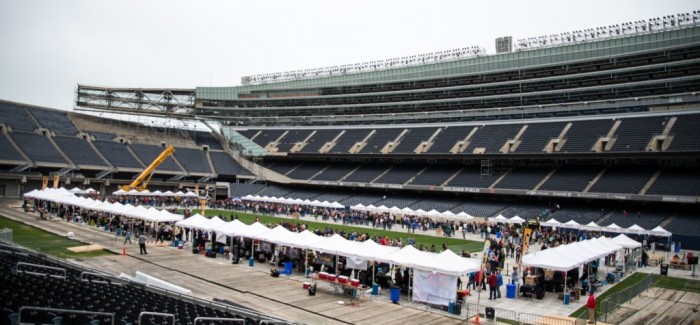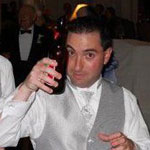 Chicago's largest beer festival always brings out a great variety of breweries and their beers. Once called the American Beer Classic, the Chicago Beer Classic, put on by Red Frog Events, features nearly 100 breweries. While many are from the Chicagoland area, breweries in attendance will range from both the West and East coasts and everything inbetween.
For a preview of the actual event check out PorchDrinking's coverage here.
For the event, we've compiled a comprehensive pour list of what each brewery will be pouring, the style of beer, and of course the ABV. Use this list as a guide for what you want to try, and definitely keep track of the ABV of these beers. Remember a beer festival is a marathon not a sprint — the last thing you want is to be cutoff just an hour into the event.
We reached out to every brewery in attendance at least twice, in most cases three times, and not every brewery got back to us. However, an overwhelmingly majority of what will be poured this Saturday is below.
As always, this list is subject to change and the beers poured at the actual festival could be different.

| | | | |
| --- | --- | --- | --- |
| Brewery: | Beer: | Style: | ABV: |
| Alarmist Brewing | Entrenched IPA | IPA | 6.50% |
| | Phobophobia Patersbier | Patersbier | 4.80% |
| Aleman Brewing | LadiesMan | Wheat | 5.50% |
| | SoulMan | Brown Ale | 7.50% |
| Ale Syndicate | Baptiste Blood Orange Saison | Saison | 8.00% |
| | Paulina Chicago Wit | Witbier | 5.50% |
| | Sunday Session | Session IPA | 4.80% |
| Allagash Brewing | White | Witbier | 5.10% |
| | Curieux | Tripel | 11.00% |
| Alter Brewing | King Balaton | Wheat | 5.50% |
| | ALTERior Motive | IPA | 6.50% |
| | Mandarina Pale Ale | Pale Ale | 5.20% |
| Anderson Valley Brewing Co. | Holy Gose | Gose | 4.20% |
| | Barney Flats | Oatmeal Stout | 5.80% |
| | Hobneelch'n Hoppy Wheat | Wheat | 5.00% |
| | Summer Solstice (VIP Only) | Spice Beer | 5.00% |
| | Barkley's Belgian Ale (VIP Only) | Belgian Strong Ale | 9.00% |
| Arcade Brewing | Ars Memoria Red IPA | Red IPA | N/A |
| | Primordial Pair Pale Ale | Pale Ale | 5.40% |
| Around the Bend Beer Co | Dark Energy | English Mild | 3.60% |
| | Puffing Billy | Brown Ale | 6.90% |
| Aquanaut Brewing | Maiden Voyage | Rye IPA | 6.00% |
| | Madhouse | Mile Ale | 5.00% |
| | Stella by Starlight | IPA | 7.20% |
| Banging Gavel Brews | Redhanded | Irish Red | 7.10% |
| | Legit – Randalled with Hibiscus | IPA | 5.60% |
| | Chicanery | Russian Imperial Stout | 10.10% |
| Bantam Cider Company | Wunderkind | Cider | 6.00% |
| | Rojo | Cider | 5.20% |
| | The Americain | Cider | 5.40% |
| Bell's Brewery | Oberon | Wheat | 5.80% |
| | Oatsmobile | Session Pale Ale | 4.30% |
| Berghoff Brewing | Rowdy Root Beer | Root Beer | 6.60% |
| | Oak-Aged Stock Ale | Old Ale | 10.00% |
| Blackbelt Brewery | German Style Altbier | Altbier | 5.50% |
| | Honey Rye Ale | Rye Ale | 4.70% |
| | Honey Dunkelweizen | Dunkelweizen | 5.20% |
| Boulevard Brewing Co. | The Calling | IPA | 8.50% |
| | Ginger Lemon Radler | Radler | 4.10% |
| | Rye-on-Rye-on-Rye | Rye IPA | 14.50% |
| | Tank 7 Farmhouse Ale | Saison | 8.50% |
| Brickstone Brewery | HopSkip | Double Pale Ale | 7.75% |
| | Forbidden Wheat Blood Orange Wit | Witbier | 5.40% |
| Brooklyn Brewery | Defender IPA | IPA | 6.70% |
| | Summer Ale | Pale Ale | 5.00% |
| | Sorachi Ale | Saison | 7.20% |
| Bucket List Brewing | Bucket List Brown | Brown Ale | 7.50% |
| | 2016 Saison | Saison | 6.50% |
| BuckleDown Brewing | Belt & Suspenders | IPA | 7.00% |
| | Shady Aftermath | Porter | 6.30% |
| Cahoots Brewing | BA Amen | Barleywine | 11.10% |
| | BA Warm Fuzzies | Winter Ale | 11.10% |
| | BA Dary & Stormy | Ginger Beer | 8.50% |
| Carson's Brewery | Brown Cow | Brown Ale | 5.00% |
| | Harlot | Blonde Ale | 4.00% |
| | Eville | Wheat IPA | 6.00% |
| Coronado Brewing | Stingray IPA | Imperial IPA | 7.90% |
| | Orange Avenue Wit | Witbier | 5.20% |
| Dark Horse Brewing Co. | Crooked Tree IPA | IPA | 6.50% |
| | Plead the Fifth Imperial Stout | Imperial Stout | 11.00% |
| DESTIHL Brewery | Wild Sour Series: Here GOSE Nothin' | Gose | 5.20% |
| | Weissenheimer Hefeweizen | Hefeweizen | 5.20% |
| | Amra (Mango) IPA | IPA | 7.00% |
| Deschutes Brewery | Black Butte Porter | Porter | 5.20% |
| | Armory XPA | Experimental Pale Ale | 5.20% |
| | Fresh Squeezed IPA | American IPA | 6.40% |
| Empirical Brewery | 1st Law Belgian Table Beer | Patersbier | 4.80% |
| | 3rd Law | Belgian Tripel | 8.40% |
| | Heliotropic Hoppy Pale Ale | Pale Ale | 5.50% |
| Exit Strategy Brewing | Persephone | Fruit Beer | 5.20% |
| | Judgmental Dick | Imperial IPA | 8.20% |
| | Valleaudated | Milk Stout | 5.00% |
| Ferro Farms Hard Cider | Ferro Farms Hard Cider | Cider | 6.00% |
| Finch's Beer Co. | Secret Stache Stout | Stout | 5.30% |
| | Sungasm | Pale Ale | 4.50% |
| Fireman's Brew | Fireman Red | Amber Ale | 5.50% |
| | Fireman Brunette | Doublebock | 8.00% |
| | Fireman Blonde | Pilsner | 5.00% |
| Flossmoor Brewery | Zephyr Golden Lager | Lager | 4.70% |
| | Last Pipe APA | APA | 6.60% |
| | Pullman Brown Ale | Brown Ale | 6.80% |
| Forbidden Root | Forbidden Root | Root Beer | 5.50% |
| | Sublime Ginger | Spiced Beer | 3.30% |
| Generations Brewing | Hella Good | Lager/Kolsch | 4.20% |
| | No Promises | Pale Ale | 6.30% |
| | Cherry Czar | Imperial Stout | 10.40% |
| Goose Island | Sofie | Saison | 6.50% |
| | 4 Star Pils | Pilsner | 5.10% |
| | Summertime | Kolsch | 5.10% |
| Granite City Brewing | 1999 | Pilsner | 6.25% |
| | Batch 1000 | Double IPA | 8.50% |
| | Praire Vixen | Hefeweizen | 5.00% |
| Great Lakes Brewing Co | Chillwave Double IPA | Double IPA | 9.40% |
| | Turntable Pils | Pilsner | 5.30% |
| | Alberta Clipper | Imperial Porter | 7.80% |
| Greenbush Brewing | Star Chicken Shotgun | IPA | 6.80% |
| | Mr. Hyde Coffee Cream Stout | Stout | 7.80% |
| | Sunspot | Hefeweizen | 6.00% |
| Half Acre Beer Co. | Daisy Cutter | Pale Ale | 5.20% |
| | Pony Pilsner | Pilsner | 5.80% |
| Hinterland Brewery | Door County Cherry Wheat | Wheat Beer | 5.40% |
| | Saison Farmhouse Ale | Saison | 6.30% |
| Lagunitas Brewing | IPA | IPA | 6.20% |
| | Pils | Pilsner | 6.00% |
| | Aunt Sally | Sour | 5.70% |
| | High-Westified | Stout | 12.90% |
| | Waldo | Imperial IPA | 11.50% |
| Lake Effect Brewing | Bitchin Blonde | Blonde Ale | 7.50% |
| | Espresso Stout | Stout | 6.00% |
| | IPA | IPA | 7.00% |
| Magic Hat Brewing | Magic Hat #9 | Pale Ale | 5.10% |
| | Magic Hat Low Key | Session IPA | 4.50% |
| | Censored | Red Ale | 6.75% |
| Maplewood Brewery | Charlatan | Pale Ale | 5.90% |
| | Creepy Ginger | Belgian Golden | 7.80% |
| Marz Brewing | Ruby's Tears | Gose | 5.10% |
| | Jungle Boogie | Pale Wheat Ale | 5.40% |
| | Surprise! | N/A | N/A |
| McKenzie's Hard Cider | Original | Cider | 5.00% |
| | Black Cherry | Cider | 5.00% |
| Moody Tongue | Steeped Emperor's Lemon Saison | Saison | 6.30% |
| | Sliced Nectarine IPA | IPA | 5.90% |
| | Applewood Gold | Lager | 5.00% |
| New Belgium Brewing | Fat Tire | Amber Ale | 5.20% |
| | Citradelic Tangerine IPA | IPA | 6.00% |
| | Heavy Melon Watermelon Lime Ale | Fruit Beer | 5.00% |
| Noon Whistle | Cozmo | Pale Ale | 5.00% |
| | Citrazon | Saison | 5.00% |
| Ommegang Brewery | Glimmerglass | Saison | 5.40% |
| | Rosetta Kreik | Fruit Beer | 5.60% |
| One Trick Pony | Prometia | Tripel | 8.80% |
| | Warlander | Imperial IPA | 10.00% |
| | Pharmhouse | Saison | 6.50% |
| Perennial Artisan Ales | Hommel Bier | Belgian Pale Ale | 5.90% |
| | Saison de Lis | Saison | 5.00% |
| Pollyanna Brewing | Eleanor | Porter | 6.80% |
| | Lexical Gap | IPA | 7.30% |
| | Summerly Rasperry Wheat | Fruit Beer | 4.80% |
| Revloution Brewing | Fist City | Pale Ale | 5.50% |
| | Rev Pils | Pilsner | 5.50% |
| Right Bee Cider | Right Bee Cider | Cider | 5.70% |
| Saugatuck Brewery | Blueberry Maple Stout | Stout | 6.00% |
| | Starburst Wheat | Witbier | 5.10% |
| Schlafly Beer | Grapefruit IPA | IPA | 5.00% |
| | Kolsch | Kolsch | 4.80% |
| | Farmhouse IPA | IPA | 7.20% |
| Seattle Cider Company | Basil Mint | Cider | 6.50% |
| | Semi-Sweet | Cider | 6.50% |
| Ska Brewing | Mexican Logger | Lager | 4.20% |
| | Modus Mandarina | IPA | 6.80% |
| Small Town Brewery | Not Your Father's Root Beer | Root Beer | 10.70% |
| | Vanilla Cream | Cream Ale | 5.90% |
| | Hazelnut | Cream Ale | 7.00% |
| | HazMat | N/A | N/A |
| | French Toast | Specialty | 10.00% |
| | Strawberry Rhubarb | Fruit Beer | 7.00% |
| Smylie Brothers Brewing | Irish'ish Red – Nitro | Red Ale | 4.57% |
| | IPA | IPA | 7.00% |
| | Purple Line | Fruit Beer | 4.80% |
| Steadfast Beer Co. | Oatmeal Cream Stout | Stout | 6.00% |
| | Pale Ale | Pale Ale | 6.80% |
| Stone Brewing Co. | Double Bastard Ale | Strong Ale | 11.00% |
| | Stone Delicious IPA | IPA | 7.70% |
| Sweetwater Brewing Co. | 420 | Pale Ale | 5.70% |
| | Goin' Coastal | IPA | 6.10% |
| Tallgrass Brewing Company | Bourbon Barrel Aged Buffalo Sweat | Stout | 5.80% |
| | Top Rope | IPA | 6.00% |
| Ten Ninety Brewing | Half Wit | Witbier | 5.70% |
| | Apricot | Pale Wheat Ale | 5.90% |
| Three Sheeps Brewing | Rebel Kent the First | Red Ale | 5.00% |
| | Really Cool Waterslides | IPA | 6.20% |
| Tocayo Brewing Co | Hominy White Ale | Witbier | 5.50% |
| | Tocayos | N/A | N/A |
| Uinta Brewing | Hop Nosh Tangerine IPA | IPA | 7.30% |
| | Uinta Pale Ale | Pale Ale | 4.00% |
| | Baba Black Lager | Lager | 4.00% |
| Upland Brewing Co. | Campside IPA | Session IPA | 4.50% |
| | Champagne Velvet | Pilsner | 5.50% |
| Urban Chestnut Brewing | Zwickel | Kellerbier | 5.20% |
| | Schnicklefritz | Hefeweizen | 4.80% |
| | Fantasyland | IPA | 6.50% |
| Vice District Brewing | Pleasure Trip | Blonde Ale | 5.60% |
| | Dunkleweizen | Dunkleweizen | N/A |
| | Double IPA | Double IPA | N/A |

MIKE ZOLLER IS THE CHICAGO EDITOR FOR PORCHDRINKING.COM. FOLLOW HIM ON INSTAGRAM: @CHICAGOBEER AND PORCHDRINKING CHICAGO'S TWITTER FEED: @PORCHDRINKCHI
---