No Comments
Celebrate International Women's Day with Spirit of Revolt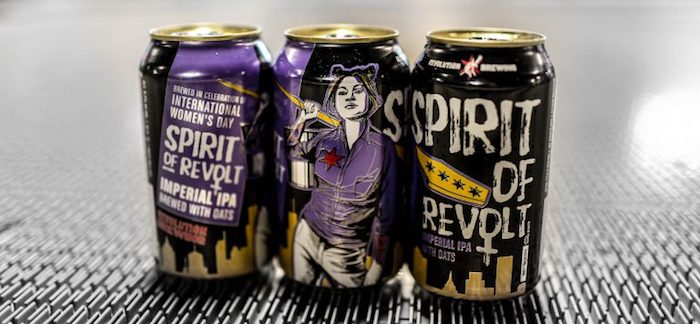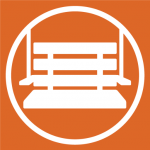 With Women's History Month upon us and International Women's Day right around the corner, let's start by making a toast to all of the incredible women in craft beer. Brewers, brewery owners, marketing managers, sales reps, brand ambassadors, bartenders, writers and teachers: Cheers to ALL of you!
You're likely wondering the best way to celebrate; even if you weren't, don't worry—I've got you.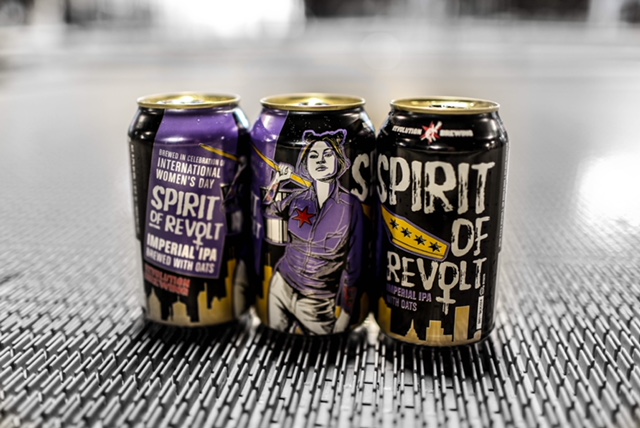 Enter Spirit of Revolt, an IPA brewed by the women of Revolution Brewing in Chicago, which was released back in January. You may have heard of it before: This beer was new to Revolution's lineup last year and has returned this year both on draft (while it lasts) in Revolution's taproom and brewpub. Spirit of Revolt is also now available in 6-pack cans!
As you might expect, such an incredible beer has some amazing people behind the scenes involved in creating it.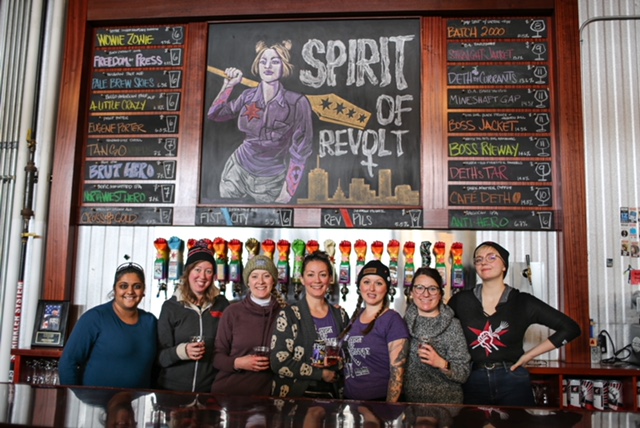 Alyssa Segura, a current bartender at Revolution, suggested the name of the beer and helped to determine a cause Spirit of Revolt would support. One of the best parts about Spirit of Revolt is that by drinking it not only are you celebrating women, but you're also supporting other women! Last year, Revolution raised $20,000 for Connections for Abused Women and their Children (CAWC) and hope to exceed the generous donation this year.
"My secret Santa Christmas present from two years ago was the book 'The Secret History of Wonder Woman.' In that book was the Margaret Sanger quote that led me to suggest Spirit of Revolt as a beer name to honor the women who struggled for equality," Segura said. "Once I suggested the name, it went a step further and it was suggested that we choose a cause and release it around International Women's Day. And it wasn't just the women involved in this effort, it was the men and the company as a whole, but it all started with that quote. Really wonderful people at Revolution listened to us, took a risk, and gave such huge positive feedback."
Segura said that they sat down and said they wanted to make the beer that they wanted to drink: Big, bold, hoppy and fresh, but just a straight up IPA.
"Women are a huge beer-drinking demographic and a lot of us still feel like we're underserved," she said. "To see a roomful of women here enjoying beer and supporting each other is one of the greatest feelings."
Spirit of Revolt is so much more than just another beer on Revolution's chalkboard menu. What the beer represents — from the women behind the scenes to the women it supports — is a huge stride in the right direction for women, particularly for the women in the beer industry.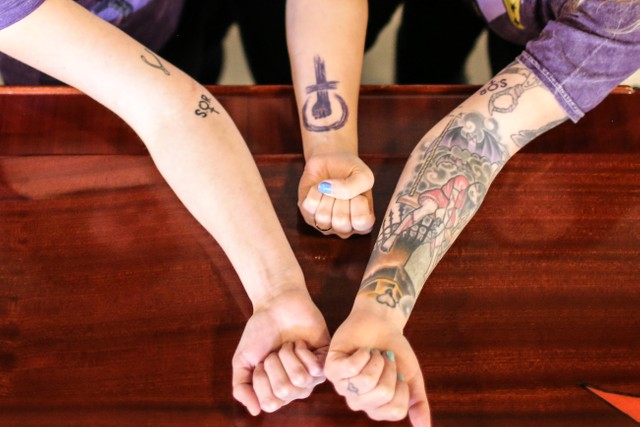 While women are still the minority in the beer industry, Roma Patel, Revolution's HR Generalist, highlighted the company's diverse group of employees.
"Being in HR and leading a lot of our recruiting efforts, it's great to see the diverse group we have here at Revolution," Patel said. "It fights the negative stereotypes of beer culture. We have a lot of folks here, including the Spirit of Revolt women, who have a background that's atypical to working in the beer industry. Their unique skill sets and experience help make Rev what it is. To see them come together and help create the beer — working the brew deck, dry hopping, packaging — it's exciting to see the opportunities available to our employees and how they embrace the culture of Revolution and the Spirit of Revolt. It's great to embrace an inclusive culture."
So if you're wondering how to celebrate International Women's Day this year, consider swinging by Revolution's Taproom on March 8 to drink Spirit of Revolt on draft. Revolution has a large event on this day as a culmination of their efforts for CAWC and International Women's Day. If you've already secured other plans, you can still pick up a 6-pack of Spirit of Revolt to go!
Cheers!
---