No Comments
Brewery Showcase | Pig Minds Brewing Company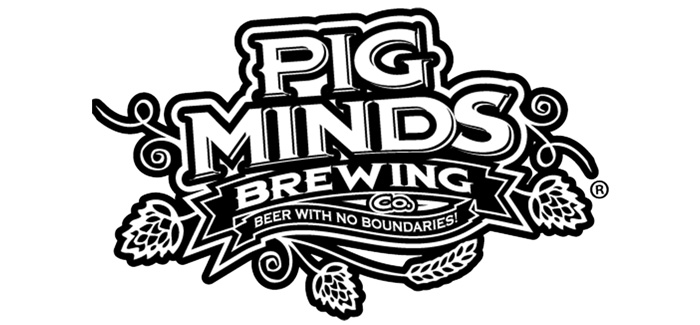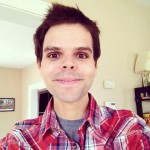 It's all about the liquid.
That may seem like an oversimplification, but as the American craft beer landscape becomes ever more infused with concerns of Big Beer – mergers, acquisitions, brandings, rebrandings, and that elusive 'bottom line' – it's important to remember why we love beer in the first place. Luckily, Pig Minds Brewing Company, a small brewpub just 90 miles outside the Midwest beer mecca that is Chicago, is here to remind us.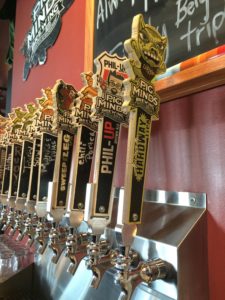 "We got into this because we love beer," says Brewmaster Carson Souza, who has been the head brewer at Pig Minds since they opened their doors in 2012 – in fact the brewery celebrated its fourth anniversary earlier this month, and my wife and I first visited Pig Minds only a few short days after they opened four years ago.
(My wife and I had just moved to Machesney Park, a bedroom community of Rockford and the brewery's homebase, after I finished graduate school. We were unemployed and living with my parents while sorting out our new life together. We were newlyweds. We needed a quality watering hole, even on the best of days, and Pig Minds was there to nurture our love of beer).  
"We strive for balance," Souza explains. "We really push for refinement and balance from the start of the palate to the finish. We try to be creative, but at the same time I don't want to reinvent the wheel."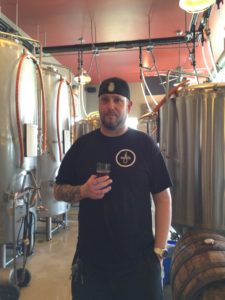 It's a Friday afternoon in early April and already Pig Minds' taproom is bustling. Carson, a towering, sturdy, tattooed man with incongruously kind face and eyes, has poured me a glass of a one-off: an IPA brewed with oats. As with many of Souza's beers, it's a turbid, hazy orange with a tropical fruit aroma, creamy mouthfeel, and smooth, clean finish. Even after the swallow, I can still taste it – it lingers, develops, like a catchy pop song nestling into your subconscious.
Which is exactly what Souza and his small band of assistant brewers shoot for with each and every new offering – an experience that resonates. Souza, who cut his teeth beginning in 2005 brewing under and with a number of prominent area breweries like Emmett's Brewing Company in West Dundee, Illinois and Carlyle Brewing Company, located in the heart of downtown Rockford, has spent a majority of his life in the food and beverage industry. He grew up on the East Coast working in restaurants, drinking Yuengling, and moved to the Midwest after college to pursue his love of beer, which in part started from his experiences homebrewing while attending school.
A musician and an avid home cook, Souza's philosophy on brewing is not far removed from his approach to cooking in that great dishes or music only come with passion, care, and consideration – even if the inspiration is at times born out of something more chaotic or contradictory.
"This is beer. It's not rocket science. There is something to whole less is more idea," Souza says. "But it is also art. You have to have chops. Once you do, you can improv, you can riff. That's a big part of my process."
In crafting a recipe, Souza says he very rarely has a firm idea in mind when he walks in the door on brew day. Most of the beers are built based on a sense of exploration or improvisation, which may account for the wide variety of beers on-tap at any given time. Pig Minds is not nailed down by one particular aesthetic or stylistic leaning, and features a healthy mix of ales, lagers, barrel-aged, fruit, and sour beers.
Well, there is actually one stylistic driving force that differentiates Pig Minds from other breweries across the region: the pub menu is 100 percent vegan.
No meat? No cheese? No animal by-products of any kind? No problem. The brewery's owners, Brian Endl and his wife Kelly, have been vegans for nearly two decades, but a menu lacking traditional takes on brewpub staples – though vegan approximations, and damn good ones at that, are there for the taking – hasn't dampened the experience for customers or Souza, who believes the marriage between food and beers at Pig Minds has been the key to its success.
"So I can't make a bacon beer," Souza jokes. "Oh well. But besides, beer is basically vegan anyway. And I really believe we make world-class beer here."
And thus far, hard on the heels of its anniversary party, the drinking public agrees.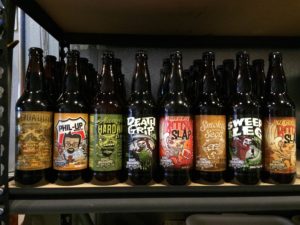 Demand has pushed Pig Minds to begin a $1.2 million dollar expansion from its current location in an industrial park behind several mega marts to include a larger production facility, canning line, and additional brewpub space. While limited 22 ounce bombers of Pig Minds beers are available sporadically throughout Northern Illinois, this expansion will allow for 16 ounce 4-packs and 12 ounce 6-packs of Pig Minds beer to hit the shelves as early as next spring.
The expansion, which will increase production from about 1,800 barrels last year to a projected 5,400 barrels in 2017, is aimed at expanding Pig Minds distribution footprint throughout Illinois and into crowded Chicago market.
Yet even with what appears to be smooth sailing, Souza admits there are struggles both on a day-to-day and more broad basis. Bringing new beers to market, building his brand, and carving out a place for Pig Minds beer to exist on the shelf has been difficult, particularly given regional competition and the size at which Pig Minds currently operates. Call it the usual growing pains of opening a brewery, nursing it through its early stages, and then trying to grow it into a bigger regional player, but one gets the sense that for Souza and company the pressure to keep the ship righted can at times be disheartening.
"We do pretty well here because we've established ourselves as a destination spot, but marketing our beers off-premise has been tough."
But talking with Souza and watching his well-trained staff explain beers to new customers and joke with regulars at the bar about the fortunes of local sports teams, you get the feeling that at the end of the day Pig Minds is all about the work of brewing quality beer that people can share and be excited about. That it's less about finding the right marketing angle or pushing some kind of concocted business agenda.
And you can feel Souza, who credits his work ethic to growing up in the food and beverage industry and his curiosity for exploration from his musical inclinations, is most concerned with giving people a quality product they can appreciate and enjoy.
"Everything we do here we do in a very meticulous way," he says. "Every piece of copper, every flow of liquid. You know, it's my sleeve in a glass. It's all about that glass. It's the liquid first."
Pig Minds Draft List (as of May 24)
Always the Hard Way (Double IPA) 8.2% ABV
Rudy's Rasp (Raspberry Wheat Ale) 5.5% ABV
Double Bitch Slap (Double Irish Red) 10.2% ABV
Southy Bitch Slap (Irish Red) 5.5% ABV
HappiDaze (Blueberry Golden Ale) 6.0% ABV
Blue Collar (Golden Wheat Ale) 5.4% ABV
Sweep the Leg (West Coast IPA) 7.5% ABV
Respect Our Loyalty (10 Hop IPA) 5.5% ABV
Trinity (Belgian-style Tripel) 8.0% ABV
Monchhichi (Mexican-style Lager) 5.1% ABV
Pig Minds Brewing Company
4080 Steele Drive
Machesney Park, IL
(779) 423-2147
Hours
Monday-Thursday: 3 to 11 p.m.
Friday-Saturday: Nnoon to 1 p.m.
Sunday: Noon to 8 p.m.
---