No Comments
Confluence Tap at Los Tacos raises over $200 for A Precious Child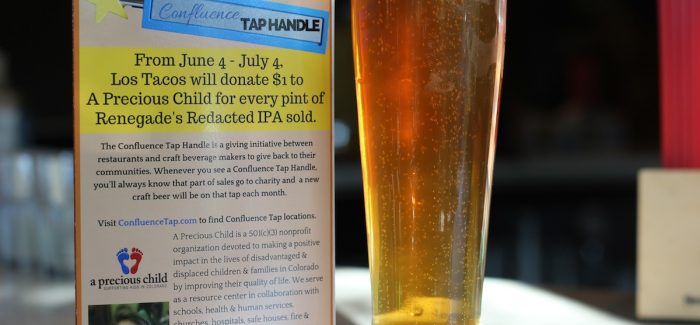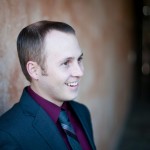 During June 2016, Los Tacos promised to donate $1 to A Precious Child for every pint of Renegade Brewing Company's Redacted Rye IPA that was poured from the Confluence Tap Handle. Over 200 pints were sold resulting in a donation of over $200.
"Being part of the outstanding Denver community is a privilege," said Los Tacos owner Micah Armijo. This was the second month Los Tacos hosted the Confluence Tap. Previously, Los Tacos donated proceeds from sales in April to Mount Saint Vincent in partnership with Former Future Brewing Company.
The donation from Los Tacos supports children's charity. A Precious Child. A Precious Child is a 501(c)(3) nonprofit organization devoted to making a positive impact in the lives of disadvantaged and displaced children and families in Colorado by improving their quality of life.
In addition to their Redacted Rye IPA being on the Confluence Tap, Renegade matched each gallon of beer sold by donating a gallon of clean drinking water. This generosity is part of Renegade's new Tap 4 Tap program.
The Confluence Tap Handle program is a collaboration managed by Confluence, a corporate social responsibility firm. "We are thrilled with the Confluence Tap Handle success at Los Tacos and the amount of money raised for the youth who benefit from A Precious Child's services," said Confluence founder Brian Phipps.  The Confluence Tap Handle program enables an identifiable brand for craft beer lovers who want to support their community. In addition, the Confluence Tap creates a program for breweries and restaurants to easily get involved with.
Get Involved
To donate to or volunteer with A Precious Child, please go to www.apreciouschild.org.
Los Tacos resides at Colfax and Pearl. For more information about their food and events go to www.LosTacosFamily.com.
Renegade Brewing is located at 1290 S Broadway, Denver, CO 80210. Learn more about their beers and events at www.renegadebrewing.com.
To learn more about the Confluence Tap Handle and how to get involved, please visit www.ConfluenceTap.com.
---