No Comments
Hops for Homes | A Craft Beer Festival Benefiting Habitat for Humanity

More than twenty Denver-area craft breweries are joining together to support the construction of affordable homes in partnership with Habitat for Humanity of Metro Denver this year. The need for affordable housing has never been greater in Denver. In fact, metro Denver has the highest home prices of any U.S. city not located on a coast. Habitat for Humanity is experiencing the effects of the affordable housing crisis first-hand, with more than 2,000 families reaching out for help in 2016 alone.
A Call to Action from the House That Beer Built
Denver's craft brewing industry wants to make a difference in the communities in which they work, and are banding together to invest volunteer and financial support for Habitat for Humanity. In total, twenty one local craft breweries have committed to be a part of the inaugural "House That Beer Built" in Denver. The breweries will fundraiser and help build a Habitat home this summer, which will then be sold to a local, low-income family.
The House that Beer Built collaboration will officially kick-off with Hops for Homes, a craft beer festival and fundraiser, on Saturday, April 22. With two different sessions hosted at Great Divide's Bottling Hall throughout the day, more than 800 tickets will be available with the potential to raise more than $20,000 for Habitat for Humanity. Additionally, each brewery will be hosting individual fundraising events and promotions to raise more funds in support of Habitat for Humanity.
The "House that Beer Built" home will begin construction this summer at Sheridan Square, Habitat's largest-ever development in south Denver. Sheridan Square will include the construction of 63 energy-efficient, affordable homes built over the course of the next four years.
Participating breweries include:
Boggy Draw, Call to Arms, Cerebral Brewing, Crazy Mountain, Dead Hippie, Declaration Brewing, Diebolt Brewing, Dry Dock, Epic Brewing, Fiction Beer, Great Divide, Grist Brewing, Living the Dream, Mockery Brewing, Ratio Beerworks, Renegade Brewing, Resolute Brewing, Seedstock Brewery, Station 26 Brewing, 4 Noses Brewing and 38 State Brewing.
More information is available at www.HabitatBeerBuild.org.
How you can help:
Shoveling grain is an acumen that most home builders, and frankly all beer drinkers, can appreciate. The brewer is the builder of beer, after all. Help build a better life for a low-income family by attending this festival and showing your support for those beer builders, for those local brewers that brew beer!
Join Habitat for Humanity and 20+ of the finest craft breweries for a festival of fun and support the House that Beer Built 2017! All ticket sales will directly benefit the initiative; in return receive unlimited beer tastings and a keepsake taster glass.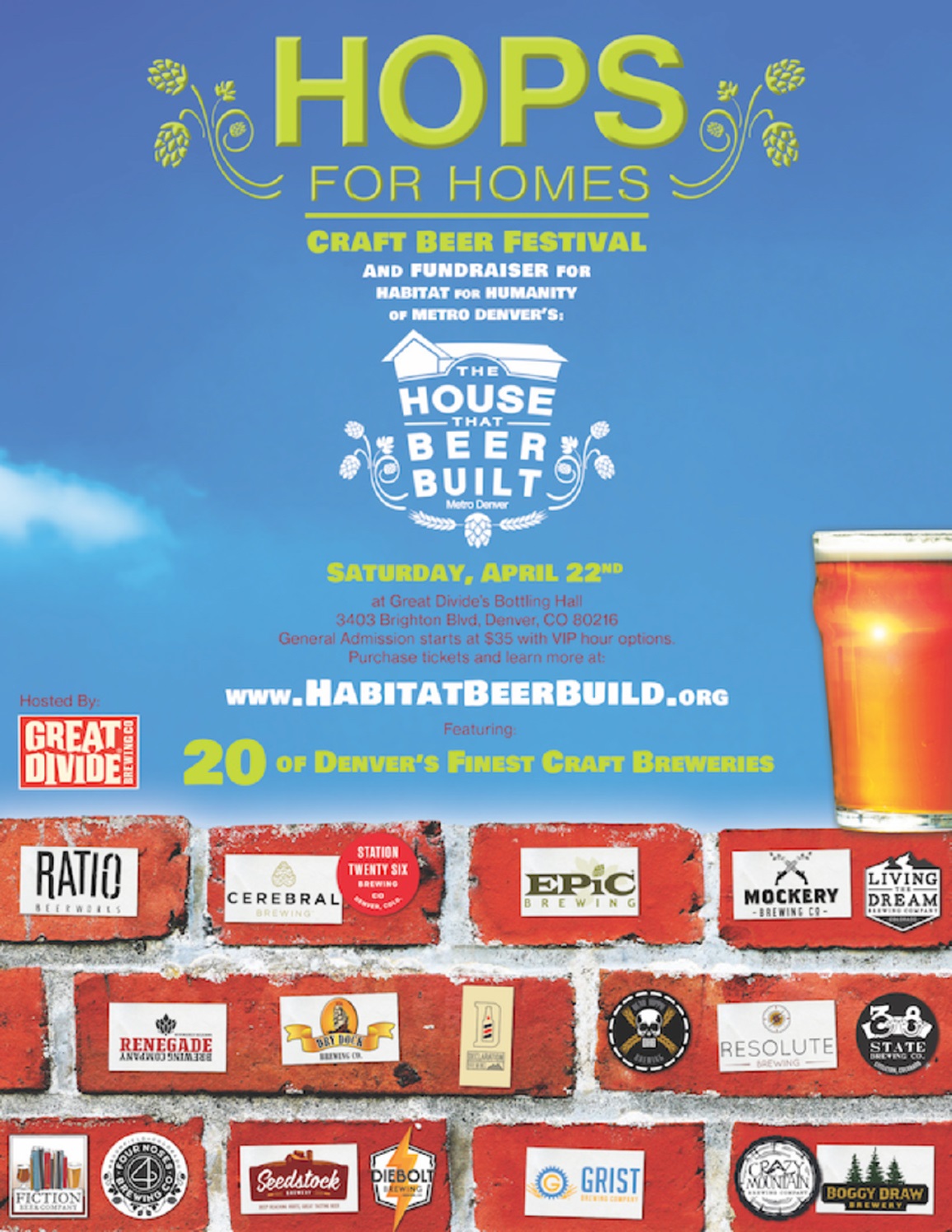 ---