No Comments
Starr Hill Brewery | King of Hop Imperial IPA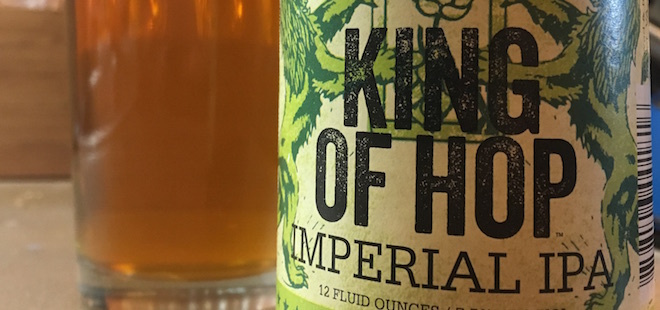 ABV: 7.5% | IBU: 50
I was recently able to get my hands on this year's four variations of Starr Hill Brewery's King of Hop. As a person of relatively simple tastes, my favorite version was the original Imperial IPA. The others all brought something interesting to the table, but this base beer is was made them all so good.
From its 12-ounce bottle, King of Hop pours a clear, deep golden color and a small amount of bright white head settles on top. To my mind, there is nothing better than citrusy hop character, and those aromas become very apparent once you raise the glass to your lips. Hopped with Simcoe, Citra, Amarillo and Falconer's Flight, this beer delivers a citrus punch with subtle notes of tropical fruit peeking through. This IIPA finishes with just enough hop bitterness to leave you ready for another sip.
King of Hop should be paired with bold-flavored foods because it could easily overwhelm more delicate flavors. For dinner, I think it would pair very well with Thai or Indian curries, as they have complex flavor profiles that will stand up to this beer. If you are just looking to have a snack, try pairing King of Hop with a sharp cheddar or Red Leicester cheese. If you enjoy playing around in the kitchen, Starr Hill suggests pairing this beer with their recipe for Hoppy Cheddar Cheese Sauce.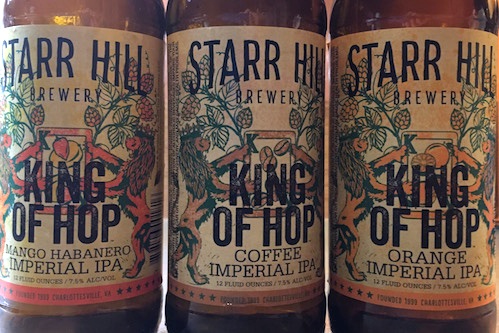 The other King of Hop variations were tasty in their own ways. I found the orange quite tasty because a little extra citrus is always welcome on my palate. Due to a happy accident, the coffee version warmed up a bit before I drank it, which really allowed the coffee flavors to pop in an interesting way. While hot pepper beers aren't typically my thing, I enjoyed the mango habanero version, too. The habanero flavor is subtle and plays nicely off the sweetness of the mango.
Starr Hill's King of Hop Imperial IPA is available in a variety 12-pack, along with the other King of Hop variations. You should be able to find it wherever Starr Hill products are normally sold. Get out there and enjoy some craft beer!
Disclaimer: I received these King of Hop beers as free samples from Starr Hill Brewery. Starr Hill Brewery had no input into or editorial control over the contents of this Beer Showcase. Whether you find them relatable or misguided, all opinions stated here are my own and no one else's.
---