No Comments
Ultimate 6er | The Masters Golf Tournament Edition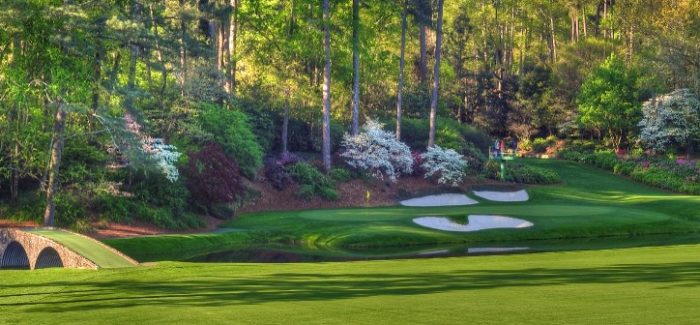 The first golf major of the year is one that's filled with mystique, nostalgia and fierce competition. The Masters, held at Augusta National in Augusta, Georgia, is defined by its majestic blooming azaleas and fast greens that test the nerves of even the most accomplished veteran golfer. It is, as Jim Nantz proclaims, "A tradition unlike any other." For die hard golf fans, few things surpass Sunday at the Masters, capped off by the presentation of the famed green jacket to the tournament winner. As golfers worry about picking the right club, fans must be sure to pick the right beer. So, let us be your beer caddy.
ABV: 3.5% | IBU: 40
The 12th hole, known as the Golden Bell, is a mere 155 yards. It's the shortest hole on the course, but it can quickly turn championship dreams into Augusta nightmares. Players face a narrow green protected by Raes Creek in front and azaleas behind, and they must also contend with swirling winds. What could be better than drinking a beer named Par 3? Expect flavors comprised of mango, lemongrass, and a woody hop profile – the perfect beer for watching the Masters or loading into a cooler and heading to your own local course.
https://www.instagram.com/p/BOvJlwnATQC/?taken-by=elkvalleybrew&hl=en
---
Perzik Saison with Peaches | Avery Brewing
ABV: 6.4%
Peaches and Georgia go hand-in-hand. So, Avery's new peach saison, which appropriately arrives in April, seems like the perfect beer to accompany Masters viewing. A classic yeast-centric saison, Perzik provides bountiful peach flavor along with a few subtle clove and pepper notes. So easy-drinking, this saison is perfect for watching players traverse the Par-4, 3rd hole known as Flowering Peach, which is one of the easiest holes to birdie at Augusta.
https://www.instagram.com/p/BGXgyBvskTe/?tagged=perziksaison&hl=en
---
ABV: 6.8% | IBU: 70
For nearly two decades, Tiger Woods and Phil Mickelson provided golf fans with excitement and fantastic drama. This red ale symbolizes Tiger's iconic Sunday red shirts, and the Left Hand name honors Phil, a.k.a "Lefty." Neither golfer was afraid to invent shots and take chances, so a beer brewed with experimental hops, along with its nice maltiness and dry finish, represents both golfers well. Moreover, as both have now moved well past their prime, it's a good time to raise a toast to both champions during the Masters and state, "Well played, Phil and Tiger, well played."
https://www.instagram.com/p/BSR0jFkAO-C/?taken-by=lefthandbrewing&hl=en
---
ABV: 5.4% | IBU: 20
Watching players journey through Amen Corner requires a visit to Church, and while there, it's best to immerse yourself in Heavenly Helles. The aforementioned 12th hole provides golfers with enough trepidation on its own, but throw in the approach at 11 and the tee shot at 13 and it's enough to make a grown golfer cry. However, If you cry because your favorite golfer failed, be sure to cry into your Heavenly Helles beer. It pours as golden as the hair on Jack "Golden Bear" Nicklaus' head and comforts you with its floral hops, sweet honey flavor, and biscuity malt.
https://www.instagram.com/p/4fdJ5Rtp-e/?tagged=churchstreetbrewery&hl=en
---
ABV: 7.5% | IBU: 90
The Masters most iconic symbol is the Green Jacket awarded to the winner. An unusual trophy to say the least, it's the most coveted article of clothing in golf. A beer named "Green" befits such a unique award, notably since its name stems from the unusual nature of the wort that takes on a green appearance due to all the hops floating around, post-boil. This Tree House American and Aussie hopped IPA oozes with hops bitterness and bountiful citrus flavor, including pineapple and orange notes. A somewhat unusual beer, but one that fans clamour to obtain.
https://www.instagram.com/p/BSR6A1Hh4sw/?tagged=treehousebrewing&hl=en
---
Arnold Palmer: Lemon-Ginger Radler | Boulevard Brewing
Golf lost one of its greats this past fall — the one, the only, Arnold Palmer. The original drink named for him consists of three parts iced tea and one part lemonade. However, there are numerous versions of that drink involving some form of libation. My personal favorite involves Boulevard Brewing Lemon-Ginger Radler & Tea… annnd a splash of bourbon. I mean, if you are going to celebrate a man who led his own personal sports army, you gotta go big. R.I.P. Arnie — thank you for the memories.
Recipe: 
Fill a large glass with ice and fill halfway with your favorite tea.
Add 1 oz of Four Roses Bourbon
Fill the rest of the way with Boulevard Brewing Lemon-Ginger Radler
https://www.instagram.com/p/BSY__OFA4nT/?tagged=arnoldpalmer&hl=en
Masters Photo Credit: more-sky.com
---