No Comments
The Weekly Buzz | March 9 – 15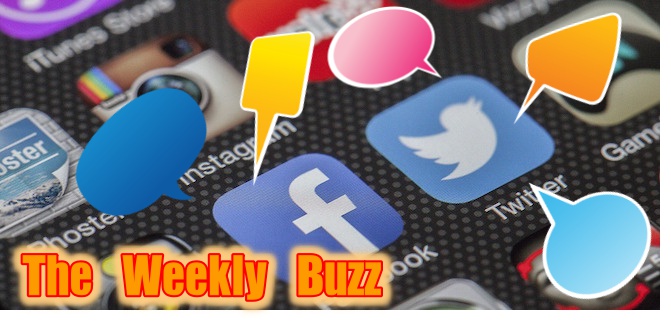 Have you ever potty trained a toddler? I'm on my third, and it's very stressful. There could be a child peeing in their pants or on my living room floor at literally any moment. At least I have beer. Delicious, mind-numbing beer. I drank a bunch and then scrolled through Twitter. Check out what I found in this edition of The Weekly Buzz!

They've shipped a LOT of beer!
https://instagram.com/p/BgH0cOFAzw3/
---
Have you ever tasted Chicha?
https://www.instagram.com/p/BgKIWuLlS-H/
---
Beer for high-achieving minds!
We're honored to be the official beer at the @MindsMatterSF 2018 gala! This organization helps low-income, high-achieving high school students achieve college success. Cheers to a great night! #mmsfgala #dustbowlbrewing pic.twitter.com/ZWqHMB25pB

— Dust Bowl Brewing Co (@dustbowlbrew) March 11, 2018
---
Mark those calendars!
Save the date: We're hosting an #Oberon Pub Crawl downtown #Kalamazoo on #OberonDay, March 26. We'll share more details soon…

— Bell's Brewery (@BellsBrewery) March 11, 2018
---
I mostly just complained about the lost hour of sleep.
Whatchu get into this weekend? The Oskar Blues crew did that #OBoutside thang with bikes and beers – of course. How are you gonna use that extra hour of daylight? Tag yer posts #OBoutside and share your beer soaked outdoor adventures. pic.twitter.com/sBRBItuzzV

— Oskar Blues Brewery (@oskarblues) March 12, 2018
---
What are you St. Paddy's Day plans?
See you this Saturday, yes? #dustbowlbrewing #StPatricksDay2018 pic.twitter.com/s6nFOf5D2O

— Dust Bowl Brewing Co (@dustbowlbrew) March 12, 2018
ready for a little shenanigans over here at the brewery. https://t.co/pWD6mIUCNk pic.twitter.com/SpOwBZqDfG

— SweetWater Brewery (@sweetwaterbrew) March 14, 2018
We have over 40 St. Paddy's Day events planned around the country this year! Whether you will come out and celebrate with us or enjoy #AmericasStout at home, this St. Patrick's Day, drink Milk Stout Nitro. https://t.co/g6LSvO0YHF pic.twitter.com/22ESDiEbDh

— Left Hand Brewing Co (@LeftHandBrewing) March 11, 2018
St. Patrick's Day is this Saturday and if you're trying to figure out what your beer of choice will be, here are 2 options that are conveniently packaged in Crowlers. These Crowlers will be available tomorrow at 11am. #sdbeer pic.twitter.com/KpkjWaxT7K

— Resident Brewing (@ResidentBrewing) March 15, 2018
https://instagram.com/p/BgW2bV0DJo4/
Our senior brewer Teddy is really excited about the green beer he brewed up for St. Patrick's Day! (Did we mention he's color blind?)#craftbeer #stpaddysday #sdbeer pic.twitter.com/iAj1nN4o9v

— Societe Brewing (@SocieteBrewing) March 15, 2018
---
Coming soon to Charlotte, N.C.!
https://instagram.com/p/BgQiWvGh7J6/
---
That's a kick-ass mural!
https://www.instagram.com/p/BgSZ3JmHri8/
---
This event has ALL of my favorite things!
Superhero costumes, donuts, goodie bags, and…beers. Our 6th birthday party has all the shenanigans that kids enjoy, plus the perks of being grown up! Get your cape and mask out of the closet and head to the Taproom on Sunday: https://t.co/LlR4EajfCy #NSBTurns6 pic.twitter.com/CLxWZClEBd

— Night Shift Brewing (@NightShiftBeer) March 14, 2018
---
Maibocks let you know that spring has arrived.
https://instagram.com/p/BgWzohJn7if/
---
Who do you want to win the NCAA tournament?
Sure, our brewery started in San Diego County, but with the fans we have all over the country (and the world) we're not picking favorites during March Madness.

*ahem*

G̲oo̲d luck to all the teams̲ in the d̲ance this̲ time arou̲nd!

— Stone Brewing (@StoneBrewing) March 15, 2018
---
You won't find any sportsballs here!
Watching the NCAA tournament tonight? Not here you're not. #bracketfreezone #chicagobeer pic.twitter.com/UTYqlHra9s

— Off Color Mousetrap (@ocmousetrap) March 15, 2018
---