No Comments
Cerebral Brewing's Work from Home – Coffee Maple Porter, A New Beer Release Model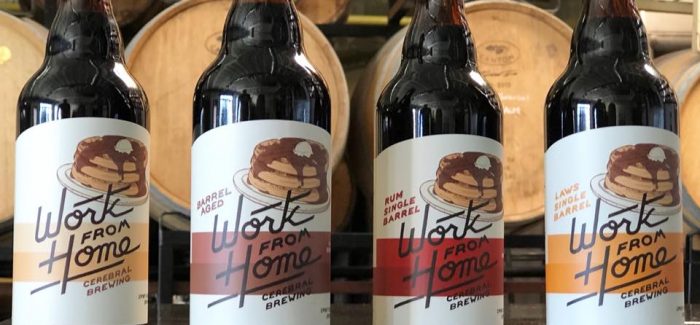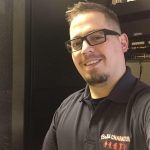 What's better than enjoying a Sunday morning in your PJs, watching cartoons, eating waffles covered in powdered sugar, butter, whip cream, and maple syrup with a side of bacon, while drinking a barrel aged Porter made with Vermont maple syrup and Colombian coffee, out of a custom-made mug, at one of your favorite breweries?
Nothing. The answer is nothing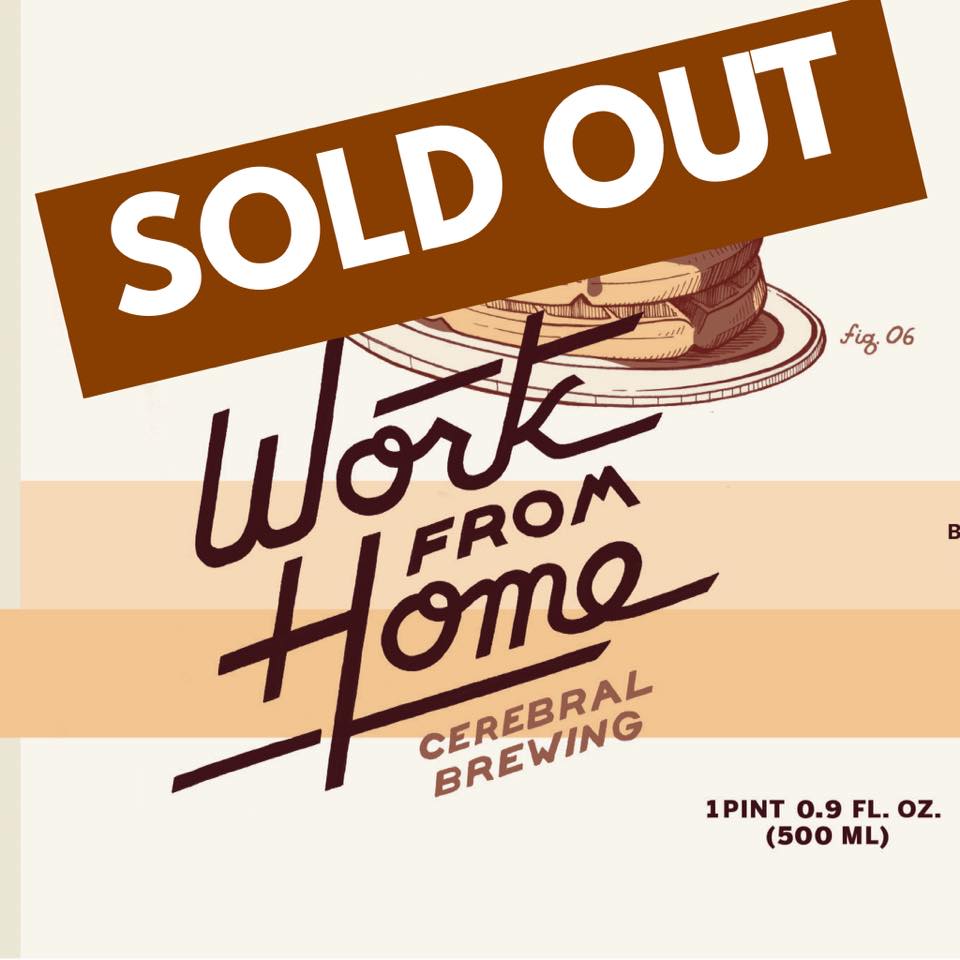 That was me last Sunday, minus the PJs, because I had to do things after. #adulting
Luckily Sunday's adulting revolved around Cerebral Brewing's Work from Home release party. As soon as I approached the brewery entrance, I was greeted by two Cerebral employees and given my tickets, a custom printed mug, and a brief overview on how to get beers and food. I then talked to Kaylin about her new baby boy, Carter Francis. Which is not really relevant for a beer/brewery review, but Kaylin Joyce is a wonderful person that is really kind and she just had an adorable baby boy, so I am dedicating two sentences to their family. You'll survive.
Once my friend arrived and we had traded beers in the parking lot, we headed into the brewery to find a small group of people sitting at tables, in line for beer, or in line for food. We decided to get a table first and then stand in a line for beer. Each person was given three tickets, each a different color, to correspond to each beer and one for the food. I handed the bartender two tickets, one for a 10oz pour of Work from Home in the custom mug and one for a 4oz pour of Barrel-Aged Work from Home in a beaker glass. Then went for the food with the last ticket left, setting my 4oz taster glass down along the way, but keeping my mug, because standing in line for waffles and bacon while drinking a coffee and maple syrup porter is something I hope everyone can one day experience.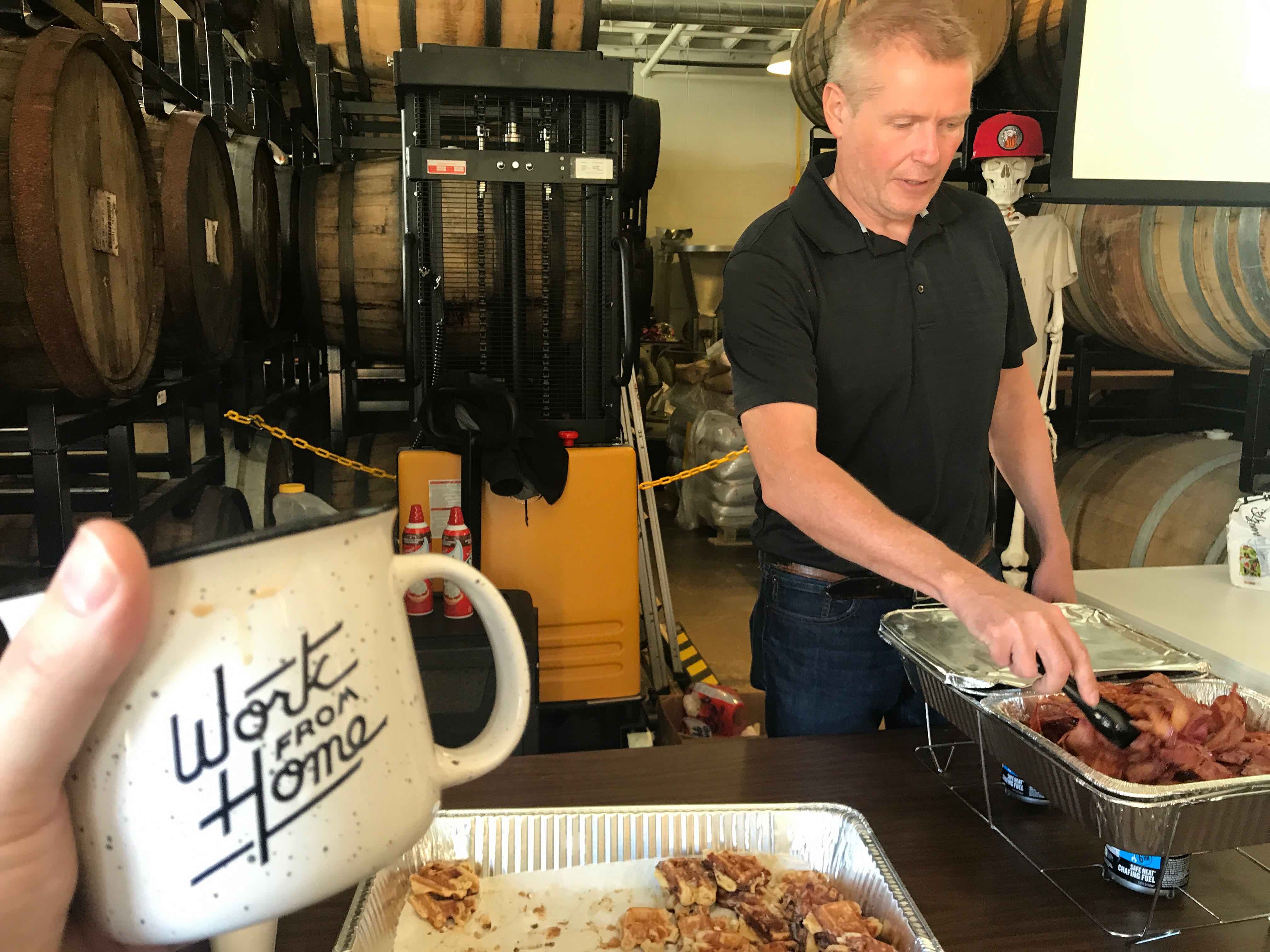 It is beautiful. So is a bowl of butter.
That was the first thing I noticed when I got to the front of the line for food. There was a damn bowl of butter, next to cans of Reddi Wip, next to bottles of maple syrup, and a pan of powdered sugar waffles being served by an Australian gentleman. The women I was with, quite fancied him and his accent. Looking at you, Alysia and Cortney.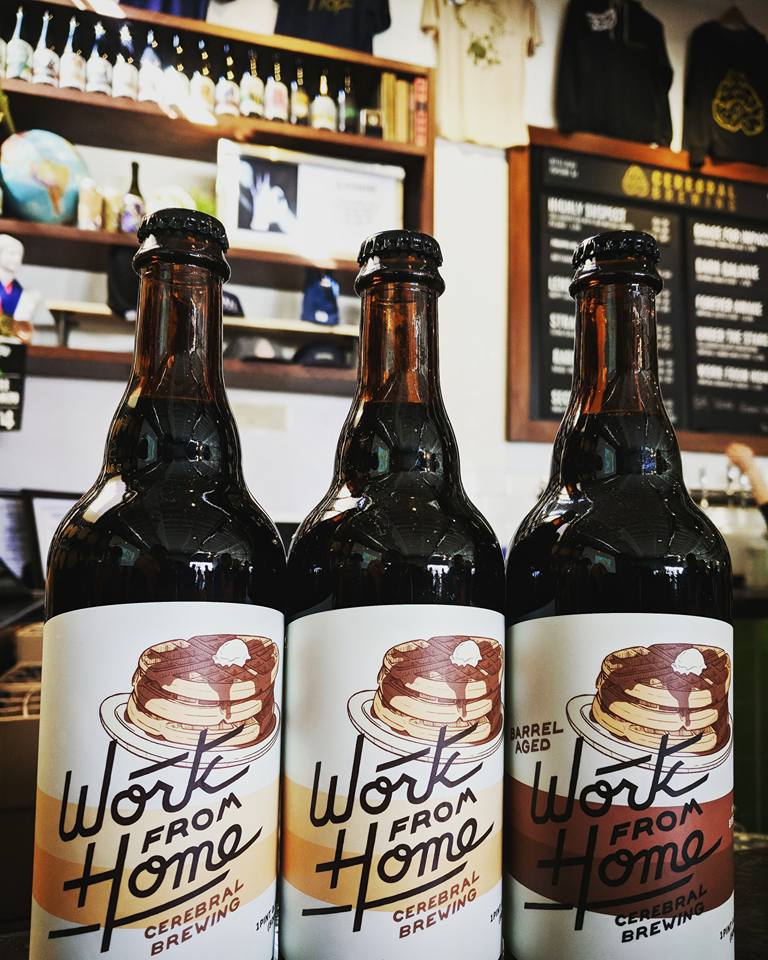 TL; DR SHORTCUT
Now on to the reason you just read all of that rambling above, the beers.
Work from Home
First and foremost this base coffee and maple syrup porter is a lovely beer. It starts with a big, bold, coffee aroma that has complimentary undertones of chocolate and caramel. The first sip opens up into a smooth chocolate porter with rich maple syrup sweetness, dark chocolate, and freshly brewed coffee from MiddleState Coffee in Denver. The coffee is not astringent or bitter, which really helps showcase the maple syrup. Every sip delivers a huge coffee character up front, with maple syrup hanging out in the middle, only to finish in unison together, holding each other hand-in-hand, like watching Maia Shibutani and Alex Shibutani figure skate dancing to Coldplay – "Paradise" and then winning a bronze medal.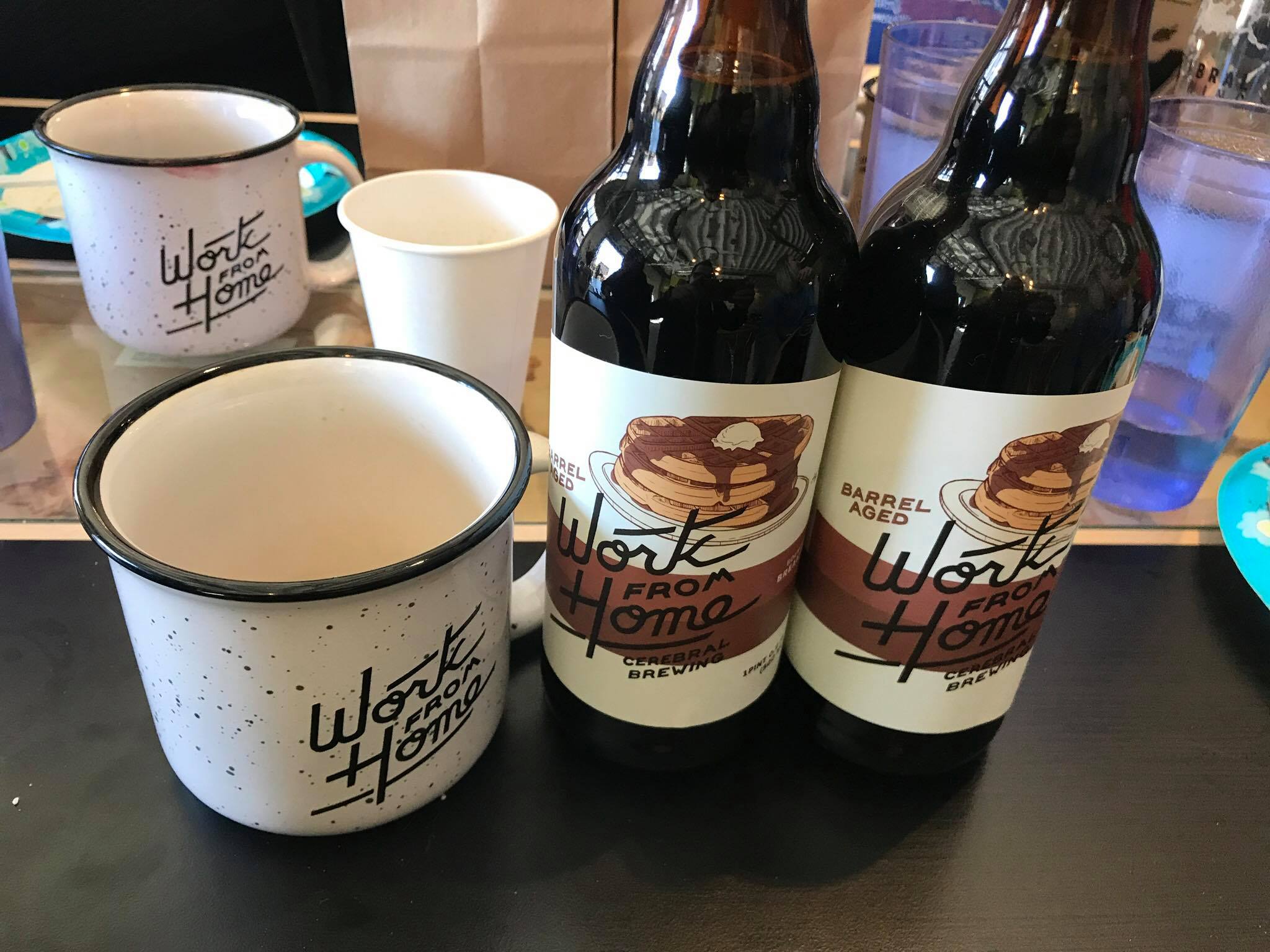 Barrel Aged Work from Home
If Work from Home is an elegant medal-winning figure skate dance between maple syrup and coffee, then Barrel-Aged Work from Home is whiskey, coffee, and maple syrup pelvic thrusting their way to victory while Queen – "Flash" is blasting from the speakers overhead. After 12 months of aging in Breckenridge Bourbon barrels, the higher alcohol, bigger, bolder base beer starts with the same dominate coffee aroma, but with a shot of "get the fuck up" whiskey in it because grandpa's old and that's not your mug Scott.
Oak, vanilla, and caramel back up the whiskey aroma and round out the flavor of dark chocolate, warming alcohol, and a full-bodied thickness that is balanced with decadent maple syrup combined with earthy, fruity, and nutty, coffee notes. Barrel-Aged Work from Home is akin to Elvis belting Viva Las Vegas, still drunk from the night before, while do-wop singers carry his ass across the finish. It is incredible, made better from whiskey and age.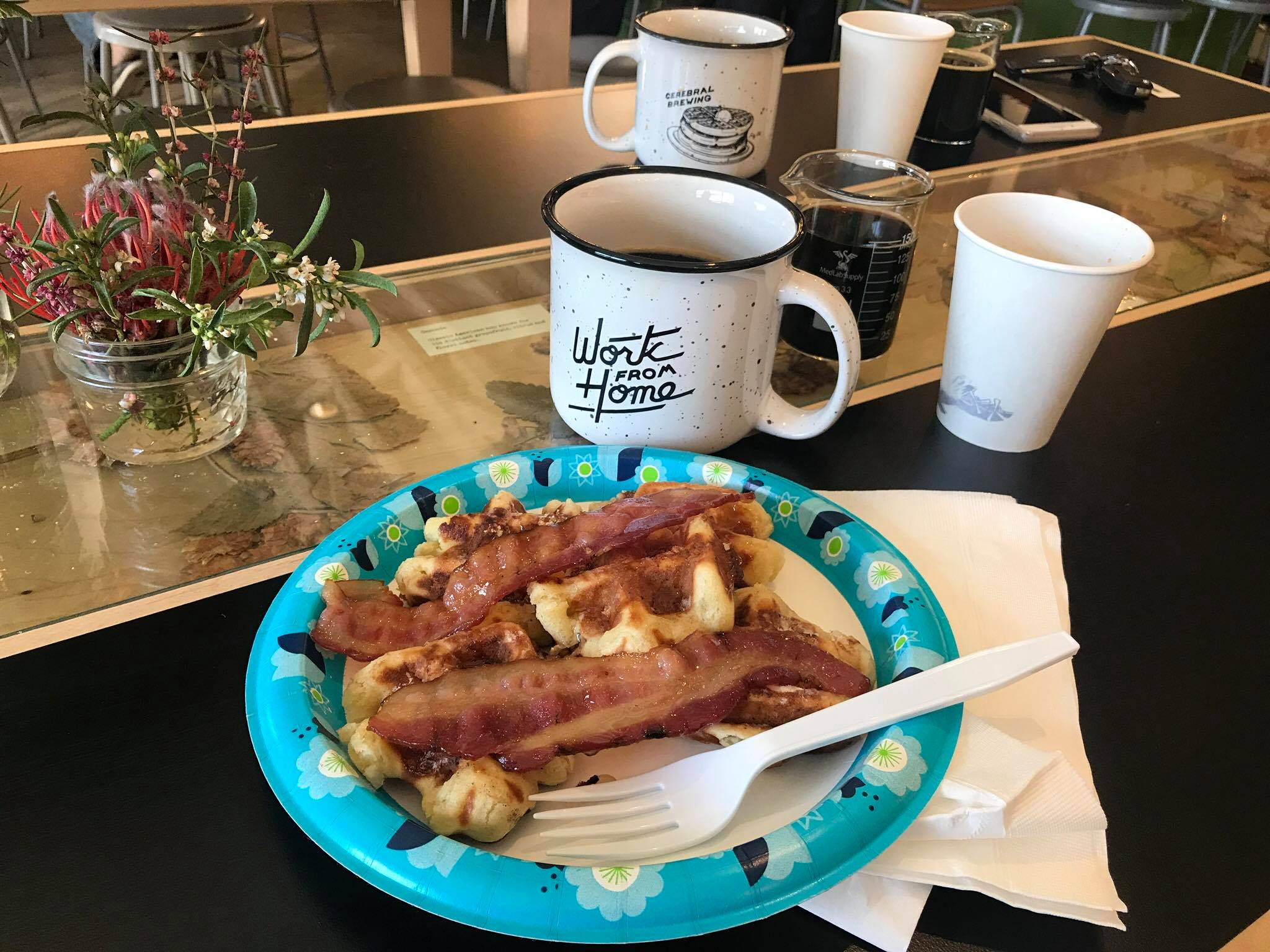 Drinking both beers, side by side, eating breakfast and talking to friends while kiddos hung out with their parents, all in PJs, watching cartoons, and enjoying a relaxed bottle release was very different than any beer release I have been to.
Finishing my last sip of beer to wash down the last bite of waffle, soaked in maple syrup with a strip of bacon, I took a moment to savor the pairing, the event, and the company I was with. It also provided me an opportunity to catch up with several friends and industry folks that I have gotten to know from other releases, online groups, or mutual friends.
While there are weekly releases for beers in Colorado that are worth the hype and subsequent online beer trading, Work from Home is the first beer experience I have had in a while that allowed me to enjoy a beer, that is still very hard to get, while providing the casual, low anxiety atmosphere of the taproom, missing from most bottle releases.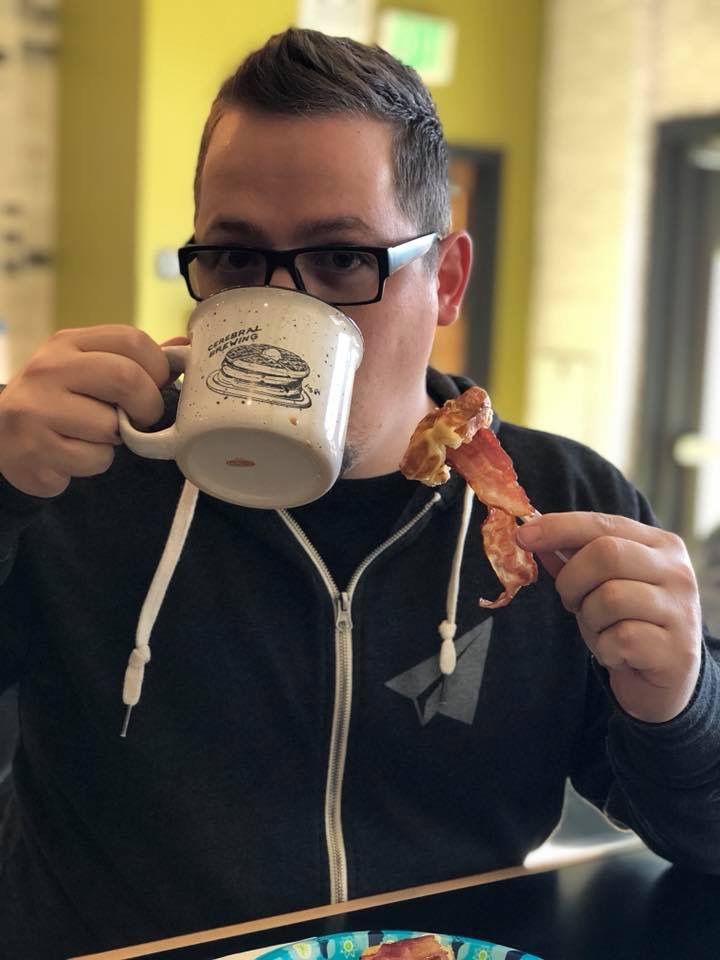 I hope to see more breweries doing this type of release, with some beers being allocated for a more intimate setting, which allows for people to spend a bit more money to guarantee bottles without the anxiety and pressure of online, ticketed, or on-site releases. It was refreshing to know that I could stay as long as I wanted, that the seats were reserved by ticket cap, and that I could by bottles up to a set limit without waiting in line.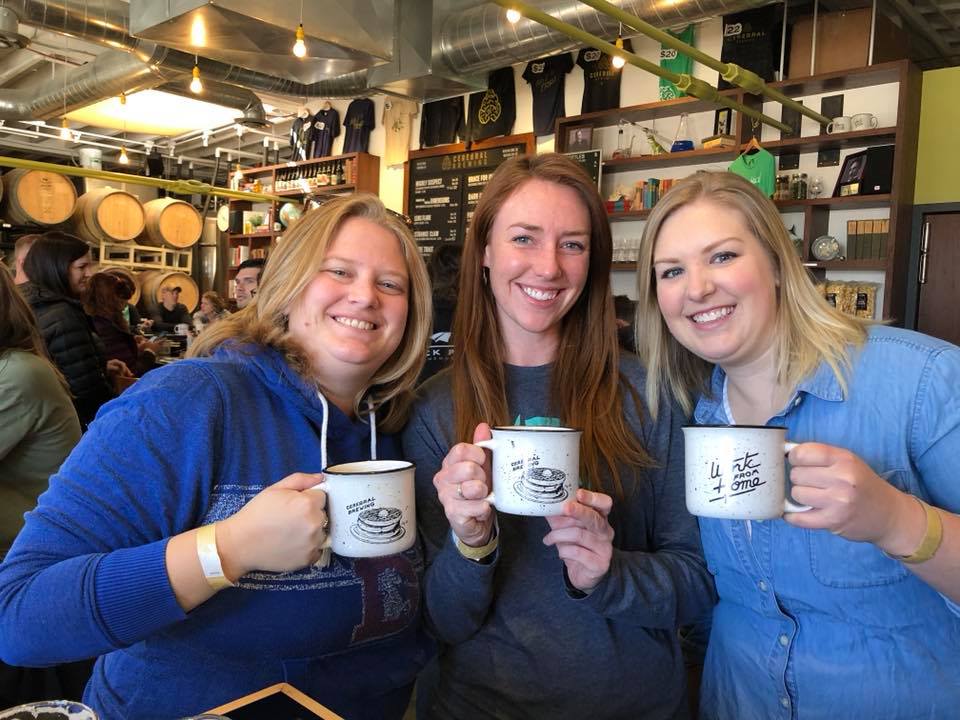 This Saturday, March 17 all that shit goes out the window.
Cerebral is releasing Law's Barrel Aged and Rum Barrel Aged Work from Home first-come, first serve. While I would have loved to try these at the breakfast, I think that doing two separate releases to appeal to two separate groups is smart. While the Saturday and Sunday ticketed breakfast allowed people to buy tickets in advance, which guaranteed a set number of allocated bottles, there will always need to be a system that rewards those that are dedicated to the art of line camping.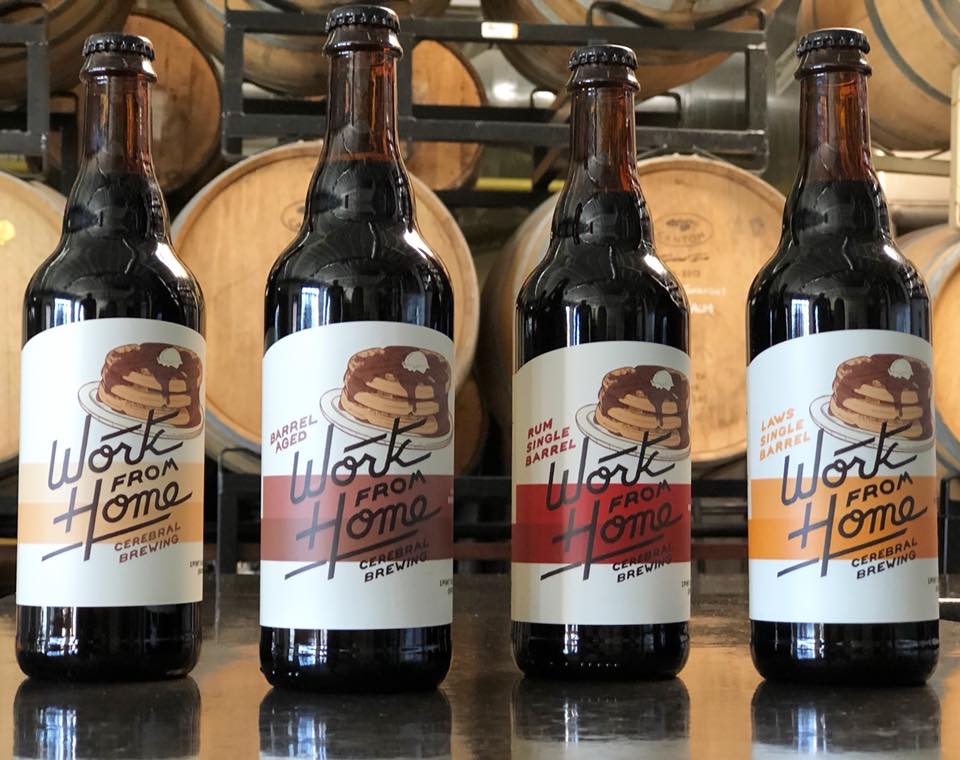 ---