No Comments
Beer Shed Building: Watch These Two Guys Refurbish an Old Shed into an Awesome Backyard Beer Getaway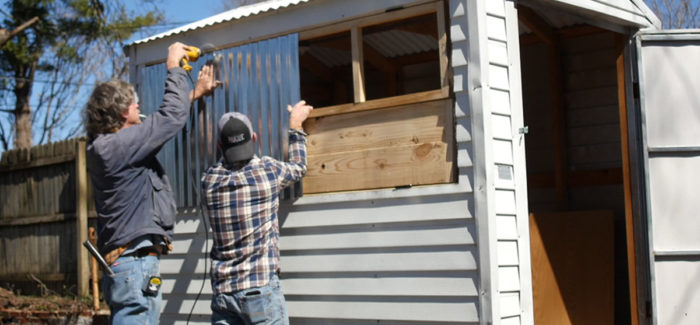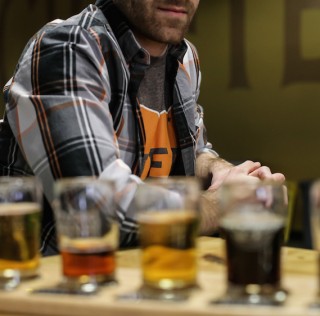 Picture Tree House Masters meets Man Caves in this summer's newest home improvement series, Beer Shed Building with Ben & Toby. That is the idea at least. A show where two guys repurpose old sheds into backyard pubs.
My introduction to my very own shed came last year when I purchased a house, and the home inspector told me, "that's a nice little utility building out back. It's not anchored down, so you might want to do that. A strong wind could blow it over." If you ignore the fact that it had a fallen tree on it and was covered in poison ivy, he was right. To make a short story even shorter, unless the man-dungeon were to catch on, a man-cave at this house was out of the question, so I was more than happy to create an awesome backyard entertaining space. Last month my friend Toby, who just so happens to be a master carpenter, told me he was available to help with my shed project. Despite not knowing anything about what I was doing, he thought it sounded "cool". What I was doing was filming the process of turning an otherwise nasty shed into a sweet backyard bar. Two days later, the buildout was complete!
The goal of this video is to land a show on HGTV or an equivalent venue. Because that is an incredibly difficult thing to do, I would love to see an interest in the show and to move it forward with, or without the help from a production company. There is a huge interest in the beer shed trend, and a ton of cool beer sheds out there. It would be awesome to bring that trend to the masses in an entertaining way, or at least inspire people to refurbish their old sheds into something awesome. At the very least I ended up with a sweet little beer shed!
---