No Comments
Event Recap | 2018 Big Beers, Belgians & Barleywines Brings Out Country's Best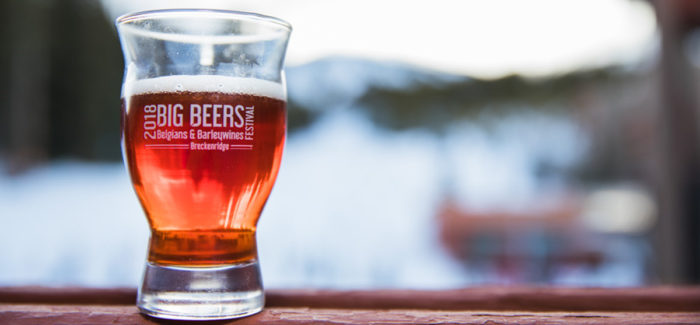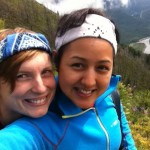 Take Great American Beer Festival, skim the layer of cream off the top, and you get the Big Beers, Belgians, and Barleywines festival, held annually the first weekend in January in Breckenridge, Colorado. The "cream" metaphor is literal; by far, only the deepest, richest, dankest or most prolific beers make the cut as offerings from the breweries involved. This festival is truly not for the faint of heart. Sling back a few too many mini-pours consisting predominantly of 7% ABV and above beers, factor in the elevation (over 9000 feet at the venue location), account for a probable lack of sleep from event-hopping all weekend, and you're likely in for one wickedly miserable end-of-weekend hangover. But this past weekend was the 18th consecutive Big Beers fest, proving that a wide range of beer lovers, both industry members and consumers alike, love coming back to challenge their palettes (and drinking prowess) time and time again.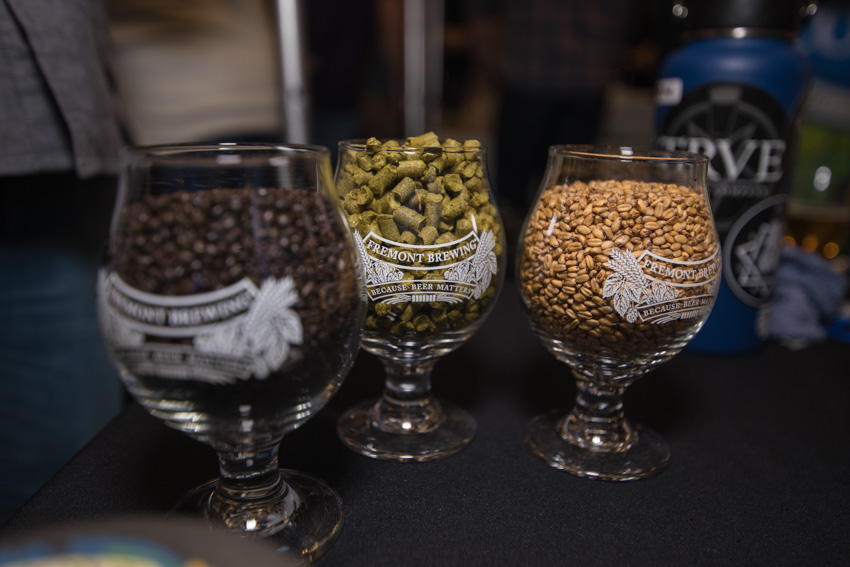 What made this year's festival stick out from the rest? It was the second year Big Beers Fest called Breckenridge home, and the event continued to settle into its location nicely. Take it from a local, not only is Breckenridge beautiful and less than 2 hours from Denver (on a good traffic day), but it offers the convenience and affordability of a small mountain town relative to other Rocky Mountain resort towns (which are often resort-centric and pricey).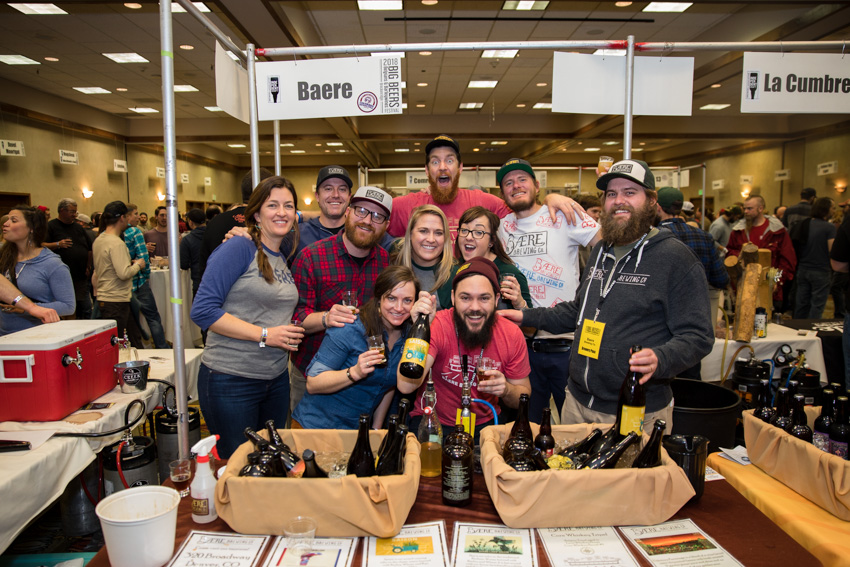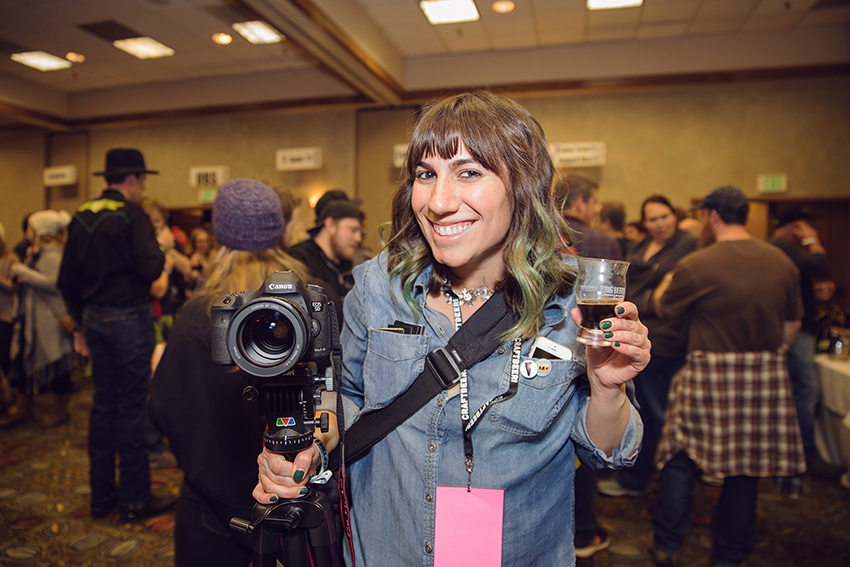 "Education has been a primary focus of the Big Beers Festival since its inception", says Laura Lodge, Event Coordinator, "and when we started the not for profit Big Beers Educational Foundation, we wanted to emphasize exactly that." Big Beers had four seminar tracks on Saturday afternoon: a Brewmaster's Track, a Technical Track, a Sensory Workshop Track, and a Random Track (same as last year). The cool thing about these seminars is that they're carefully selected to be inclusive to everyone, from those who simply like drinking beer, to craft aficionados and beer professionals. This year's seminars included the well-attended 9 am session, "Debunking Myths About New England-Style IPAs" hosted by members of WeldWerks, New Belgium and Side Project, "Blending: Approaches and Philosophies of Side Project & Jester King" by Cory King of Side Project Brewing Co. and Jeffrey Stuffings and Averie Swanson of Jester King Brewery, and "Adventures In Babysitting Barrels" by Andy Parker, Special Projects Manager & Barrel Herder, Avery Brewing Co (to name just a few!).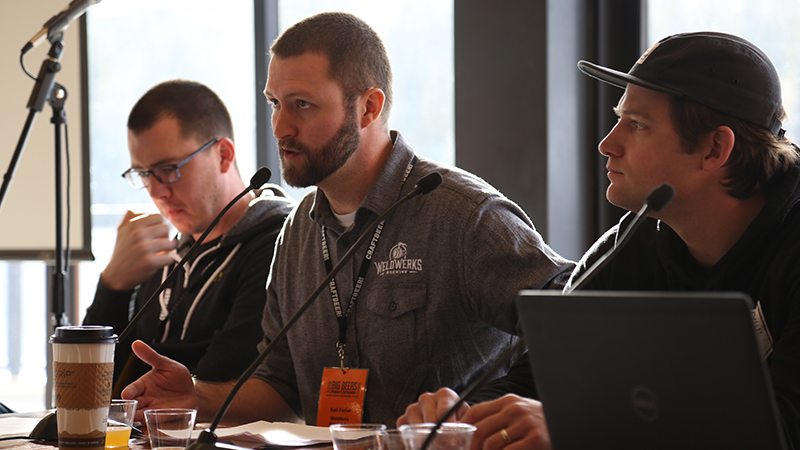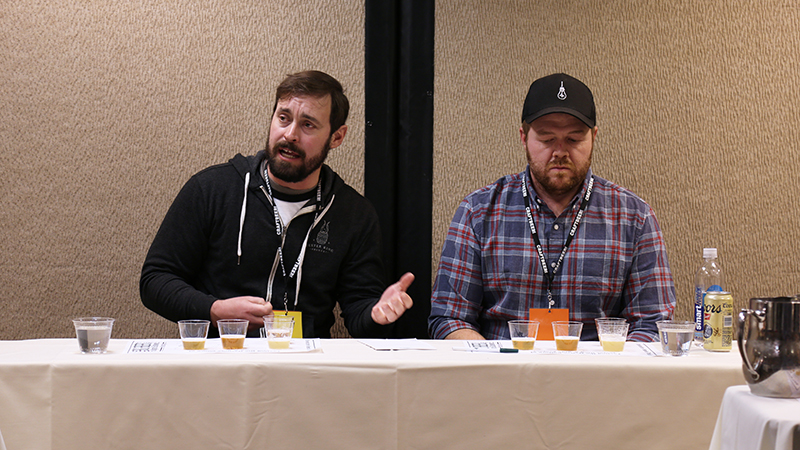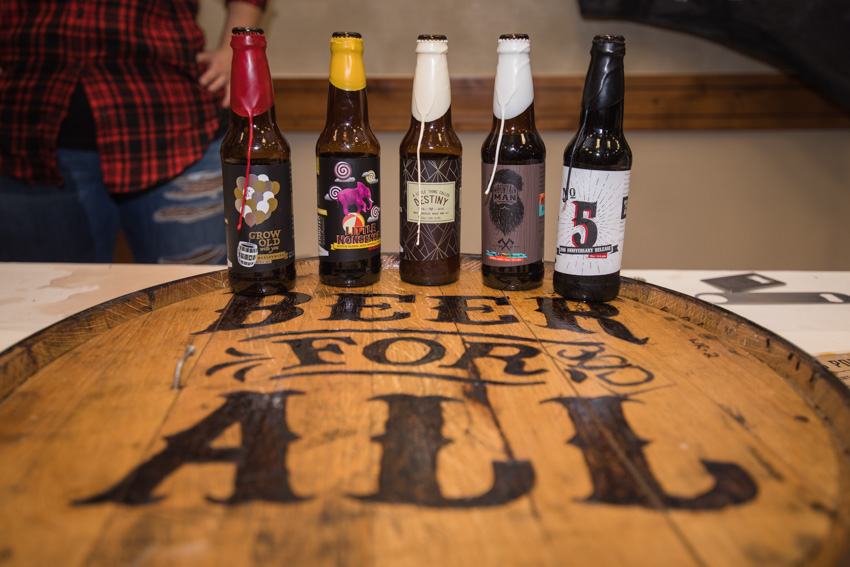 Big Beers' events calendar delivered old favorites and some new events too. These included beer dinners, beer and food pairings, beer and cigar pairings, a Saturday morning yoga session, a Cicerone workshop and test, and a homebrew competition, all culminating in the 3.5-hour long highly-anticipated commercial tasting event Saturday afternoon. In addition, more than 20 affiliate events took place this year as well, mostly at bars and restaurants throughout town. These included beer dinners, trivia, tap takeovers, meet the brewer events, live performances, brunch and more.
Also new this year: at the commercial tasting, qualifying breweries displayed signs with the Brewer's Association's "independent craft beer seal" (new in 2017) and Colorado Brewers Guild stickers. This was an interesting way to see which attending breweries were independently owned and which were not.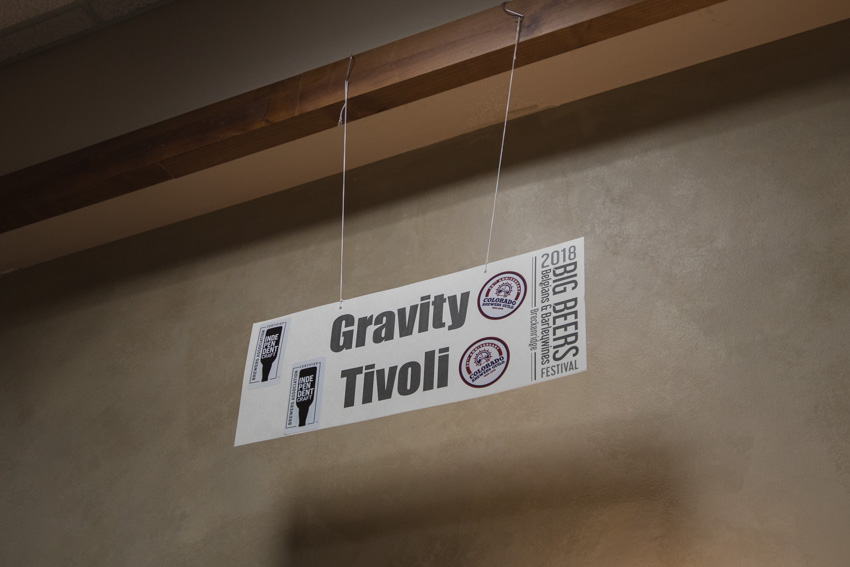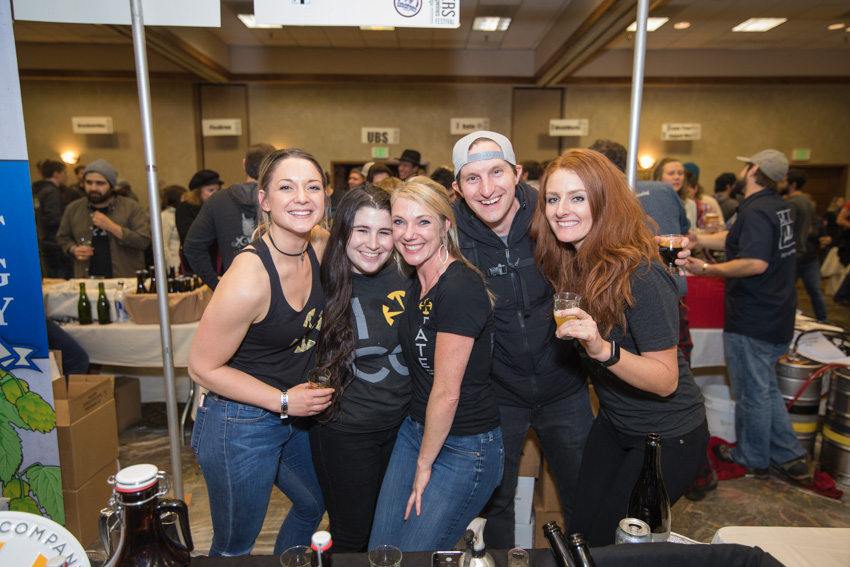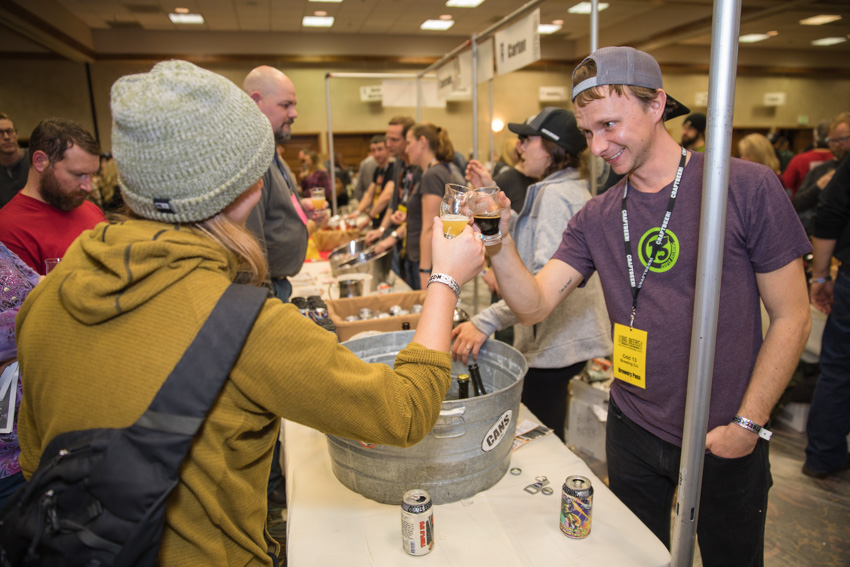 Memorable Quotes
On why breweries nationwide choose to participate in Big Beers…
"We get a lot of invitations to events and festivals around the world and some of our biggest criteria is "Is it well curated? Are there people there that share our philosophy about beer?" This festival is both of those things. Laura and the organizers put a lot of thought into who they want to be here and it's a lot of high-quality beer and high-quality people." – Averie Swanson, Jester King Brewery
"Everyone brings killer beers. The pour lists are incredible and there is so little wait time on some of the most amazing beers in the world. Here in Breckenridge, the atmosphere is great with a sense of educational seminars, pairing events. There is an air of intentionality and innovation. It is a special place." – Neil Fisher, Weldwerks Brewing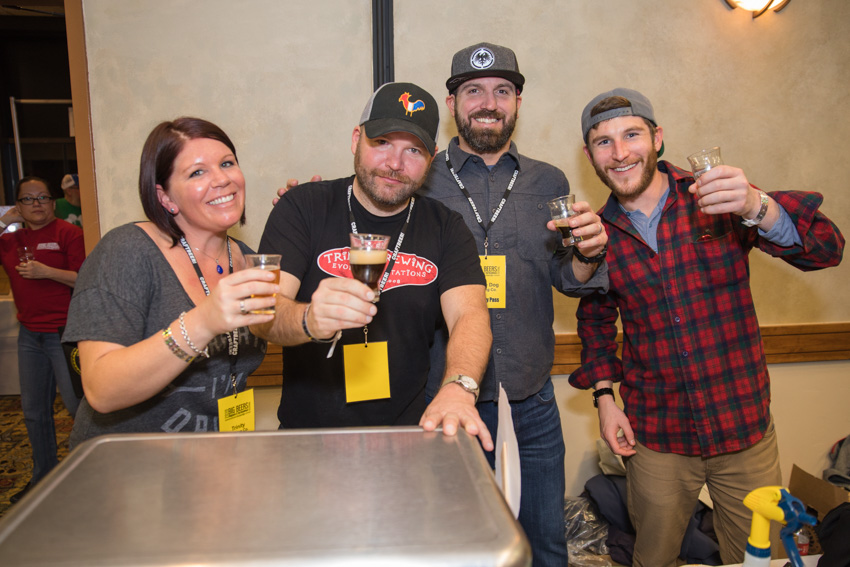 On rising breweries whose beer should be in your mouth in 2018…
"We have a local brewery in St Louis that is making big waves doing killer beers called Narrow Gauge. They make the hazy IPAs, beautiful beers, and they're relatively new. They're probably my favorite brewery in St Louis, based on the amount of beer I consume. They make great little English ales that don't turn the pages of magazines. They're so localized and people don't understand who they are until they're there. Its an inviting environment with great hospitality and great people." – Cory King, Side Project Brewing
"There is a long list. Last year I discovered some of the beers from Mad Fritz that were thoughtful and well-put-together and I am excited to see what they bring this year. Fortunately, I have already got to try a lot of beers from Side Project and they're always a hit for us. Green Bench is another brewery I really love so I am excited to check them out." – Jeffrey Stuffings, Jester King Brewery
"Kyle and Miranda at Wiley Roots are making some of the best beers in the state. Not just in 1 or two styles but across the board, especially their sour program and their barrel-aged program. Also Outer Range – if there is one brewery making such a big impact at such an early stage, it's them. They've had a bigger effect in their first year; more than we had. I am a huge fan of their IPAs and their Belgian-styles that I've tried. They've come out swinging really hard and knocked it out of the park with killer beers."  – Neil Fisher, Weldwerks Brewing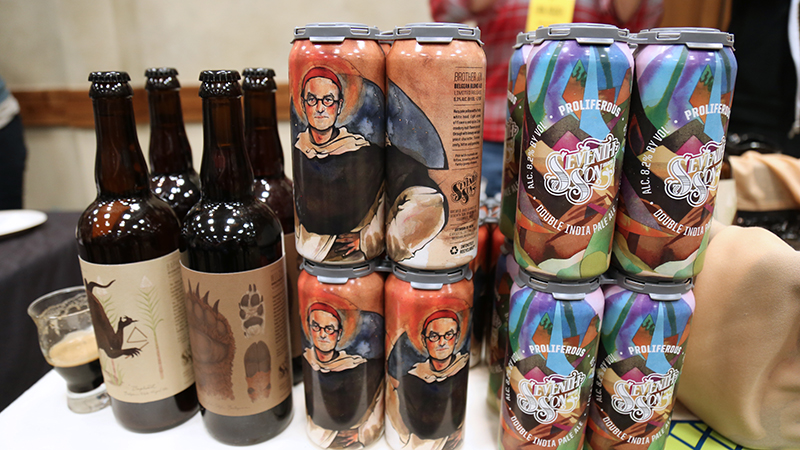 On what to expect from breweries in 2018…
"More SPON, more mixed culture regular stainless brewing. We'll see what the land decides to give us." – Averie Swanson, Jester King Brewery
"Our tentative goal is to have 100 new beers released in 2018. That is a hefty goal, almost 2 beers a week, but that is where we are headed. We are also talking about doing a back to basics series. We are probably going to do a west coast IPA, Steambarrel, Basic Bits. It's a lot of fun stripping it down to answer, 'What does Citra do for this beer? What about Amarillo?' "   – Neil Fisher, Weldwerks Brewing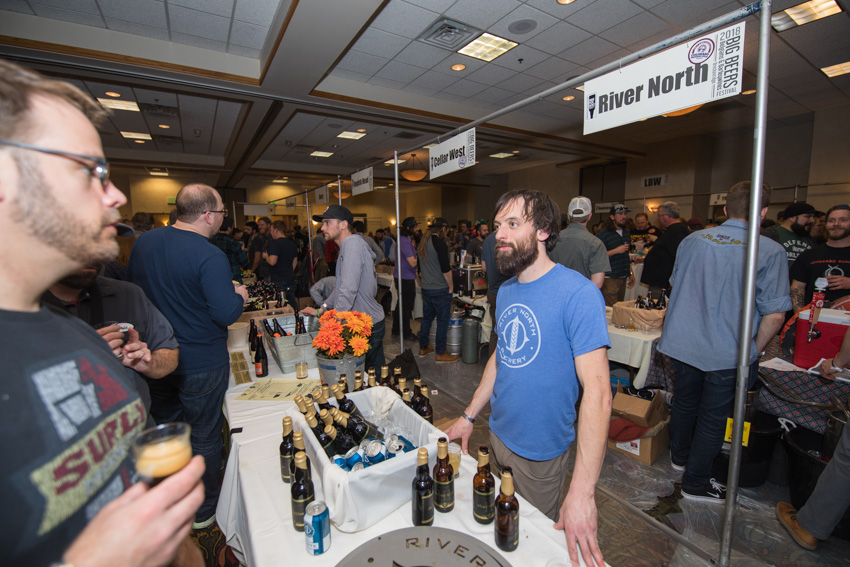 On 2018 trends…
"As much as people are talking about hazy IPAs, I don't think they're to the scale of production that they can be. People are still saying this is a trend but at this point next year, I think people are going to say this is a style. I don't understand why people hate on them; I love them." – Cory King, Side Project Brewing
"Smoked beers. They're incredibly underrated and underappreciated. They're beers that pair so well with food. Harkening back to lagers, I think people will appreciate the rustic flavors that can come from a well-lagered beer. That is really my hope, not necessarily my forecast."  – Averie Swanson, Jester King Brewery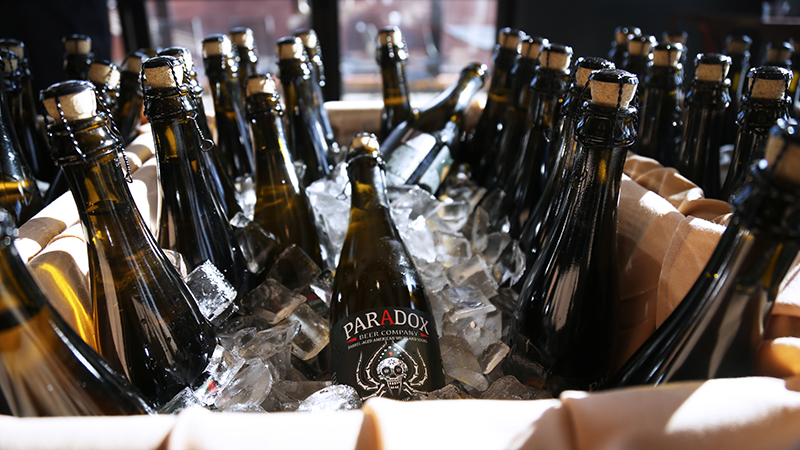 Staff Beer Highlights
While we entered this year's fest with a pretty good idea of who we thought would be the big standouts (Jester King, Fremont, Modern Times, WeldWerks, Black Project), what we were truly blown away by, how quickly Colorado's beer scene in all regions of the state have raised the bar to create a level playing field in terms of innovative, and impressive beers.
Among those that turned some heads, Wiley Roots continues to build on their status as formidable breakouts in the industry with an adept use of adjuncts in their Mean Beans and Cinnamonstah, as well as their balance of hops & esters in their newly Mosaic Dry Hopped edition of their GABF medal winning Funk Yo Couch. Paradox out of Divide, CO turned some heads with their Divide Ethos, a spontaneous coolship fermented ale aged in oak barrels. Ursula Brewing has emerged as one of Colorado's most underrated breweries, this weekend we discovered a Boisenberry take on their beautiful Coal Miner's Delight Grissette as well as their Barrel-Aged The Sacred Fire Stout, Verboten also oft under-appreciated, continues to put forth high-quality barrel-aged offerings in their Tiramisu and Isaly versions of Little Nonsense, as well as Rum Barrel-Aged Mountain Man with Coconut. And Baere Brewing's Unknown Parentage, a golden sour blend witha wine barrel open-fermented Saison with fresh pressed Vignoles grape juice and skins was a complete revelation.
However, perhaps the biggest winner from the weekend came from Breckenridge's own Outer Range Brewing who utilize the festival as their big coming-out party to the entire industry. Their releases of Way Back Double IPA and Abominable were both tremendous and proved that they're not only making Hazy IPAs but doing them damn well.
In terms of names that may be a little more familiar, Black Project's Cat Sabbath, as well as its Vanilla variant take, were as big and brilliant as we anticipated. WeldWerks & Fremont both brought the house in terms of quality and quantity. And two national risers that continue to impress were Alesong Brewing, who just opened their taproom in Eugene, OR this past summer, who's already built an elite level barrel program, and Tallahassee's Green Bench Brewing who continues to wow with their focus on wild farmhouse ales. Green Bench is primed to become a national powerhouse in the near future.
Other Staff Favorites
Upland – Revive
Modern Times – Devil's Teeth
Bruz Beers – Brut La Grande
Amalgam – Handpicked: Danube Cherry
Wiley Roots – Mean Beans, Cinnamonstah, Mosaic Dry Hopped Funk Yo Couch
Mockery – Schizophrenic Narcoleptic
Baere Brewing – Unknown Parentage
Black Project – Stargate: Peach Rye, and Nectarine Bourbon, Vanilla Cat Sabbath
Paradox – Divide Ethos
Fremont Brewing – Coffee Cinnamon B-Bomb, Barrel-Aged Unicorn Tears
Green Bench Brewing – Phasma, Sauvage Miel
New Belgium – Single Foeder Felix No. 61
Jester King – SPON & Fen Tao
14er Brewing – Barrel-aged Rocky Mountain Saison
Black Bottle – The Last Unicorn
Odd 13/Outer Range – Hopbominable
Outer Range – Way Down Double IPA
WeldWerks – Single Barrel Smores Medianoche & Cookies and Cream Achromatic
AleSong – Vanilla Rhino Suit, Terroir Pinot Gris
Follow The Light – Roxanne: Blueberry
Side Project – Derivation 7 & Blended 2017
Three Taverns – German Chocolate Helm's Deep
TRVE Brewing – Wavering Radiant
Verboten – Tiramisu Little Nonsense
Ursula Brewing – Barrel-Aged The Sacred Fire
Westbound & Down – Sour Golden with Peaches
Ratio Beerworks – Loveless Dark Sour Saison
River North Brewery – Father Time, God Complex
Liquid Mechanics – Kahlua Marianas
Perrin – Malted Milk Ball
Jagged Mountain – Uber Slayer Japanese Saison
The Rare Barrel – Outlaw Bound
Cheers and hope to see you there next year!
This piece was written and composed by PorchDrinking.com staff Kara Loo, Kelissa Hieber, Tristan Chan, and Brady Akers, with photo contributions from Michael Malvitz.
---