No Comments
Cooking With Cider | Spicy Pineapple Salsa with Blake's Hard Cider El Chavo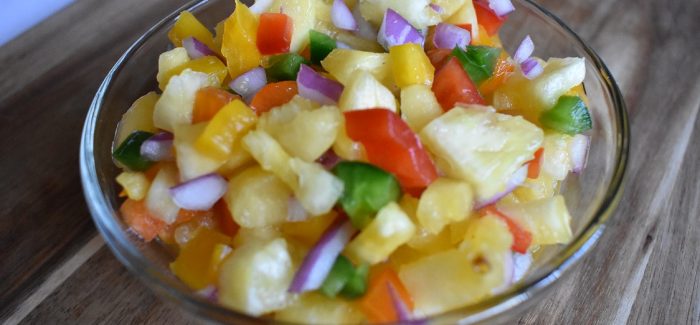 This is my favorite time of year — the warm weather has arrived, daylight is lasting just a little bit longer each day and the flavors of the season are in abundance. I truly get excited when the pineapples are put out on display at my local produce market because that means it's salsa time! Since Cinco de Mayo is here, I felt there was no better time than now to make my favorite spicy pineapple salsa. This time, I'm throwing in a little twist with this fresh dip. My secret ingredient — mango habanero cider!
Cider of Choice
ABV: 6.5%
Being a lover of cider, there are some flavors and brands that stand out in my mind as personal favorites. Blake's El Chavo's flavor will stick with you long after your last bite of this zingy salsa. The cider has all of the warmth of the habanero flavor without the heat that follows. When you pour the cider over the fresh vegetables and fruit, it blends all of the flavors together to create this perfect level of sweet and heat without smothering your salsa-filled tortilla scoops with overbearing heat. You will never want any other salsa after you have tried this. Serve with lots of tortillas and tangy pork flautas for a perfect Cinco de Mayo treat!
Ingredients
1/2 pineapple, ½-inch dice
1/2 red bell pepper, ½-inch dice
1/2 orange bell pepper, ½-inch dice
1/2 yellow bell pepper, 1/2-inch dice
1/2 red onion, ½-inch dice
1 jalapeno pepper, finely minced
1/4-1/2 can of mango habanero cider
½ tsp lime salt
tortilla chips for serving
Directions
Mix all ingredients together, except for the cider.
Once all the ingredients are blended, pour the cider over the mixture and let it sit in the refrigerator for at least 10-20 minutes so the flavors combine.
Serve with tortilla chips.
Enjoy!
---